Always wished to have a terrarium at your place.
But never knew how to make it. Looking for terrarium ideas that you can DIY yourself?
Stay till the end, and you would get an answer to each of your question.
It is always fun to create a home for all your plants, and it feels great to create your own tiny ecosystem at your house. Creating a beautiful, thriving, and stunning terrarium out of your old fish tank might seem like a difficult task, but you can create it easily without spending too much of your time.
Plants thrive in a climate with high humidity, and a fish tank is the best way to create a climate that plants thrive. Ensure you have the top of your fish tank; if not, purchase one to cover your fish tank.
If you are looking out for some amazing fish tank terrarium ideas, then this blog can help you effectively. Let us discuss some of the best fish tank planter and terrarium ideas to create a mini-ecosystem at your home.
1. Miniature Indoor Garden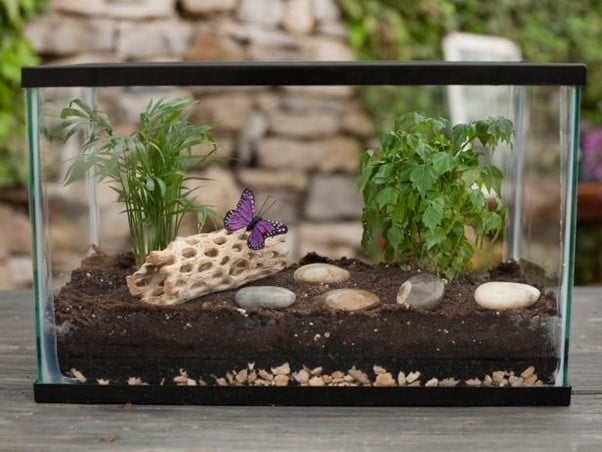 Firstly, to create this type of terrarium, add a layer of pebbles to the bottom of the fish tank. Next step, add another layer of activated charcoal on top of pebbles and add a layer of sphagnum on top of the charcoal layer. This step will prevent the soil from moving downwards into the pebbles.
As the next step, add pre-moisten potting soil but make sure it is not soggy. Add a minimum of 4-inches of it to the bottom of the container. The amount of soil you add will depend on the size of the fish tank you use and the size of plants.
Now remove your existing plants from their pots and place them in the fish tank. Create a hole in the tank as per the size of the plant and place it carefully. As the next step, you can decorate the fish tank as per your preference.
2. DIY Fish Tank Terrarium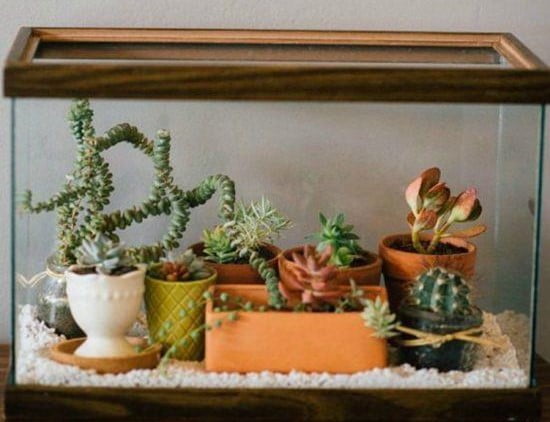 To create this form of terrarium, grab any of your fish tanks and wash them thoroughly to make them look crystal clear and transparent. For the next step, you can collect colorful stones from the garden or from anywhere around you, or you can buy some aquarium rock from your local store.
As the next step, place the collected stones at the bottom. Collect your beautiful plants and place them on top of the layers of the stones. That is, this DIY terrarium idea was super easy to create.
3. Garden Terrarium Idea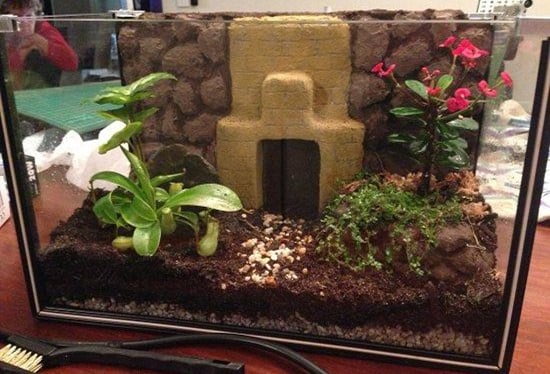 Creating this type of terrarium with your fish tank might seem like a task, but you can design and decorate the terrarium as per your creativity and preference. However, the step for creating the base is similar for all types of terrariums. Adding the rocks, the soil, and planting your plants.
The decoration can be added with all the available materials at your house or if you would like to invest in decoration, then make sure you are making the terrarium look stunning.
4. Terrarium Side Table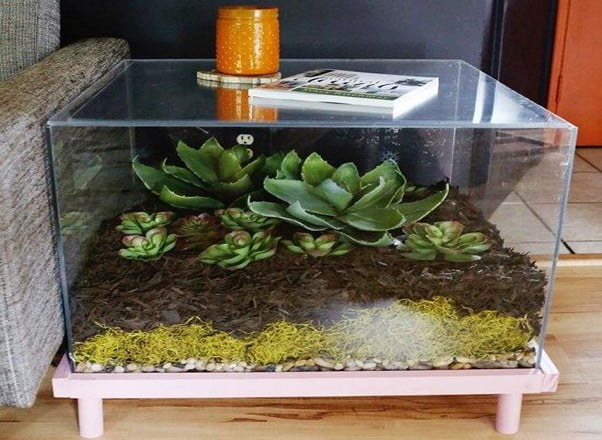 If you wish to place the terrarium on your table, then this type of fish tank terrarium idea may work for you. The table that you would use in this DIY should be the size of the terrarium however, the sizes can differ of terrarium.
The steps of adding the soil and rocks are the same as we discussed previously. However, you can add your own terrarium ideas to the terrarium. As the base, after the step of rocks, add faux succulents and then the plants.
5. Bohemian Dish Tank Terrarium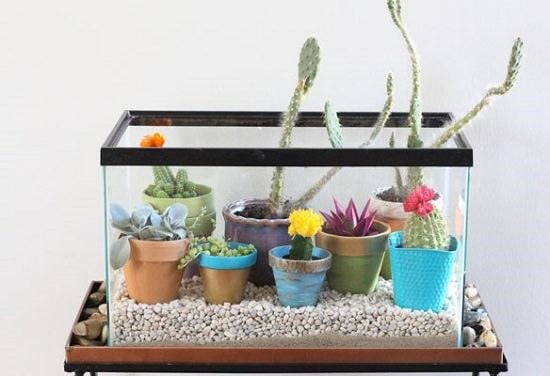 This type of terrarium idea is straightforward to create. You would require some rocks and the plants that you wish to grow in your terrarium. Add a thick layer of stones, and then add all the plants in the terrarium.
6. Dessert Style Terrarium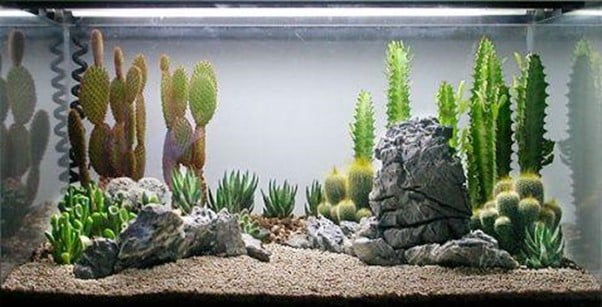 This type of terrarium is one of the unique types of terrariums that require tiny stones that look like sand and the plants you wish to place in the terrarium.
7. Fishbowl Terrarium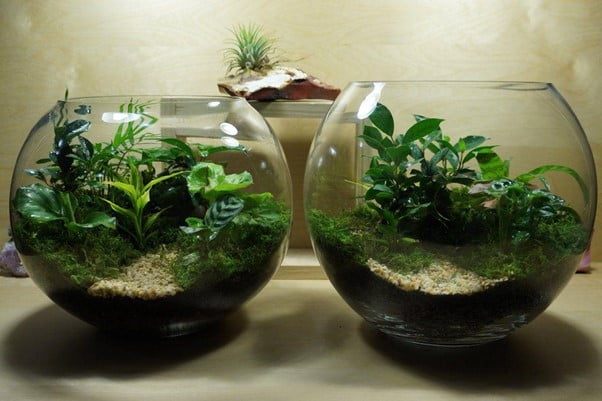 Even if you have a fishbowl type of tank, you can still convert it into a terrarium. To create a terrarium with a fishbowl idea, you need soil that is not too soggy and rocks. Add 2-3 inches of layers at the bottom of the bowl with soil and then dig a hole for your plants.
That is, it, this type of terrarium is easy to create and would look beautiful when you plant your plants in your mini-ecosystem.
Conclusion
There are several other fish tank terrarium ideas that you can try and create your own ecosystem at your home, but these were the easiest yet beautiful terrarium you would ever create.
Adding your touch of creativity to your terrarium will indeed help it look more beautiful and unique. Among all the 7 terrarium ideas, which one was your favorite one?