Terrarium making is a long-lost art that resurfaced on the internet recently. Making those miniature landscapes and gardens in enclosed small glassware needs skills and patience.
But lately, the concept of making terrariums has evolved and, people make them in different ways, not just in glassware anymore.
Well, I know that succulents are not your go-to plant when it comes to making terrariums, but they are so tiny and cute that you cannot help it.
Usually, you keep your succulents in a pot and somewhere where it will get abundant sunlight and hardly any humidity.
So, keeping succulents in a terrarium is a challenge, and I hope you are up for it! Check out those 15 fantastic ideas for some uncommon, eye-catching terrarium ideas with succulents.
Succulent Terrarium Ideas
1. Afternoon Tea in a Teapot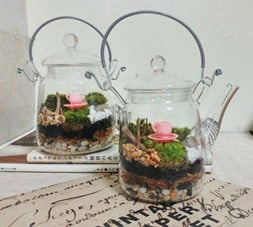 We all have that one lonely pot at the back of our cupboard that we are never going to use. What the point of hoarding? Take it out and turn it into a piece of art. For this project, you will need a teapot. Any teapot will do but, a clear glass teapot with a broad opening would be perfect.
Get some unpolished stone or pebbles that you usually use for your aquarium, moss and ferns, choice of succulent, and some potting soil that drains well. You will also need some charcoal or perlite since it is a closed terrarium and, it will help keep the water clear of buildup of microorganisms that might grow inside.
You will also need tiny toy teacups with a saucer along with some twigs or other ornaments that you might want to put inside. Start layering the pebble, followed by charcoal and potting soil. The top layer should have moss and a few stones, along with some ferns. Once you are happy with the arrangement, place the succulent and the tiny teacup. If you are feeling adventurous, you can also put a mini Alice figurine in a blue dress. 
2. Broken Pot Fairy Cottage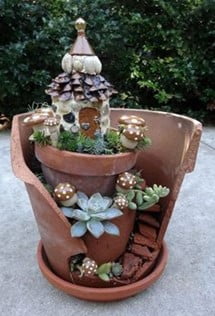 Already have enough broken pot but no idea how to use them? Well, don't throw away those broken pieces. They are perfect for getting a layered terrarium for your chubby little succulents. Sand down your big pot with broken edges, and try finding two or more small garden pots that can fit inside.
You will need some pretty succulents, Moss and Ferns, Mushrooms (real/artificial), and a fairy cottage. Pick up a variety of succulents, as you can play with the size and color here. A terrarium arrangement is what makes it so, sit down and visualize your terrarium before your start.
Once you get the pots ready, arrange your succulents along with the other decorative items. The smaller pots should look like cake tiers inside and, you can also trail a stair by the side with smaller broken pieces.
3. Buddha's Head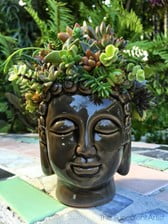 Do you not want to make dainty terrariums in a glass container but still want a pretty one adorning your tabletop? Buy a Buddha's head vase and plant your succulents in them. You can choose from a variety such as Crassula Ovata (Jade), Echeveria, Sempervivum, Haworthia, Kalanchoe Tomentosa (Panda Plant), Kalanchoe Blossfeldiana (Widow's-Thrill).
 It will not be your regular terrarium, but the succulents will thrive in it better than in a closed container. It is low maintenance and easy to sustain since succulents need abundant sunlight, and putting them in a vase is the best thing.
4. Forest Under Table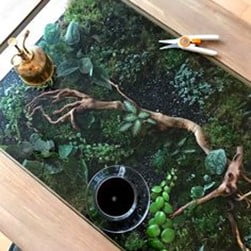 Turning a tea table into a terrarium is a tough job and needs expert hands. You will need a table where the glass is detachable and not too heavy. Outdoor garden tables will be the right choice since the succulents will be able to get enough sunlight.
If you want to do this with your living room tea-table, you will need a grow light. This miniature landscape forest will need a variety of moss and fern along with succulents. Keep a picture of a forest with a top view, and try adding as many details as possible. You can also add a water body with resin and add some twigs or a branch or two.
5. Geometric Gazebo Terrarium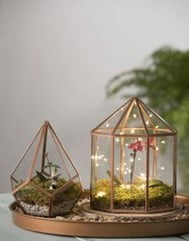 We have all seen those pretty geometric gazebos on Amazon and wish-listed it. Don't wait any longer and buy one right away! It looks great with a single succulent and perfect for study tables. Greenovia dodrantalis (or mountain rose) looks perfect and gives you the Beauty and the Beast vibe. You can also add some fairy lights to it to give a majestic look.
6. Ghibli Themed Totoro's Garden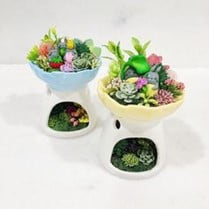 For all the anime lovers, I give you the cutest project. You can get an old ceramic oil diffuser and arrange your succulents such as Sticks on Fire, California Sunset, Santa Rita Prickly Pear, Blue Glow "Agave,"  Campfire Plant, Echeveria 'Wine Red', Paddle Plant, and Red Aloe in two tiers. Put in your Totoro from the Ghibli gift shop and have a kampeki terrarium. 
7. Hedgehog in a Fishbowl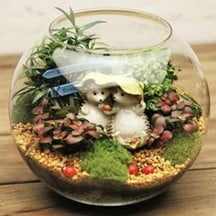 It is a cute project to work on with your kids during the weekend to introduce them to plants and how to take care of them. Get a decent fishbowl and take your kids to the gardening store where they can choose the succulents and ferns. Instead of a hedgehog, you can get in any animal the kid wants. Making succulent terrariums needs patience and love. Your kids will learn new skill sets and have a beautiful terrarium on the table to care for.
8. Layered Desert Terrarium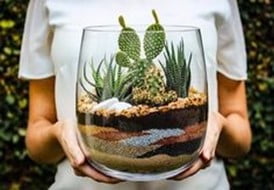 You will need a few different colored grains of sand and, you are ready to go. Stick to one shade or get a collection of pastels. Get at least five colors so that you can have a few distinct layers. Layer your sand along with a bit of potting mix for the succulent. You can put a layer or two of stones or pebbles. The glass container should be tall so that all the layers are visible clearly. Place only cactus and other succulents but nothing too green and bright.
9. Pumpkin Terrarium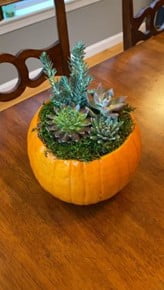 Pumpkins are not only for Jack-o-lanterns and to go in your soups and latte. They work great as terrariums for your succulents. But they are temporary as the vegetable will perish. It is hard to maintain as you can have a pest infestation. It works well for the fall or maybe as a centerpiece for thanksgiving.
10. Classic Mason Jar Terrarium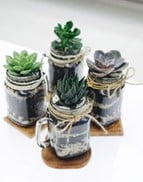 Mason jar succulent terrariums are the most common terrariums you'll find nowadays but, they are still very trendy. It is a very versatile container and can be used in any way. It looks great and also very compact. Perfect for wedding n dinner table decor. You can dress it up with different ornaments or have a minimalist terrarium. You will come across single succulent mason jars very often as it is perfect for gifting.
11. Treehouse Terrarium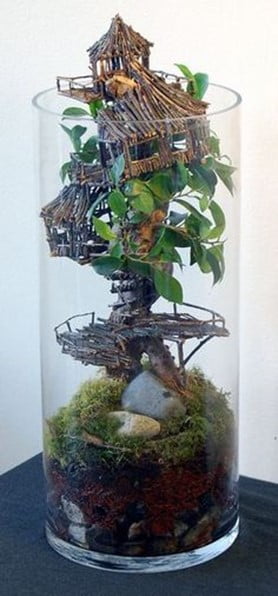 This masterpiece is only possible if you have prior experience in making a terrarium. This project is a bit complex as the main element, the treehouse, is hard to make. It would make things simpler if you can buy one. Make sure you balance the treehouse well, and you have a tall enough glass container for your terrarium.
Place some stones over the moss garden along with other ornaments to complete the terrarium. You can also try and place some succulents on the roof or the windows of the treehouse.
12. Witches' Garden Terrarium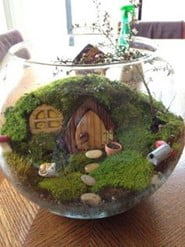 Every other people have a fairy garden. Want something offbeat? Make your own witches' garden terrarium for the Halloween decor this year. Over the cottage, cover it up with succulents such as Black Rose, Chinese Jade, Black-Spined Pricklypear, Echeveria Black Knight.
Those succulents are mostly black colored and will go perfectly with the witches' hut. Use some bright green colored moss to help the dark-colored succulent pop
13. Champagne Coupe Terrarium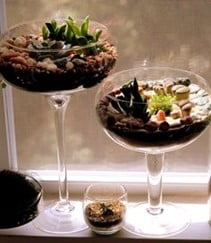 Wine glasses and fancy champagne coupe or saucer works perfectly for succulent terrariums. They look elegant and can look romantic on the tabletop for candlelight dinners. It is easy to move around, and you can place it by the windows during day time so that your succulents get abundant sunlight.  Burro's Tail, Crown of Thorns, Flaming Katy, Aloe Vera, Panda Plant, Roseum, Snake Plant are small succulents and go well in wine and champagne glasses.
14. Lantern Terrarium with Fairy Lights
 Take up your choice of a lantern. You can have a barn-style wooden lantern or an antique lantern with metallic finishing and glass doors. You cannot build much of a layer in such terrariums, so focus on the succulents' arrangements as they are the star here.
Making terrariums out of lanterns helps you in hanging them on the patio or by the window. It will keep your succulents happy and healthy as they will get abundant sunlight. You can use cacti or succulents that hang or trail, such as String of Bananas, String of Hearts, The Hindu Rope, Burro's Tail, Ruby Necklace so on.
15. Hanging Christmas Terrarium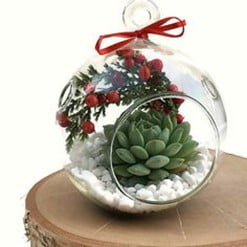 The festive season is almost here, and you still thinking about what to do for this year's decor? Why don't you try something new and make yourself a hanging Christmas terrarium? Get a glass orb and layer it up with some white-colored pebbles and potting soil.
Place one succulent and add in some fake snow or snowflakes. Hang it up on your tree with a red ribbon, and make sure you tie a perfect little bow! If you want a tabletop Christmas decor, you can make yourself a Christmas tree out of moss and succulents.