Who said you need to need to visit a fancy restaurant to have your favorite hamburger? You can always make them at home in your comfort.
Well, if you are out of ideas on what to make, we have got you covered. Instead of making that same old Recipe, we have provided you with 25 Unique Burger ideas that you can try making this weekend!
Swiss Pan Burger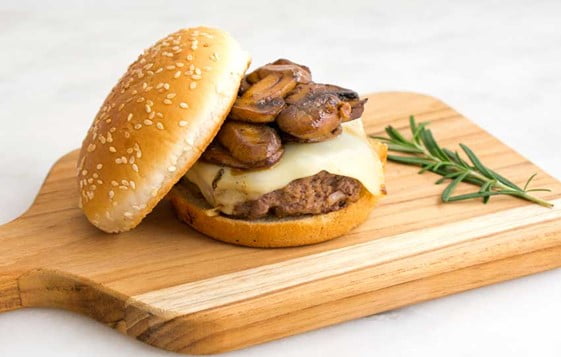 Make cheeseburgers from the comfort of your kitchen. Even if you don't own a grill, you can still make mouth-watering cheeseburgers using a cast-iron pan. Add toppings with caramelized onion, sautéed mushrooms, or sliced tomatoes. Stuff it with rosemary, mushrooms, and Swiss cheese to have delicious crispy delight.
Get the Recipe here
The Mexican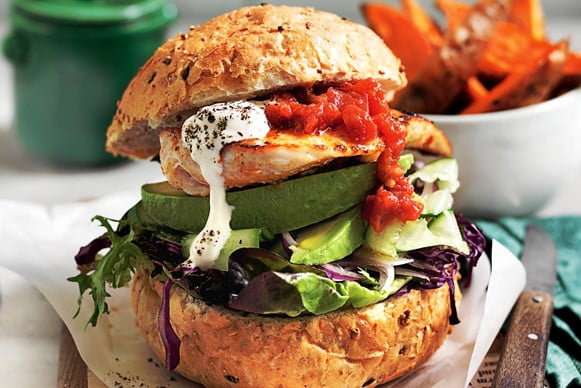 Make your hamburger patty, grilled to perfection, nestled with refried beans inside a freshly rolled tortilla. Bath it in green Chile and top it with lettuce, tomato, and grated cheese. Warm it till the cheese melts and serve this savory delight to your family.
Get the Recipe here
Aloha!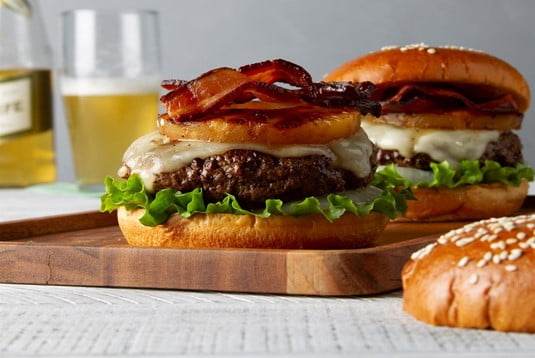 This is a must-try burger. A real Hawaiian classic hamburger. Start with a regular beef patty, layer with lettuce and onion on the bottom of the bun and top it with pineapple, cheese, and bacon. With all these components all you have is a cheeseburger on epic tropical mode.
Get the Recipe here
Burger Bombs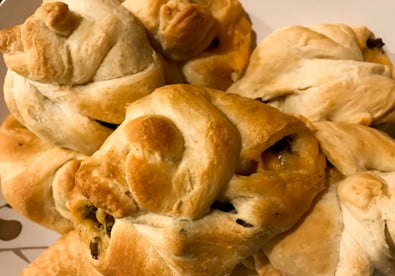 Have a starving crowd to cook for? Here's what you can make; I promise you it's delicious. Fire up the grill and start making these stuffed burger bombs for the party. Add seasoning as per choice, and Voila! You're all ready to serve this fantastic food to your friends. Easy peasy!
Get the Recipe here
Hawaiian Heaven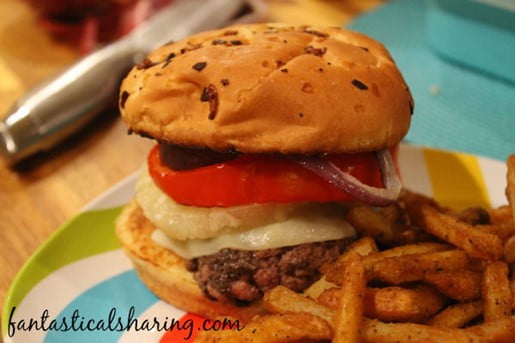 And here comes the summer-ish but not limited to summer kind of dish. The teriyaki sauce and provolone on the burgers AND the toasted onion rolls are to die for! Get creative with the toppings and the flavors. Try it yourself and bless your stomach with this exotic burger.
Get the Recipe here
Mozzarella and Caramelized Peaches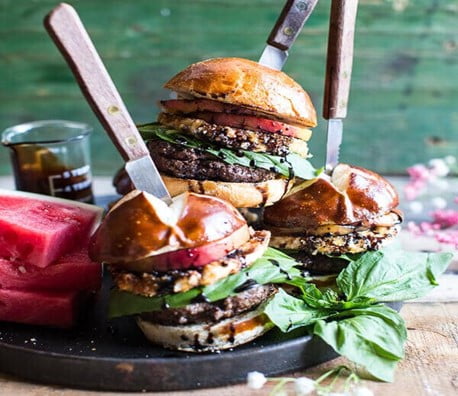 Make this mozzarella for yourselves and experience the crisp on the outside and gooey on the inside, deliciousness for yourselves. Add basil with some sort of sweetness. If you don't have peaches try using diced strawberries, mangoes, or pineapple to add deliciousness for yourself. This combo of sweet and savory is so damn good. Try it yourself!
Get the Recipe here
Aww, Baby Burgers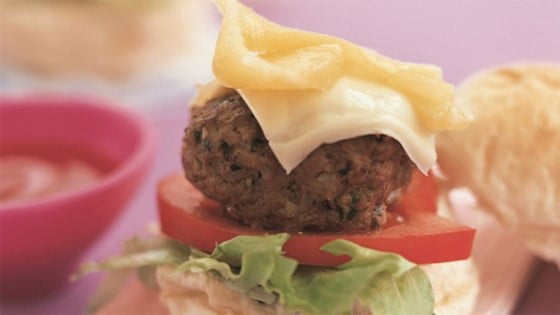 Let us see this mini burger that will suit the toddlers who cannot hold those big sized burgers. It still uses the big sized buns, but once you cram them into the muffin tin, they come out like this—top these cute, adorable burgers with cheese and pineapple slices.
Get the Recipe here
French Onion Soup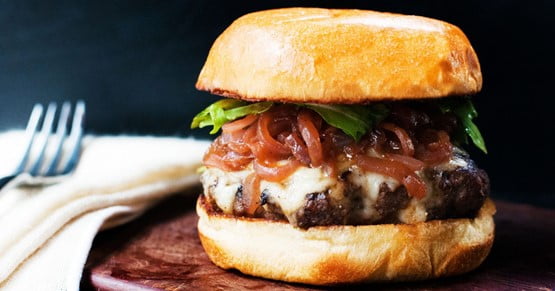 This is a great food choice for winters. The name comes from tapping this ultra-cheesy burger with caramelized onions, gruyere, and Comte cheese, which tastes a lot like French Onion Soup. Preheat the griddle over medium-high heat but avoid overworking the meat. Season each burger with salt.
Get the Recipe here
Stuffed with Goodness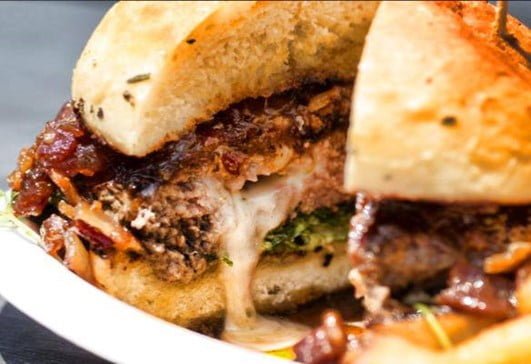 Add a new twist on an old favorite and stuff your burger with gooey cheese. But you can be creative too. How about bacon? Try it. Trust me, everyone loves it. If not, we have a zillion options to go for. Try mushrooms, or chutney or relish? Be wild and explore the taste.
Get the Recipe here
In-N-Out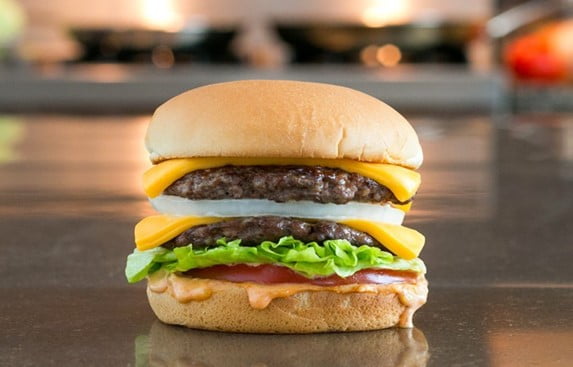 Construct this legendary hamburger made of simple ingredients. This IN-N-OUT burger recipe has achieved hamburger perfection. With fresh ingredients, moist beef patties, perfect spread, and welcoming crunch on your first bite, this hamburger has got it all covered. This will be one of the best burgers to come out of your kitchen.
Get the Recipe here
Summer Chicken Burger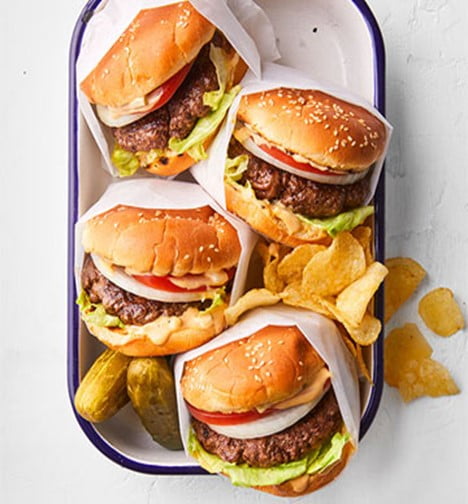 Make this diner-style Summer time smash burger without pressing the grill's patties in a cast-iron griddle or skillet. Serve on toasted sesame seed buns with thinly sliced onion, tomato, torn lettuce, and Special sauce. Enjoy this inviting and flavorful delight!
Get the Recipe here
Thai Peanut Butter Bacon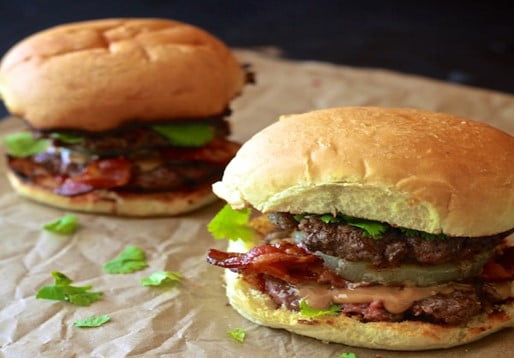 Satisfy ALL your taste buds with this exotic combination of Asian spice with peanut butter. Topped with bacon, this Thai-inspired burger is a perfect balance of savory and sweet. That nutty, salty taste of peanut butter enhances the meatiness of beef and replaces the cheese entirely.
Get the Recipe here
Smoky Beer Burger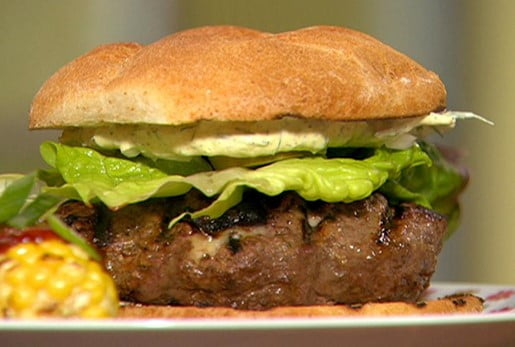 Smoked with Gouda cheese, enjoy the taste of these burgers. Serve the patties on bun bottoms and top it with lettuce, pickles, and chopped raw onion. Slather the bun top with sauce and serve this mouth-watering delight to your family and friends.
Get the Recipe here
French Dipped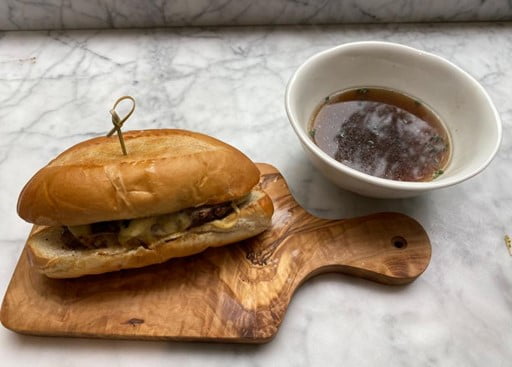 Trust me, it's a killer recipe. Upgrade your classic French dip sandwich with a homemade juicy Augus beef burger, homemade jus, balsamic onions, and melty cheese on a toasted garlic roll. We'll recommend grilling your burgers here.
Get the Recipe here
A Classic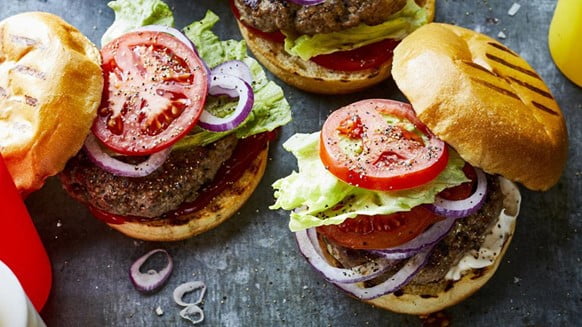 Get this delicious restaurant-style hamburger recipe made from lean beef. Take a little extra effort to craft your patty. Top it with sliced cheese delight and let it melt. Slip in a juicy beef patty and roasted garlic mayo. Don't forget to grill your masterpiece.
Get the Recipe here
Insanity Burger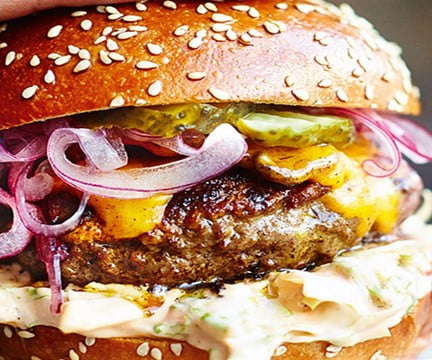 Just look at it, is not it mouth-watering. The special Recipe by Jamie Oliver is a must-try. He has used a brilliant technique of brushing the burger with mustard and a dash of Tabasco Chipotle sauce as he cooks to build up an incredible gnarly layer of seasoning.
Get the Recipe here
Chicken Parm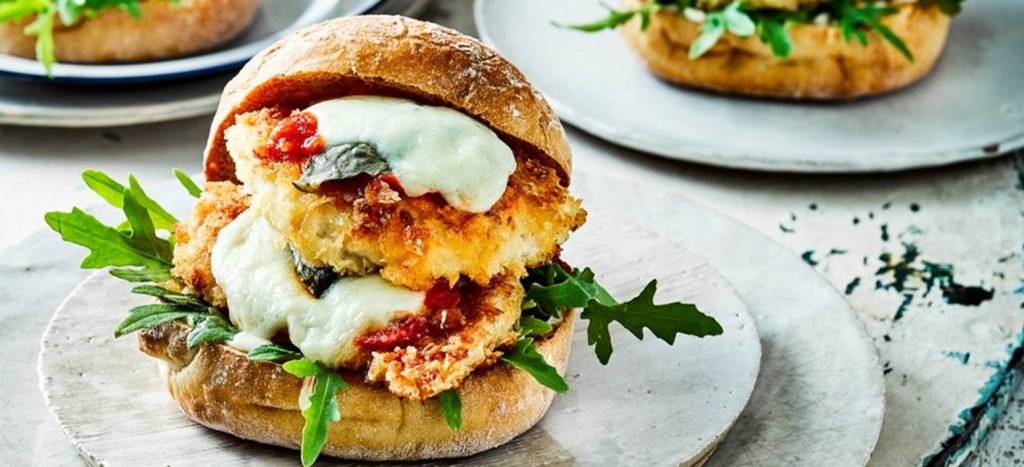 Sink yourself in this Italian delight. Stacked with oozy melted mozzarella, these chicken parm burgers will put a smile on everyone's face. Spread the toasted bun bases with garlic mayo and top with basil and burger bun tops. Try this, and you'll love it!
Get the Recipe here
Vegetable Burger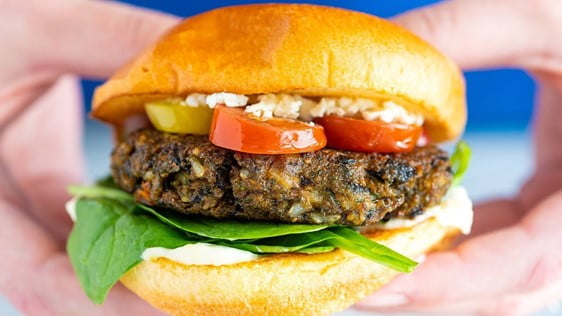 Here's to my vegetarian folks out there. They are made from simple ingredients like beans. Tofu, mushrooms, nuts, grains, soybean, and some mayo plus sauces make this delicious burger at the comfort of your kitchen. These veggie burgers will provide you with fibers and various vitamins and minerals, and you can have them without feeling guilty about it. Com'on it's healthy! (winky face)
Get the Recipe here
Jalapeno Business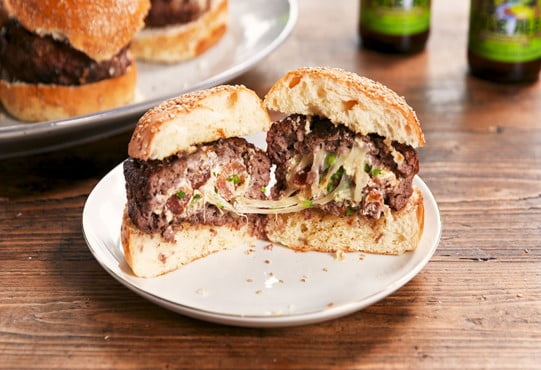 There is nothing better than tangy pickled Jalapeños. Expect a burger topped with them. Made with fresh but not frozen beef, this cheeseburger features American cheese, crispy fried onions, Jalapeños, Applewood smoked bacon, and a warm cheddar cheese sauce.
Get the Recipe here
Whiskey Lullaby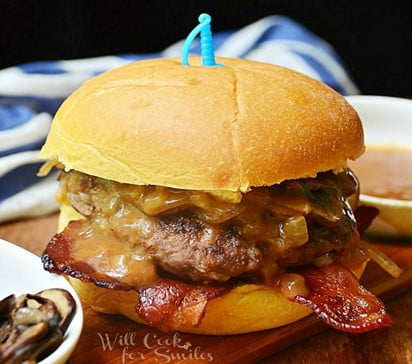 Try making this whisky burger for a party or a gathering. As exciting it sounds, it is. It's brushed with homemade whiskey glazed and topped with Irish cheese. These whiskey- flavored hamburgers are going to be a hit at any BBQ or Tailgating party!
Get the Recipe here
Sweet Potato Crunch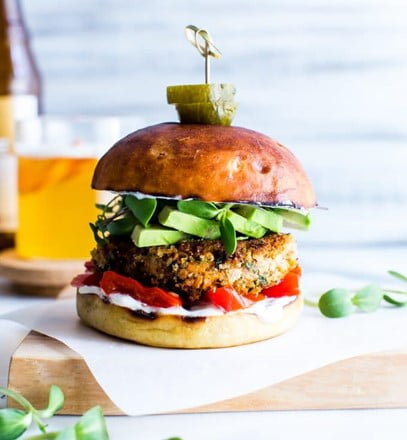 Flavorful vegan sweet potato burgers packed with unique spices and topped with avocado. These are so tasty and easy to make. With melted mozzarella cheese within and light, crunchy breadcrumb coating, they'll satisfy all your crunchy cravings.
Get this Recipe here
Coffee Rubbed with Dr. Bbq Sauce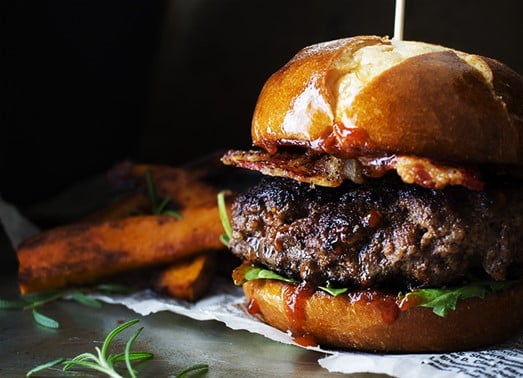 Craving for a big, juicy, flavorful burger, try this coffee-rubbed with Dr. BBQ sauce burger. It's not your average burger but is juicy beef burgers seasoned with a spiced coffee rub, topped with peppered bacon and a lip-smacking Dr. Pepper BBQ sauce!
Get the Recipe here
Bacon and Goat Cheese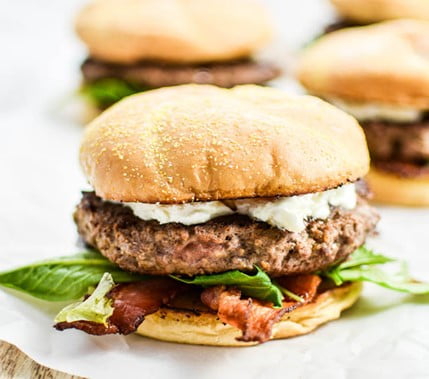 You literally can't count the number of flavors this burger has to offer. Creamy goat cheese, salty bacon, and sweet, spicy pepper jam make this burger incredibly tasty. It is packed with flavors and one of the best burgers you can ever get.
Get the Recipe here
Honey BBQ Bliss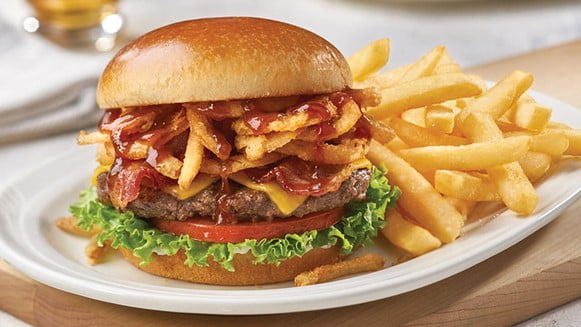 This sweet and tangy bliss will hit your summer party or weeknight dinner. This can be messy, but it is so delicious you can afford the mess. So, grab some napkins, fire up your grill and get ready to enjoy this Honey BBQ burger for dinner tonight.
Get the Recipe here
The PB & J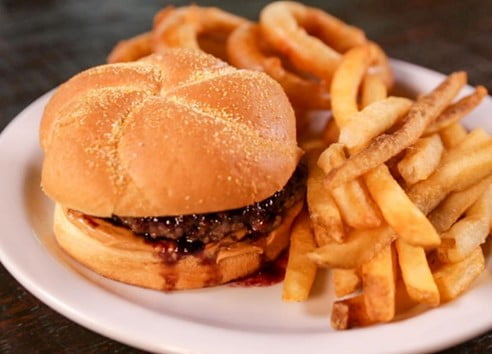 Okay, first PB and J stand for Peanut Butter and Jelly. It's an unusual fusion of two classic sandwiches creating a sweet and savory twist on grilling nights. It is unique and a must-try option to go for. Try it and decide for yourself if you have liked it or not.
Get the Recipe here
Conclusion
So, as we have reached the end, among all these blissful delights, which one was your favorite that you would like to try at your home? We hope among all these 25 unique burgers, and you must have liked at least one of them.
You can try to add your flavors and unique touch to it. After all, you are making it at home, and you can be as creative as you like!!