While preparing for one of the necessities of food, fuel becomes necessary. An alternative to conventional fossil fuels, briquettes tend to be more fiery blocks of matter. Briquettes are tight blocks of combustible biomass like charcoal and wood chips for initializing fire.
Starch binds compressed flammable materials in a briquette and holds the block. Though briquettes consume many materials like mineral char, sawdust, rice chaff, peanuts, peat, and biomass, charcoal briquettes are more common nowadays.
Prima facia, charcoal powder makes charcoal briquette. In return, the briquette guarantees a continuous supply of heat without smoke during burning. A single charcoal briquette will raise the temperature of a camping oven by 25°F with its crude list of constituents.
Very roughly, a charcoal briquette contains wood charcoal, coal, anthracite coal, and limestone. It also contains meager amounts of starch as a binder, borax, sodium nitrate as an accelerant, sawdust, wax as an ignition booster, and rice or peanut chaff.
Advantages Of Charcoal Briquettes
As briquettes are more compact, they are hard to break. Thus, they are slow-burners and run for a lengthy period. Moreover, a lesser quantity of material produces more heat owing to its low moisture and density. A briquette does not produce smoke while burning, nor does it leave out any carbon deposits. Furthermore, it is made from locally sourced materials and does not produce fly ash.
A briquette is a sustainable, renewable, and cheaper alternative to fossil fuels and can be easily transported over longer distances considering its size, shape, density, loading, and unloading. These cubical, spherical, cylindrical, or rectangular masses are not only clean but easy to store in bags. DIY combustible matter briquettes made with molds are some of the best briquettes for smoking.
What Are the Raw Materials of Charcoal Briquettes?
Charcoal briquettes are made up primarily of charcoal and some subsidiary ingredients. Chiefly formed of carbon, it is a product of wood combustion for fuel. Subsidiary materials include accelerants, white ash, and binders.
Charcoal
More than 70% of the material composition for charcoal briquettes consists of black charcoal. One gets charcoal from combustible products and woods such as beech, birch, maple, and oak. The charcoal obtained from these is the black wood charcoal. It is simpler than charcoal that forms, processes, and extinguishes inside of a kiln. It is relatively easy to burn and highly combustible but explodes quickly.
On the other hand, we get white wood charcoal when white ash is left to carbonize and oxidize when taken off the kiln and submerged in wet sand. Comparatively, white wood charcoal is harder.
Accelerants
Accelerants boost combustion and facilitate the contact between charcoal and oxygen to produce fire. Nitrate compounds provide both oxygen and heat and thus, help in burning to a greater extent. However, it is expensive. As a cheaper alternative, you can use about 10-20% of sawdust to increase the burning speed effectively.
White Ash
White ash accounts for a meager 2-3% of the material composition for charcoal briquettes. However, it plays a crucial role in burning and accelerates combustion time. The greater the degree of white, the more is the burning degree of the charcoal briquette. White ash is not fiery but increases the burning time of the material.
Briquette Binder
Crude briquettes do not stick to each other and form lumps. Hence, briquette makers use a briquette binder in rough proportions of 5-7%. Starch is one of the best binding materials. A thick paste formed after gelatinizing holds the charcoal powder together to form the briquette. Alternatively, you can also use the wastepaper pulp for a cheaper binder and Arabic or acacia gum for a cleaner alternative.
There are four options available for mixing these:
Option A. Use 6.3 kg tapioca starch per 10 kg of charcoal dust powder.
Option B. Use 5 kg sawdust, 1 kg tapioca starch, and 0.5 kg limestone for 10 kg charcoal powder.
Option C. Add 5 kg sawdust and 1 kg mashed waste pulp per 10 kg of charcoal powder for making your briquette.
Option D. Use 5 kg sawdust, 0.5 kg tapioca starch and, 0.5 kg limestone for 10 kg of charcoal powder.
Chemicals For Press Release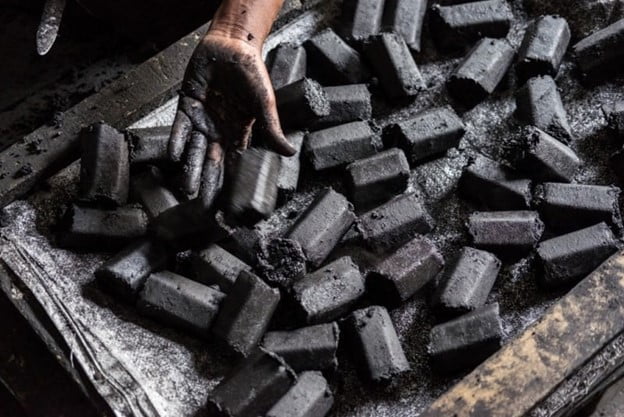 Use borax or sodium borate to release the charcoal paste, pressed in a briquette from the kiln. You need not add this chemical for manual presses. However, it becomes a necessity for high-pressure briquette makers.
Fillers
Fillers increase the briquette's weight, volume, and density and help fetch a hefty sum. It adds ash content to your briquette so that you can lower down your prices. Popular fillers for best charcoal briquettes for smoking include cement and clay. However, clay requires finance for transportation to the site, and hence, one can rule out this option. A small measure of filler prolongs the burning period, but too much filler deteriorates the quality.
Final Word
It is not confusing to make charcoal briquettes and, only with minute attention to the component ratio, moisture, and quality do we get some of the best briquettes for smoking. After processing the briquettes, choose good quality machinery for drying, and ensure that all the raw materials for a briquette, namely charcoal, accelerants, white ash, briquette binder, press release chemicals, and fillers, are measured, checked, and processed.