During the snowy winters, driveways, and sidewalks blocked by snow are a common problem. However, with the onset of winter, as much as you want to curl up on your couch before a fireplace, life must go on. But the heavy snowfall can block your path every day, making it a daily hassle.
While you cannot do anything to stop the snowfall, you can certainly make your work of clearing up your path a lot easier with the help of a snow thrower.
When it comes to snow throwers, people often confuse them with a snowblower. And that gave rise to the age-old snowblower vs thrower debate. But today, we are going to discuss how exactly a snow thrower works and how different it is from a snowblower.
What Is a Snow Thrower?
A snow thrower is a single-stage machine that serves the same purpose as a snowblower. It collects all the snow blocking your path and tosses it away from a chute in one smooth stroke.
The look and design of the machine, as well as the functioning of a snow thrower, is pretty like a snowblower. But there are quite a few major differences between the two equipment.
Hence to help you understand the difference better and decide which one is more suitable for you, we have created a detailed guide highlighting the differences.
Sale
Snow Joe ION100V-21SB-CT 21-Inch 100-Volt Max 5Ah Brushless Lithium-iON Cordless Snow Blower,...
[TOOL ONLY]: Battery plus charger sold separately
[POWERFUL]: 2800 W brushless motor increases battery efficiency, maximizes motor performance,...
[LED LIGHTS]: Dual 2.5 W LED headlights provide increased visibility for nighttime snow removal
[AUGER ASSISTED DRIVE]: Helps propel the unit forward through snow to clear more with less effort
[AUGER SPEED]: Moves up to 16 tons per charge, minimum auger speed moves up to 12.5 tons per charge
Snow Blowers Are More Powerful Than Snow Thrower
A snow thrower works best for light snowfall. The reason behind this is that it is a single-stage machine. It collects the snow and throws it away at a maximum distance of 20 to 25 feet.
On the other hand, snow blowers are a much more powerful machine. It is two-stage equipment with a powerful impeller that throws away the gathered snow at 35 to 50 feet depending upon the model. And three-stage blowers with powerful accelerators can even work their way through the hardest layer of snow. Hence if a heavy snowfall covers up your path, a snow blower is a better choice between the two.
Snow Blowers Run on Fuel Whereas Snow Throwers Run on Battery
Old snow thrower models run on electricity. Hence, they often need an extension cord connected to an electric outlet to work. This limits their reach and use. The newer models of snow throwers work on lithium-ion batteries and go on for 30 to 40 minutes on a single charge.
On the other hand, snow blowers run on gasoline. This means they are not restricted by distance. Also, since they are not dependent on batteries, they can go on for as long as the fuel will last.
Snow Blowers Can Remove a Wider Strip of Snow in One Go
As we already mentioned, snow blowers are more powerful than snow throwers. They can remove a wider strip of snow in one go than a snow thrower.
Depending on the model, a snow thrower can remove 12 to 20 inches of snow in one go. But a two-stage snow blower can remove at least 25 inches of snow, and a three-stage snow blower can remove about 30 to 35 inches of snow in one pass.
It is an important point of consideration while buying the machine because if the amount of snow removed in one go is higher, the total time taken to clear the path and remove the snow will be much less.
Advantages Of Buying a Snow Thrower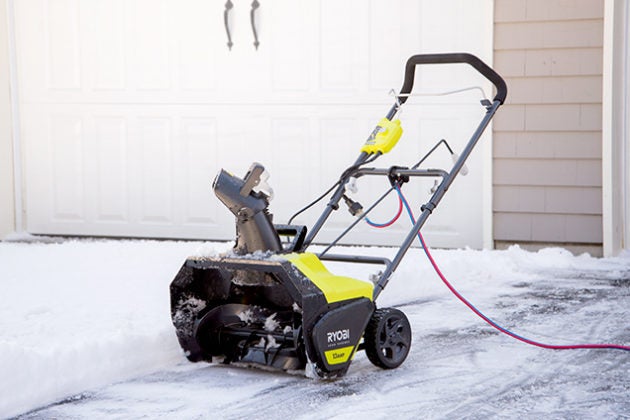 You might feel that a snow blower is better than a snow thrower in every aspect. Then why should you even buy it, and how can it benefit you. Well, snow throwers come with their own set of benefits.
Here are three big advantages of using a snow thrower:
1. They Are Easy to Store
Being a single-stage machine with lower power, it is much easier to store them than a snowblower. This is a huge advantage, especially if you do not have a dedicated shed in your garden to store the equipment. Snow throwers are a blessing for small families with small houses.
2. They Are Cheaper Than Snow Blowers
Not every region has heavy snowfall. So, it is possible that you might not even need a heavy-duty snow blower to remove the snow from your path. Hence instead of investing in a snowblower, you can invest in a snow thrower. Being a single-stage machine with lesser features in comparison to a snowblower, they are comparatively cheaper. So, if you are running on a tight budget, then a snow thrower is the best option for you.
3. Snow Throwers Are Easier to Maintain
Since most snow throwers work on batteries or electricity, you do not have to go through the hassle of maintaining a gas-powered machine. Gas-powered machines require much maintenance, including checking the fuel level, adding fresh fuel, keeping an eye on the gas filter, and replacing the spark plug annually.
Conclusion
So that was all about snow throwers and ways in which they can benefit you. While it is true that snow blowers come with better features, not every family will have the requirement of a heavy-duty machine like that. Hence, for smaller households with smaller needs, a snow thrower is a perfect choice.
Meta Description: Snow throwers are a blessing for snow-blocked driveways. They ease your efforts of clearing off the snow. Here is a guide on everything you need to know about snow throwers and how different they are from snow blowers.