Do you have a chimney at your home? Are you planning a fire camping next weekend? Then you will require a good amount of wood stocked in your backyard or garage to keep up with your plan. If you are new at this, then the first thing you need to know is the measurement of wood, that is, what are the basics to buying firewood
Different countries have different ways to measure the quantity of firewood. Cord and rick of firewood are two different ways of measurement. So, let's see what these terms mean and how are they different from each other.
What is a Cord of Firewood?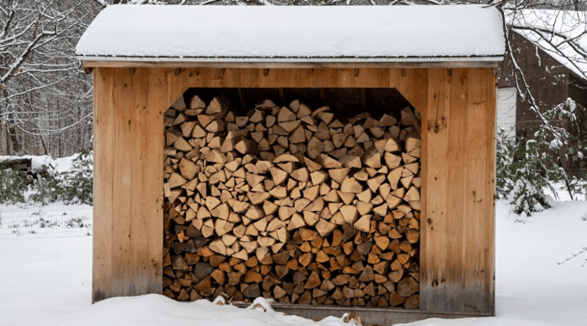 Basically, a cord of wood comes in 128 cubic feet of stacked or piled up firewood. To make a full cord, the firewood is stacked together tightly or, in some cases, loosely when the quantity of wood is 180 cubic meters or depending upon how loosely the wood is stacked. In many countries, this is a legal way to measure firewood.
Now, let us talk about the dimensions of the cord. Usually, the dimensions go like 4′ x 4′ x 8′, equivalent to 128 cubic feet. This is one of the commonly used dimensions, but you can go for whatever dimensions until you get 128 cubic feet.
There are also chances of getting a standard length bed for F-250 measures; this might be slightly more than half a cord even if the wood happens to be stacked at the top of the bed. This also includes the factoring about the space taken up by the wheel wells.
What is a Rick of Firewood?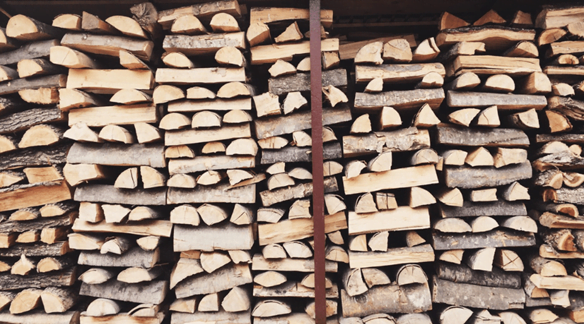 A rick of firewood is also known as a face cord and is not very consistent in its measurements. Unlike the mandatory measurement of 128 cubic feet for cord, the measurement of rick might differ from place to place. This also becomes one of the biggest challenges while buying the rick, so you are unaware of exactly how much wood you are getting.
Let us get into the calculation. So, if you cut 16 inches long wood stacked at the height of 4 feet and is 8 feet long, then a rick will be 1/3 of cord. Applying the same rule, if the logs are cut into 24 inches long, it might be considered as ½ of cord. In a nutshell, the length of wood directly impacts the quantity of wood you will be getting.
To know the real measurement, one way is to measure the stack of wood by its length of logs. Generally, the size is 16 inches as the homeowners prefer that to use and accommodate them easily. This makes it easier when the wood is required for a particular purpose.
Some people are paranoid about buying wood by this measurement as it gets a little tricky. The only way to know how much wood you are getting is to measure it, and it gets difficult when the same is stacked in a pickup truck. Especially when the stacking is not done up to the mark.
How To Decide?
Well, the choice is completely yours but given are some factors that you can consider making an informed decision.
Quality of Firewood
Pay attention while checking the quality of firewood. Don't fall for the green firewood as it will be difficult to store them, and also, they cannot be burned as easily as dry wood. The wood should look grey while you are buying them.
Storage Tip
Buy similar sizes of wood so that you can store them easily and make sure you keep them on an elevated height from earth to save them from moisture. You can get a rack to do the same.
Sale
PHI VILLA Heavy Duty Firewood Racks Indoor/Outdoor Log Rack with Kindling Holder, 30 Inches Tall,...
【High-Density & Durable Metal Material】This PHI VILLA firewood log stand adopts high-density...
【Sufficient Storage Space】Wood storage dimensions: 33"L x 13"W x 30"H,tubular steel(1.2mm...
【Fashionable & Practical】As an interior ornament for your home fireplace or patio outdoor decor....
【Multifunctional】Wood stove accessories can be used near fire pit, fireplace or wood burning...
【Easy to Assemble & After Sales Guaranteed】Fire place assecories sets include all hardware...
Shed of Firewood.
Once you have stored the wood perfectly, make sure you are covering them with a shed to protect them from rain and snow. So, buy the wood that can be protected easily under the particular shed. Going for cheap today can make you pay double tomorrow.
Conclusion
There are also other measurements that you can use for purchasing the firewood. However, if you still want to choose between the above two, we suggest the one that you are more confident about.
If you want to be sure about how much wood is being purchased, then you can go for a cord of firewood, and if you are fine with quantity going a little up and down, then you can go for a rick of firewood.
Keep up with us to know more about similar things. If you still have a doubt, our comment section is always open for you, and we will get back with the information ASAP.