Rocks are one of the most versatile, multifunctional, low-maintenance accessories that you can have in your lawn or backyard. It is not just another decorative element to have on your lawn. Beautiful garden rocks elevate the aesthetic beauty of the garden as well as have different functionality.
Landscaping with rocks can be fun and quirky if you know your way around it.
Now, it is not just simple boulders or roadside chunks that you just stump in the middle of your garden. That is not the correct way. To go with the vibe of your lawn, you need to select your choice of rocks from a variety.
You can always mix and match to have some fun, but there must be some uniformity, or else it will look like a clown land.
A few of the most common choices of rocks are listed below:
Decorative gravel
Pea gravel
River rock
Lava rock
Beach pebbles
Polished pebbles
Boulders
Cobblestone
Flagstone
Bricks
Those landscaping rocks are readily available, easy to work with, very versatile, and range in cost from high to low. But the critical and most crucial point is to know how to utilize them in the best possible way. All rocks are not made for all work.
According to the theme, color palette, garden type, purpose, weather, and budget, one should decide on purchasing rocks for landscaping their lawn or backyard. The lava rock, river rock, and cobblestone can come a bit pricey, but it is never a crime to have a few valuable rocks in your backyard.
Let us check out the best way to showcase and utilize your precious new rocks and stone.
Pathway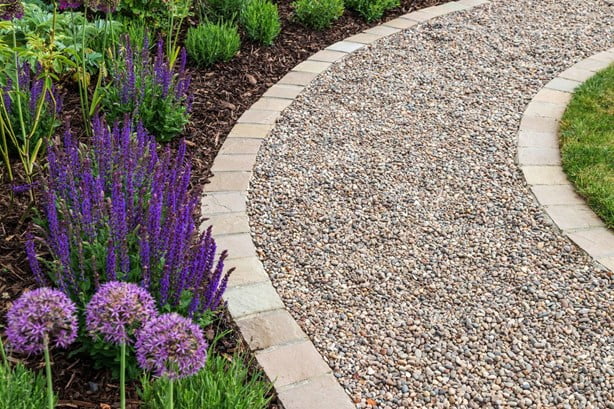 Pea gravel, decorative gravel, river rock is all excellent choices for your pathways and borders since they are small and come in attractive colors. All those have a nice finish and look naturally polished. There are not many drawbacks to using gravels, but over the year, they do break down. River rocks are great options as they are sturdy, but you absorb heat way too fast and retain it for a long duration.
Any living plant or shrub that you plant along the pathway might not survive the heat from the stones and die. If you don't mind stretching your pocket a bit, go for cobblestones if it goes with the idea of your lawn. For a rustic look, you can go for a brick-built pathway, and the pocket pinch is very low.
Mulch Alternative
Gravels and pebbles are extensively used as mulch since there are lots of positives to them. If you want to keep the weeds at bay, go for the gravels. They also help in retaining moisture and work perfectly for plants such as succulents which thrive in the heat.
Introduce Height
Boulders and big rocks are great for creating some height in your landscape. You can plant some decorative grass in the creaks or just let some moss cover it. Perfect for building your lawn's focal point.
Ground Cover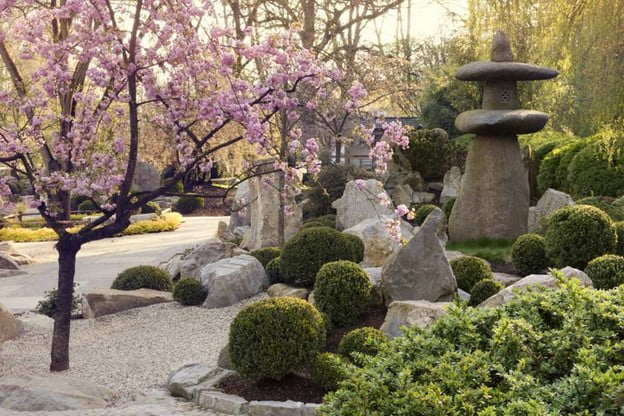 A rock garden is not a new thing and has been in Japanese culture for a long time. In recent days they have made their presence in the western world as well. It is not absurd to adorn your lawn will a lot of stones and gravels and less to no plants. In such cases, you need ground covers which are most like gravels, pebbles, and stone chips.
Anchoring Beds
Boulders, bricks, and other big stones are perfect when it comes to anchoring elevated flower beds. It gives a height and introduces different lever for which all your plants are showcased well, and nothing hides behind another.
Build Walls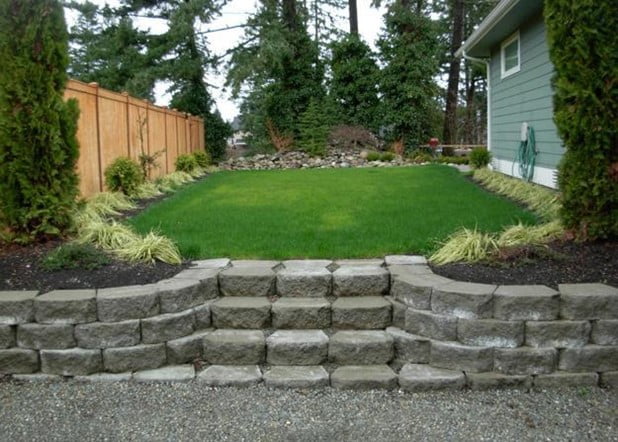 Instead of fencing your backyard or lawn, building a stone or brick was a very classy and modern choice that can elevate your look in an instant. It is simple but does the work. When choosing your rocks for your wall, make sure that they are not rounded off since it would make it wobbly, and no one wants that. The walls must be strong, and sturdy and you can decorate them with some creepers to finish the look.
Apart from boundaries, you can also make stone walls to enclose a separate small garden for vegetables or flowers, to make a retaining wall, to separate the street and your law. Most people stick to making their boundary with stone walls, but the options are innumerable, and the sky is the limit.
Stone and rocks, be it expensive or affordable ones, you can use in many ways to give a new composed look to your lawn. Do not be shy; explore new ideas and do not hesitate to take professional help if you want to make your next-door neighbor jealous of your new lawn.