If you are a beginner and you are designing your first chicken coop, you might face some difficulties getting everything right the first time. Well, even if you get few things wrong it is easy to fix them right down the road.
Chicken coops are structures that give your flock shelter from weather and predators. One of the most important part of the chicken coop is the door. You just need to get few things right for a perfect door for your chicken coop- the size, the height off the ground or floor, and the security.
Why are Doors important? 
If you have a chicken coop you would probably understand why it is important to have an easy access to your coop so include a people size door. Many people prefer the Dutch setup in this case where they can leave the top closed during the day and bottom open for easy access of the flock.
When they wish to enter, all they must do is to open the top door. This makes it easy for them to check for eggs and clean out the coop.
But if you do not want a Dutch type, you should have a people door and a chicken door. People door can be shut to minimize drafts and offer extra protection from predators. While the smaller doors allow your chickens to get to their nests, escape predators and get out of the weather.
Let us now understand how and where you can build a chicken coop door.
How To Design a Chicken Coop Door?
An ideal chicken coop door is 10 inches wide x 10-13 inches high. It is preferred to be at least 6 inches off the ground, and should swing outwards away from the coop. Automatic doors work great as well. Manual doors have latches and locks that are secure against predators.
How Big the Chicken Coop Door Should Be?
How big the chicken door should be depending on 4 main factors-
Chicken breed size
Roosters or no roosters
Aerial predator threat
Climate and weather
Different breeds require different pop hole sizes. Here are some common rules:
| | | |
| --- | --- | --- |
| Breed Size | Pop Door Width | Pop Door Height |
| Bentham | 9 inches | 9-12 inches |
| Standard | 10 inches | 10-13 inches |
| Large | 12 inches | 12-14 inches |
Breeds like Orpingtons, Brahmas, Cochins, Jersey Giants, and Langerhans are large varieties. Smaller doors can fit these larger varieties as well provided the pop door ramp is shallow enough to prevent them from falling on to the ground.
Roosters again are larger than hens. But if your door size is around 10 inches x 10 inches, they will not have any problem getting in and out of the doors.
However, if you are aware of aerial predators or if they are a major threat for your chickens, you should consider a larger chicken door.
Large chicken doors are normally preferable in summer's hot climate, but they are bad for cold climates. Large doors increase the ventilation in your coop, so in summers, your chickens will welcome this increased air flow.
However, in cold climates, you would want to reduce the drafts as much as possible. It will also allow rain and snow into the coop, which can be a huge problem.
In such conditions, you can hang curtains or plastic strips over the pop door. This allows increased air flow in the summer months with the curtains removed, but also helps keep the chill out in the colder months.
Types Of Doors You Can Install
There are two basic types of doors that you can install in a chicken coop- Manual and Automatic doors.
If you have decided to go with the route of using a manual door, you should build one that opens outside. There are different styles you can choose from-
1. Sliding Doors- they slide either horizontally or vertically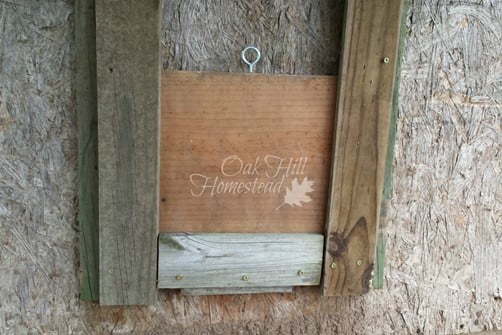 2. Swinging Doors- The doors here swings open on a horizontal plane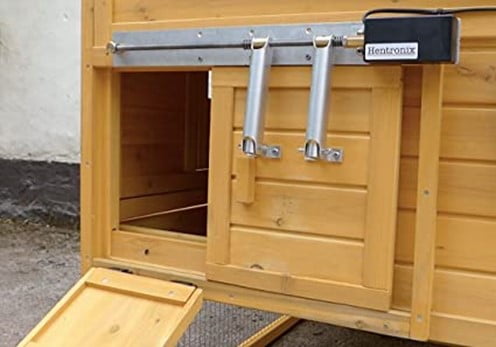 3. Ramp Doors- the doors swing open downward on a vertical plane and serve as a ramp for the birds to get into and out of the coop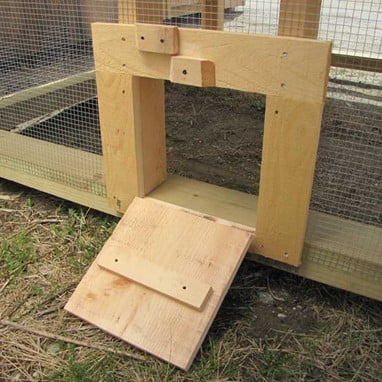 However, if you have a less flexible schedule, an automated one will suit you better. Automatic doors can either set to open and close at a certain time or based on the level of light.
Best Automatic Chicken Coop Door
After searching on various online platforms and going through dozens of reviews, we realized that there are few brands of chicken coop doors that came up repeatedly. Let us discuss few of them below-
Battery-Powered Chicken Coop Door
ChickenGuard Self Locking Chicken Coop Door is the most-recommended battery-powered automatic chicken door. It is possibly the best quality door available. It is heavy duty, comes with 3-yr warranty and is designed for all weathers.
ChickenGuard Self Locking Chicken Coop Door, Predator Resistant Pop Hole Door, Chicken, Poultry Coop...
Introducing our brand new self locking door – A world's first. Perfect to stop crafty predators...
Once the door is fully lowered locks engage on either side, adding an additional level of comfort...
Weather resistant, will not warp, crack or swell with moisture. Material actually hardens and...
ChickenGuard takes environmental responsibility extremely seriously so we are proud that our tough...
Our brand new self-locking door kit is sure to be a game changer for backyard chicken owners wanting...
Solar-Powered Chicken Coop Door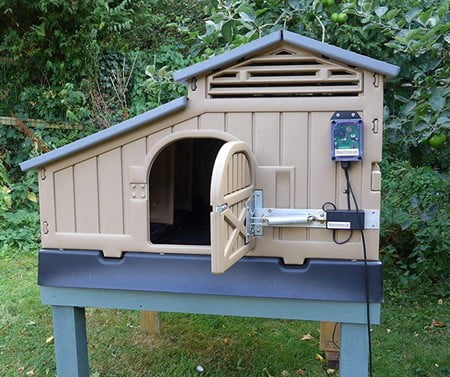 For solar powered chicken coop doors, Run Chicken Model T50 Automatic Chicken Coop Door is one of the most recommended solar-powered automatic door. It is easy to use, works excellent in extreme weather and comes with 1 year battery life.
RUN-CHICKEN Door (Brown) Automatic Chicken Coop Door Opener with Timer, Programmable Light Sensor,...
🐓 PLUG AND PLAY TECHNOLOGY - It takes no more than 10 minutes to install automatic chicken door...
🔋 BATTERY POWERED - Minimum of 1 YEAR battery life that works in all conditions (2xAA batteries...
⏰ EASY TO USE - Easily programmable with push button or for more advanced settings use phone...
💧 WORKS IN EXTREME WEATHER - Waterproof ; run chicken automatic door will work in snow, rain, and...
🐓 ALL IN ONE DESIGN - One piece; full aluminum doors and slider. High-quality powder-coated Fine...