If you are a garden admirer or even someone who owns a lawn, you must probably know that it is time to sit back and relax when the winters arrive.
Nobody cares for the lawn until the spring comes. However, following a few winter lawn care tips would harm nobody.
In the coldest months of the year, we barely think of taking care of our lawn. Your lawn needs at least some care in the winters to do great in the coming year.
Are you confused about what to do? Keep reading and know about everything that your lawn needs this winter to stay healthy for the coming year.
Help Your Soil Breathe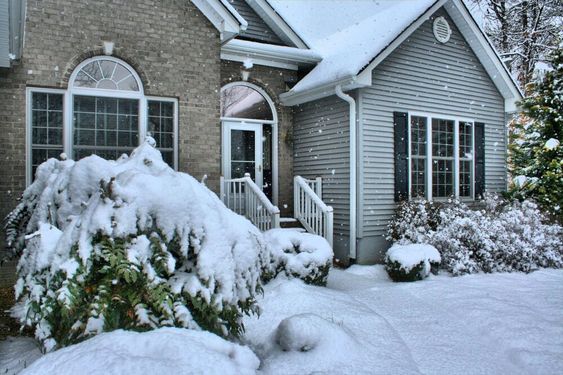 The soil in your lawn becomes thirsty and demanding during the hot months. Heavy foot traffic or usage of machinery contributes more to it.
Now when the winters come, it becomes difficult for the soil to breathe and ultimately resulting in fewer intakes of nutrients by the grass. This does not sound quite good for your lawn.
Aeration is the solution here. But let us talk about what Aeration is. It is the process of making holes in the turf and the soil of your lawn, which would allow it to breathe, take in water and nutrients.
Various aeration tools come in the market, both manual and electrically powered. You can choose the ideal one according to the size of your lawn.
If you have a small lawn, you can also buy aerator shoes that can be found in any local gardening store. Other tools like pitchfork can also be used effectively for this purpose.
Aeration Is one of the most straightforward steps you can take if you plan on winter lawn care. Just make sure that you do this before the snow freezes your soil. You can aerate your lawn even in the hot months. So, if you have not done it yet, go ahead!
Fertilize Your Lawn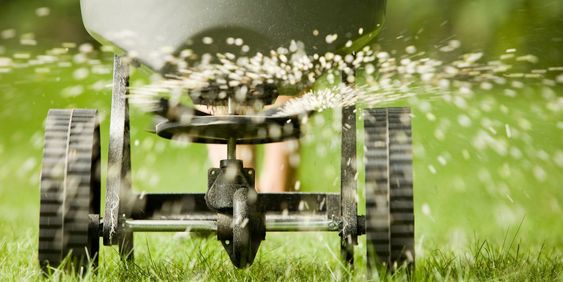 Fertilizing your lawn just before the frost freezes could be the best thing you can do to your lawn grass. Just cover your lawn with a layer of some good fertilizer just when the frost is set to freeze your lawn.
So, when your lawn is covered with snow, the fertilizer will feed the grass with all the nutrients and keep it healthy. Later, when the snow goes away, your healthy grass will already glow up for the next year.
Are You fertilizing your grass just before the snowfall is great winter lawn care? This will let you sit back and relax without worrying about your lawn health. Spray fertilizing would work best for this purpose. Moreover, if fertilization is done after aerating the soil, it would work wonders for your lawn. If you would rather leave the aeration and fertilization to the experts, consider hiring the professionals at TruGreen to handle it for you. However if you have done this, you can revive fertilizer later to win your lawn back.
Mowing- Trim Your Grass Short
Keeping your lawn grass shorter in winters is always beneficial, that too, in numerous ways. Your winter lawn care must start with trimming your grass nice and short before the winter arrives. This should be done because if snow falls on the long grass, the grass will fold and get packed completely, ultimately dying due to the inability to breathe.
Greenworks 12 Amp 20-Inch 3-in-1Electric Corded Lawn Mower, 25022
Powerful Cutting: The 12 amp motor and 20-inch steel deck with a 3600 RPM work together to cut...
Versatile Cutting Options: The 3-in-1 system allows for mulching, rear bagging, and side discharge,...
Easy to Use: The easy push button start and single lever 7 position height adjustment make using the...
Efficient and Durable: The durable steel 21-inch cutting deck gets the job done quickly and...
Extension Cord Requirement: It is important to use a 14 gauge 50' or 12 gauge 100' extension...
Also, critters and other insects may find a warm home in your long grass and may ruin your lawn grass even before the winter's end. So, it is crucial to trim your grass short and give it a healthy future.
Raking
Raking is a straightforward process; we all know, but it is also an important one. When you are thinking to start winter lawn care chores, you must make sure you are done with the raking. If not, you can still do it in the winters to ensure no leaves or wastes are left on the lawn.
Sale
ORIENTOOLS Rake for Leaves,Adjustable Lightweight Steel Handle, Comfortable Grip Handle, Plastic...
ADJUSTABLE HANDLE: The rake can adjust overall length from 42 to 60 inches by twisting the handle...
MULTIFUNCTIONAL: The rake is easy to go under bushes and between flowers or in a vegetable garden,...
LIGHTWEIGHT AND COMPACT: This leaf rake is very light and maneuverable around your garden and in...
LONG REACH: The long 60'' handle will save your back when you clean up your yard, and create the...
EASY TO STORAGE: When not in use, the handle can be abridged and you can hang it up to save space.
If any leaves are left on the lawn, the snowfall will wet it and will eventually lead to unwanted fungal and pest infections in your garden. Moreover, raking the lawn will also make pores in the soil, which will help it soak in fertilizers and seeds better. Just like any other process, proper raking will only prepare your lawn for the next year.
Bid Bye to The Weeds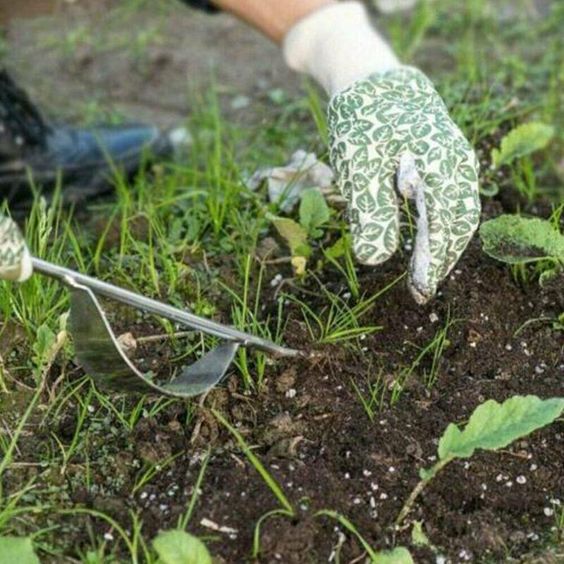 All the winter lawn care techniques will go in vain if your lawn is not fully clean. The process of Weeding is something that will clean your lawn of any unwanted or harmful weeds.
Though a complex and time-eating process, it is still essential to do it. If unwanted weeds are not removed on time, they will spread and make themselves a member of your lawn. So, if you want your garden to be healthy and clean, you need to get rid of those weeds.
You can do this process manually or can use a weed killer that is pre-emergent. The choice would depend on the size and structure of your lawn.
Sow the Seeds.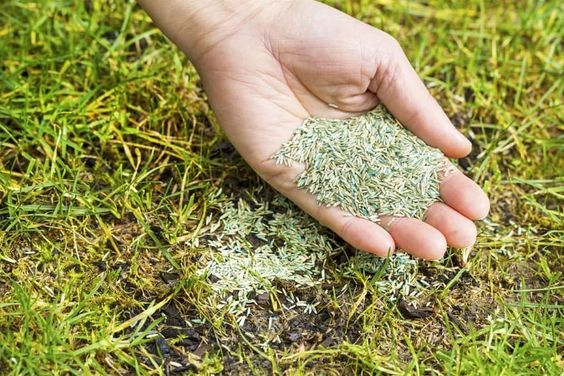 After all the winter lawn care you do, you will get a fresh, healthy, and green lawn next year. But what about the dead or damaged spots on your lawn? Once the snow falls on those spots, there is almost no chance of making it green again.
Fertilizing will undoubtedly give your grass nutrients, but it will not make the dead spots green again. For making those spots lively, you will need to sow seeds in your lawn.
Not only seeding, overseeding is recommendable when winters are about to arrive. You can do seeding in late August up to mid-September. Water the area after you spread the seeds.
This will let your seeds set nicely on the lawn. Later, when the lawn is fertilized, it will give the seeds proper nutrients to grow and nourish them.
Eventually, you will get a green and lively lawn after all the snowfall and frost.
No Foot Traffic, Please!
You do not want foot traffic, which means a lot of people on your lawn. The best way to avoid people on the lawn is to make clear pathways for them.
So, make sure that your walkways in the garden are clean without any snow or dirt. A clear and clean walkway will let the people know that they are supposed to walk only on that.
You can also set up a signboard that tells people not to step on the grassy areas. Fences also work great when you do not want people in your grass at any cost. A temporary fence can be easily made for this purpose.
Ready for Winters?
Now you probably know all the best winter lawn care tips and tricks that will keep your lawn ready for next year. Though you will find many more techniques for keeping your lawn healthy in winters, these were some of the best ones to go for.
However, other than these tips, there are still some small things that you can do to enhance your lawn health. You must make sure that you keep your lawn clean every time.
Be it your child's toys or stray sticks, do not ever leave them on your lawn for no reason. Make sure that you clean it up as soon as possible.
With these unwanted items and all the snow on it in the winters, you will suffocate your lawn's grass and eventually create dead and damaged spots in it. With dead spots, you will also notice uneven grass on the lawn. All this will not look good in the coming spring. 
So, these were some of the simplest yet important winter lawn care tips that you should follow to keep your lawn lively in the long term.
Doing a little hard work in the initial winters will give you a fresh and beautiful lawn for the coming year.