The dining space is one room in the home that doesn't get a lot of furniture. But a buffet sideboard is one of the few pieces you can add to the space to add a touch of sophistication and functionality. It works as a stylish storage solution, and you can also use it to display various items. In this article, we'll explore 10 of our favourite buffet sideboards that can add to the overall charm of your dining space.
1. The Antique-Inspired
If you appreciate timeless beauty, you should get an antique-inspired sideboard with intricate carvings and ornate details. This piece provides ample storage for your dining essentials and serves as a statement of refined taste.
2. Modern Minimalism
A sleek, streamlined sideboard with clean lines and minimal embellishments is an ideal choice for those whose style leans toward contemporary design. A modern sideboard blends seamlessly with your modern decor while offering discreet storage solutions.
3. Reclaimed Wood
There's no better way to embrace the warmth of rustic aesthetics than with a reclaimed wood buffet sideboard. It features a weathered texture and natural imperfections that add character to your dining space.
4. Scandinavian Chic Sideboard
If you're a fan of Scandinavian design, then you'll love this light-toned sideboard. This type of buffet table is often made with light wood and features tapered legs that capture the essence of the Scandinavian style. It is a versatile addition to various interior themes.
5. The Metal and Wood Fusion
A sideboard that blends metal accents with some wooden elements adds a touch of industrial flair to your dining space. This fusion creates an edgy yet harmonious look that elevates modern and eclectic dining spaces.
6. The Whitewashed Sideboard
It's the perfect way to bring the tranquillity of coastal living to your home. This buffet sideboard exudes a relaxed vibe, making it an excellent choice for beach-inspired interiors. It's soft hues and distressed finish add a hint of nostalgia.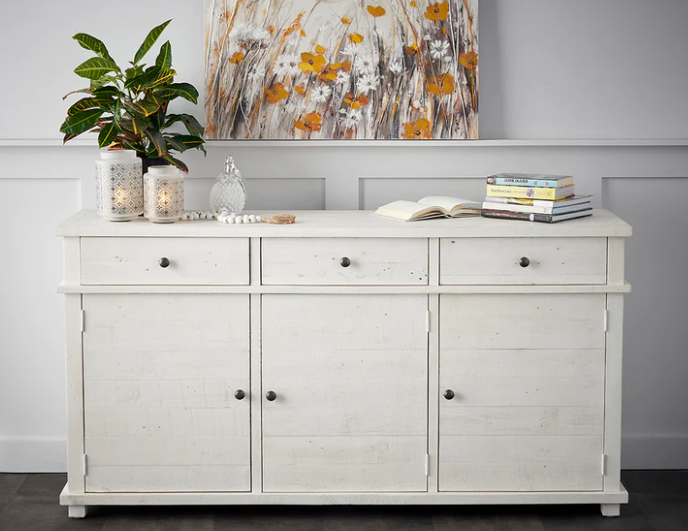 Image via: 1825 Interiors
7. Mirrored Sideboard
Make a bold and glamorous statement with a mirrored sideboard. This type of sideboard reflects light, creating an illusion of space. The intricate detailing of a mirrored sideboard enhances the overall luxury of your room.
8. Retro-Inspired Sideboard
Capture the essence of the mid-century era with a retro-inspired sideboard. It features iconic elements like tapered legs and geometric patterns and infuses a sense of nostalgia into your dining space.
9. Barn Door Design
A barn door sideboard works if you're aiming to create a cozy farmhouse ambience in your space. This design element adds a charming rustic touch and conceals storage compartments on your buffet.
10. Multicoloured Sideboard
If you enjoy an eclectic design, a multicoloured sideboard can be a creative focal point in your dining space. This piece combines various colours, patterns, and materials, creating a unique and eye-catching statement.