Any garden lovers here? I heard, 'yes!'. In today's life, people do not have much time to take care of big gardens or lawns. Instead, they create vertical gardens inside their apartments or houses, which takes a limited amount of space but is very attractive.
You can say it is a kind of home decor. You can have flowers, succulents, or anything else under the same roof. This brings a bit of greenery to your house. 
As vertical gardens are built inside the house, most of the time, it enables you to enjoy them for the entire year or so. Let us read the article below to know fifteen DIY hacks to make your house and the vertical garden an exotic one!
DIY Tower Garden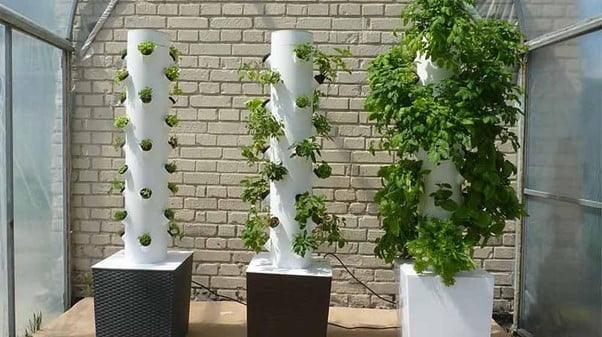 Do you know about Tower Gardens? Well, if no, then let me answer the question! DIY Tower gardens represent herbs, flowers, vegetables, etc beautifully in a vertical manner. It is a process of growing plants in the air without using the earth's surface. 
This procedure helps the plants grow thirty percent faster than usual and with less water. It needs very little space, and you can place it anywhere according to your choice. 
DIY Vertical and Horizontal Garden with Dripping Water System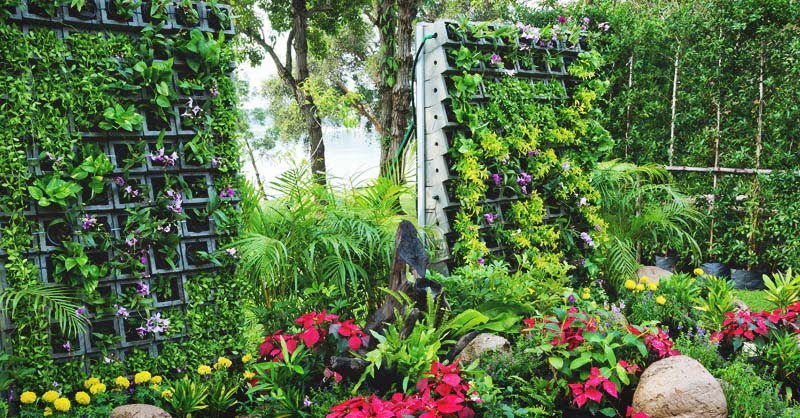 This idea or procedure is for the people who have a lot of space inside their homes or want the plants and the herbs to grow in a bigger space. This DIY hack has a built-in dripping water system, which makes vertical gardening easier for gardeners. 
People usually do not like dirt much. But gardening has got a lot to do with dirt. Anyway, this hack will help you not to get involved in the dirt more. All you need is a bigger space!
DIY Old Shutter Vertical Garden for Succulents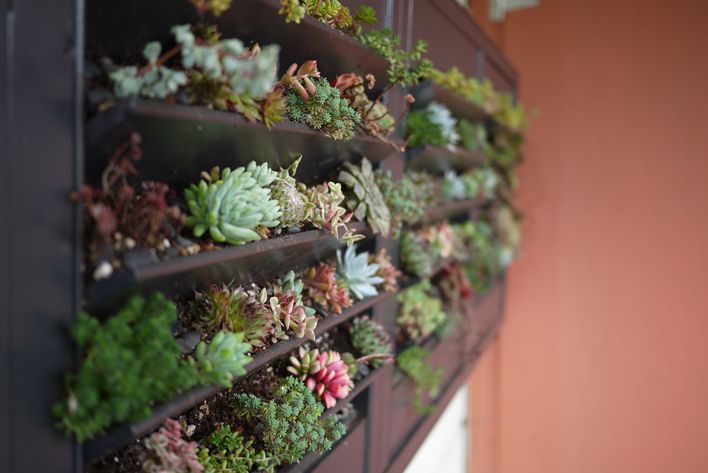 What about reusing a shutter? Ever thought about it? Paint an old shutter with bright color and use it to build your DIY vertical garden. You can keep it outdoors, especially on your concrete patio, if you are unwilling to hang it. 
You can keep it indoors too, only if you are willing to hang it on a corner of your house. It will not look less beautiful anyway. Get pots for your succulents, and then you can hang them on your painted shutter!
DIY Old Ladder Vertical Garden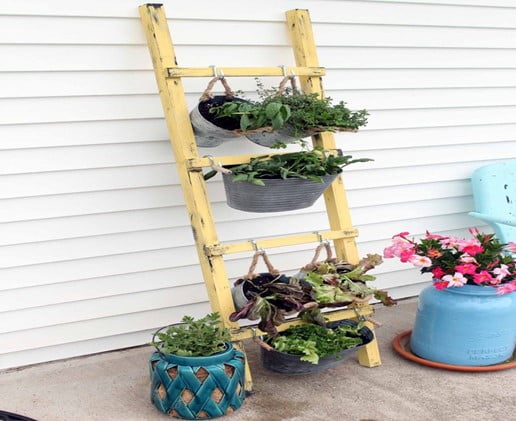 You can place the ladder anywhere in your house, indoor or outdoor, to enhance the space's beauty. Firstly, you need to collect an old ladder which is of no use anymore. The height and the size of the item depend on you, what you want to buy or remodify.
You can make your ladder as well, using boards, if you know the correct measurements to make it. In case doing so, do use nails to secure everything within its respective space. Choose metal containers for the plants which would perfectly fit the ladder.
Drill holes in the bottom of the metal containers for easy drainage. Use s-shaped hooks for hanging those containers onto the ladder. Once all the metal containers are in exact places, you are ready for planting!
DIY Wall Wire Shelving Vertical and Horizontal Garden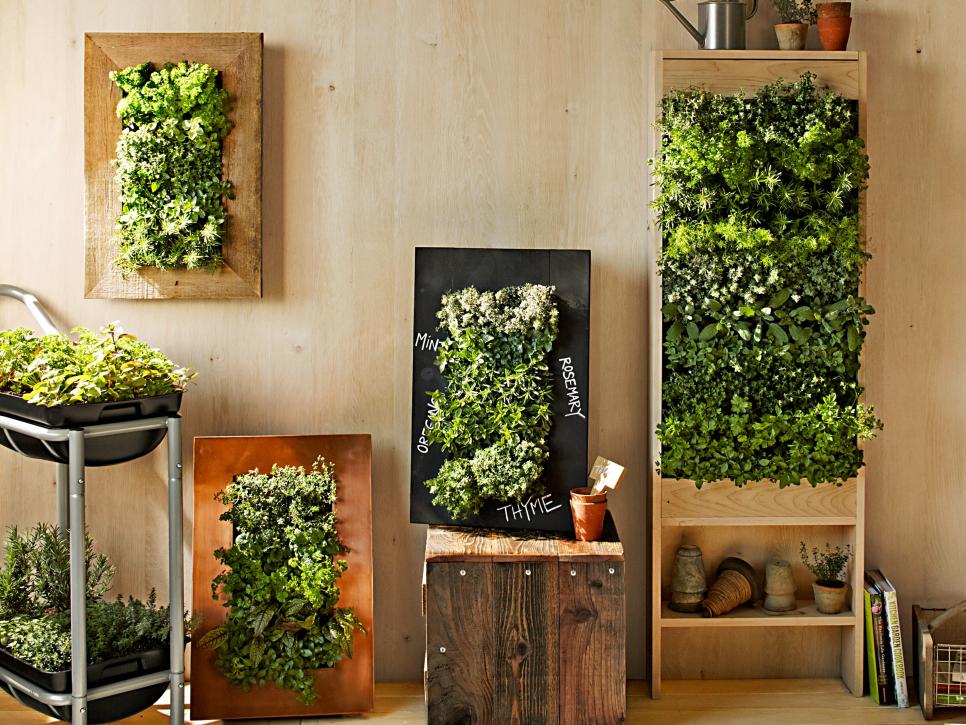 Thinking that your wall is blank, and it is looking weird and empty? You are a gardener, and you do not have enough space on your lawn? I have got an awesome idea for you in my sack! By doing this, you can have fun and can create a great green ambiance for your house. If you are a DIY beginner, then you should try this hack at your home. 
Find out or buy a wall grid hanger with certain measurements you prefer it to be! You can paint the holder to make it more attractive. While hanging the holder on the wall, make sure that it is leveled properly. Drill holes into the walls for where you want to place it. After this, you can place your herbs on the planters and place them on the holder.
DIY Horizontal Tiered Garden Beds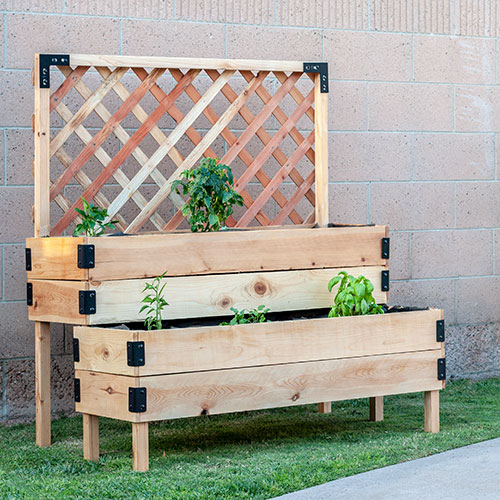 If you do not have much space for your gardening, you should go ahead with this option. You can call your personal or any carpenter to create a tired ground bed for you because, most probably, people are unable to do the entire thing by themselves. You may need cedar fences to create the entire thing!
You can customize the ground bed according to your choice, how you want it to be. The plants will be planted at the front rows created. Use wide corner braces, and it can hold the entire thing properly. Fill the inner boxes with soil, and after that, you can plant flowers, vegetables, or anything you want to grow.
DIY Vertical and Horizontal Hanging Garden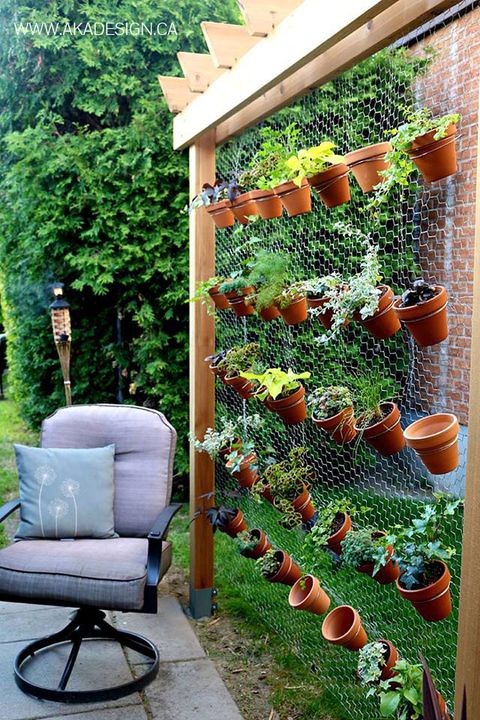 Hanging gardens are fascinating and beautiful to look at! Just because of its beauty, I have seen most people keeping this, especially indoors, which adds to the inner beauty of one's house. It is also straightforward to make. Here, to make this, you need wooden planks, threaded rods, drills, pins, and potted plants.
If you want to save your money, you can also use the old wooden planks, which are easily available at lower prices. Cut it into size. Create holes using a drill within it to fix the potted plants into it. In each of the corners also, you need to create four little holes to connect the threaded rod.
Drill the wall to hang the thing. Keep on repeating the thing until you feel that it is enough. You may prefer to have eight shelves because that is the appropriate and the most desired height. Keep the pots into the created holes. Your hanging garden is ready!
DIY Vertical and Horizontal Garden
These structures are perfect for keeping at the balconies. If you are a green lover, then you should go ahead with this idea. And if you are not a green lover, you can try this because it brings oxygen and positive vibes to your house or apartment. This is a very sleek creation, and after the completion, it looks wonderful. Again, you almost need the same ingredients like wood, soil, plants, pins, spades, etc.
Cut the wood into your desired pieces. Assemble all the parts and keep on repeating until all the frames are created. Use two screws per joint for creating the frames. After the creation of the frame, create the shelves. It depends upon you how many you want to create. Attach the thing to the wall. Fill the shelves with soil and plants. You may keep potted plants as well!
DIY Vertical Single Plant Hanger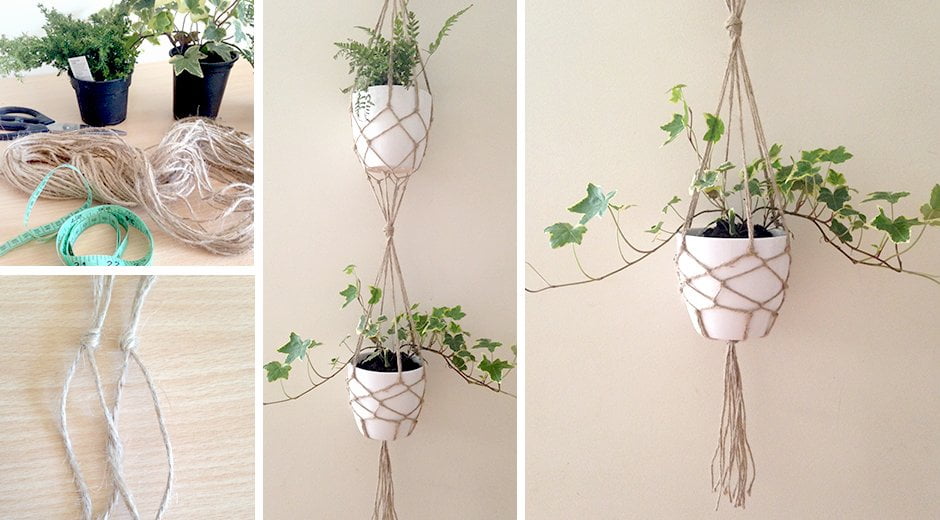 This green hack includes wood, potted plants, ropes, etc. It is a straightforward one to create! It takes a tiny bit of space. Cut wooden planks into a few small square-shaped pieces. Take the pots and mark the measurement of them by keeping the pots upon the cut pieces. According to the measurement taken, remove off the marked area. Fix the pots in each square.
Drill four holes in each corner of the squares. You can paint the squares if you want to make them look more vibrant. Connect the ropes with each square. Tie a knot after every passing square. It is ready. You can place it anywhere you feel like.
DIY Vertical and Horizontal Colourful Garden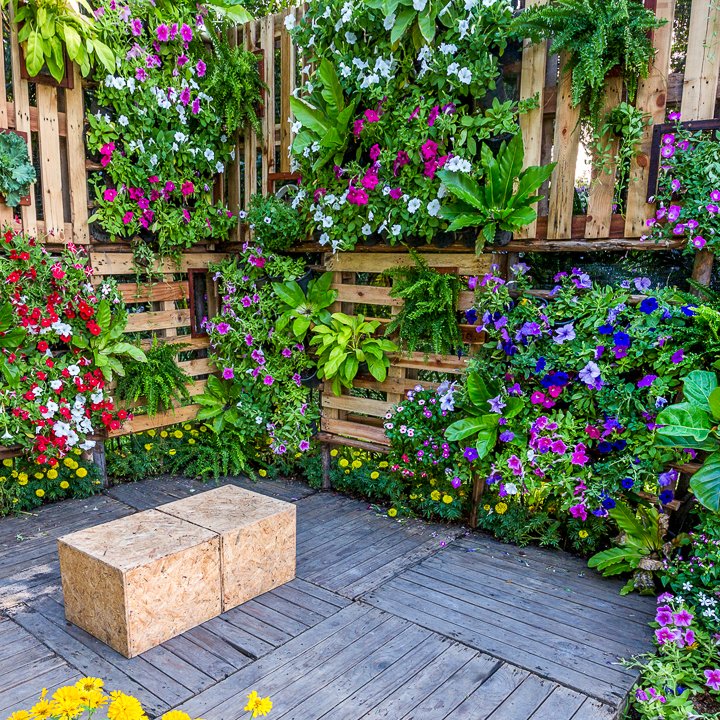 What if I tell you that the PVC Pipes may bring wonders? You might get surprised, don't you? Here, it would help if you had cedar fences, PVC pipes, soil, plants, etc. Colour the PVC pipes. Please do not let it remain white! It would look pretty after the completion. Wear gloves and masks while performing the task.
Use adhesive to secure the mouth of the pipes tight to the fences. Drill a hole within all the pipes. Fill it with soil and plants. You can create as many fences as you want to because there is no limit. Like this, it is ready to use.
DIY Vertical and Horizontal Wall Ladder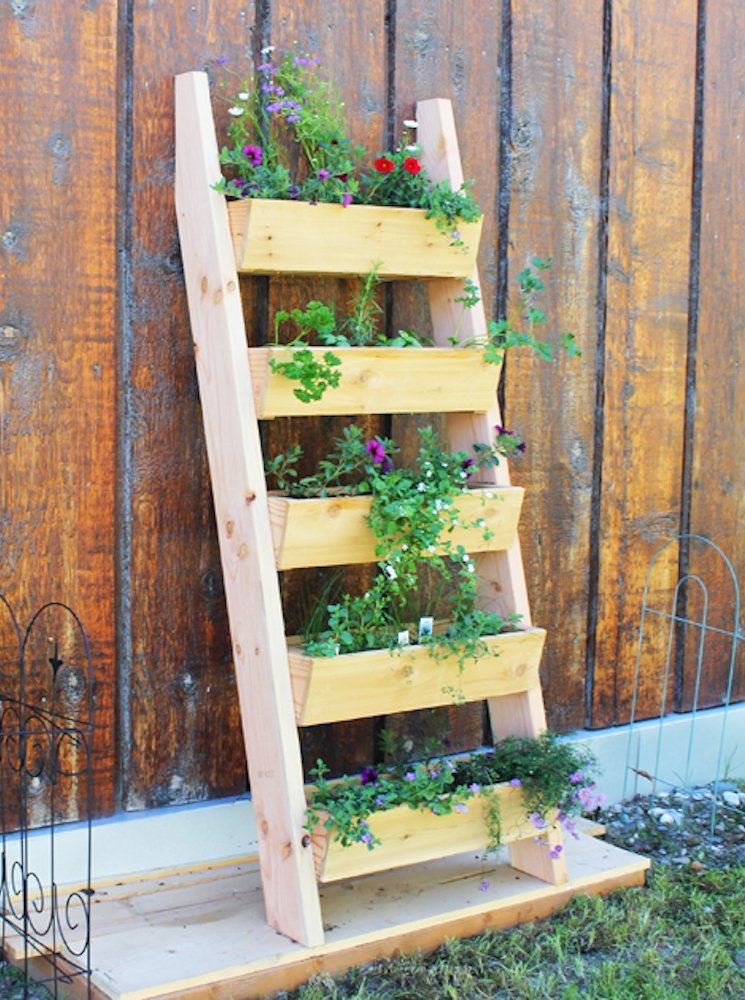 Previously, I spoke of a hanging ladder, but now, this is a wall ladder that will remain completely attached to a wall. This project is an inexpensive one! And it does not require much space either. You can bring wooden fences and attach some shelves along with two supporting fences aside. S-shaped hooks are to be used to hang the potted plants on the shelves. And it has done.
DIY Vertical and Horizontal Flower Ladder Garden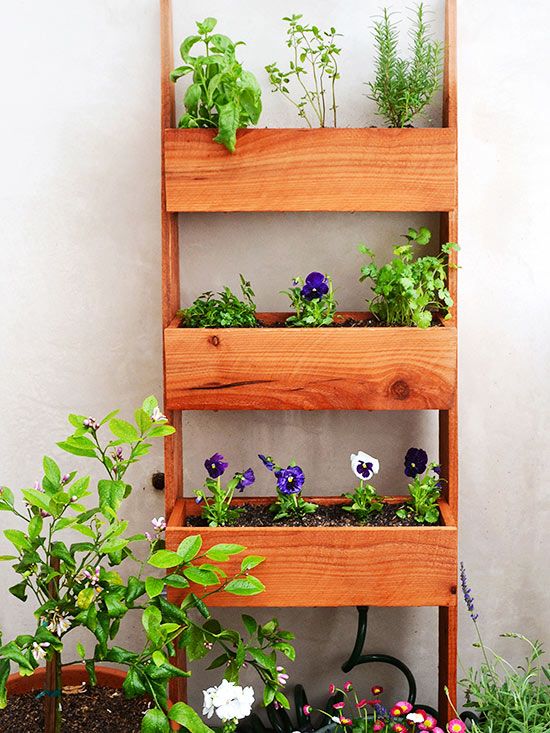 I have previously written only about the ladders with potted plants. You might be thinking about why only potted plants and why not any flowers. So, this paragraph is for you, in case you thought that you could not keep the flowers on your ladder.
Of course, you can! You can keep it anywhere as it requires very little space. But I suggest you keep it in your front door area because this space adds a different flavor to your house. Rest, you know, how to create it.
DIY Vertical and Horizontal Hanging Planter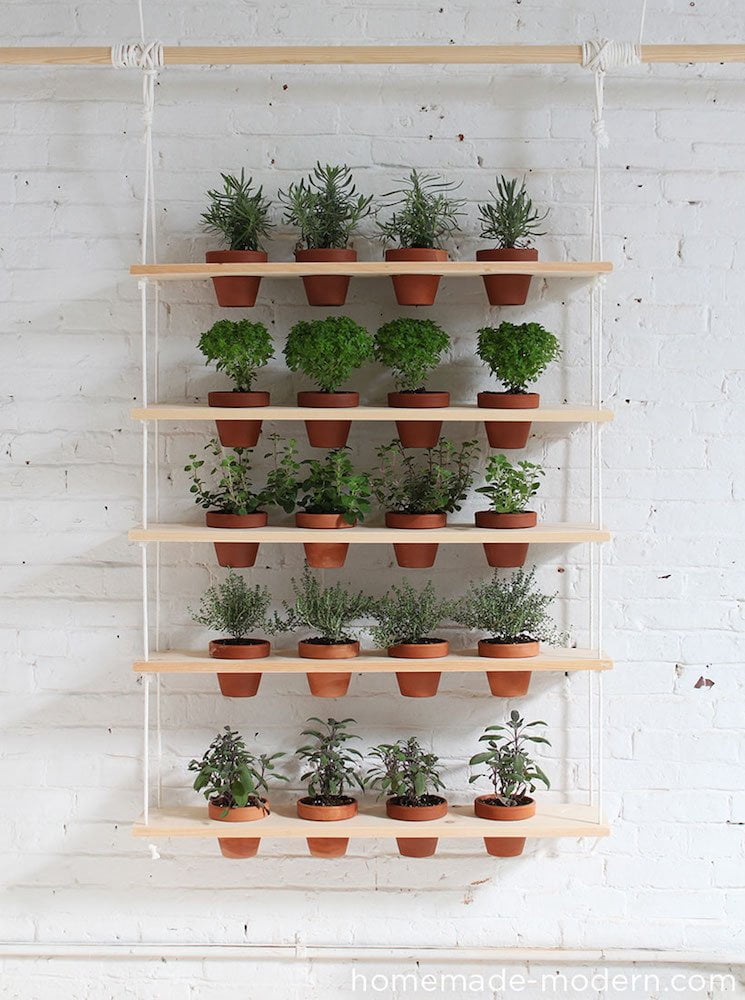 Succulents look beautiful when they are in a hanging position. You have already read about the hanging garden above. It is the same idea, just like the other one. It is a straightforward structure to create! Take wooden fences and cut them down accordingly to make a few rectangular boxes.
Use adhesive and nails to join the parts. You can make as many boxes as you want. Let it dry. Fill the boxes with succulents. Tie the rope sidewards along with the boxes made. Add a hook to the wall and hang the entire thing with the sideward rope. You will love it.
DIY Single Vertical Planter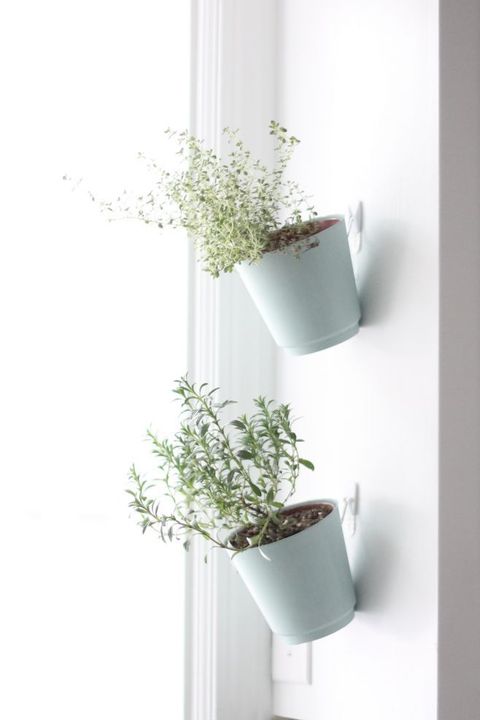 Want to add a bit of flavor to your home decor? Then it would help if you had cedar fences and colorful pots to create beauty. Build a support frame on the fence for the pots to be held within it. All should be in a single line and the center. Use nails to fix it properly. You can design the pots with marker pens. Fill the pots and put them in the support frame. This is all that you need to do!
DIY Old Paint Cans Planter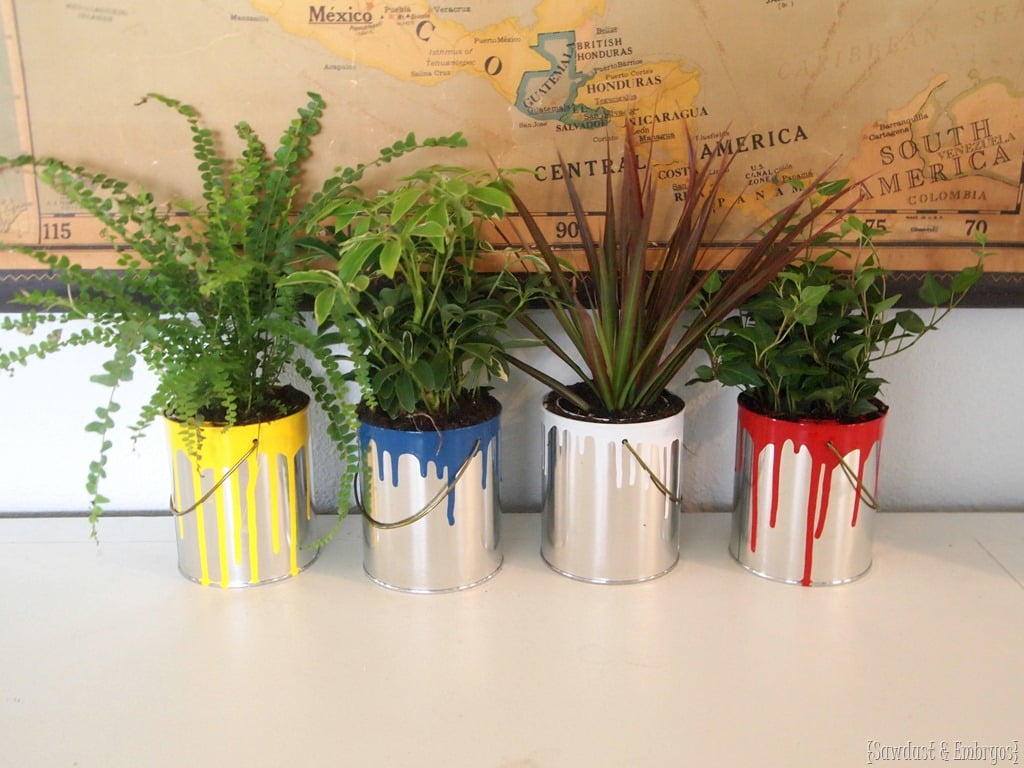 Now, this is a new idea among all the above-mentioned ideas. You can easily recycle your old paint tin cans which are present in the storeroom of your house. If you are not willing to spend much, then this is the correct idea to go ahead with. You can use cedar fences to enhance the background of the space where you place those tin cans. Attach a hook to the fence which will hold the cans. Fill it, and it is ready!