Designing a PVC home garden proves to be interesting and innovative when you dive into it. PVC pipe can be used for anything, PVC is a type of magical material, and with the help of this, you can make a DIY tower Garden.
With the help of PVC garden ideas, you can clean the garden and self-irrigate it for fruits and vegetables. Many PVC-related projects are very useful in gardening. The ideas are super exciting and fun. Make your backyard more beautiful with awesome ideas.
When the growing season approaches, many people search for the right and the best way to grow plants. People with less outdoor space, thin balconies, or less space in the backyard for growing veggies, fruits, etc., are in trouble. For that, you need to be creative and innovative than just having a plant bed. That is the place where DIY tower gardens sprout up.
Grow flowers, herbs, beans, strawberries, tomatoes, or anything and vine the plants in them, that they do not have much space. And based on the space you have, you can save more space with the help of a potted tower, a fence tower, or a wall tower.
So, go through the exciting ideas and decide which idea will work best for you and which idea suits you. All ideas are super awesome in one way or another.
1. PVC Pipe Tower Garden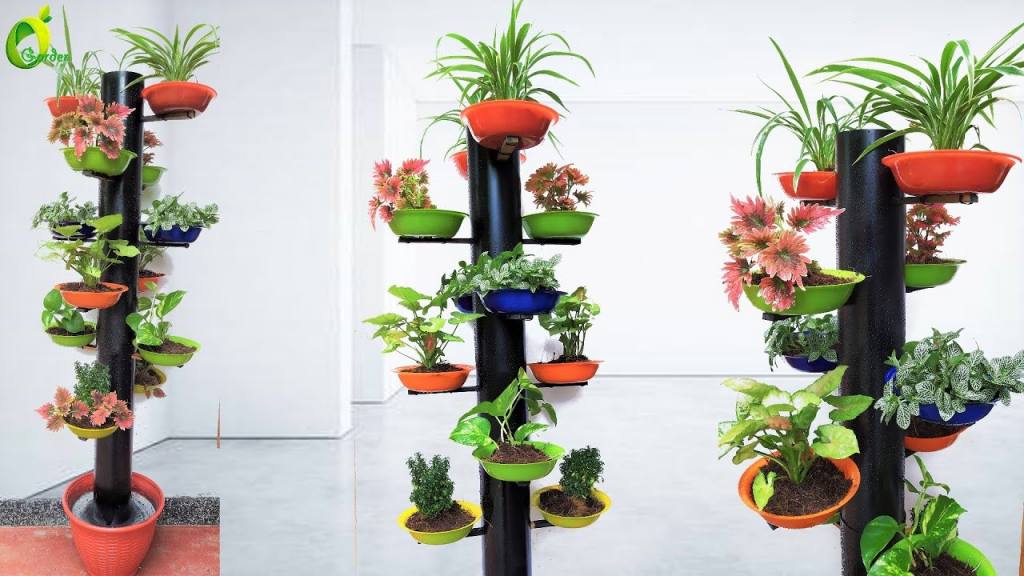 One of the easiest ways for making a tower garden is making it from PVC pipes. It is a PVC ladder built with many rungs made of small and large pipes along with some holes that are drilled into the larger one. This is specially designed for small spaces that make it look better. The look of your balcony enhances this idea, and it would be easy to plant flowers.
2. DIY Strawberry Tower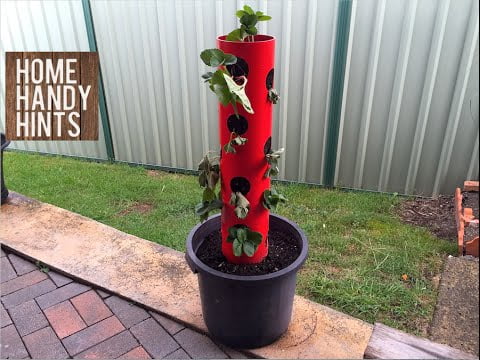 For strawberries lovers in the house, this DIY tower Garden of strawberries is relevant from those old specialty towers shown on TV as a commercial. They are not complicated and not very much expensive. This strawberry tower is very simple to build, and it works very well in various environments. It works better even indoors if you live too far north.
So, collect various supplies and go ahead without any thought. You need to build this garden are – 5-gallon plastic nursery pots, a 1-liter plastic water bottle, a drill, a tool that punches holes in plastic, a hole saw, good potting soil, strawberry seedlings, and main thing compost. Satisfy your urge to eat strawberries by growing them in your backyard.
3. Wooden Herb Garden Tower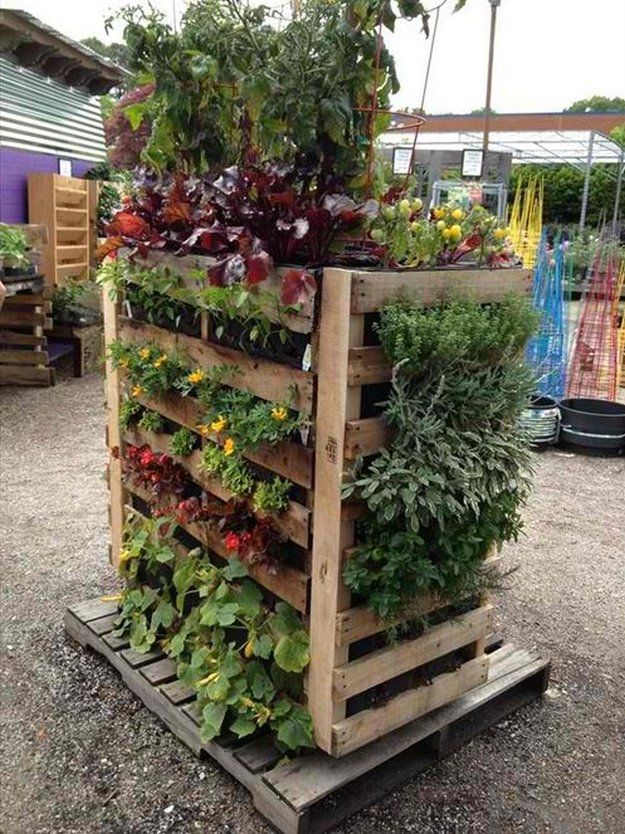 For people who love baking and cooking with fresh things, this awesome herb tower is the best option for those people, even if you have space or do not have space. It helps to include everything properly and a managing space while providing the plants with enough water, sunshine, and soil during their growth.
Many people use this DIY tower Garden for growing strawberries, but the design is perfect for growing herbs and giving them enough depth for roots and space for growth, just like all fresh herbs you require for your kitchen. The design is created especially for cedarwood, which adds qualities to your tower garden that others do not have.
4. Flowerpot Bird Bath Tower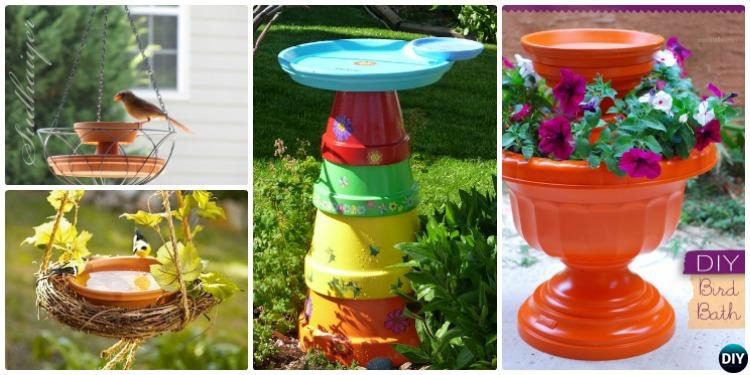 For people who love two-in-one things, this awesome option will be great. It is not only just a tower of pots that bears your small favorite plants, but it is a Birdbath too. Remember to plant plants that cannot quickly encourage birds to steal the plants instead of bathing. You require some terracotta pots of different sizes, spray paint, some rebar, and other things available at the hardware store. After collecting all the supplies, be creative and add some special touches so that you can make this flower tower fully your own.
5. Herb Garden Spiral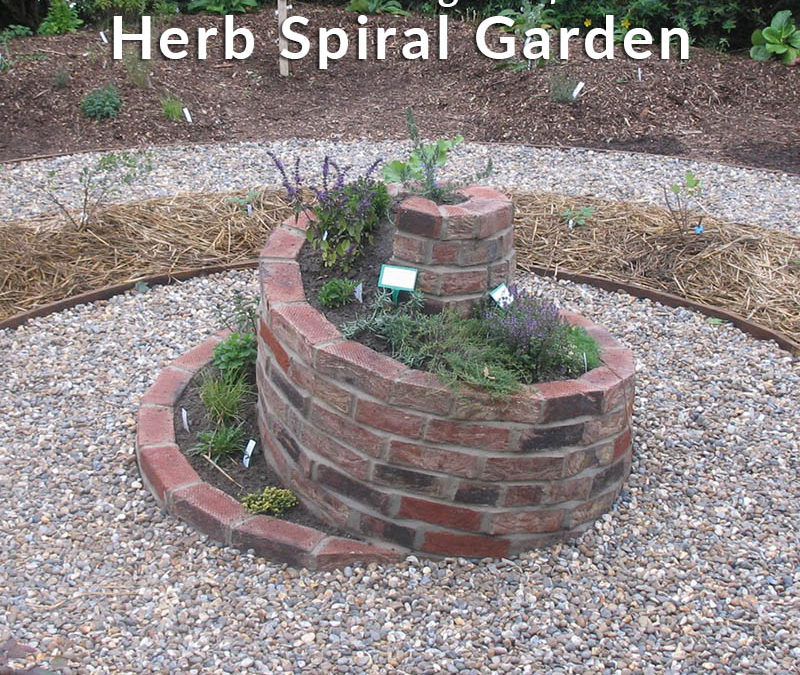 If you have enough space and can place your herb garden permanently in your yard, then you need to see this unique and adorable herb garden spiral tower. You can make it larger, and it seems to be very distinct. The design is made by the thought of urban living. This is appealing, easy to build, easily accessible, contains low maintenance, and does not include much space in your lawn. Collect supplies and get to work. You do not need much time to make this, and even the kids can help you design this. It also helps to keep your family in fresh herbs.
6. Aeroponics Veggie Garden Tower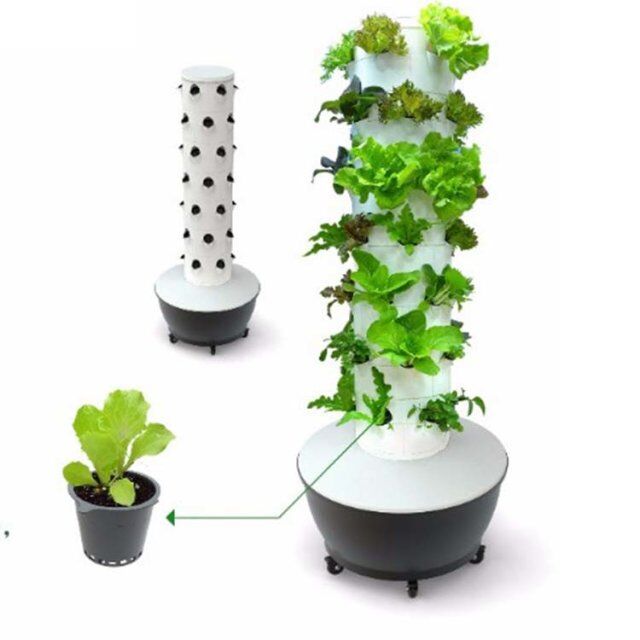 You can construct this inexpensive plant tower that helps you grow veggies on your rooftop in PVC pipes. The cost of building this design is not very much, which is a huge advantage. You can build it easily and can maintain it easily. Grab some tasty and mouth-watering veggies in just no time.
7. Vertical Terracotta Planter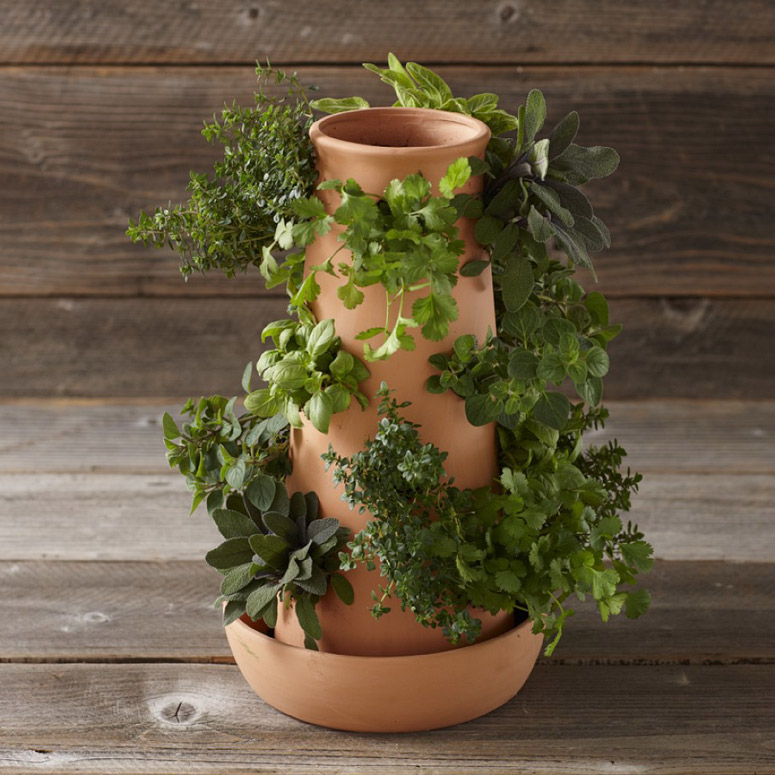 This attractive and simple planter tower is an awesome option for people who do not have enough space. It seems great for the balcony herb garden particularly, whether you live in the suburbs or the city or want to keep the plants close to the kitchen. You require many terracotta pots of different sizes. Just abide by the instructions of how to make it, and in just a few hours, you will get a full herb garden planted that is ready for growing.
8. Recycled Bottle Tower Garden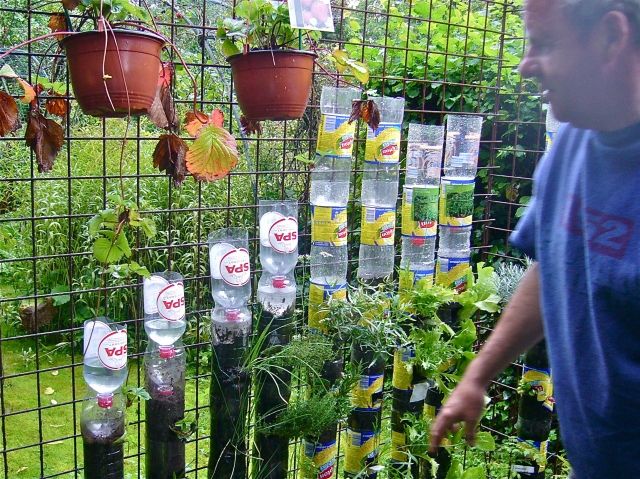 This homemade tower garden is an excellent idea of using recycled plastic bottles. Besides using plastic bottles, you can also use PVC pipes. The design of this garden is in the way of a container that uses vertical lines of fences and helps the plants to grow upwards rather than growing outwards. To make this beautiful and clever garden you need to go with the steps. The garden looks so beautiful and is great for visual learners, and the steps of making the garden are simple.
9. Miniponics Sustainable Fish and Plant Farm Tower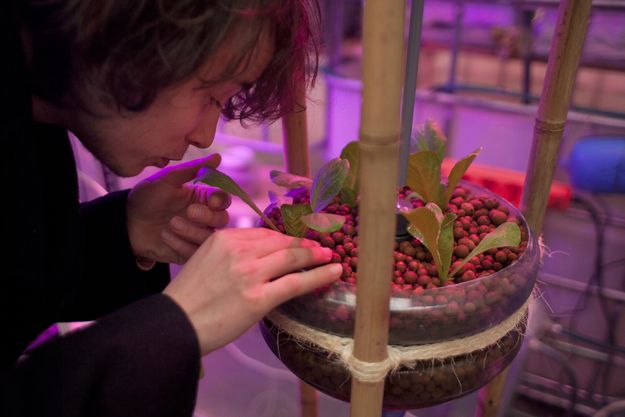 Other than aquaponics and aeroponics growing systems, this is also the major growing system. It is a type of hydroponics system in a compact setting that towers upward, the ultimate option for space-saving. It can be constructed in a straightforward way irrespective of your skills and can be maintained easily. To grow the plants is very easy, and the design is so small that it works well in balconies, decks, etc. It can be grown in indoor spaces like bedrooms and classrooms.
10. Tall Wooden Strawberry Tower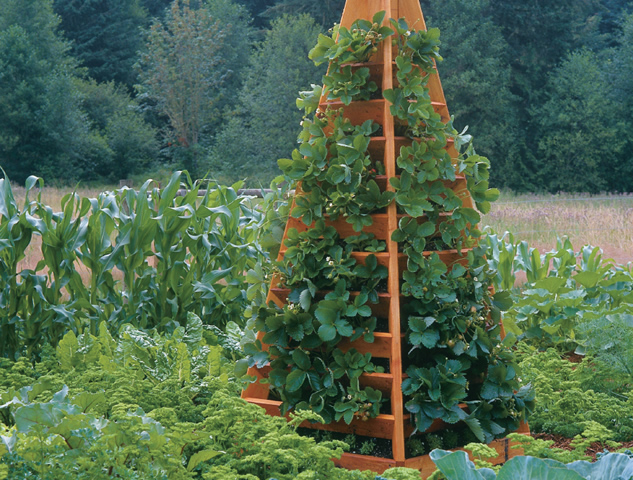 Try this uniquely designed tower that makes your strawberries make it grow straight upward. The designers designed the tower with scrap wood and some other supplies that seem to be very pretty. The instructions to make this tower are very simple, and you only require a few supplies and some basic tools that you have on hand. You need fence boards, old drawers, wood screws, drills, potting soil, and strawberry plants.
11. Vertical Hydroponic PVC Tower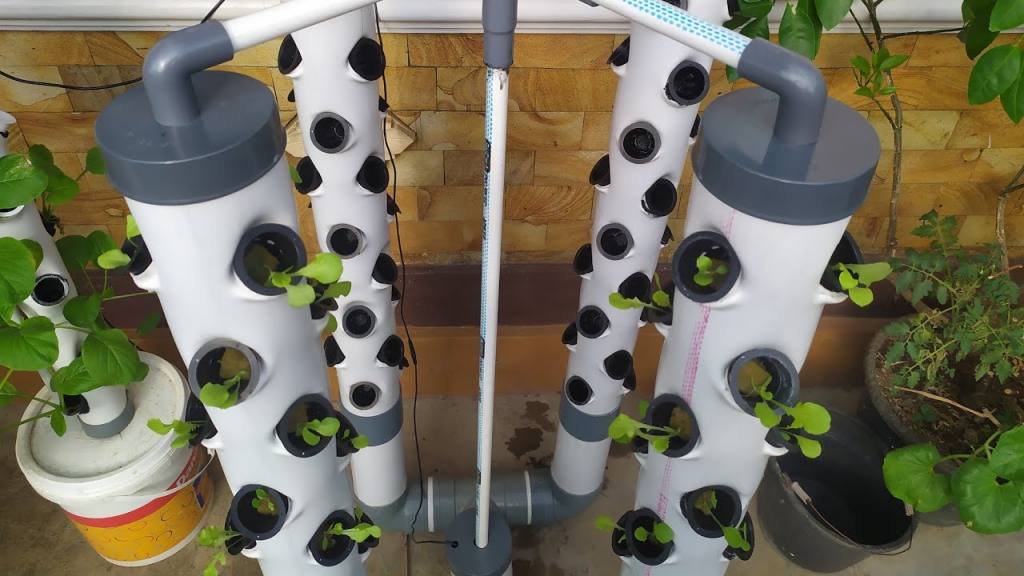 Do you want to increase your productivity without doing lots of work in the garden? Then try this option. This unique DIY tower garden takes your supplies and turns the garden into a self-sustaining one. It is easy to maintain and build, and the plants thrive well in this PVC pipes setup. Grab the supplies and start with the design.
12. Stacked Flower Tower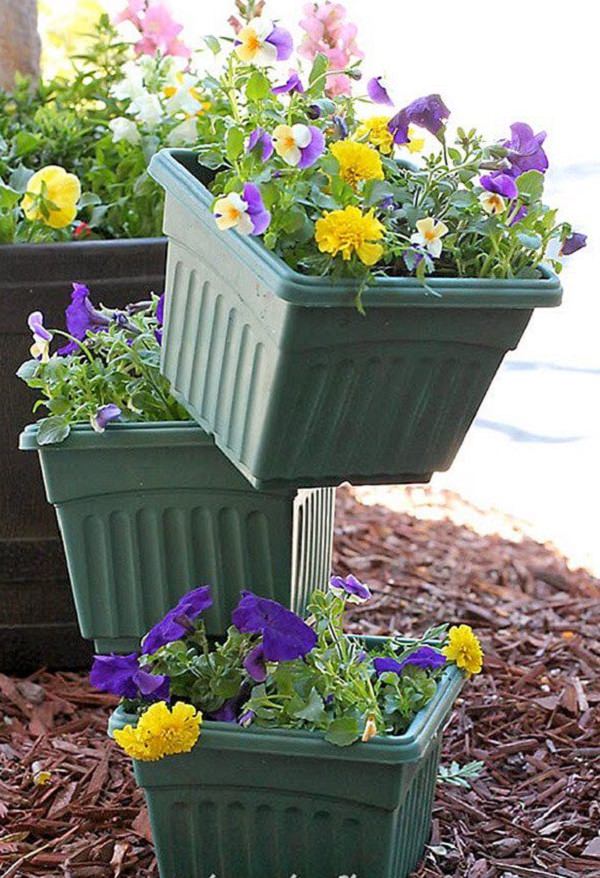 If you love the idea of a vertical flower garden but not having enough money and space, then you will surely love this easy and simple tower for flowers. The tower will not cost you very much; only a few dollars are required. You only need to collect some simple supplies, including plastic planters, a mini hook, gardening soil, flowers, and flower fertilizer. To put all these things together, you need only less time.
13. PVC Crate Planter Tower Wall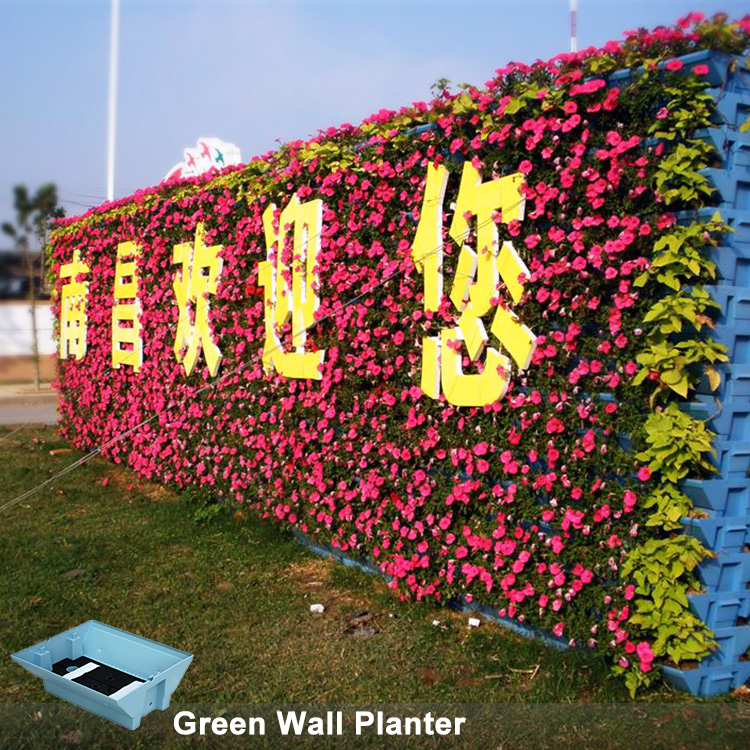 This garden is stunning and very simple; it is painful that it does not come to mind first. A great way of reusing wooden crates or PVC pipes creates visual points in your garden, saves space, and helps grow a variety of plants of any type according to your requirements. Create a vision to grow your food. You should know the instructions for making it so that your garden can look gorgeous.
14. Vertical Gardening Pipe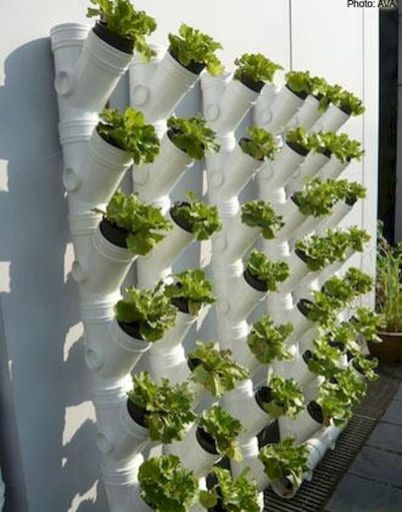 This type of vertical garden tower is sleek, awesome, and beautiful and is designed in a simple way that is a unique piece to tiny spaces. The planter is made from PVC that makes it affordable, and paints it according to your suitability, making it look more attractive. The unique tool that you need for making this is the hole saw drill spade drill. And the procedure is fundamental.
15. Pocket PVC Planter Tower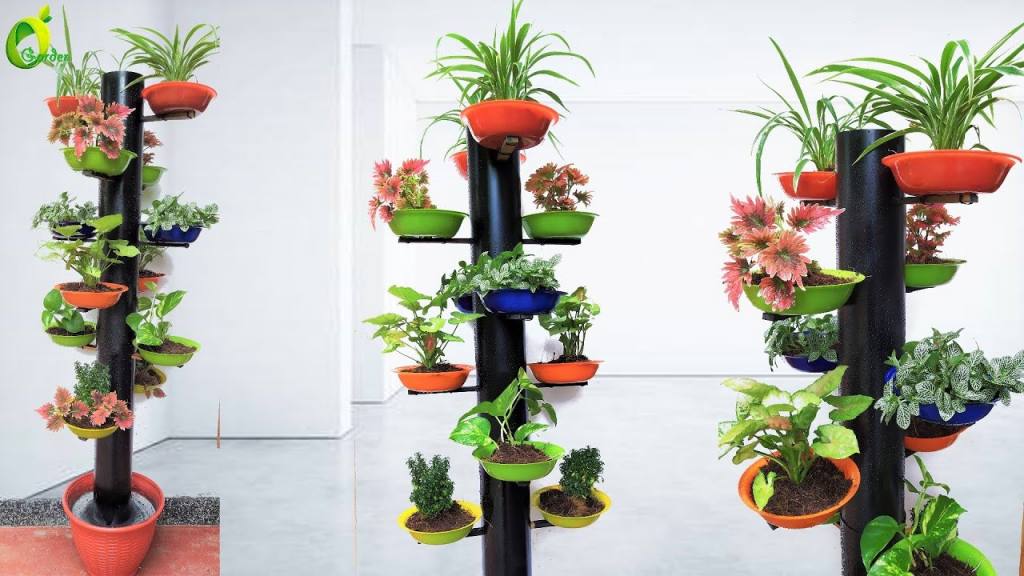 This last option is the other PVC pipe planter designed in a unique way to grow edible plants. The size is big compared to other options, but a perfect option to grow veggies in a limited space. You can even adjust it to meet the size of plants you want to grow, which also makes the pipe bigger and taller.
For making this planter, you require a large PVC pipe along with an endcap, irrigation pipe along with a plastic cap, old T-shirt, some small screws, steel wire, small cardboard, and various tools like a marker, pen, plumb line, etc. A unique way that makes your garden look beautiful.
How To Make a Garden with PVC Pipes?
Now, let us come across the point of how the vertical or DIY tower garden is made with PVC pipes. For that, you need – plants with shallow roots, planter, PVC pipe, PVC end caps, black zip ties, weed cloth, gravel, potting soil, mulch, garden hose, Hacksaw, silver marker, measuring tape, pencil, bar clamps, drill, drill bit, metal sanding file, utility knife, gardening gloves, garden trowel, watering can. Let us know how to make it.
Firstly, measure the pipes and then cut them with the help of a hacksaw.
Then mark for planting holes with a marker and keep them around 8 inches apart. Punch the holes using a drill.
After smoothing all the rough edges with the help of a metal file. Then wipe off the excess dust.
Then add drainage holes using a drill.
Wrap the pipe with a weed block and secure it with zip ties.
Then place the pipe in the center of the planter and make sure to slip the irrigation pipe inside a large one. Add gravel to anchor it.
Then fill the halfway planter with gravel or with stones.
Then add potting soil and top the soil with mulch at the base to keep it moist.