With winter approaching and snowflakes starting to fall, it is time to handle the pile of snow in your doorstep and driveway.
The right tool to deal with heavy snowfall is a snowblower, as you must know. Snowblowers save a lot of time, energy, and body strain.
They are easy to use and conveniently straightforward in any area blocked by heavy snow. Choosing the right kind is difficult since there are different models available in the market.
If you are confused between a 2-stage snow blower vs. 3 stage snow blowers, you are in the right place! Let us help you pick one.
Snowblowers were invented in 1844, and as the climate changes drastically, the equipment is gaining popularity. Especially if you drive to work, a snow blower is a lifesaver.
Everyone would agree on the usefulness of snow blowers, but people might have different opinions when it comes to features and specifications.
The primary debate is between 2 stage snow blowers and 3 stage snow blowers. Both are better than a single stage.
2-Stage Snow Blowers
A two-stage snow blower is named because it involves two snow clearing stages that complement each other. It uses a durable auger and impeller.
The auger cuts and aerates snow while the impeller thrusts it away. They may have different types of engine and auger sizes depending upon the usage and design.
Smaller versions are for residential purposes, while larger sizes are designed for large properties and heavier snowdrifts.
A two-stage blower is believed to be versatile and can be used for commercial and residential purposes. It comes with two wheels powered by two engines to facilitate smooth movement.
These blowers can easily scoop snow at deeper levels. Another significant aspect of the two-stage blower is that it does not contact the ground.
This allows the blower to be used on uneven surfaces with dust and gravel.
No products found.
The exact width of a two-stage snow blower ranges from 20 inches to about 36 inches, depending on the model. They can throw away snow up to 60 feet.
Most two-stage snow blower also allows you to rotate the chute while the machine moves so that you do not have to stop again and again for chute adjustment. They can be controlled with a hand quickly.
However, the problem arises when the snow is too icy or compacted for the auger. You will have no other option but to break the snow using a shovel.
That is why we have three-stage snow blowers. We will discuss them in the latter part of this article.
Benefits of 2-Stage Snow Blowers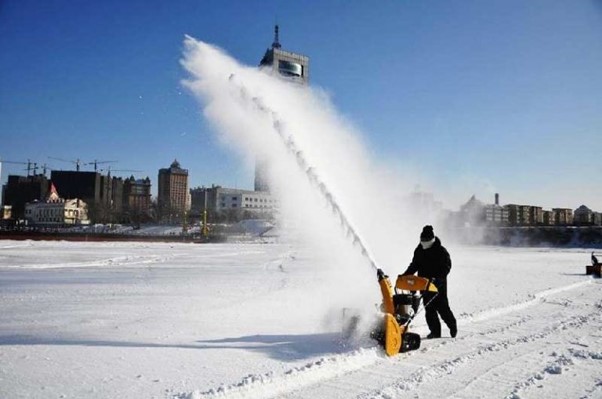 Two-stage blowers are robust and reliable. They have high efficiency and perform well for both domestic and commercial uses. There are many models to choose from, and this versatility allows you to find the product you need to battle the snow.
Some two-stage snow blowers even have self-propelling features that allow them to move automatically around steep pathways. Handles are equipped with hand warmers to keep the owner warm in the cold weather.
To prevent the machine from taking snow alongside snow, the bottom is slightly elevated not to touch the ground. This also increases the life span of the auger blade since it does not contact the ground, which is not the case with single-stage blowers.
Concerns Related to Two-Stage Snowblowers
The auger placement is designed to create a gap between the ground and the machine, but this has a problem. It results in a layer of snow left behind.
If you want the surface to be clean after clearing the snow, you must use a shovel to clear the layer. Two-stage blowers demand quite a lot of maintenance since it is a heavy machine.
You will have to clean it regularly, change spark plugs, filters and always top the oil level. It is also much more expensive than a single stage.
3-Stage Snow Blowers
As you can comprehend from the name, a three-stage snow blower clears snow in three stages. It contains augers, an induction accelerator, and an impeller.
The augers drive the snow into the machine, and since there are two of them, the process is done efficiently.
The additional stage (called an accelerator) allows snow to drive through the impeller quickly. It is meant to accelerate the process so that the job is finished within a few moments.
The accelerator is believed to mix and chop snow ten times faster than an auger. Therefore, the machine can quickly get through wet, icy, and hard snow covering a large area.
They usually have larger engines to handle all the work, and hence they are more expensive than 2 stage blowers.
The accelerator and augers add to the forward movement making the machine self-propelled naturally. However, most of them come with a rear-wheel-drive system.
To put it simply, a 2-stage snow blower vs. 3 stage snow blowers work the same way, but 3 stage blowers do it with more speed and horsepower.
A 3-stage blower gathers snow 50 percent faster than a 2-stage model. Other models must slow down while clearing substantial snowdrifts, but a three-stage blower will work smoothly.
It also leaves clear paths as the remaining layer of snow is immediately taken into the impeller chute. These blowers are perfect for people living in too high snow areas.
Benefits of 3-Stage Snow Blowers
They can throw away snow to up to 50 feet or more. So, if you have a sweeping driveway, you can easily avoid snow pileup. They also save a lot of time and energy.
The accelerator and the auger-driven system pull the machine forward quickly and smoothly, so you need to guide it and not push it.
If you own a two-stage blower, you may have to pass the same spot multiple times to clear massive snow piles. But with a three-stage snow blower, the efficient design makes everything easy.
The design also enables better maintenance as the engines are powerful. This reduces the pressure on augers and impeller. The third auger (accelerator) has a very high velocity. All the snow gathered by the other two augers is churned and reduced to small pieces in no time.
Concerns Related to Three-Stage Snowblowers
The design is complex and cannot be understood by a layman. So, if your blower experiences any problem, you will need to consult a professional.
Compared to two-stage models, they have a few models to choose from, and most of them are specific to more professional use. A three-stage blower is expensive, and you will have to spend hundreds of dollars.
3-Stage vs 2-Stage Snow Blowers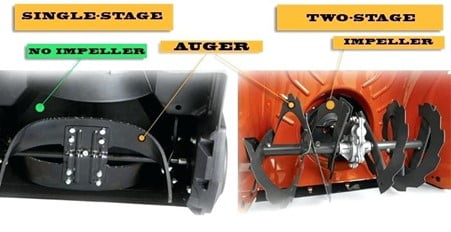 A two-stage snowblower and a three-stage snow blower are similar in terms of working, a self-propelling system, and the coordination between augers and impellers.
So, when it comes to the debate of 2 stage snow blower vs. 3 stage snow blower, all it boils down to is the amount and nature of snow the machine is meant to deal with.
The three-stage type uses an accelerator for heavy-duty snow clearing, which a two-stage cannot do. But it also requires professional maintenance and extra care.
You should consider some features while buying a snowblower – easy chute adjustment, headlights, method of turning it on, drive disengagement, and dead-man control.
You need to make a list of features you want in your snow blowers and match it with the one you buy.
Your ideal snowblower will be different than others because the decision depends on your region and comfort.
If we give you an answer to the 2-stage snow blower vs. 3 stage snow blower question, we will mislead you.
If you are looking for something commercial, the latter will win the 2-stage snow blower vs. 3 stage snow blower competition.