Living the homeowner's dream but still looking to add additional relaxation spaces like hot tub deck ideas to your abode?
A personal sauna will help recreate the feel-good sensation of a spa right in your backyard. Basically a small, heated room, saunas have proven health benefits and are a cultural icon for those in cooler climates. The advantages of heating up your body come from the increased heart rate and rapid expansion of blood vessels. This reduces anxiety as well as pain, improves your skin, and overall well-being. But more so than this — a sauna is also a social experience, and while you can do it alone, it's best enjoyed with family and friends. Imagine coming home after a long day, maybe after some outdoor activities, only to sweat it up with pleasant chit-chat. If that thought alone gives you a warm fuzzy feeling, just wait until you're soaked in your own personal sauna!
Here you'll find a basic beginner's guide to acquiring your own outdoor sauna.
A Kit versus DIY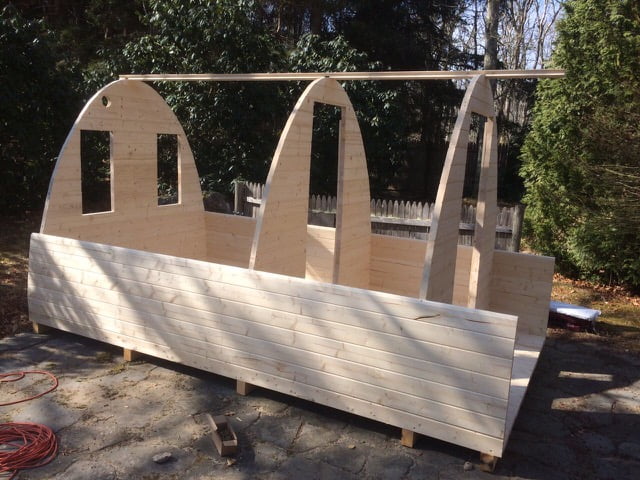 At the very beginning of your sauna adventure, a crucial decision must be made. Buy a premade kit and put it together — IKEA-style, or get crafty and build one yourself, ordering the 'hardware'. The differences are obvious, and it is much easier to get a prefabricated kit all thought-out beforehand (by a specialist). But if you want to put your own spin on the design, creating a custom experience, then grab your tools. Just make sure you plan it out and measure twice before you cut! If it all comes down to budget, explore the sauna kits on the market as there are increasingly reasonable options out there.
Location, Location, Location
Another early decision to be made is the placement of the sauna. Several factors, especially safety-related ones, need to be taken into consideration. However, you can even consider placing a sauna inside your home (spare basement room) or right in your backyard. For those who want a more scenic location, just make sure you have enough level ground to fit your box. The smallest you should go is 4-by-6 feet, but if you have space, do consider a larger one.
Materials
If you decide to buy a kit, materials are not something you should worry about. If you go the DIY route, then you must remember to pour a concrete foundation first, then erect the structure. Normally, Nordic Spruce would be recommended as it's a wood type that's resistant to rot and can handle the humidity from the extreme change of heat temperatures. You could also use whatever is cheaper in your area, but avoid pine as the heat will cause it to bleed resin.
Then comes the insulation, which should be prioritized and not something you want to save on because you need efficiency. Fiberglass is commonly used for this, with an aluminum barrier for vapors along the walls and ceiling. The interior materials can range from wood to concrete and tile, so use what you fancy.
Heat Source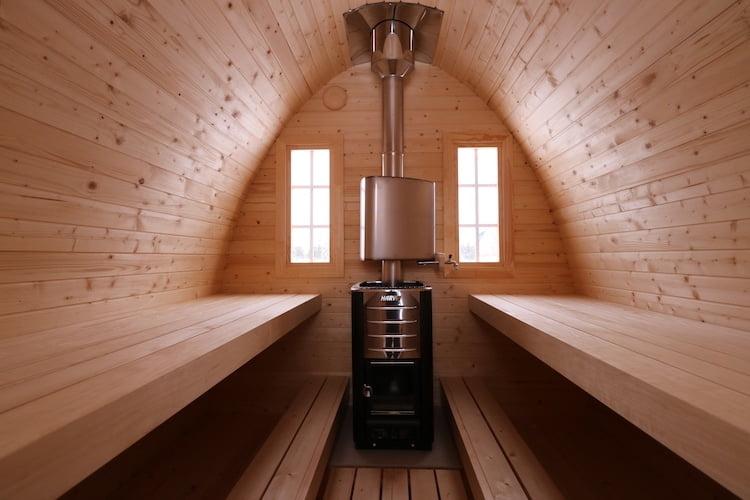 Since you keep hearing about warmth and sweat, you must wonder, where the heat comes from. Here you must face yet another choice; go for whatever is safer, more economical, and easy for you to use. Traditional saunas are wood-burning, and they are indeed the most picturesque. Besides, wood-burning stoves are considered the best option for saunas. They heat up very fast and are the most economical way to operate one, requiring only 1 bundle per session.
Other options are electric or gas heaters, but those take more time to heat up and are way more expensive. On top of that, a licensed contractor is required to get a permit and have them installed.
Design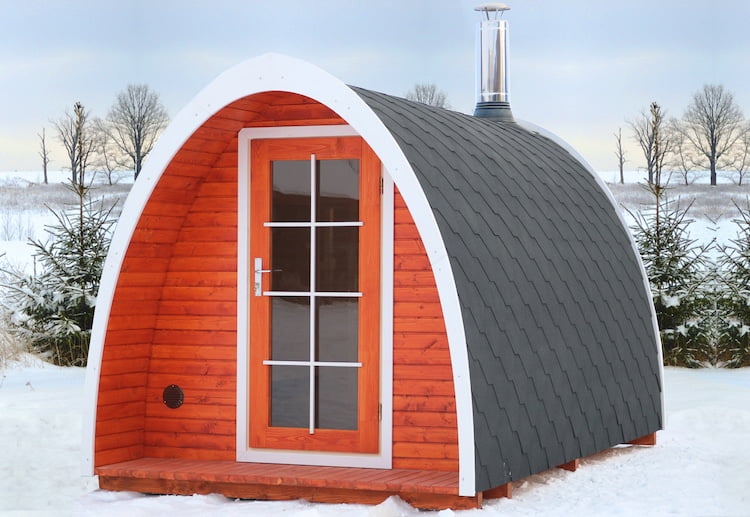 Crafting your own sauna means more of a creative license, but kits can come in a variety of styles. From traditional to modern, you can choose the aesthetic you like or what fits best in your outdoor landscape scheme.
Cabin saunas look like a classic wooden hut and are quick to assemble, while the barrel type looks eccentric. The latter has plenty of room for people but has an overall smaller volume to heat up.
Another popular option is an igloo sauna, with its curious raindrop shape it looks like something out of a fairytale. If you prefer a sleeker, more contemporary look, opt for the oval style, which fits in better alongside modern homes.
A Solution for All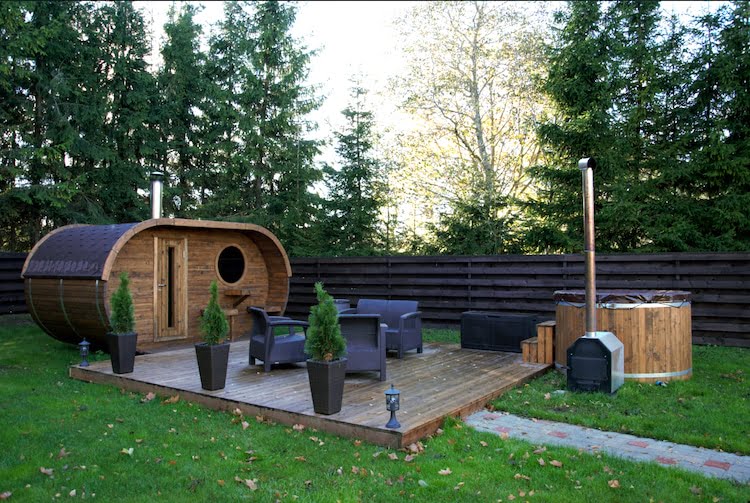 Whatever style you might be looking for, BZB Cabins & Outdoors will most likely have a suitable option for you. Both in terms of style and capacity, you should check out the great variety and be assured of their quality. If you're looking for an igloo sauna, then look no further than the Igloo 40 model. It looks rustic due to contrasting colors, seats up to eight persons, and you can even get it in trailer form. It can be made like a tree house as well so, if you have always dreamed about treehouse ideas then it is the time to make it real.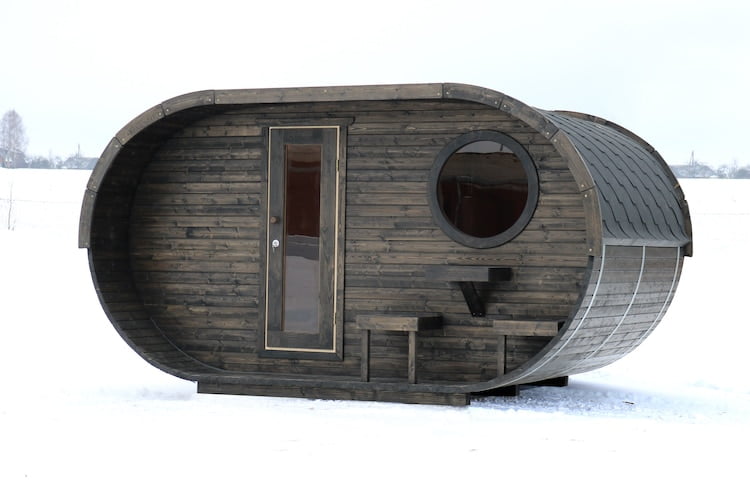 Sauna on the go, now doesn't that sound amazing? If you're thinking more of a barrel shape – then W44 is the sauna for you. It also seats eight people and is sure to become a conversation piece with its tubular silhouette in your backyard. All your friends will be inviting themselves over, but if you would rather keep it small, go for the W2. This is an oval-shaped sauna that fits 4-5 people, so just enough for family or close friends. It has a minimalistic design with features that complement each other bringing your sauna game up to the 21st century.
Takeaway
Hopefully, by now you are convinced that having your own sauna is not at all a daunting task. Whichever model of sauna you end up choosing, make sure it's the one best suited to your particular needs. This alone will make it a worthy investment and will ensure that you draw pleasure from using it every time. So grab a towel, huddle in with your friends or family, and sweat that hard day off. Bonus points for keeping it traditional and taking an ice-cold shower between rounds. You won't regret it!