After working for a long tiring day, we get exhausted and wish to give ourselves a nice relaxing treat. The idea of having a hot tub deck is a dream of many.
It is a luxury people wish to own and is a fancy addition to the home. It would help if you had proper planning to achieve your dream.
It can be built pretty much by anyone who wishes to invest some time and have an ambition for it.
To own a perfect hot tub, deck a few things like structure, design, location, and accessibility should be evaluated.
If you are getting a bit nervous after reading these tricky words, you do not need to worry much because we have got you covered.
Below are 15 Epic Hot Tub Deck ideas we have listed for you. These include everyone's interest; you will find one for you here. 
Hot Tub Deck Plans & Ideas
1. Raised Short deck design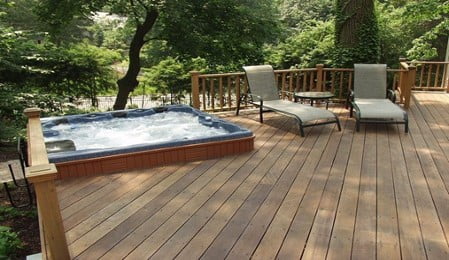 Short deck designs elevate your backyard space while giving you the luxury of having hot tub decks. This is perfect if you have a small space to work with. Having a bathtub inside a raised deck will make your backyard look more spacious. To make it more comforting or relaxing and to entertain guests, install some plants, a small sitting area, and a little fire pit.
2. Open Rooftop Decks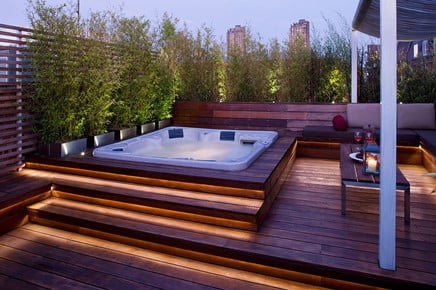 Rooftop decks are not very large, but they look luxurious. It is a perfect spot to have a hot tub deck if you want some privacy. You can plan out your space, create a spa, and have a fantastic sky view at the same time.  Add some coverings by using curtains and throw some pillows to give a cozy vibe to the place.
3. Poolside Hot Tub Deck Idea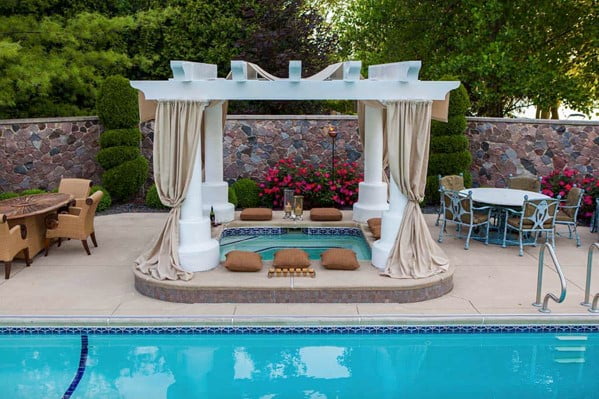 We use a single deck to separate the pool and the hot tub next to each other. The most common method is to build the deck around both. However, you can build the deck around the hot tub if you do not want the deck to be encircling the pool.
4. Wooden Hot Tub Deck Idea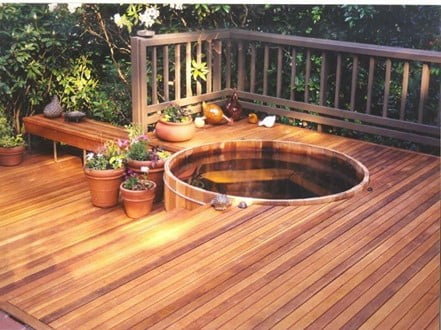 Wooden objects look lavish and cut the cost of stone. Durable hardwoods like Iroko, Acacia, and Ipe are good choices for exterior use. Use a slab to keep your hot tub on. This gives it a secure and stable base to support it. Wood gives your space warmth and rhythm. You can use some plants to surround the decks that go with your backyard's whole vibe and give an accent to the space.
This is a straightforward yet effective way to enhance the beauty of your space. You can match the wooden deck by getting yourself a wooden hot tub, which will blend the entire look, making it look more polished and appealing.
5. Wrap- Around Deck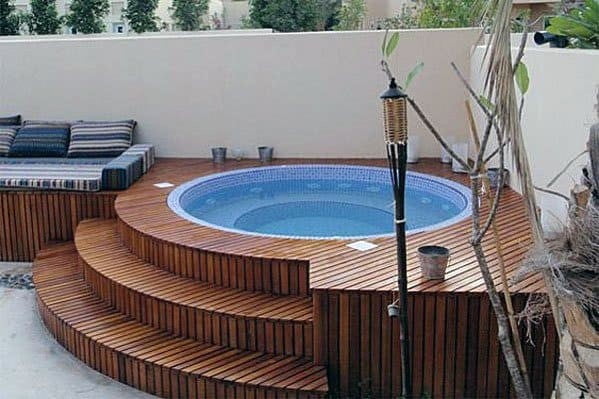 You can completely experiment with the design of the deck. Surrounding the deck with stairs will look beautiful and enhance the entire structure of the deck. It makes it appear more appealing and will give it a royal touch.
Wrap around deck makes the tub look more beautiful, and the wooden stairs add more elegance to it. These are popular stair designs and are inexpensive additions that make them more attractive.
Special care needs to be taken while deciding the height of the stairs. It should be of comfortable height; otherwise, it becomes awkward and can turn into a hazard.
6. Multilevel Decking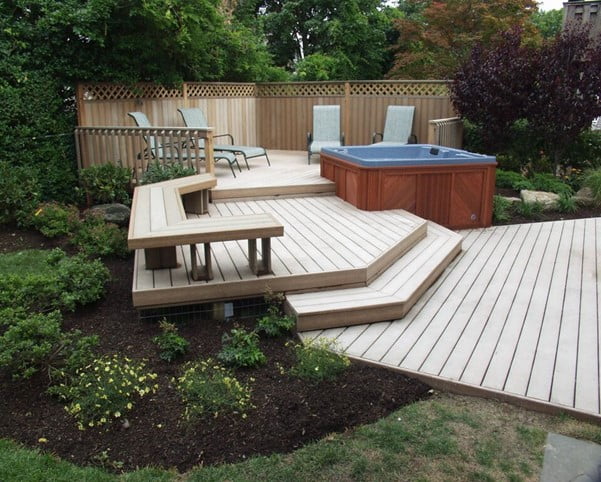 Give a modern look to the deck by installing a multilevel decking area. It is multipurpose and can be used for incorporating spa, BBQs, Spa, Firepit, or creating any specific areas for entertaining the guests.
They are an attractive addition that can be included in your deck design. They give your hot tubs an elevated angle and makes it easier to get in and out of them.
7. Large Decks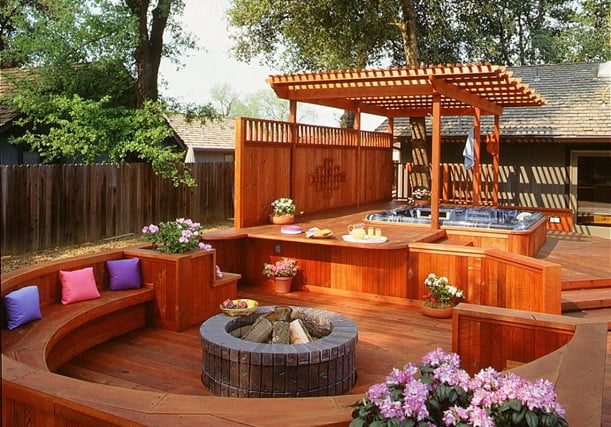 Large decks can be created for a simple backyard around the hot tub using stone or wood decking. As these are huge, you can add little details like leveling them or adding stairs to enhance their look.
These decks should be installed if you have a large space in your backyard. It is mostly found in areas where the ground level is not flat, and an elevated deck is built with the second floor.
However, both ground level and elevated decks are found. Also, since the hot water tub is massive, make sure you use proper support.
8. Hot Tub Deck with Private Bar Setting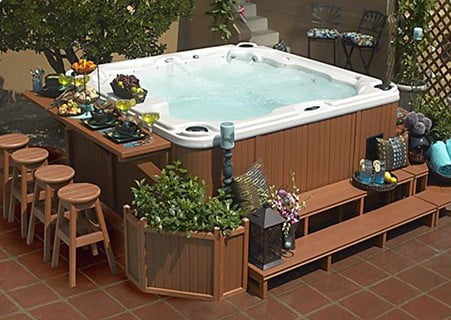 Create a bar on the deck around your hot tub with stone or wood, which goes with the entire vibe of your place. Add scented candles or flowers to set the mood for a romantic night with your wife or a fun night with your friends.
9. Covered Hot Tub Decks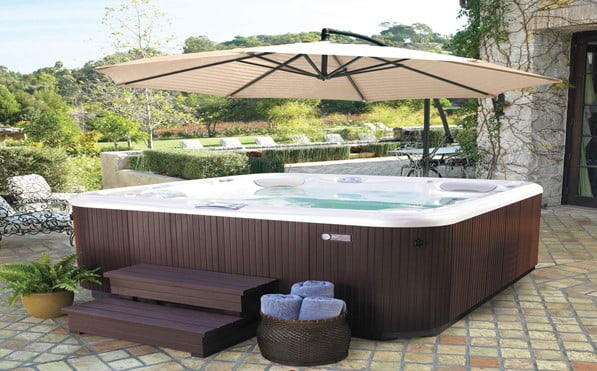 Want to ensure privacy and security? Use screens, covers, or gazebos to tackle that. This hot tub deck idea is just for you. This will not only help you feel safe but also protect you from the harsh and bright sun. Install these on backyard or rooftop hot tubs. These can be made of several cross beams that leave some spaces between them, or you can use screens to hide the unwanted view and maintain privacy at the same time. A wooden fence can also be built around the deck to give a modern style and privacy.
10. Hot Tub Decks with Spa Area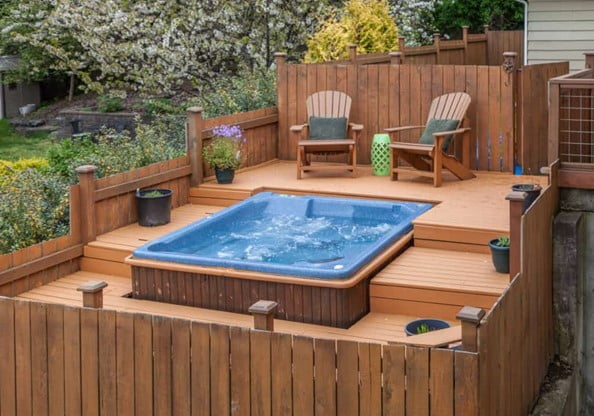 Want to sauna cleanse without going to the spa? Make your private spa by transforming your deck. Add fencing to make space close and small. Install details like levels or stairs to the deck, maybe a little gate to make it look more real. Add moving objects like comfy chairs or massage tables in the space.
Add scented candles, flowers and turn on relaxing music to set the whole vibe and stay warm in the bubbling hot tub.
11. Set the Hot Tub Deck Within Natural Setting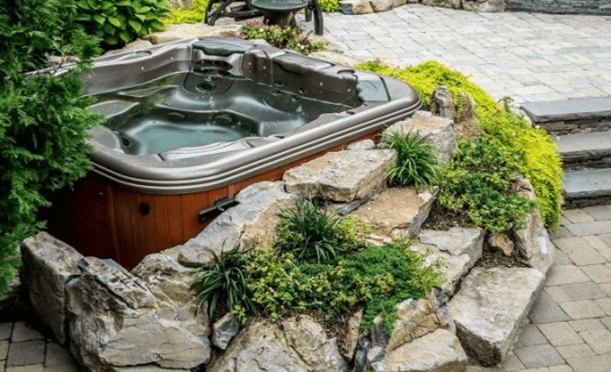 What better option we can have to relax than to be in a natural setting. Nature has a calming effect on our brain. So, it is a great idea to install such a setting around your hot tub deck to help you relax and calm your brain.
Add some natural plants or succulents around your hot water tub to make it look like a fence. Add some stones or jagged rock to create a more natural feel around your hot tub.
12. Large space Hot tub Decks
If you have a large space available, you should go for multilevel hot tub decks or install stairs; however, you can always go with ground-level ones if you wish. With a large space, you have ideas that you can use to make it more attractive. Add several elements instead of installing a large deck. You can integrate the hot tub into the deck, while the remaining surrounding space can be used for other activities for those who do not feel like lying in the spa.
 13. Luxurious Hot tub deck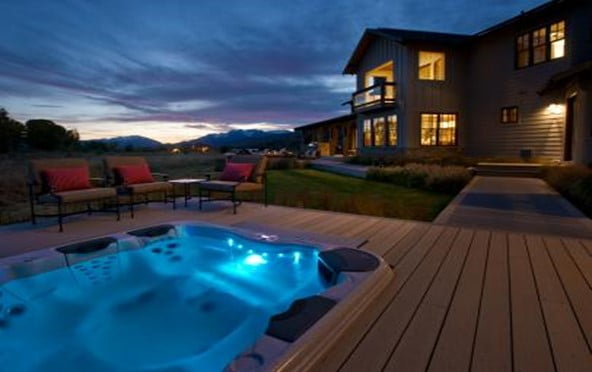 Hot tub decks themselves have a luxurious feeling to them. But we can enhance it by installing it in a large open space with lots of lights creating a stunning atmosphere. To give it a great touch, add a colorful spotlight inside the water. Try using monochromatic lights like blue or green. Use unusual things like candlelight to create a warm ambiance.
14. Balcony Hot Tub Deck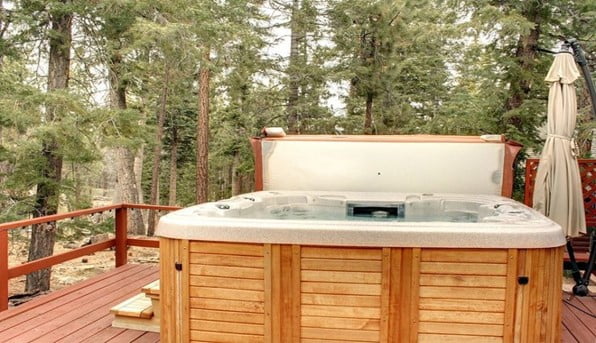 Installing hot tub decks in closed, covered spaces like balcony, will allow you to use them and make the best out of the available space. It will give you a nice view and freedom over when you can genuinely use it.
15. Low Maintenance Eco-friendly Deck Design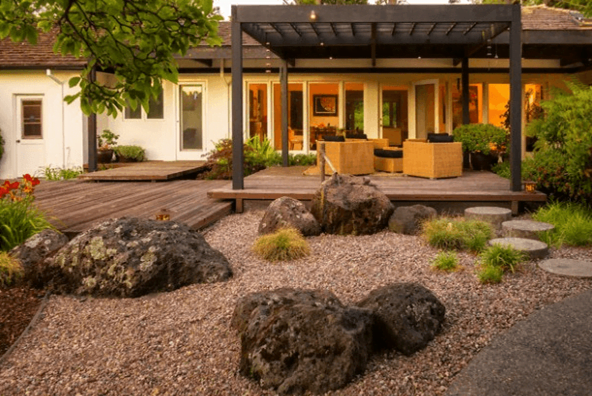 If you have a limited budget, you can use alternatives to expensive materials. You can use cement blocks to create a patio design in your backyard or use Airstone to add depth.
Airstone is a manufactured stone or brick veneer used by homebuilders and is available in a wide variety of shapes and sizes. It is made of recycled material and is an affordable resource that can give your patio an earthy feel.
You can make a modern, low maintenance deck design using simple bricks also. Give your place a dessert vibe using rocks and stones.
Instead of building huge decks, build multilevel decks, add cushions of bright colors, install furniture, and use plants for popping out space.
It can be easy and affordable to build your hot tub deck with the right knowledge and resources. Use these hot tub deck ideas to build your hot tub deck and enjoy evenings in your backyard while relaxing yourself.