Everybody needs and deserves a break from their busy life schedule, at least occasionally. Talking of breaks, have you ever thought of treehouse ideas for yourself or your children? If no, then you have got to think about it.
Talking about treehouses, you have probably made its typical rough image in your mind. However, treehouse ideas have now changed a lot. A massive variety of treehouses can be made, that too in different shapes and sizes.
You can customize your treehouse according to your budget, your space, your tools, and the designs that you wish to see. Here, we have got you some cool and fantastic treehouse ideas that would help you design your own.
Camouflage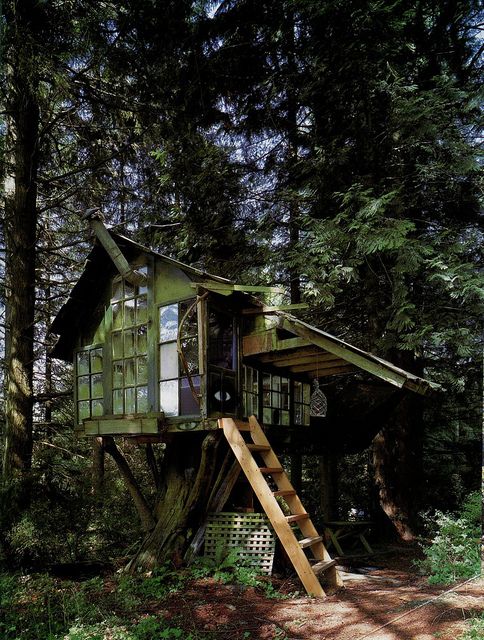 Going into the woods on the weekends sounds so much fun and adventurous. So, a Camouflage treehouse will be the best option for that place of fun.
This is one of the best and easy treehouse ideas that just need a simple plan and design.
You can also go creative by planning a lookout tower in this treehouse so that you and your family could explore the woods in a much better way.
The Tree Hideaway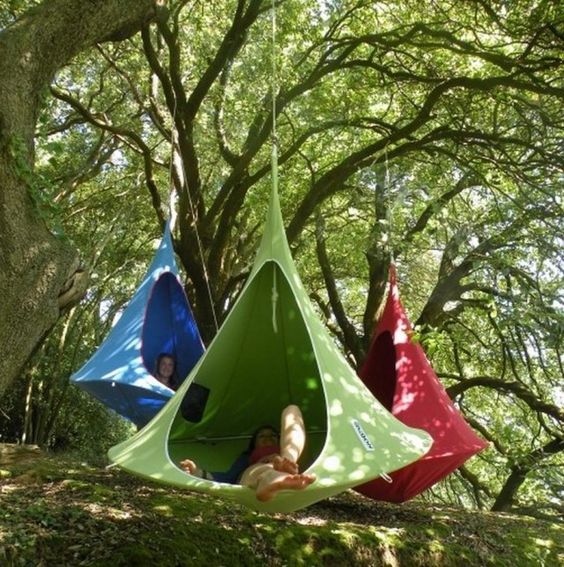 The old typical treehouse ideas have now become ordinary. New, creative, and easy ideas have become peoples' choice today. If you are very much into traveling, then this is totally for you.
Being super easy to transport, this tree hideaway can be your partner anywhere- camping, outing, or traveling. Sound quality can hold up to 500 lbs of weight making it possible for you to have a short energy nap or a break anywhere.
Playhouse Version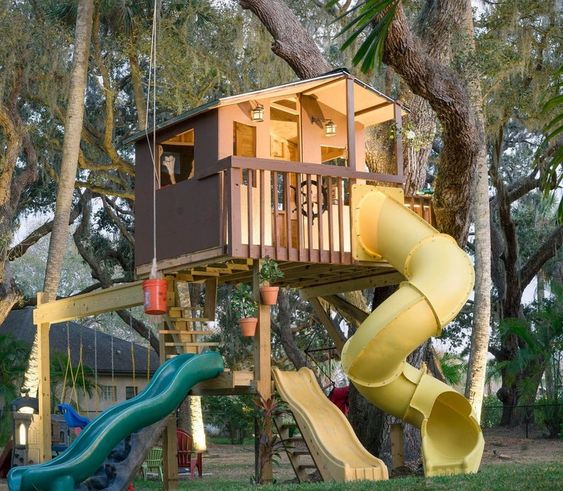 If you want to make your kids super happy, this playhouse in a treehouse is for you. You can design it yourself with your kids' imagination, or you can even get it designed by professionals.
You can add as many slides as possible, stairs, and pipe ways to satisfy your kids' imagination. A little space inside the house for some indoor games will make it perfect for your kids.
Overlook Gallery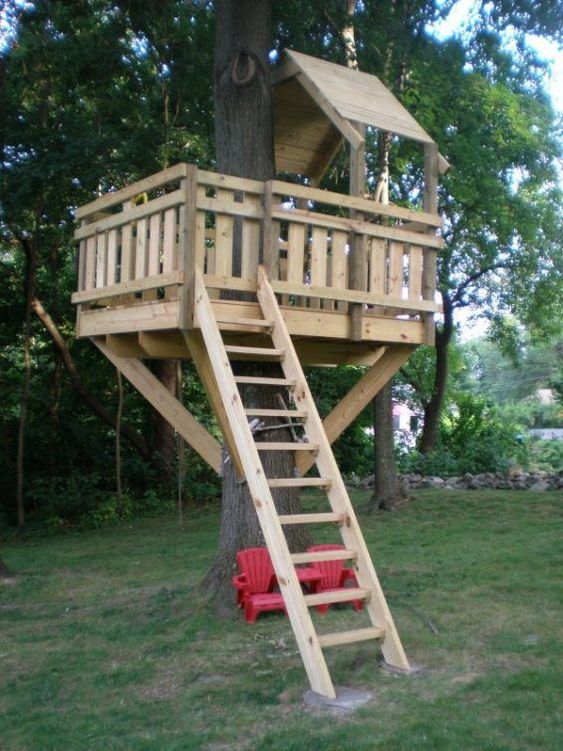 Treehouse ideas do not always need to be the common mini house ones. It is always good to think out of the box. Just a gallery on top where you and your kids can look at your area would also work great sometimes. This idea of an overlooking gallery will fit your budget correctly and might even save you some money.
Dream-House in the Woods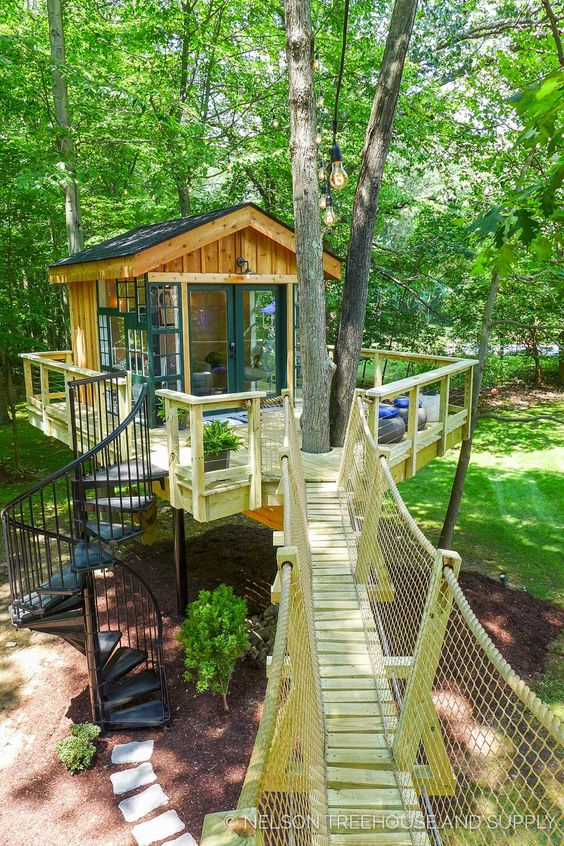 If you have an excellent budget, you can plan for a dream house that satisfies your kids' or even your partner's imagination. You can think about a castle-like design with some pretty colors.
If you already have a second-story deck or a balcony, you can also pair your dream house with swaying rope bridges or wooden bridges to add some real fun.
Pallet Treehouse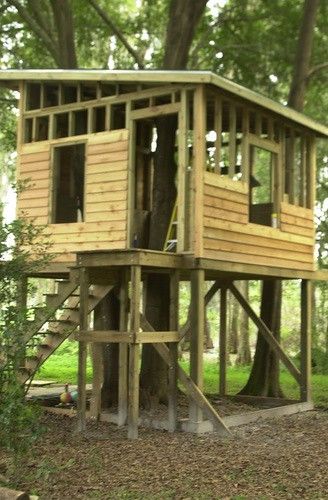 If you do not have a significant budget and look for something pleasant and straightforward, go for treehouse ideas with pallets. Second-hand pallets can honestly be found at very little or no cost.
You need to find them, groom them a little, and you will be done. Even a simple designed pallet treehouse would work in your backyard. You just need to place them in the right way.
Pre-Placed Treehouse Ideas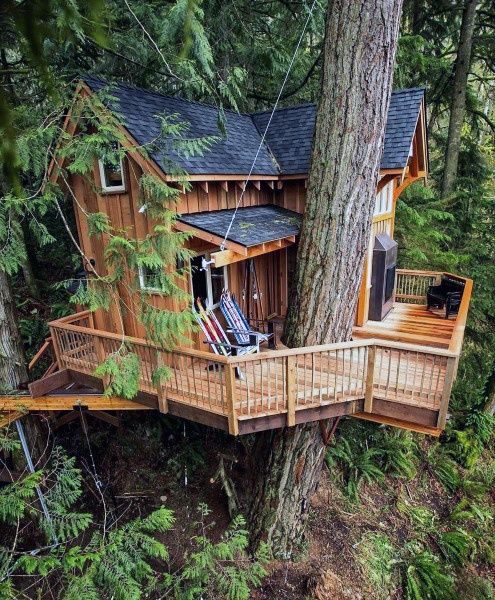 We usually decide our space after choosing the kind of treehouse that we wish to have. However, it is not always necessary. If you are still confused about the treehouse ideas, go, and find a place where you want to have it.
Now, this treehouse idea works in a reverse manner. Find the ideal trees or space where you want your treehouse to be, then design your treehouse according to those trees or space.
Mini-me Version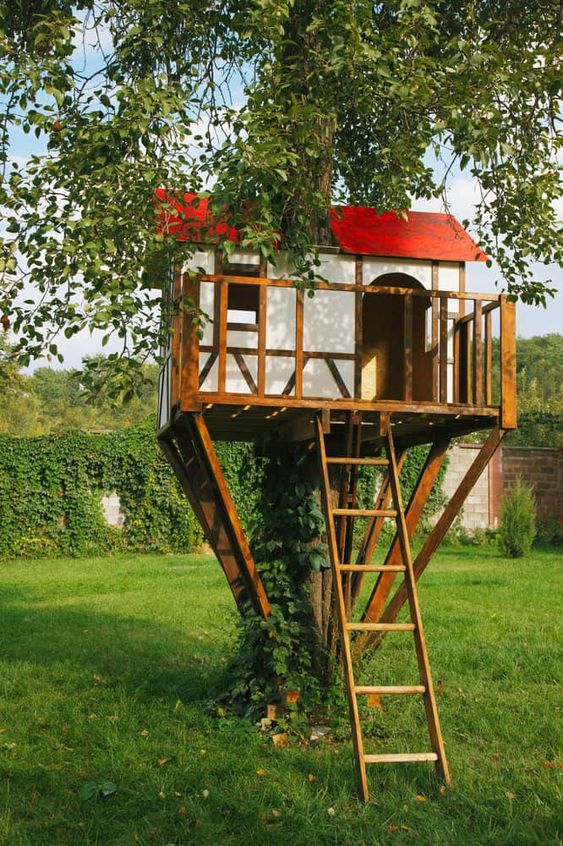 Although people do not usually think this way, you can also synchronize your treehouse with what you already have. This means that you can create a mini version of your actual house, and believe us, that would look beautiful.
You will just have to use the same colors, window designs, or maybe even the shape for that mini version. Also, this treehouse does not need to be specifically built in the woods. You can also have this built with the support of some strong wooden poles.
Woven Nests for Rest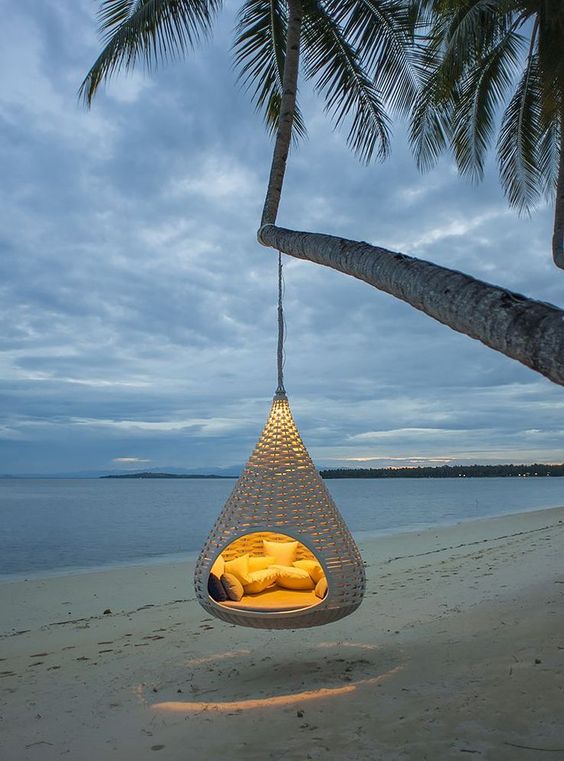 To all nature lovers, this one is for you. These woven nests look as cute as those real bird nests. With two adults' capacity very comfortably in itself, these woven nest treehouses can work great for spending quality time with you and your partner.
Moreover, they are perfect if you look for something cute and cozy, too, on an average budget.
Deck Treehouse Ideas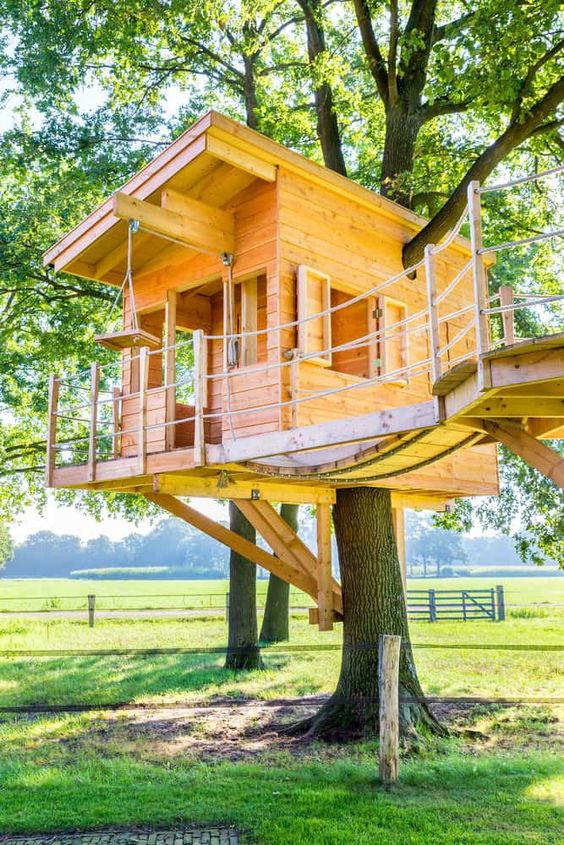 Decks are something that can be added even to your existing treehouse design. A spacious deck above the ground in the woods can become a playground for kids or a beautiful space for your family and friends to cherish on the weekends.
With an average budget, you can add a deck to your treehouse idea or design a treehouse with a spacious deck and a lesser closed room.
Going Up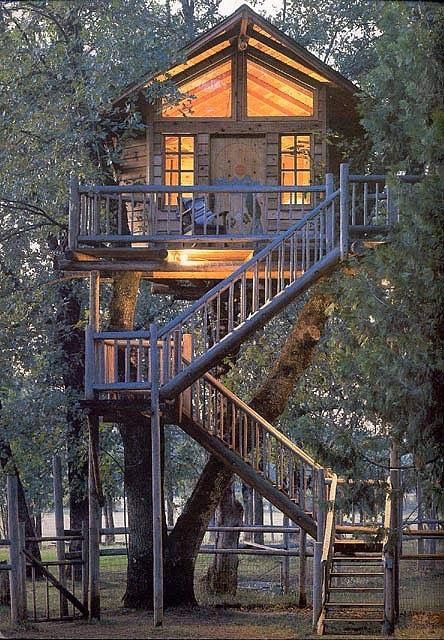 A treehouse built at the topmost of a tree or two can be a great idea. Long stairways built up till the treehouse can be fun and look fantastic. Also, this is one of the best treehouse ideas on an average budget. From your evening tea time to your children's' play space, this comfortable yet relaxed treehouse can serve both.
Double Story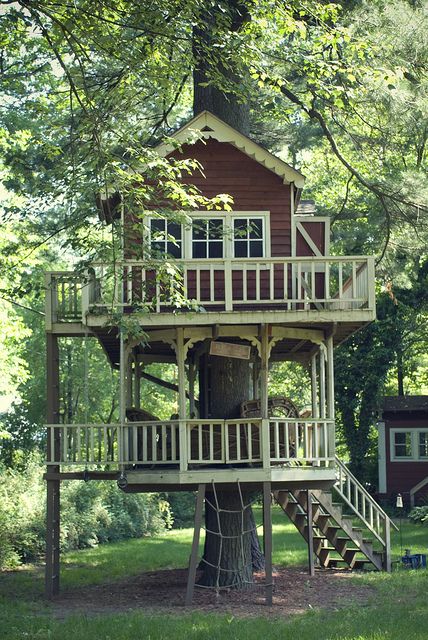 If constructed with a proper plan, design, and material, a treehouse can become a double story and eventually more spacious. Although the budget needs to be more than usual, it is also worth your money.
This double story treehouse would be perfect for spending evenings with your family and enjoying the cold pleasant breezes.
Thematic Treehouse ideas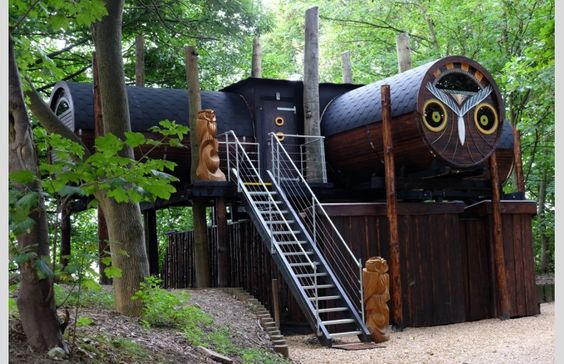 We have always wished to experience the aura of our favorite fiction movies or the characters. Why not take up this chance and design a treehouse inspired by our favorite fiction movie?
You can design it yourself according to the theme that you or your family wants. From its decor to its color, everything in a theme. The shape of the treehouse does not need to be complicated, instead pay more attention to the theme you want.
Space on the Top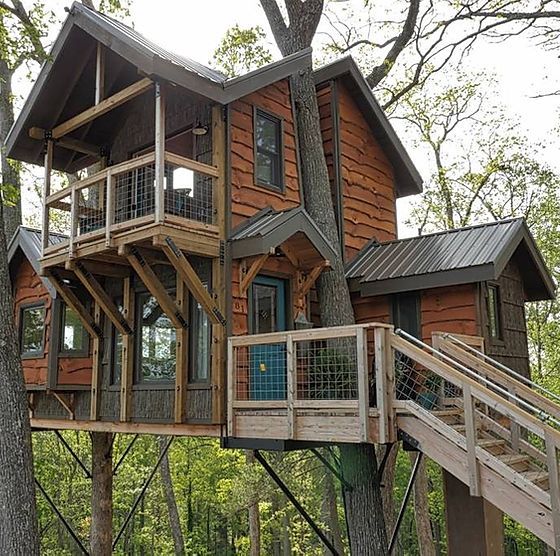 If you are planning on something your family can cherish for years, then you might think of something big, that too on the top. A treehouse just a little smaller than your home will work great for your holidays, sleepovers, and campouts. This spacious second home will let you adore nature every time you visit it.
House in a Pod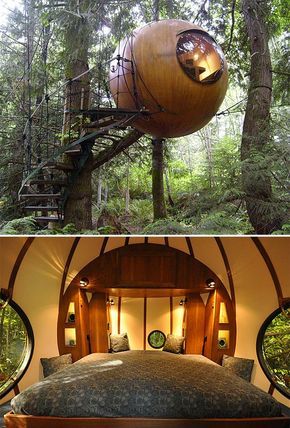 Life is all about experiencing new things for fun, then why not experiment with our treehouse ideas? A Pod like treehouse looks would be as comfortable and memorable as it seems to be from the outside.
You can design its interior according to your choice and budget. The best part about this house is that it can fit in either budget, both average and huge.
TreeHouse for Adults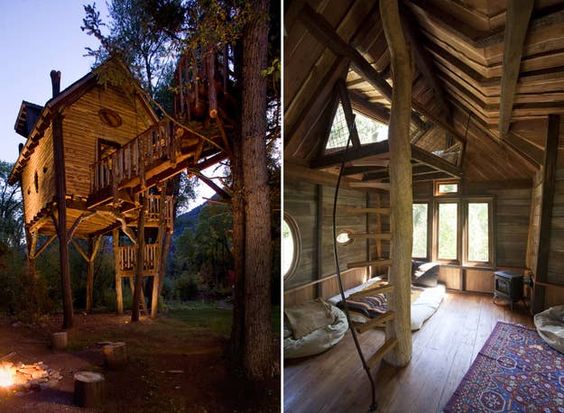 Fun treehouse ideas cannot be restricted only to children; we adults also deserve treehouse fun. So, if you need a space to relax with your friends and family, you can design it according to your choice too.
A treehouse with a mini wine bar in it can be a great idea. Your treehouse can also be your workplace or even a cozy corner for you and your partner on the weekends.
With no budget and design restrictions, this can turn out into a great place that you will cherish for years.
Modern Treehouse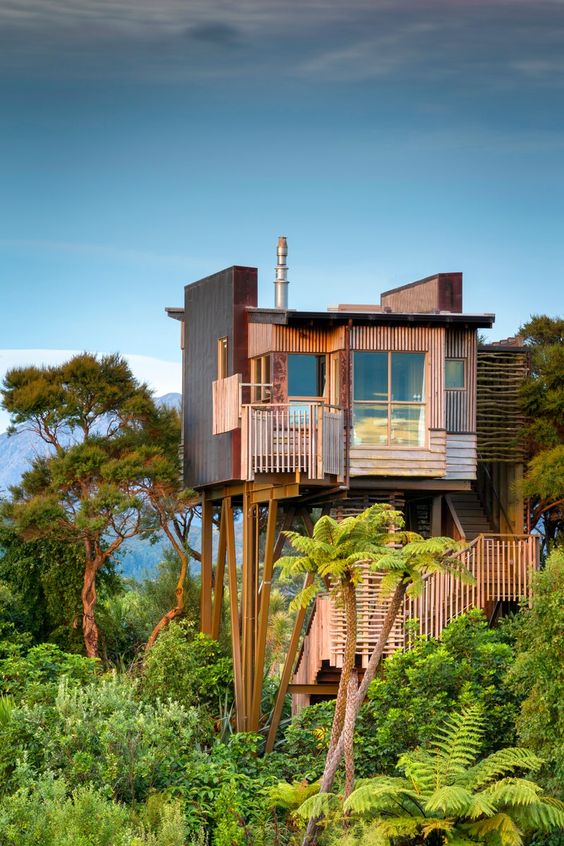 No one in the world has made a rule about treehouses being only made with woods. Treehouse ideas are now evolving to a great extent, and so should our plan evolve. A treehouse that is modern with modular work would also look great in your space. 
From its design to its interior, you can have everything modern. Although the budget would go high, the final look would be unique.
Simple and Beautiful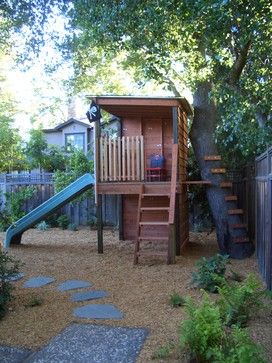 Sometimes something just made above the ground is what kids wish to have. A little airy loft is something where your kids can play, or even you can hang out with your family or friends.
This is also one of the best treehouse ideas because you will not even need a real tree for this setup. Just some wooden poles strong and deep enough can serve as the support.