Caring for your lawn makes up one of the most satisfying jobs you can do around the home. What's more, it always leaves the yard looking more pristine and inviting. One of the best tools for this job is the weed eater. What makes a weed eater such a fantastic garden tool is that it not only trims grass and shrubs quickly but is also easy to use and maintain.
What is Weed Eater?
A weed eater is what many people also fondly refer to as a string trimmer or weed whacker. It is a garden trimming tool that uses a monofilament line rotating at high speed to cut grass, weeds, and even small brushes.
The weed eater's line is usually made from nylon and protrudes from a rotating spindle attached in a long shaft. On the other end of this shaft is the weed eater engine that is usually gas or electric (both battery-powered and corded models are available).
As you cut grass using your weed eater, the nylon line wears out, and tiny sections of it also break off, and hence you have to advance more line to continue cutting. Some models move the new line automatically, while others will require you to tap the cutting head on the ground for the line to advance.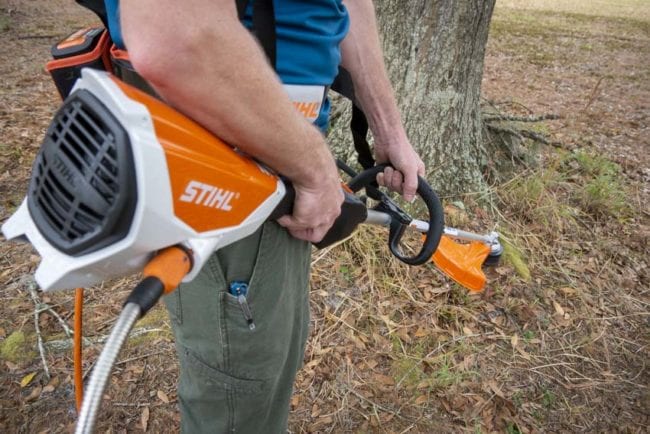 Benefits of Using Weed Eater for Garden
1. Ease to Use
While various machines and tools can be handy in the garden when you want to cut or trim grass and weeds, few are as easy to use as the weed eater. The string trimmers are the kind that almost anyone can use as it only takes a few minutes to figure out what to do, even for absolute newbies.
All you need to do is pick up the machine, strap it onto your body if it comes with a body harness, and power it on to start trimming grass. Most weed eater types are designed to be super easy to start, including the gas-powered models, as many will have a switch or trigger that powers them on.
Another element that makes this tool super easy to use is most models include rubberized handles with adequate cushioning to ensure minimal hand fatigue even when you have large lawns to mow.
2. Flexible and Lightweight
The weed eater's flexibility is another element that seems to impress many users. With this garden tool, you do not need to follow a specific technique or style as they can cut from almost any direction, given the small spindle size. However, it is still essential to follow a particular pattern for the best outcomes despite their flexibility.
Besides flexibility, weed eaters are also exceptionally lightweight, ensuring that even kids can pick them up and use them with no issues. On average, most of these tools will weigh under 10 pounds meaning you can use them for extended periods with minimal hand fatigue. The lightweight design also makes these tools more portable for use in different locations and you can easily store them in outdoor storage made to keep kids toys or in the garage.
If you are looking for the lightweight weed eater, click here for more details.
3. Working Faster
You can always be sure of finishing the job much faster when using a weed eater than many other garden trimming tools. Other options like the ride one lawnmowers move much quicker but often require more prep work before you can start trimming and will not reach all spots in the garden, meaning you still spend more time on the job.
With the weed eater, there is hardly any prep work needed besides making sure there is a line on the head and the battery is charged, or the gas tank has fuel, which means little time wastage. Also, as these are lightweight and easy-to-use tools, you can move much faster. Additionally, you never have to waste any time trying to figure out how to trim hard-to-reach areas as they can do it with relative ease.
4. Environmental-Friendly
Most modern weed eaters are battery-powered or corded electric, meaning they will not produce any emissions. Hence, they are more environment-friendly. Additionally, these tools are also quieter when in operation, which translates to less noise emission.
Even if you use a gas-powered string trimmer, you can still be sure it will not produce nearly as much emission or noise as a lawnmower. Hence, regardless of the weed eater type you use, it is still more environmental-friendly than most other alternatives.
5. Less Repair and Maintenance
As you choose any garden equipment, it is vital to make sure you also consider other things like repairs and maintenance as they are inevitable. But, with weed eaters, you can be sure of fewer repairs and maintenance, which makes them more convenient and cheaper to operate.
Since these tools do not have many movable parts, you hardly ever need to replace or repair anything. Maintenance for this tool essentially includes simple things such as cleaning the components or adding more line.
Recommendation
If you are on the lookout for a weed eater to help keep your garden in good shape, HomeGearX has some fantastic recommendations. Worx WG163 is such an excellent option because it is a versatile model that works as both an edger and wood eater. Additionally, this string trimmer has a convenient instant line feed function, a larger 12-inch cutting diameter, and a highly ergonomic handle.
Conclusion
A weed eater is an easy-to-use gardening tool that allows you to trim grass and weeds in the garden to keep it looking pristine. Besides being easy to use, this tool will enable you to work much faster and is more convenient since it does not require a lot of maintenance. However, like any other garden tool, you need to choose a suitable model from a reputable brand for the best service.