Garage Organization is an essential job as a garage is one of our home's least used rooms.
A garage is not meant only for storing vehicles. You can also organize it correctly and make it useful for storing some household products.
In this article, we will discuss some of the best garage storage ideas which you can follow.
Garage Storage and Organization Ideas
1. Wall Organization
The secret to a good-looking garage is to organize all the tools perfectly where all the tools are hung according to their sizes on the wall.
You can hang all the tools according to their decreasing size order. Randomly placing all the tools on the wall does not look so pleasing.
2. Gardening Tools
For the organization of all the garden tools, you can use a long strip of hooks so that you can hang spanners, wrenches, etc., on the wall.
The Strip provides a classy and well-organized look. It is recommended to install the hook nearest to the door closet, so you don't have to rush anywhere in search of the tools.
3. Vertical Wall Storage
Vertical Wall Storage is considered one of the most crucial garage storage ideas as it is a must-have tool in the garage. It is better than using shelves of limited height.
Wall-mounted shelves are an excellent option for garage storage ideas and provide more height and space. You can also adjust the spaces between the vertical levels and adjust according to your height.
4. Metal Shelving Unit
Metal Shelving Units are one of the best garage organization and storage ideas, storing all the heavy and large things. It can handle any amount of pressure and weight.
They are constructed such that you don't have to worry about their falling. The Metal Shelving Unit is made of sturdy structures so that they can last long.
5. Bike Storage
Hanging the bikes on the wall rather than keeping them on the ground helps save so much space in the garage. This idea can help in providing a cleaner look to the garage.
If you don't have enough space on the wall, you can hang the bikes on the ceilings using ceiling mounts that provide safety to your bikes.
6. Ladder Storage
Leaning the ladders against the wall can acquire so much space in the garage, so it is better to mount them on the wall. Mounting the ladders on the wall can make it easy to grab away whenever needed.
You can also create DIY ladder storage using identical brackets. You need two identical brackets and attach both of them to the ceiling with the help of screws. Then, you can easily place your ladders there without the worry of falling.
7. Storage Boxes
Storage Boxes are one of the most essential things which you will need to organize the garage correctly.
You can store all the useful items such as balls, sports equipment, etc., in these boxes. You can also label these boxes so that it will be easier to find anything when necessary.
8. Tools Organization
Organizing tools are one of the trickiest parts of organizing the garage. Tools are tiny items, so they can easily mix up with other elements. So, it is better to keep them in separate organized boxes.
You can choose different boxes for different types of tools, such as a red box for electricity tools and the green one for gardening tools, etc.
9. Overhead Storage
Overhead Storages are one of the best garden storage ideas which you can implement in your garage. These overhead shelves are a great option if you want to store some things on the ceilings.
You can store those things that aren't used regularly. The Overhead Storage idea can make use of every part of your garage.
10. Sliding Drawers
Sliding Drawers are one of the best equipment and a must-have product in every garage. You can mount these drawers on the ceiling and let them slide across. You can use these boxes to store that equipment used daily as it makes it very easy to find them.
The Sliding Drawers are a perfect garage storage idea as it saves a lot of space and makes the garage perfectly organized.
11. Garage Cabinets
Garage Cabinets are considered one of the best garage storage ideas that you can also use in your garage. It is the best way to keep the garage equipment safely and securely.
You can also add some locks to add more security to the cabinets. While placing the cabinets, you have to make sure that there is enough space available around the cabinet for the doors to open easily.
12. Garage Workbenches
Workbenches are considered as one of the best accessories to include in the garage. Most of the workbenches are already equipped with small drawers allowing you to store small equipment in them.
You need a conveniently small space to store the workspace. You can use the Workbenches for doing any DIY work or storing small tools that you use often.
13. Pegboard Hanging Storage
Pegboard Hanging Storage is considered one of the garage storage ideas, useful in hanging all your garden equipment against the walls.
Pegboards are a great way of arranging all the items of different shapes and sizes in different positions. You can use it to create a fantastic look for your garage with the help of tools.
14. Color Coordination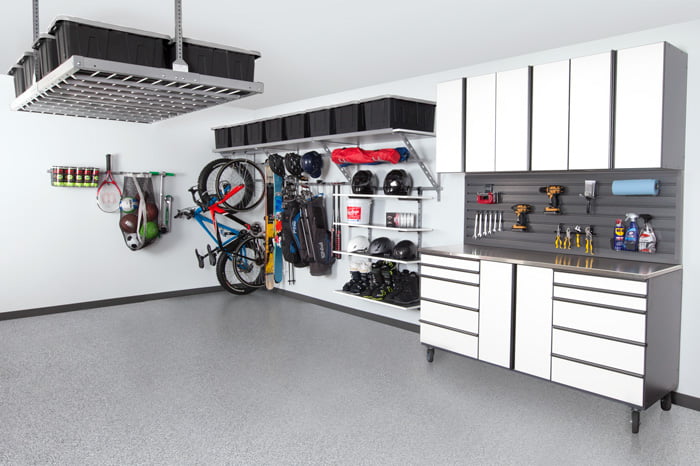 You have to make sure that all the equipment is correctly matched with other equipment while organizing your garage.
You can make the garage look more beautiful by adding some white cupboards and steel-looking equipment. You have to make sure that the garage must give a vibrant look to the people.
15. Slatwall Organization
The Slatwall Organization idea is somehow similar to the pegboard design, but it can store multiple things in one area. You can use different kinds of baskets of adhesive and sprays and hooks of larger items such as shovels and brushes.
You can also store a garden hose as there is enough space available there. There is also a larger hook available in the design to make sure that you can easily store larger items there too.
16. Open Baskets
Open Baskets are one of the most straightforward and straightforward garden storage ideas you can implement, and they do not need much space. You can place some easily accessible equipment in open baskets such as daily life tools, umbrellas, etc.
17. Air Out Equipment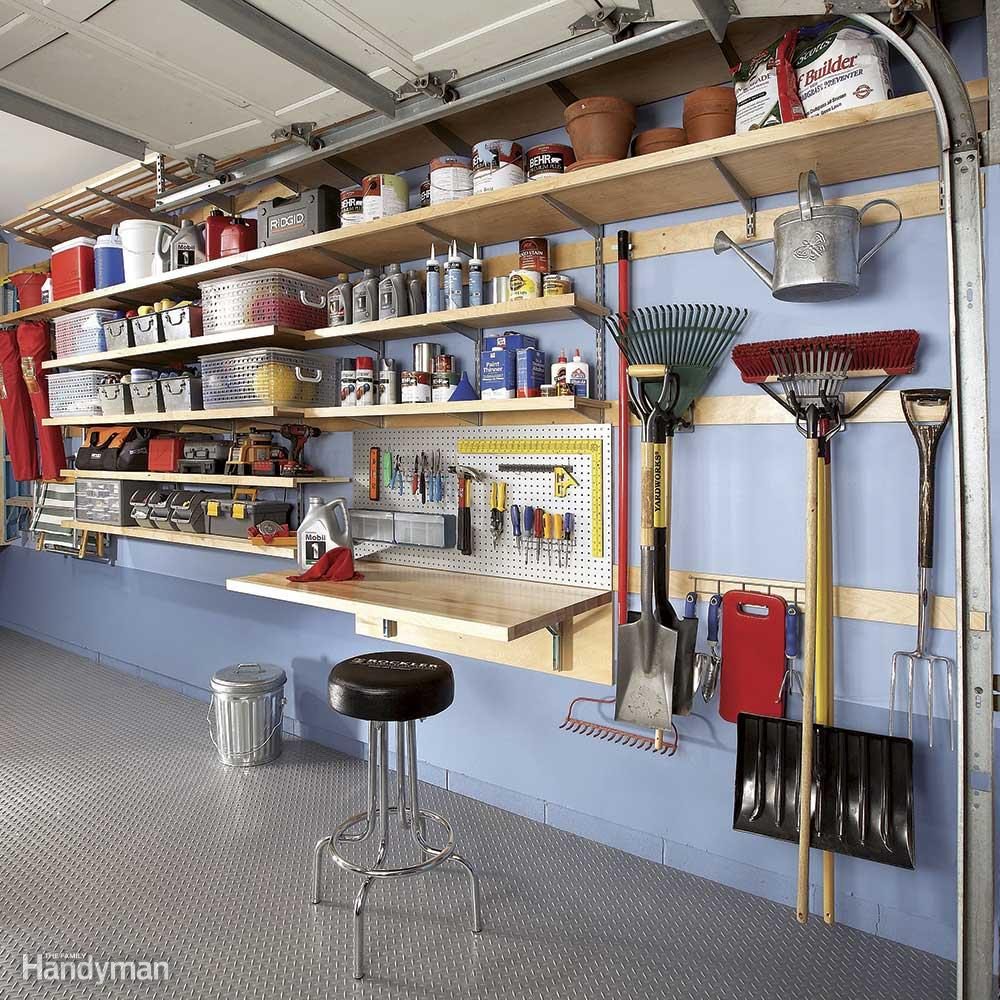 Most of the garages are more ventilated compared to houses. That's why storing some air out equipment in the garage is a great garage storage idea you can use. It helps in keeping the stinking equipment out of your house.
It is best for storing gloves and helmets or some other household products which need regular air. Keeping these products in regular air can help them to keep the foul odor away.
18. Kitchen Pantry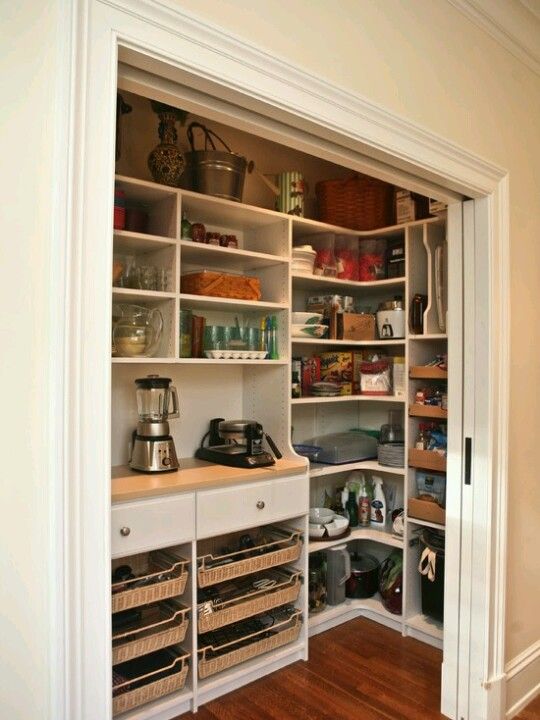 If your garage is located near the kitchen, it is a perfect idea to store some of the garage's extra kitchen equipment, such as water bottles, kitchen roll, silver foils, etc.
You can also add a standing shelf in the garage to store the kitchen things separately. While choosing the standing shelf, you have to make sure that it is lightweight, durable, and small.
19. Kids Storage
Storing kid's equipment in the garage is one of the best garage storage ideas as they don't take up much space in the garage.
You can store toys such as baskets, footballs, etc., there easily. It is one of the best ways to teach children about cleanliness and toy organization.
20. Open Space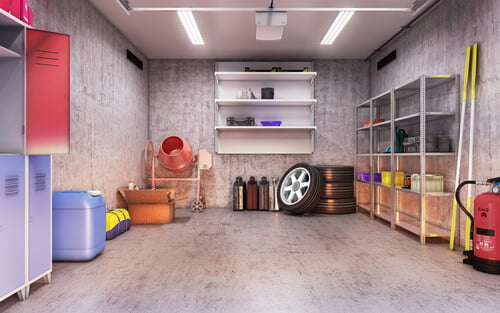 You must need open space in the garage if you own a car. A car takes up almost ninety percent of space in your garage, and still, you can organize your garage using ceiling shelves and wall-mounted tool holders.
Final Words
Keeping your garage organized is not a difficult task. Using the right tools and equipment at the right time, you can keep it organized efficiently.
This article has discussed some of the best ways of organizing the garage and garage storage ideas.
You can implement any ideas in your garage very quickly.
I hope you find this tutorial useful, and If you did, then do not forget to share it once, and if you have any doubts/questions regarding the topic, don't forget to paste them in the comment section below.
We will try our best to solve all your queries.