Breeo double flame fire pit is an amazing advantage that you can add to your life, and it is easily available on Amazon. This is a high-quality stainless-steel fire pit that will give you an amazing experience when you place it in some open place in your backyard oasis.
Breeo comes in two models, and both have their own specifications. It comes in a 19" model as well as a 24" model. Both are made up of the same stainless-steel quality of 304; however, they have different weights, diameters, height, and volume.
Features of Breeo Double Flame Fire Pit:
You will not feel like turning a log when you have this amazing thing at your place. You may see that normal fire pit logs need to be settled and turned from time to time. This is since oxygen needs to be distributed to all the parts of the flame to not blow off due to scarcity of oxygen. But with a double flame fire pit, you need not make this effort, and oxygen will be distributed to all the sides of this flame for even results. You need not take care of any maintenance as well with Breeo double flame fire pit.
Amazing effect of double flame is worth it. Double flame has a super cool concept where the air is brought in from the base of the fire pit, and it gets distributed evenly to all sides. It gets heated up and gets out from the top, where it creates a secondary burn that helps eliminate the additional foreign particles that may not get buried during this process. It also produces a smokeless flame.
Smokeless flame is also an amazing feature and benefit of this Breeo double flame fire pit. If you have put in the wood with good quality and seasoned as well, then it will heat up quickly as well as properly. This will not create any smoke. However, if you use bark or some other wood, then it may produce smoke. It is also evident that the Breeo double flame fire pit has been designed in such a manner so that the airflow will be as per the engineering techniques so that the smoke will not get produced while burning of wood so it will be perfectly smokeless flame and will not produce any pollution.
BREEO Double Flame® Smokeless Outdoor Fire Pit (24 Inch) | Stainless Steel, Natural Wood Burning...
THE PERFECT BACKYARD FIRE PIT - The Double Flame 24" was built to be the ultimate backyard fire...
SMOKELESS DESIGN - Featuring a super high efficiency reburn system that feeds the fire at the bottom...
BUILT TO LAST - The Double Flame is built with heavy duty 304 stainless steel that will last for...
MADE IN THE USA - Built in Lancaster, Pennsylvania by Breeo, the backyard fire experts. With a...
COOKING COMPATIBILITY - Built in accessory post sleeve and locking mechanism that is compatible with...
X Shaped Design of Wood Inside the Flame Is Good
The X-shaped flame is well designed for different purposes. It is designed so that the fire will be distributed to all the parts of the flame equally. It will also make the wood raised from the ground so that it will have proper air ventilation with oxygen flow so that the fire will not blow off and smoke will not be produced as well.
As hotter the wood will burn, the less the smoke production will be. Sometimes, you may think that the ashes inside the X shape will be stuck, and it may create a problem. However, you need not worry about that as it has been designed so that all the ashes will burn in no time, and there is only one condition for this is to use the right quality of wood. The fire pit is illuminated underneath as per the design of this, and it looks so cool and adds to the beauty of this design.
Easy Cleaning Tips
As we know that the smokeless fire pits should be left as it is so that they will let the fire burn out on its own. However, this will also be dangerous for the pit to remain unattended. But is also evident that this pit has a separate lid that you can purchase additionally and cover it as well. When it is covered, then no issue will be there. No smoke, no fuss as well.
Amazing Customer Service
As this is the product of America as it is manufactured in the United States and its customer service is also based in America. They provide excellent customer service, and, in this case, they have come very far. They post on their Instagram stories if the Breeo users have their flames delivered on time and what are their Breeo fire pit review regarding them, and they get positive responses on this.
We know any product in this world will not have just benefits; however, there are some drawbacks also associated with everything, so here is the same case with Breeo double flame fire pit as well.
Cons of Breeo Double Flame Fire Pit:
The Breeo double flame is heavy, so it will be quite difficult to carry it along to some other place without any help. The rim makes this easier to lift and carry; however, you may need someone's help in doing that.
The Lid Will Get Hot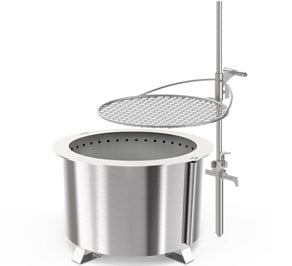 The lid that you use to cover the top of the flame overnight to end the flame whenever it wants, the lid will get hot. It would be best to make sure that kids will not come near to this as it may harm them. So, you also need to take care of this thing while covering it with a lid. It would help if you also informed everyone around that the fire may be still going on underneath and the lid is too hot, so adults will also be cautious about it.
Sharp Edges of Breeo
It has been checked and observed that some Breeos have sharp edges, so it may harm the skin and hands while lifting them or carry them from one place to another. However, this has been taken care of by the company as they made them with no sharp edges nowadays. However, make sure when you open it on delivery that you take care of the edges. Else, they may hurt you. Keep the kids apart when opening your package and using them as well.
Tips for Using Breeo Double Flame Fire Pit
Protecting The Surface
When you place your fire pit on the ground, it will get hot from below. So, you need to check below ground for this so it will not get harmed. If you use any concrete base or anything that will uplift the flame fire pit, then you also need to check for some heating shield under that to deflect the heat bouncing back.
Cleaning of Breeo Flame
It is advised to clean the Breeo after every use as it will increase the life of the flame as well as it will make it work like the new one. If you have an allergy from the ash and dust, it is recommended to wear a mask while cleaning it, and you can also use a vacuum cleaner for this purpose.
Usage Of Right Firewood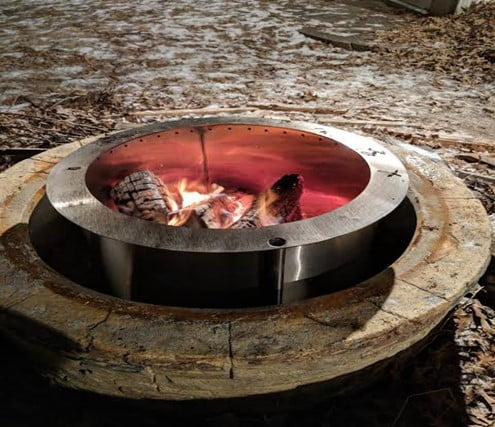 This is also an important point to discuss here that you should always use high-quality and right firewood for your Breeo flame. Else it will not give completely smokeless flame to you, and the heat will not be to that level you expect.
Check For the Firewood Above the Rim
You need to make sure you use only that much firewood that can be fitted in the flame, and it will not cross or come over the rim else; it will be difficult to handle, which will lead to spreading the fire around the center.
Tips For Cooking on Breeo Double Flame Fire Pit
You need to make sure that you have everything ready before you burn the flame and need to ensure that you will make the fire even if you plan to cook on the entire surface of the grill. This will give the systematic distribution of heat to all parts of the grill of your flame. You can make a base of good quality coal and then slowly add quality wood to it to carry on with cooking with your Breeo double flame fire pit.
So, here are the pros and cons as well as cooking techniques you need to follow while using this amazing smokeless flame. You will not get any issues while using it as you will get a complete guide on how to use it, and if you have any concerns, you can also reach out to the support center of this product, and you can get complete information from there as well. Customer service representatives are very supportive and helpful.
Happy Cooking and Go Smokeless!