Nowadays, people do not have time to take care of acres of land and, most of us want a compact and practical garden in our backyard that we can handle ourselves.
Using wooden pallets is the easiest and most economical way to get an organized garden. It is eco-friendly, timesaving, and gives a rustic look.
Wooden pallets are very versatile, which can be utilized in many ways in your garden. Check out those offbeat ideas and start your DIY right away!
Recycled Pallet Vertical Herb Garden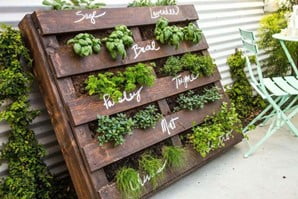 Get your hands on some shipping pallets in good condition and, you are ready to make your very own herb garden. Make sure the wood is not rotting, and there are no rusty nails on it.  You will need plywood, a staple gun with pins, a weather resistance screw, weed cloth, potting soil, and herbs such as basil, parsley, cilantro, dill, chives, sage, rosemary, oregano, and thyme.
Start by sanding down pallets and staple weed cloth at the back. Now screw-in plywood for support and fill up the gap with potting soil. Plant your herbs and place your garden vertically against the wall. Make sure your herbs get enough sunlight and water them frequently. Now you do not have to run to the supermarket for herbs anymore. Just snip some greens from your pallet garden and add some character to your salad!
Tiered Strawberry Planter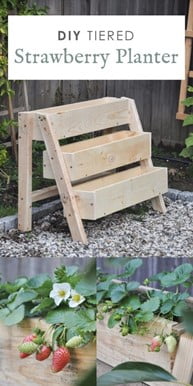 Spring is here and, it is perfect for your strawberries! Want to plant them differently this year? Try tiered strawberry planter made from heat-treated wooden pallets.
You can purchase DIY kits for this, which is readily available online or, you can drive down to your hardware store and buy your materials according to your desired size.
For this project, you will need wooden pallets, weather-resistant screws, along with some tools, potting soil, and some strawberry seeds. It will take you hardly four hours to complete the project and, in a few weeks, you can lounge in your garden shade with a strawberry smoothie in your hand.
Pallet Flower Wheelbarrow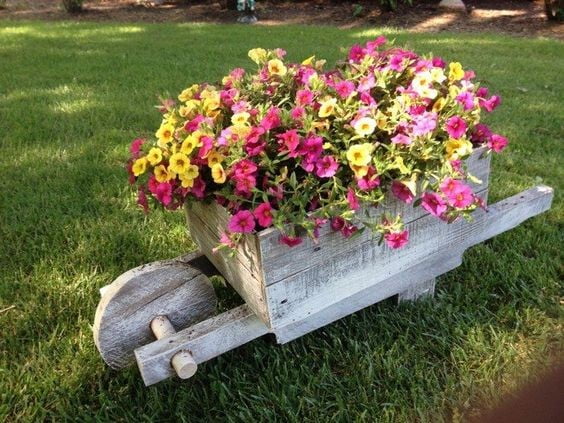 This project will give you a rustic decor for your garden that gives the extra touch to make it look like something right out of a fairytale. Not for beginners, but nothing too complicated either.
Just follow the steps and, you can finish this in a day or two. Stick to proper measurement a maintain safety at all times when handling machines and tools.
Once the cute little wheelbarrow is made, plant in your choice of flowers. You can also place some decors such as a fairy or butterfly, maybe even some mushrooms. Click on the link to learn how to make your wheelbarrow the right way!
Rustic Potting Bench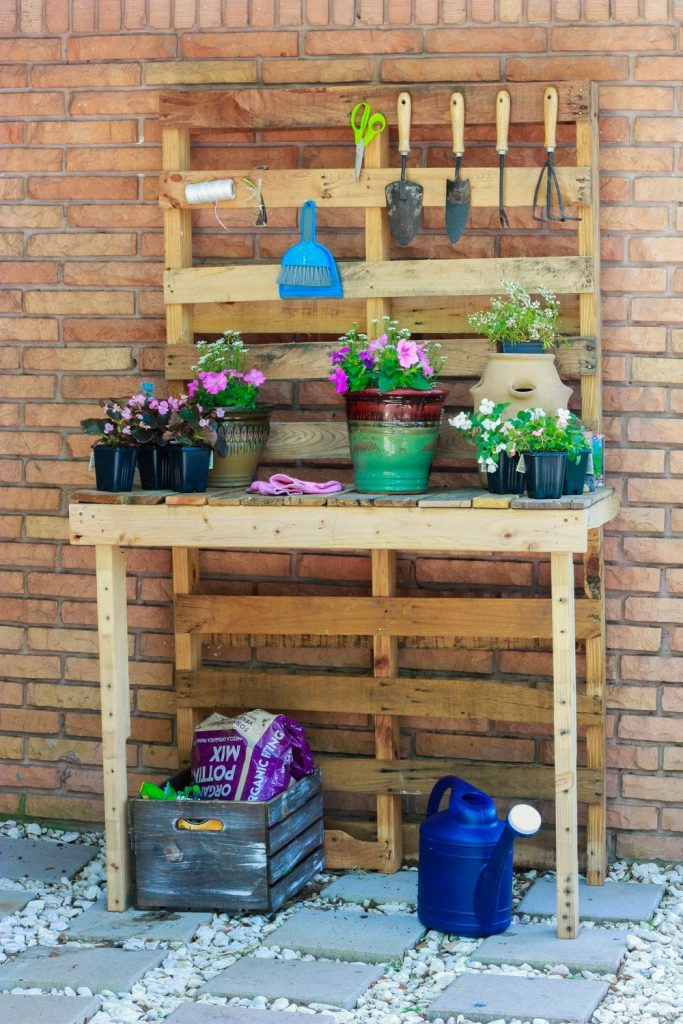 If you are into gardening, then having a potting bench is a must. Making your potting bench out of pallets is convenient and not too heavy on the pocket.
Plus, you can make it custom fit for yourself! Some old pallets and some screws with some tools are enough. You can add in some accessories such as hanging hooks or rails on your potting bench and color or whitewash it as well.
This video will give you a clear idea of how to make a bench yourself, so do check it out!
Recycled Pallet Garden Path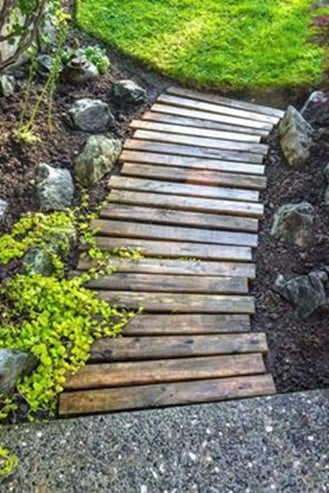 Have a pathway that turns mushy after every shower? What are you waiting for? Nail in some wooden pallets and make yourself a walkway so that next time when you visit your friend's house, your sneakers are white enough.
All you need to do for this project is to break down those pallets, trim them so that they all are equal in size, and sand them to get rid of all the splinter. You can have spaces between the pallets or just place them one after the other.
Raised Pallet Garden Bed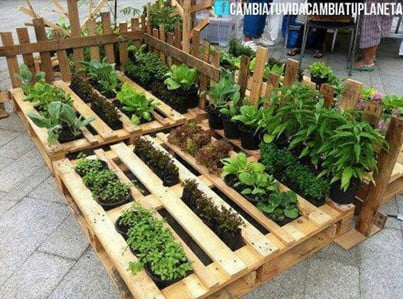 Raised pallet gardens are easy to make, and you can make them with very few supplies. It is organized and helps to keep the weeds out. You can also write down the names of the vegetable or herbs on the pallet.
Get your sturdy pallets, some plastic bags or sandbags, a stapler with some pins, potting soil, and your seeds of choice. Staple your plastic bags on the backside and place your pallets on the ground. Fill up with potting soil and plant your seed. You can take it up a notch and do some elevated designs.
Plantable Pallet Garden Fence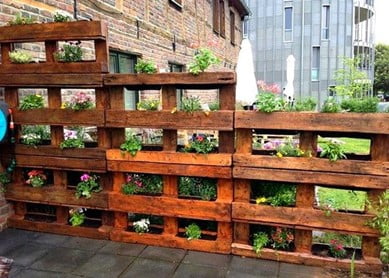 Building a fence with pickets is too mainstream. To turn some heads, build a plantable garden fence. It is convenient and you get more places for your plants. Make sure you get some sturdy and good quality pallets instead of recycled pallets for this project. Just a bit of trimming and fixing, and your fence is ready to go.
Garden Bench with Planter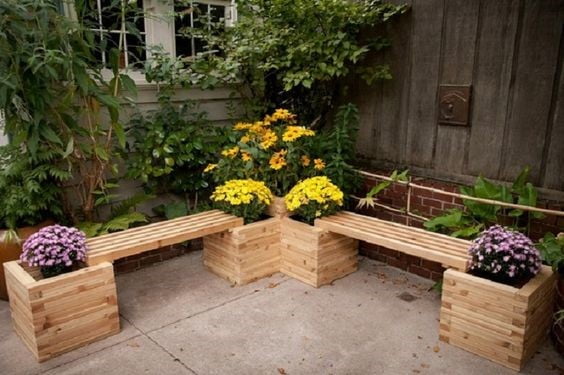 Pallet garden bench has useful utility, and you can have one on your porch. Before making the planters make you take a proper measurement and arrange all the wooden planks accordingly.
If you feel lazy, go and buy a pallet grate from the grocery store or pumpkin festival. Use the crates in place of planters. You can place potted plants instead of planting it straight in the crate. This way, you can avoid soil fall out and keep the area clean and change the plant frequently.
 Spiral Pallet Garden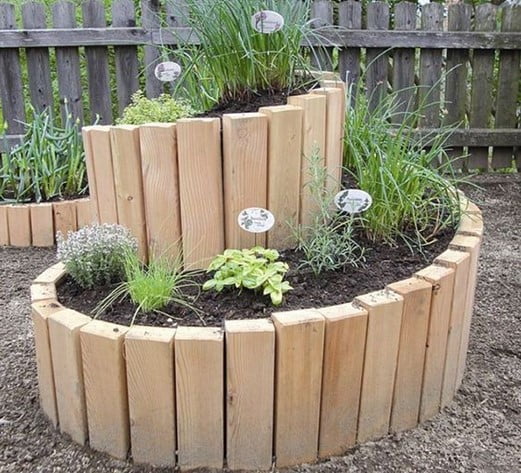 A spiral pallet garden works perfectly for a garden centerpiece. You can make it as big as possible or keep it small according to your garden space. Get your pallet and start sawing them.
The pallet at the center would determine the height of the whole project. Start planting the side of the wooden pallet by the side in a spiral shape. Every next pallet should be an inch shorter than the previous one. Fill it up with soil and let your garden take its shape.
Garden Pipe Cabinet Planter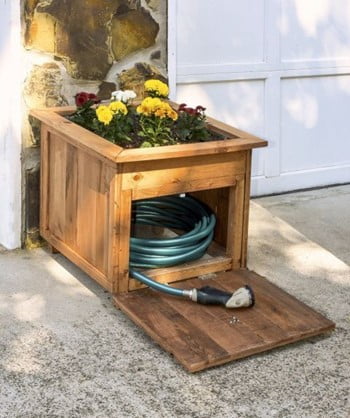 Building a cabinet under a planter is the wisest thing to do. We all hate how our garden pipe is always outside and hanging. Having a wooden pallet planter with a cabinet to store your watering pipe is what you need. Try this DIY project and, I assure you, you will not regret it. It will take you barely four hours.
Pallet Trellis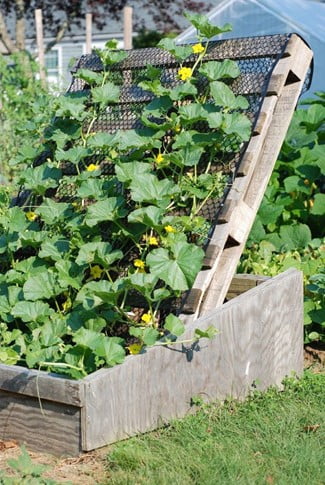 For all your creepers and veins, such as cucumber, pumpkin, melons, pallet trellis is the best option. They are sturdy and can hold the weight of heavy vegetables.
You can also tie the vegetables to the trellis with jute or cloth to give them support. It will help them to grow big and healthy. You can attach a net to your pallets so that you can guide your veins to grow in the right direction.
Vertical Flower Bed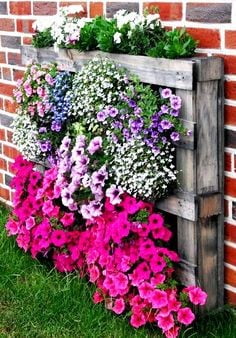 Those flower beds made from reused pallets look just like the herb garden but with flowers. You can have a slanted bed or stick to an upright one. Try using mini pallets that can be mounted on the wall with the help of some brackets.
Line your pallets well so that it holds the soil properly. Use landscape fabric so that it can drain water and your plants stay healthy. You can nail in some extra wooden pieces on the back and the bottom for some extra support. Once you are happy with your construction, fill up with potting soil, and plant your seasonal flowers!
Veggie Pallet Planter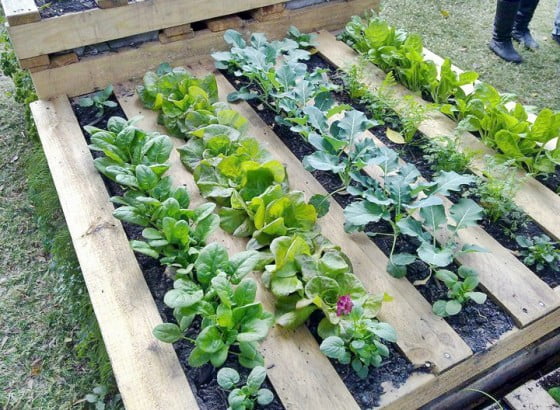 Making a veggie pallet planter just like the vertical flower planter. After prepping the pallet, you can plant your seeds directly or use some seedlings. Snug them tightly so that they do not fall off.
Make sure you keep your pallet laid down for the first few weeks or till you see some roots growing and holding onto the soil. Or else, there is a high chance for your seeds to fall off.
When you initially water the plant, you can add a bit of starter fertilizer to encourage root growth. That's precisely what we are looking for in a container that will hang or stand vertically.
Succulents on Wooden Pallets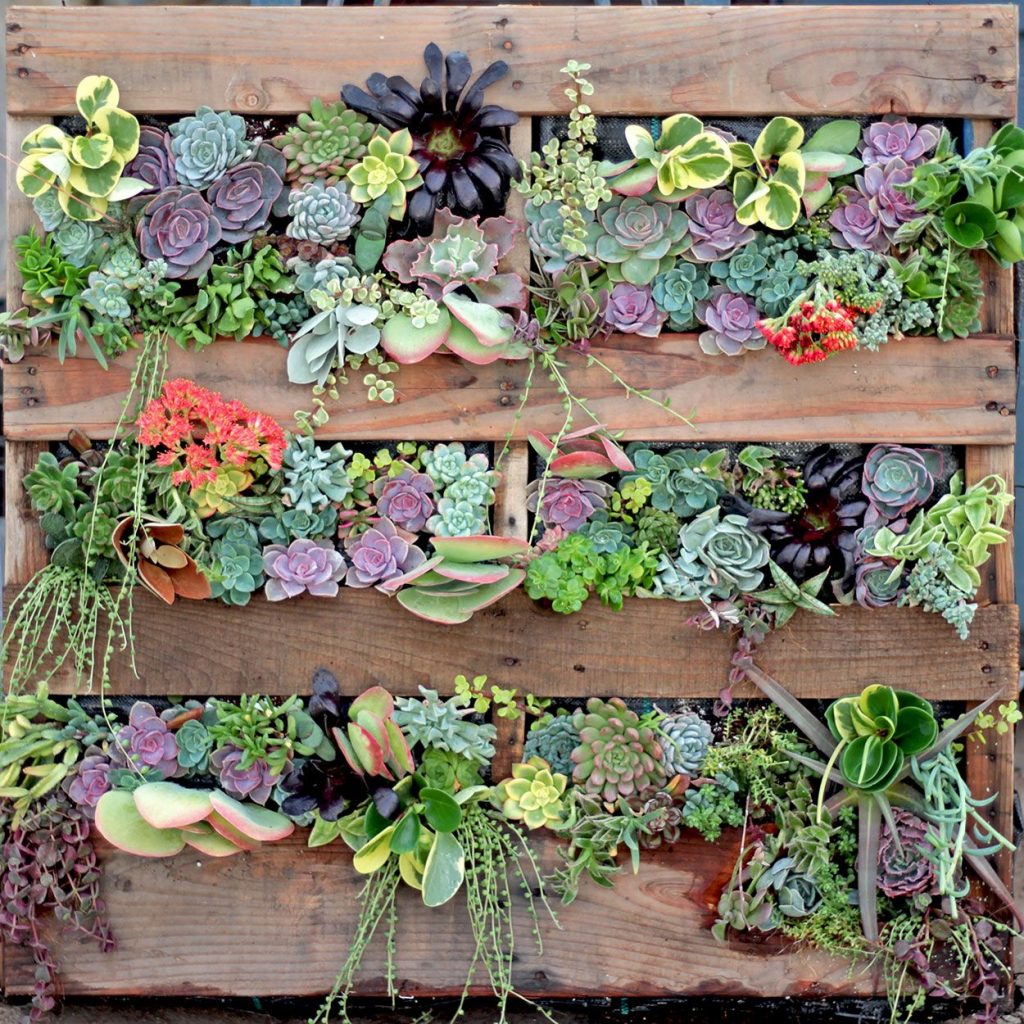 Succulents on Wooden Pallets Succulents are pretty by themselves, and hanging them up in vertical wooden pallets is the easiest way to showcase their beauty. Prep and build your vertical pallet planter and place your succulents.
Remember to water them nicely the first time so that the soil sets down nicely and hold the succulents in well. Keep your planter on the ground for the first few weeks so that the roots grow out well. Hang it up at a sunny spot where it can get 6hrs of indirect sunlight!
Pallet Crate Tower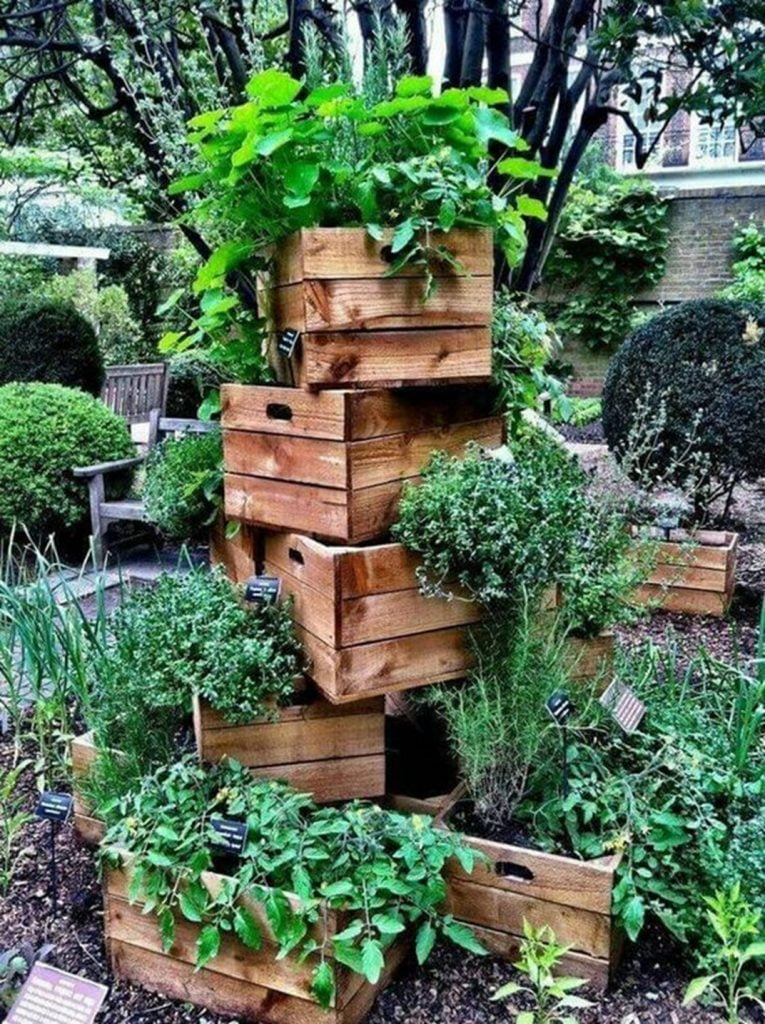 It is relatively easy to get your hands on some pallet grates. You can get yours from your local vendors at a reasonable price. Those are good for storing and look great if you assemble them in a tower and use them as a planter.
To get a polished look, you can stain your wooden crates and maybe even paint them. Arrange your wooden crates and balance them well. Do not make them too tall or too scattered. Keep them compact and neat. Nail them together and use your fancy screw wherever you need to.
Make sure the arrangement is sturdy, or it may lead to accidents. Once happy with the structure, fill it up with coco peat plant your seeds. Avoid using potting soil as it may make the crates heavy and, they might start to sag.