If you are looking to how to grow green onions from cuttings in a week, then you have landed at the right place; we will share with you full detailed information about growing green onions with such simple steps, so you have to read the complete article so that you can able to grow your green onions in the garden with the help of this article.
Green onions are an unripe onion that is harvested before the herbs are ripe. They come up with the green stock, which is also called Scallions. If you leave this for long, then the bulb will grow bigger and become regular onion.
There are two ways by which we can grow green onions first using the seeds, and other methods to grow is with the use of the roots of ready exist green onion.
In this article, we are going with the second method that is the root cutting method. Let us look at the material we want to grow green onions from cuttings in a week. So, let us get started:
Green Onion Cuttings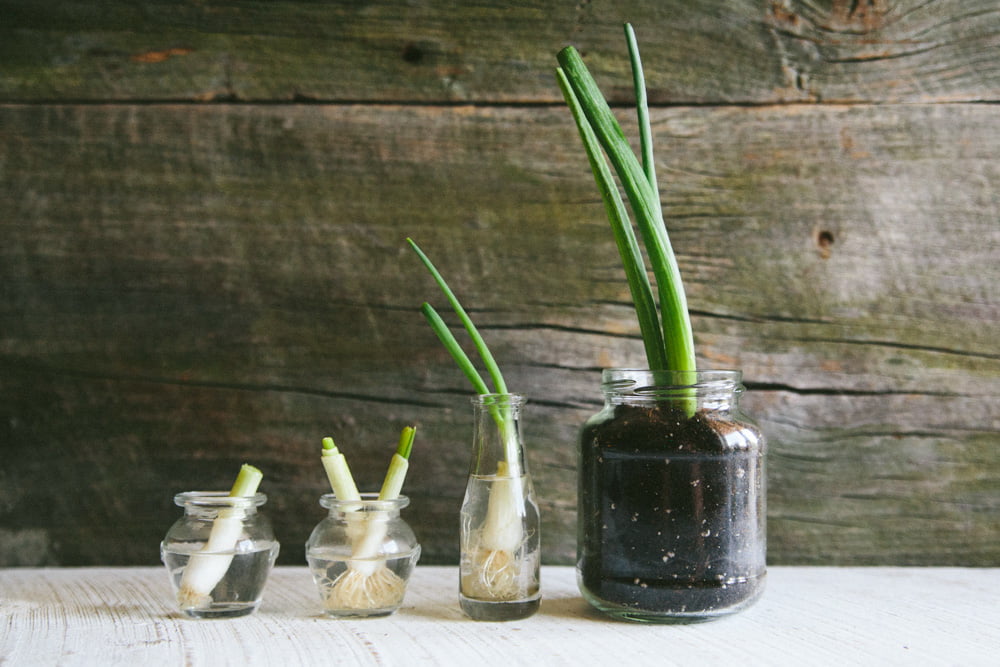 First, you need the green onion cuttings; you must cut down the white parts as in the image shown. This is the only part that will be going to regrows, which so many people throw.
That part of green onion you must keep longer can put them in the crisper drawer of your refrigerator. So, to save them, get at least half a dozen to start this test and go from there. Now let us move on to the other material which you need to grow the green onion.
Clean Container
Then it would help if you had the container where you will be putting the soil and grow green onion. The container should be clean; if you have any waste container at home, you can also use that you do not need to buy from the market. The container which you can use from home is a butter tub, yogurt tub, sour cream, and many more. They will be suitable for planting.
SOUL Premium Regular Mouth Mason Jar 16 oz, Crystal Clear Glass, Airtight Stainless Steel Lid,...
MINIMALIST AND CLASSIC DESIGN: The Soul mason jar 16 oz is intentionally logo less design with...
AIR-TIGHT STAINLESS STEEL LID: Newly designed cotton fiber sealed lid keeps air out and freshness...
EXCELLENT FOR JUICES & COCKTAILS: Enjoy your delicious daily fruit juice or a refreshing cocktail...
GREAT AS CANNING JAR: Food safe and eco-friendly Soul mason jar 16 oz are air-tight sealed and...
90 DAY REFUND: We offer a 90 day money back guarantee. If you have any issues with our mason jar 16...
You must be sure that the container which you have chosen is clean and hygienic. It would help if you stayed away from the reuse of cleaning bottles as they may contain chemical residues within
the plastic material in that you do not need to grow your food.
Sunny Area
You must find the best place where sun rays come up. Wherever you get the sun in that area, you can put your green onion. The combo you can use to grow best is when you need the cold, damp temperatures, and in the nighttime, you need the cold/dry.
Your kitchen will have window work or even a shelf in a sunny area. Just look around your house, and you will find a place that offers good sunlight; You must get a place where neither too hot nor too cold. 
Good Soil
Soli is the most critical material in this list because, without this, nothing can be done. If you know a small amount of gardening to do, then you will have partially soil bags. But if you do not have soil bags, you can get some soil from your yard or garden.
Miracle-Gro Indoor Potting Mix 6 qt., Grows beautiful Houseplants, 2-Pack
Blended for a wide variety of container plants
Feeds up to 6 months
Designed to be less prone to gnats (Contains no compost or bark, which are known to shelter fungus...
Contains coconut coir, which holds and releases water and helps soil easily re-wet
This bundle includes two 6 qt. bags of Miracle-Gro Indoor Potting Mix
You need the amount of soil by which you can fill the container with soil. You must have to take care if you get soil from the garden or the yard, then you must be careful that it does not contain insects. It will be no harmful, but you will see the worm poking its head up.
These are the material you want to grow green onions from cuttings in a week; all the material discussed is the material section available quickly, You can also find in your home itself you have to search. 
Now let us move towards the steps by which you can grow your green onion.
Step by Step Instructions
If you are from a garnering field or have done gardening in your yard or garden, you will understand and apply it and grow green onion with these easy steps. Here we are gouging to divide the steps into 5; let us start with the first step: –
Step 1: Prepare Your Cuttings
First, you must prepare your cuttings. You must get the cutting from the fridge and then clean, and then you must leave it for some time so that the outer layer of skin will get up a little slimy. No problem with this and this is normal for the green onion roasts. It would help if you peeled it up and then must give nubs with cold water.
Step 2: Prepare Your Container
You must prepare your container; you must take that clean, friendly, and, most important, disinfected container. It would help if you now cleaned any of the residues in the dishwasher on the top rack, wash your hands, and then toss. If you do not have a dishwasher, you can clean it with hot water for 5 minutes. Now let us move to the third step.
Step 3: Fill with Soil
The soil you have brought or pick up in the garden or yard uses that soil to fill up in the container. But if you do not have the full amount of soil, then the half-used bags lying around will also work. 
If you do not have to soil, you can buy it from anywhere you want, but it will be good soil. I want to do this free of cost. That is why I have suggested you get soil from your garden or yard, if you don't want, you can go with buying soil. The perfect amount of soil is three-quarters of your container; you must aim for that.
Step 4: Insert the Cuttings
In this step, you have to insert the cutting you have cleaned and left for some time from the fridge; with your fingers, you have to make holes t8aht can be about an inch or more than that. 
Then you must take your cutting and one by one you must insert in that hole, and press with your fingers so that it will be under the soil. Again, with your fingers, press and transfer the soil to secure the onion in place. You do not want them to get too loose or even take roots. Now, let us move on to the last step: –
Step 5: Place in the Sun
The last step you must do to grow green onions is to place the container in the sun. As we have already mentioned earlier, finding the right incense for your green onion is the key to its success. 
It would help if you got the right mix of cold and humid textures, a few hours of strone, and then cool and dry air at night. If you follow all steps correctly, then the result would be healthy.
You must give them water every morning. First, you must test your soil with your fingers, and if it is still wet enough when you have touched it, you do not bother filling it with water that day. Here is what you will be found in a week: – 
1st Day: You will find them already sprouted. 
3rd Day: On the third day, you will find that grown so much Like in the image you can see. 
5th Day: Now, you will find the beginning of the growth. You can also take daily images and watch the growth daily so that you can also track your growth of green onion. 
7th Day: After one week, you will find fresh green onions. Sing the scissors of yourself, snatch a leaf and leave the cuttings where it is. This, again, will continue from time to time, which you can use in your recipe.
Conclusion
This is the full article on how to grow green onions from cuttings in a week; I hope you liked the article. In this article, we have told you such easy solutions, which everyone can do. We have shared with you the best method that you can find on the Internet. Use it and grow your green onions. 
If you have any queries related to this article or any silly question you want to or have any method you have to know to grow the best green onion you can share with us in the comment, we are always there to help you. You can share with us we will add in this article so that everyone who reads this can benefit from your idea. 
With this method, you can also grow so many others like: – 
Butter Lettuce (or any lettuce, really)
Celery
Potatoes
Garlic
Bok Choy
carrots (for their greens)
Basil
Rhubarb
Pineapple (It is a fruit, which can also grow with this)
Yams 
I am sure there are so many other which also can grow with this method if you know then please add the comment so that we can also add user can read your comment and get some more to grow with this method.