If your chainsaw machine is running slowly and does not give the performance that it gave to you a few weeks ago, then there are high chances that it needs some lubrication. A Chainsaw without lubrication will eat excessive fuel and produce a lot of heat, which can do significant damage to your saw.
To provide the maximum performance, the bar and the chain must be lubricated because they always contact each other. Proper oiling not only increases the performance of your machine but also provides longevity to your chainsaw. In this post, we are going to tell you the proper chainsaw lubrication method step by step.
Importance of Bar and Chain Oil in Chainsaw
Mostly chainsaw used electrical or two-stroke gas engines to power the chain wheel. When the engine starts, it rotates the chain around the bar, making it a powerful cutting tool. A chainsaw chain can move up to 96 Km/h, which creates a lot of friction. It should be appropriately lubricated; otherwise, it will get overheat for sure.
Oil reduces friction between metal against metal and offers smooth movements without overheating as well. If your chainsaw is running deliberately or burning fuel too fast, this situation indicates that the chainsaw requires proper lubrication.
Type of Oil to Use in Chainsaw
Bar and Chain oils are designed in a way to reduce the friction caused by the chain. The mostly self-oiling chainsaw comes with a reservoir designed to feed oil to the bar and chain as it runs. Some also come with a suggestion of which oil to buy in the chainsaw.
It is best to avoid using motor oil because it does not have the right viscosity. You can use regular vegetable oil. However, it is not right in sweltering and cold work conditions.
In the winter season, it is a smart choice to use thinner oil. You must take extra care of your chainsaw, such as cleaning your bar, sharpening your chain, greasing your sprockets, etc. Lighter oils are not much sticky than standard chain oils, so they lubricate the chain more effectively, even in the winter season.
Many brands out there, such as Oregon, Husqvarna, and other companies that offer thinner bar and chain oil specially designed to work better in winter. Thinner oils are generally listed as ten weight oil.
Sale
Once the winter season has gone, you can switch back to your standard chain and bar oil. Standard oil listens to between 20 to 50 weight (30 weight is standard). However, it is advised not to use thinner oil in the summer season as it can leave a lot more oil on the ground. 
How to Add Bar and Chain Oil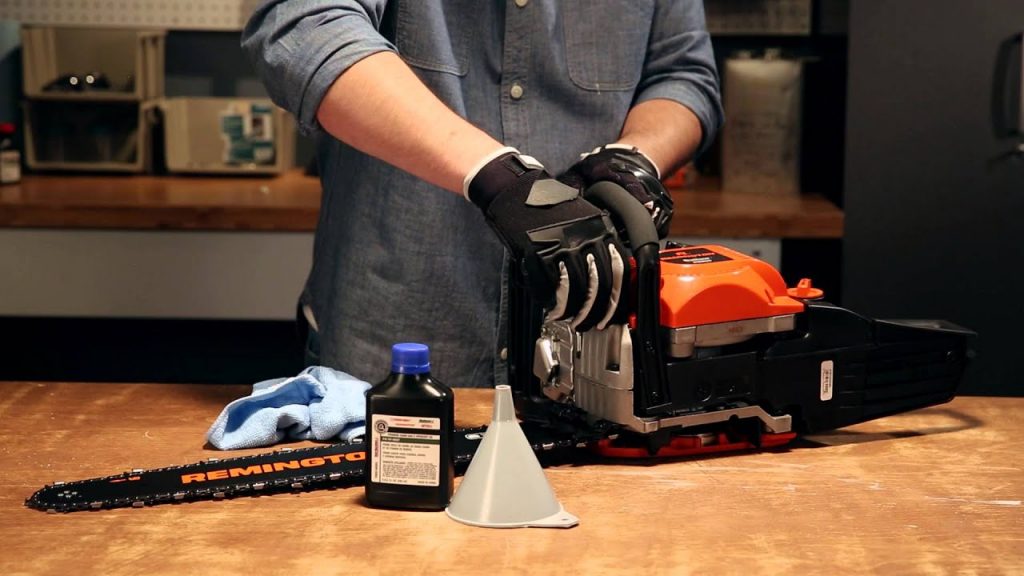 The most chainsaw has a separate reservoir to hold the chain and bar oil. They are easy to locate and can be easily found by the oil cap on the chainsaw. Some reservoir is even transparent so that you can see the oil level anytime. If you are still unsure where your oil reservoirs are, check the user manual for accurate info. 
In most chainsaw, the chain and bar oil reservoir holds almost the same oil as a tank of fuel. So, whenever you refuel your chainsaw gas, make sure to check and add a chain and bar oil each time.
Here is a step by step guide to add bar and chain oil to your chainsaw.
Before starting chainsaw lubrication, make sure to set your chainsaw on a level surface. (This will allow the oil to settle).
Before opening the oil cap, make sure to clean the dust and debris around the cap; otherwise, it could create an unsafe situation if dust particles fall into the tank.
After that, use a small funnel and steady hand to slowly pour the chain and bar oil into the reservoir. Make sure to fill the oil either the marked line or until the tank is filled; do not overfill it.
Once done, tighten the cap again and clean the surrounding area again. 
Bar No Sprockets
If your chainsaw bar comes with sprockets at the nose, then add some grease to that. You can use a grease gun as well to fill the sprockets. After adding the grease, clean the surrounding area to make it clean and debris-free.
Chainsaw lubrication takes only a few quick steps. With the right oil, you can use your chainsaw for years without any issues.
Frequently Asked Questions
What can I use instead of chainsaw oil?
You can use motor oil, vegetable oil, and Canola oil and drained hydraulic fluids instead of chainsaw oil. However, it is advised to use standard oil for chainsaw lubrication.
How often do you oil a chainsaw?
It is an excellent choice to refill your chain and bar oil every time you refill your gas. You can keep an eye on the oil level indicator and change the oil once it gets ended.
Can I use a chainsaw without oil?
Running a chainsaw without oil is not good at all. It can cause many serious problems such as chain-breaking, dulls the chain, kickbacks, etc.
What does chainsaw oil do?
The Chainsaw oil lubricates the chain and helps the debris down during operation.
Conclusion
So, it was the post about how to add bar and chain oil in your chainsaw machine. Chainsaw lubrication not only increases the performance of your machine but also increases the lifespan as well.
Most chainsaws come with a self-lubrication reservoir that required proper oiling and filling with each gas tank or whenever required. You can keep an eye on the oil level and your chainsaw movement. If the chainsaw does not make movies smoothly, or your engine started burning fuel much faster or gets heats up quickly, then all you need is chainsaw lubrication.