Glass tables serve as a wonderful addition to accentuate your living space. Over time, they begin to show signs of wear and tear such as scratches, gouges, or dents. Not to worry – your beloved table still has hope. There are plenty of home remedies that you can try to return your glass table to its original shine.
Before grabbing your tools and starting on the job, it's best to estimate the extent of the damage to your glass. Run a finger through the groove or scratch in question. Glass items like terrarium can also have rough glass therefore you can go for scratch proof or hardened glass terrarium ideas.
If you can feel it, the damage may be too extensive to make it look like new. You may need to bring in a professional or purchase a new glass top – both equally pricey options. If you can't, you can skip going to a professional glazier. Raid your kitchen cabinets and bathroom shelves for a better solution.
Try these steps to repair scratches on your glass surfaces:
Toothpaste & Cloth Combo
Ideal for: Shallow to minor scratches
Toothpaste doesn't just clean your teeth, it can erase scratches as well! You can use your regular toothpaste to polish glass to a shine that you would be proud of.
Start by cleaning your glass table tops with your standard glass cleaner and wipe the glass dry. Next, dab a small amount of toothpaste into a lint-free cloth. Apply it to the scratch and gently rub it in circular motions. Take note, be extra careful, rubbing the scratch too hard may worsen the damage. After a few minutes, you can wipe the paste away with a clean cloth or wash it with a sponge to see if the scratch is improving. Repeat as necessary until the scratch is gone or is visibly reduced.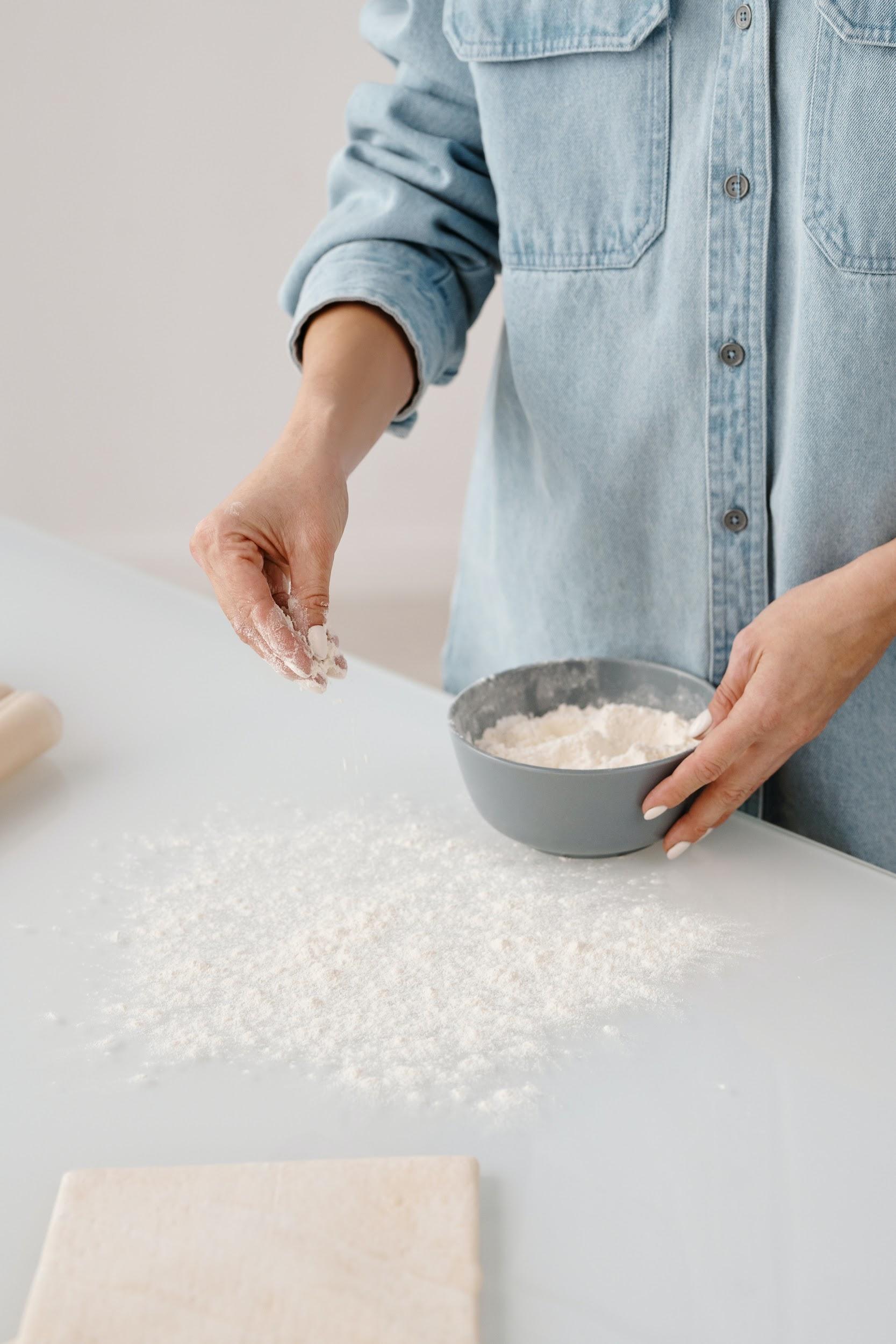 Baking Soda
Ideal for: light scratches
The wonders of baking soda will never cease. This handy ingredient works amazingly well when mixed with water. This may take a little more elbow grease compared to the other methods but does not need to be left overnight.
Mix both water and baking soda in a 1:1 ratio until it forms into the consistency of a thin paste. Use a cotton ball to apply to a clean and dried table. Rub into the scratch gently in a circular motion. Use a clean cloth with warm water to rinse. Repeat as needed until the scratches disappear.
Metal Polish
Ideal for: light to semi-deep scratches
Another option would be to use a metal cleaner which jewellers use, called Jeweller's Rouge. This polish contains cerium oxide, often used to polish windows and glass.
Clean the table before application. Apply a small amount of Jeweller's Rouge to a cotton ball. Rub into the scratch firmly but gently. The material will then fill up the gouge similar to clear nail polish. The only difference is these compounds are more abrasive and if you're not careful they may end up damaging the glass rather than fixing it. Use a clean, lightly dampened cloth to remove excess material to finish.
Glass Scratch Repair
Ideal for: light to semi-deep scratches
Some scratches are too difficult to remove through household remedies. It would be best to use a dedicated glass scratch repair kit to address this concern. Glass repair kits, like MagicEzy Glasses RepairEzy, take away the hassle of monitoring and polishing your glass.
Application can be as simple as applying two to three drops on the clean, dry surface. Gently polishing with a tissue in a circular motion for 10 to 20 seconds. Let it dry for three hours and voila! Your glass table has been repaired.
Nail Polish
Ideal for: Semi-deep scratches
Nail polish can beautify both your nails and your table. This method requires the least amount of effort while maximizing its output. Pick up a bottle of clear nail polish from your bathroom cabinets and clear up your table with as little effort as possible.
Remember to clean your glass before application; this is to ensure that your nail polish won't trap dirt and dust when you apply it to the surface of your table. Using the brush tip applicator, gently trace the scratch and cover it with a thin layer of clear polish. People often use fertilizers like greenview fertilizer sometimes to clean the glass surface efficiently. This polish will fill in the grooves from the scratch and will 'freeze' to the surface. Depending on the size of the scratch, you can leave this to dry from an hour to overnight. Once it's dry, use nail polish remover to clean up any excess polish outside and near the scratch.
A Final Word
Your timeless glass table can be repaired and remade by you, without needing to spend a pretty penny. If you've tried everything and none of these work, it's probably time to throw in the towel and call in a professional. Repairing your glass table's wooden base is possible as well! Check out our simple way to get rid of those scratches.