Any carpentry project that you may be undertaking is likely to have massive work involved with nails, and you tend to use the traditional equipment used for fixing a nail wherever you want.
However, to reduce the efforts required in using nails, there is a product named 'nail gun' also known as the nailer, which will speed up your project and increase your nailing consistency. This literature on 'how to use a nail gun' offers a comprehensive analysis of the nail gun and how to use it for better safety and security.
A nail gun is equipment that will save a lot of your time that can be utilized in some other part of the project or used for relaxation and recreation activities. A nail gun is a device that works on electricity, compressed air, gas, and many other tools that can give power to the device.
Electric Brad Nailer, NEU MASTER NTC0040 Electric Nail Gun/Staple Gun for Upholstery, Carpentry and...
🔰CONVENIENCE --The electric nail gun/staple gun doesn't need compressors or hoses, which makes...
🔰WIDE APPLICATION -- The nailer/stapler is ideal for Softwood DIY projects such as carpentry,...
🔰Safety Design -- The 18 gauge brad nailer is designed with On/Off power switch, safety contact...
🔰FRIENDLY USE -- The upholstery staple gun is equipped with ergonomic soft-grip handle for...
🔰ADJUSTABLE POWER -- This 18 gauge brad nailer is designed with an adjustable power function for...
It is essential to use this equipment with the utmost care or turns out to be dangerous. If you Are new to using the nail gun and do not want to hire a professional carpenter to do the work, make sure you take care of safety and learn how to use the tool without it causing any problem.
If you are wondering how to use a nail gun', this is an informative article for you.
Safety and Precautions while using Nail Gun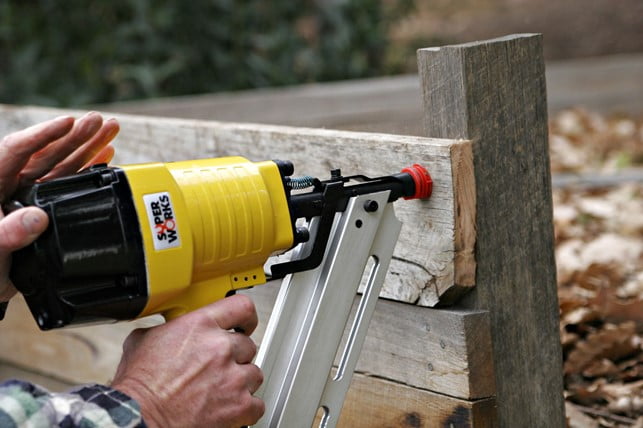 Read the manual Thoroughly 
Often the amateur carpenters or individuals who wish to carry out carpentry projects by themselves might be enthusiastic about the new beginnings but tend to miss out on some essential aspects like safety.
It is a great idea to carry out your carpentry requirements by yourself but only with a car, which would not harm the user.
Due to the statistics from the Centres for Disease Control and Prevention (CDC), the concern arises that almost 37,000 people get injured because of nail guns every year and must-visit hospitals for an emergency.
The injury might be small or can cause considerable harm to the users. Hence, by reading the manual that comes with your nail gun kit, you can minimize the risk of getting hurt as it is given specific instructions about how to use it and instructions regarding what should not be done with the nail gun.
Below are some tips that will guide you through the question in your mind about 'how to use a nail gun?'.
Protection of Eyes and Ears
Some nail guns, particularly the bigger ones planned for outlining, can be very noisy, going from around 90 to more than 100 decibels—at times, almost as noisy as a gunshot—so wear earplugs while you work. Likewise, when a nail fizzles, it can throw small or large pieces or chips of material flying, so it is essential to consistently wear defensive eyewear to protect your eyes from significant injuries.
Stay in Sequential Firing Mode
The nail guns come with several types of firing modes. Whether the nail gun is small or large, the basic firing modes are sequential and bump mode. 
Sequential Mode: The sequential firing mode majorly requires the client to finish an arrangement of steps before the gun reaches the point to discharge the nail. The grouping includes discouraging the wellbeing nosepiece (a spring-loaded tip that withdraws when the gun is squeezed against the material) and afterward pulling the nail gun's trigger to discharge a nail. This two-venture measure is the most secure approach to utilize a nail gun. 
Bump Mode: Some nail guns permit the client to spare time by changing from successive mode to knock mode. In the last mentioned, the client can hold the trigger down and afterward move the nail gun to another spot, and each time the wellbeing tip is discouraged, a nail will shoot. 
You may have seen proficient roofers rapidly shooting nails to join shingles one just after another with not exactly a second in the middle of utilizing knock mode. Except if you are an expert development laborer, you ought to likely avoid knock mode—that kind of speed is infrequently needed from DIYers and skilled workers, and there is a more prominent potential for accidents in unpractised hands.
Remove Power Before Stacking Nails into the Nail Gun for Eliminating a Nail Jam
While the present nail guns are intended to be as protected as could be expected under the circumstances, there's as yet a danger of a nail misfiring when the gun is being loaded or when you're eliminating a nail jam. 
The best avoidance: cut the force. Ensure that you unplug the nail gun and eliminate the battery from a cordless nail gun before you load nails for further requirements or eliminate a jam.
Also, if you utilize a more uncommon sort of gun controlled by butane cartridges, eliminate the cartridge before stacking more nails or attempting to avoid the condition of a nail jam.
Make Sure to Not Bring your Other Hand in Between Line of Fire
One of the most widely recognized nail gun mishaps happens when the client is holding two bits of wood together while firing a nail close to their hand. On the off chance that the nail goes right through the material and comes out the base, or if, rather than the nail going in straight, it curves and shoots out the side of the board, it can penetrate your hand. Use clips when necessary to hold bits of wood together to keep your free hand far removed.
Do not Let your Nail Gun go Low by the Hose
In case you are prepared to descend a stepping stool or framework after finished work, oppose the impulse to bring down a pneumatic nail gun by the air hose associated with it. At the point when a nail gun is in bump mode, and it unavoidably swings and knocks the stepping stool or a close-by object, the security nosepiece can push down, and the gun will discharge a nail.
Do Not Let Anything or Anyone Come Across the Line of Fire
It does not always happen that the nail goes totally through the material being nailed. Make the complete assurance that there is no piece of your body or other's body that comes on the opposite side in the fire line.
How to Load a Nail Gun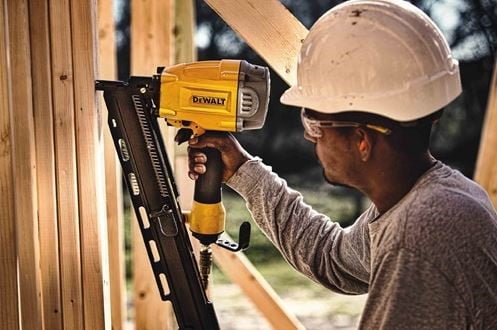 This document on 'how to use a nail gun' showcases how a nail gun requires timely loading of the gun with nails and then using it, hence repeating the same procedure. Two types of nails are used in a nail gun-
Coil style
Stripe style
Even though loading the gun will always be quite similar in the nail guns, the different styles of nails bring some difference to the loading of nails in them. The best way to understand the way of loading your nail gun is by reading the manual and understanding what it instructs to use the same process while operating your nail gun.
However, you can refer to the below-mentioned procedure to load the nails in your gun with both types of nails.
Strip Style Nailers Loading Procedure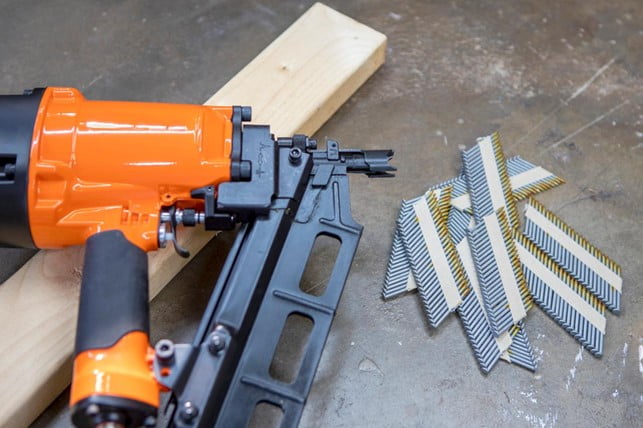 A strip-style nailer has a strip of nails that are generally connected by a wire, paper, or plastic that can fit nicely into a magazine in the nailer that can be fed through the gun's e-safety tun.
Step 1: Nailer should be turned off
Ensure that you have cut the power of your nail gun before you load it with nails to avoid any accidents or injuries that may be caused by doing otherwise.
Step 2: Use the perfect Nail Clip
Ensure that you are using the correct nail clip based on the gun. To do so, make sure that you read the manual to understand the clip better and avoid accidents or risks if any.
Step 3: Nails in the Notch are in the correct direction
Position the nails in the magazine notch to line them up correctly. Confirm more than once that they are pointed in the correct direction, especially if they are angled. Further, also ensure that there is nothing that is in the way of the track.
Step 4: Keep the position of the Gun Upside Down
Make sure that you rotate the gun upside down and then go to press the spring button. This will allow the nails to set correctly into the magazine and be at the correct place during firing.
Step 5: Listen for the Click
A click will be heard after your complete step 4. The noise states that you are locked in, and the nail gun is ready to use. If you are not sure about something or any steps mentioned above, you can open the magazine again and check if everything is where it should be.
Conclusion
In this article on 'how to use a nail gun,' you might feel that using a nail gun is an intimidating task in the beginning if you are new to it.
However, suppose the manual is read well. In that case, all the instructions are absorbed by you. You also take care of following them as directed.
Nail gun can turn out to be the best possible option for using nails in any carpentry project or home decor, or anything you wish to use it for.
Hence, make sure they are followed and avoid the risk of injuries and harms that it may cause to you.