Planting fruits and flowers is an excellent habit that everyone should pursue, but it is tough for beginners to grow them.
With the help of technology, now everyone can grow plants and fruits indoors and outdoors throughout the year.
This article will discuss one of the best Garden tools named Miracle-Gro AeroGarden Ultra LED, which is used to grow plants at a very rapid speed.
It is beneficial in creating a soil-free indoor garden at your house.
What is Miracle-Gro AeroGarden Ultra LED Grow System
The Miracle-Gro AeroGarden Ultra LED is an electronic hydroponic system that helps the plants grow at any time. It consists of a soilless system that allows users to plant, harvest, and resell the plants easily.
There is also an LCD screen available in the system, giving reminders about water and nutrient levels.
This system is mainly designed for non-experienced gardeners, as it is straightforward to maintain and take care of the setup.
No products found.
The LED lighting provided by the system is beneficial for the rapid and healthy growth of the plant. 
The aero garden system also comes with a variety of seed kits and other different care products so that you can choose any of them.
Pros:
Very Easy to Maintain
The Miracle-Gro AeroGarden Ultra LED is straightforward to maintain. All the important notifications are displayed on the LCD screen itself, such as adding water or nutrients, etc. It also provides helpful growing tips for your garden.
Comes with An On/Off Timer
Another best feature of the Miracle-Gro AeroGarden Ultra LED is that it comes with inbuilt timer control, which allows the user to schedule the turning on and off the lights. The LED light is very bright, but it does not light up the entire house.
The Fantastic Yield of Herbs
The yield that Aerogarden Ultra LED provides is fantastic, and it is enough for more than two people.
Excellent for Starting Seeds or Hard to Get Exotic Plants
It is considered best for the starting seeds because the Miracle-Gro AeroGarden Ultra LED germinates seeds are unbelievably fast.
Cons:
Expensive Refills
The Miracle-Gro AeroGarden Ultra LED consists of a refill named Miracle-Gro AeroGarden Grow Anything Kit, which includes seven grow Sponges, grow domes, grow baskets, and labels, which cost very high.
The growing seeds are not included with the refill as you must buy them by spending some more amount of money.
Cheaply designed elements
Some components of Miracle-Gro AeroGarden Ultra LED are poorly designed, such as the LED's magnetic floater inside the small tube. Sometimes it displays the wrong amount of water level. It prevents your garden from accurately reporting whether it needs water or not.
Replanting consumes time
It is a very time-consuming process to replant other seeds in the Miracle-Gro AeroGarden Ultra LED. The cleanup process requires an amount of time and some other equipment such as a bathtub, long gloves, etc., for the scrubbing process.
Cheaply designed third party accessories
The third-party accessories of Aerogarden Ultra LED, such as the Aerogarden Seed starting system is made up of Styrofoam of very cheap quality. 
I hope that the Aerogarden will officially make a Seed starting system of good quality in the coming times.
Features and Benefits of using Miracle-Gro AeroGarden Ultra LED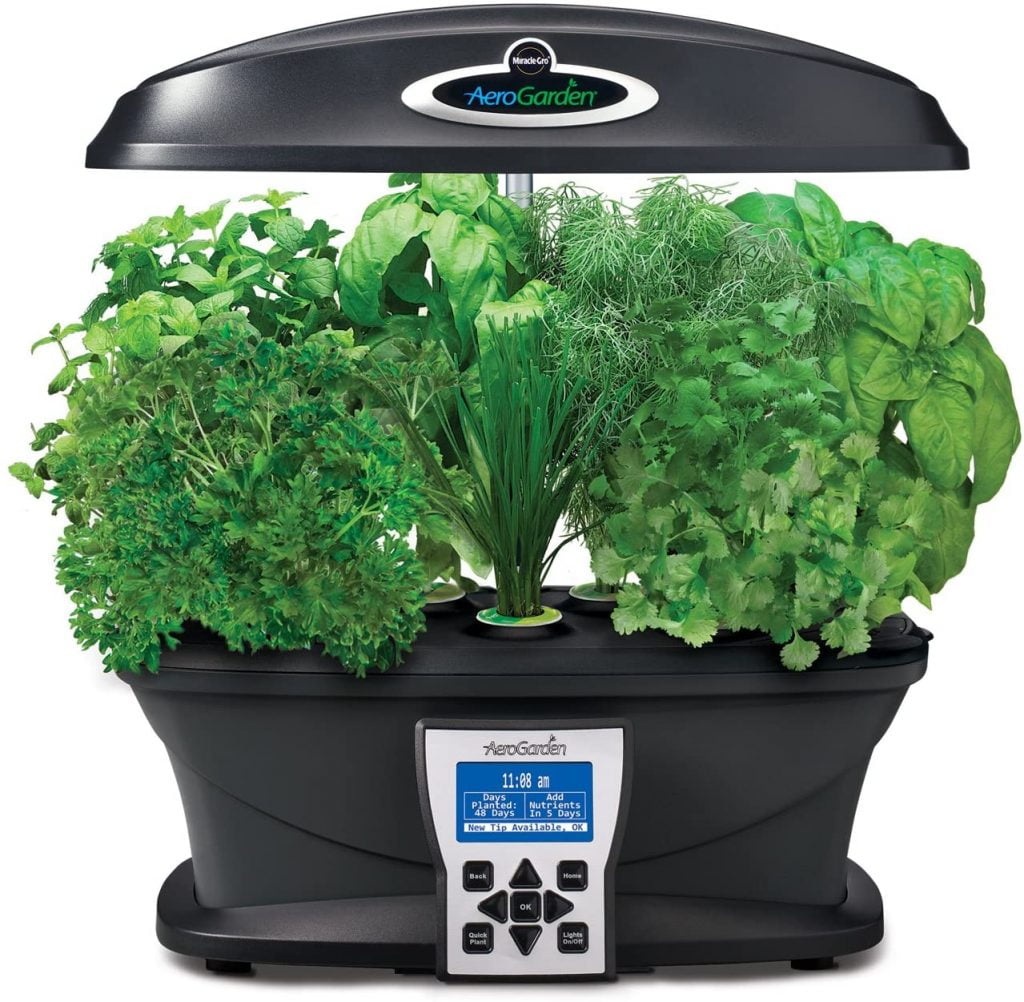 Advanced Hydroponics
The Miracle-Gro AeroGarden Ultra LED system integrates Hydroponics, which allow a dirt-free garden and requires a little care. Hydroponics is the method of growing plants without soil. Only water, nutrients, and substrates are used.
You must add water timely to the plants to create a proper balance between the water, oxygen, and food. The hydroponic system allows plants to grow five times faster than the standard method of growing plants.
In the soil root method of growing plants, roots can only take those foods that meet it, but the hydroponic system places the food right where it is needed the most.
Size and Space
The Miracle-Gro AeroGarden Ultra LED comes in an ideal size as the entire unit only measures 17.25″ W x 11.25″ D x 15″-34″ H. You do not have to place it near any window to get sunlight as it has its LED, which creates artificial sunlight.
There are seven spaces available for the plants to grow, and it also consists of an adjustable arm that you can use to save space when not in use. There is a perfect balance between the plants and the lights to optimize the growth of plants.
Full Spectrum, 30-Watt Led Lightning
The Miracle-Gro AeroGarden Ultra LED provides artificial sunlight to the plants, consisting of a 30-Watt LED to help the plants overgrow. The plants need sunlight to grow through the chemical process of photosynthesis.
The LED system of the Aerogarden uses a light spectrum. The LED provides different light colors, such as white, blue, and red, for faster growth. These lights are very efficient as they pull a significantly less amount of electricity than any glow bulbs.
Oxygen Release
The Miracle-Gro AeroGarden Ultra LED also helps in purifying the air in your house. There are various products in your house emitting volatile gases, which the air inside the house stale and stuffy.
But growing a plant inside your home can filter out all those impure gases and provides a healthy indoor space.
Interactive LCD Screen
The Miracle-Gro AeroGarden Ultra LED consists of an inbuilt LED screen that monitors the water level and keeps track of the growth schedule.
It informs you when the plants need both water and nutrients by automatically turning on and off the lights.
Essential Tips for your Aerogarden Ultra LED Indoor Garden
Tip #1 Use the Extra Light form the Aerogarden LED to help some other plants
The Aerogarden LED emits so much light, and you can quickly move some other plants near the Aerogarden to get some quantity of light.
During the winter months, it is challenging for the other plants to get direct sunlight to use the Aerogarden LED to create artificial sunlight to take care of those plants.
Tip #2 DIY refills for your Aerogarden Ultra LED
The most important tip is to save your grow domes and buckets. All you need is grow buckets, or you can also use a rubber band plastic bag in place of a grow dome.
You can also combine the seeds with a set of high-quality seeds such as David's garden brand, etc.
Customer Reviews
According to the customers, they are happy and satisfied with the use of Miracle-Gro AeroGarden Ultra LED.
The LCD is beneficial for reminding the water and nutrients levels. Those people who are new to gardening must use hydroponic systems to get started with indoor gardening. 
Most of the users have rated four stars on this product as it helps save money and time.
Final Words
Suppose you are new to gardening and eager to grow some plants. In that case, you must go with the Miracle-Gro AeroGarden Ultra LED Indoor to grow system, which you can use to grow plants very rapidly with the help of hydroponic technology.
It is a handy system; you need to grow your fruits and flowers throughout the year if you are a beginner.