After the pandemic started in 2020, life as we knew it came to a halt. Well, at least for a while. Going through lockdowns and quarantines for weeks, and in some cases, months, forced us to re-evaluate our lifestyles and values, and made us appreciate the things we already had like plants and food more than the things we wanted to have.
With so much going on, home décor was the least of our worries since our abodes became multi-use spaces that served for rest as much as for work. Now that things have finally started moving past the pandemic, it's time for some ground-breaking changes to mark this step forward.
If you don't know where to start, why not refresh your home's interior to reflect this new post-stress era and boost it with comfort to make your life all the more pleasant. Don't worry, you won't have to splurge on a major transformation as long as you choose the right home furnishings for each room from homeware stores that have all the styles and designs you can imagine. Out of ideas? Then why not use some of the following as your inspiration.
Introduce Fancy Storage in the Living Room
As one of the most important areas in the home, the living room often gets most of the attention when it comes to comfort. From spacious sofa beds to a set of armchairs paired with accent ottomans – there are plenty of ways to ensure comfort in this space. But you can't expect to have a functional living area if you leave wheelbarrow storage out of the picture.
This is especially important in smaller homes where there's simply too much of everything lying around – whether it's old books and magazines, or collections of memorabilia from your trips. IIf getting rid of these items is out of the question, then the addition of a practical furniture piece from your choice of home emporium with plenty of storage can be of help.
Mind you though, it doesn't have to seem like you added it for the sole purpose of serving as storage if you choose something fancy. For instance, you could go for a timber TV unit with a finish that matches the material and colour of the sofa and coffee table. Pick out a design with various drawers, compartments, and lots of top surface for you to display your decorations. Small living rooms can benefit from minimalist wall-mounted units that don't take up any floor space.
Warm Up the Bedroom with Soft Fabrics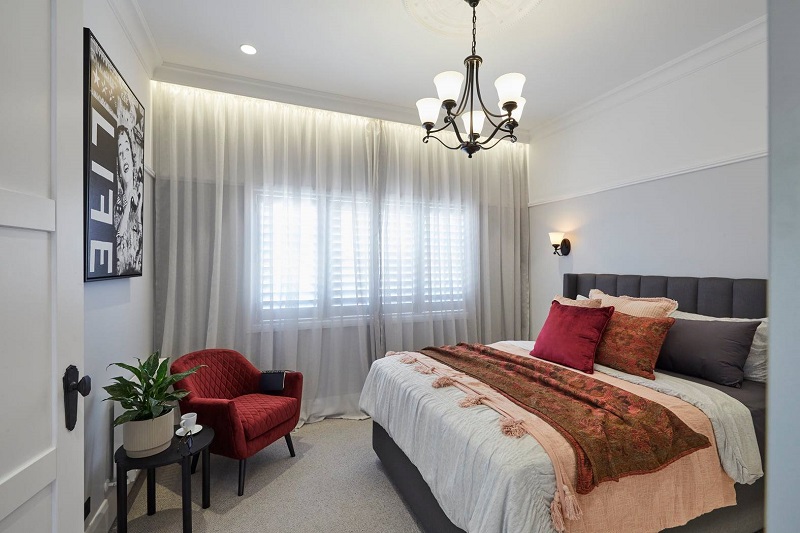 Okay, when it comes to bedroom warmth, there may be some of you thinking it's hot already as it is in this room with the fun under the sheets, but I'm talking about visual warmth. Fun faux-fur and wool home furnishings can add a soft touch that may be lacking. Since it can get pretty crammed with all the major furniture, such as the closet, bed, and side tables, the last thing you need is another piece to take away from your much-needed space. And this is where textiles can come in handy!
There are various versions of the fur element you can choose for your home. It could be an eye-catching wool rug placed right beside your bed so you can step in warmth and softness first thing in the morning. It could also be a faux fur covering for a pop of interest to the side tables, or luxe cushions to decorate your bed. Even if you simply can't see the element of wool or fur in the décor as is, that's exactly where the charm lies – in the unexpected!
Elevate the Relaxation in the Bathroom
Love them or hate them, bathtubs have long been known for their soothing and healing properties. As it happens, though, not all of us can boast about having spacious bathrooms and being able to fit a jaw-dropping free-standing tub. This is where seating as the resting element can work wonders in freshening up even the dullest of bathrooms.
Regardless of whether you've got a tiny room or a spacious bathroom, there's an array of seating choices you can find at the reliable home improvement store. On the small side, you have adorable little stools made from sturdy materials, like timber and metal, decorated with generous coats of paint. These are so compact that you can fit them anywhere you see fit, be it the corner in the shower or under the wall-mounted vanity unit.
On the other hand, you have comfortable benches as simple and adaptable pieces that offer ample space not only for sitting but lying down too. You can boost the comfort by opting for cushioning that provides great support. Since it's the bathroom we're talking about, you need to pay attention to the fabrics you choose, preferably one of the synthetics which are known for their waterproof properties, unlike natural fabrics.
Change Up the Lighting in the Kitchen and Dining Room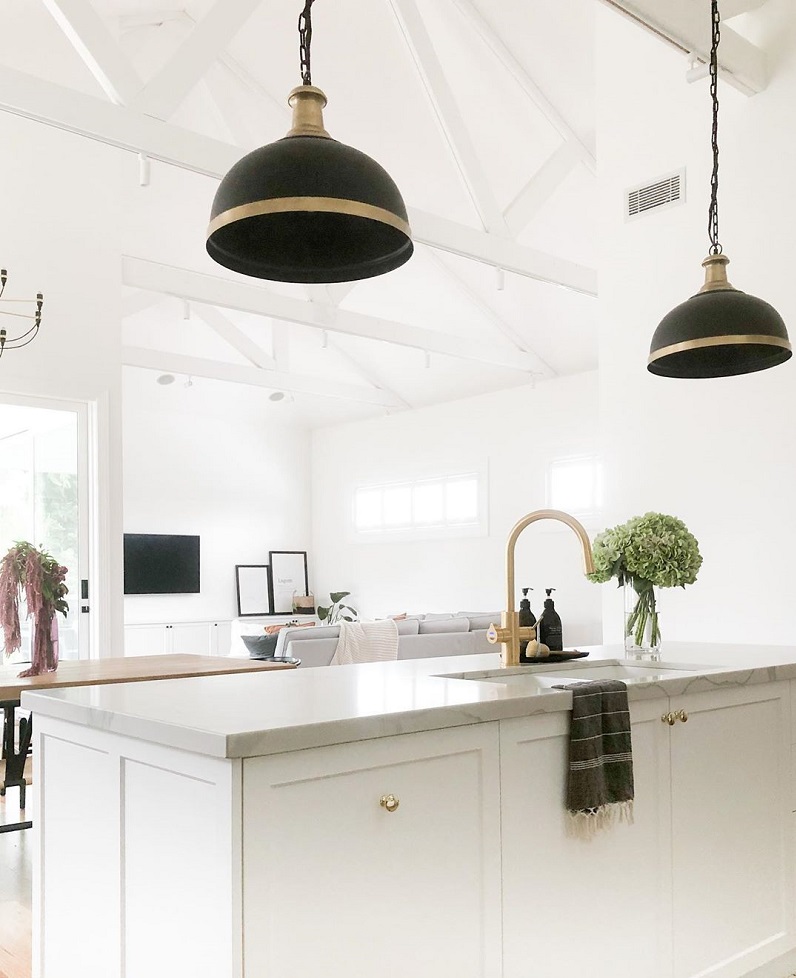 Although it's usually the countertops, island, and dining table set that get the primary attention here, proper lighting can truly revitalise the décor. So, if you feel like these areas could do with a bit of change, why not shake things up with the lighting fixtures.
The well-stocked home furnishings stores can offer you a myriad of choices of all designs, so you can mix and match to make the most of illumination that's much needed for both cooking and dining. More of the proper illumination can significantly improve the interior, making it feel airy and comfortable.
This kind of upgrade is also budget-friendly since you can play with the aesthetics by changing up the lighting style instead of replacing one of the major furniture pieces that can be rather costly. General lighting in the form of pendants is highly welcome, but don't forget to combine it with accent and task lighting too. For a seamless outcome, you don't necessarily have to restrict your purchase to the exact style of lighting fixtures for both the kitchen and dining room, but it would help if you match the material and finish.
Lastly, no one likes glare, especially not when cooking and dining, so in addition to being picky with the light bulbs and colours, you could think of introducing other solutions to protect your precious eyesight. Diffusers are some of these solutions because they help control the brightness, giving off a softer light – the perfect homely result!