People who are new to gardening must have come across the terms spade and shovel very often. There is an ongoing debate on Spade vs. Shovel, and it seems that it will not come to an end anytime soon.
Most people believe that the one with a pointed tip is a spade, but it is a shovel. A spade is the one with a flat shape, whereas a shovel has a concave shape.
You can always manage without one of these tools, but you will require both for efficient gardening. People indulging in the Spade vs. Shovel debate are confused and end up bringing any products.
Things You Should Know About Spade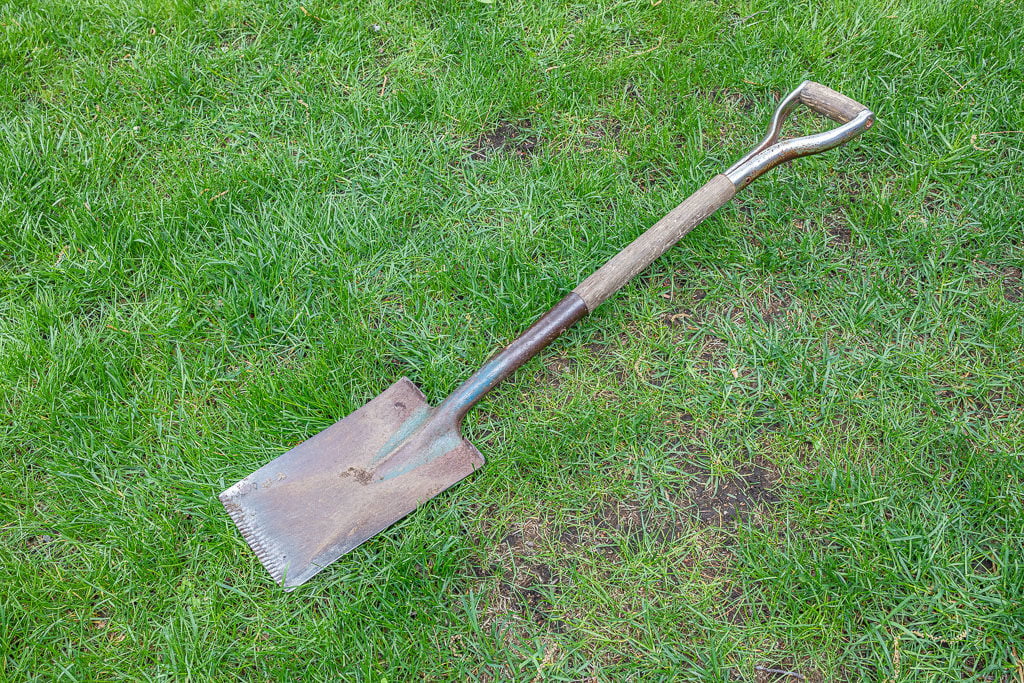 Depending on the brand and use, the spade comes with a rectangular blade. Compared to the size of a shovel, a spade comes in a smaller size. Some of the spades have a D-shaped grip that can help you to have easier control over them.
The blade of a spade remains in line with the shaft so that it will be easier to cut through the soil. The shaft of a spade is shorter when compared with that of a shovel. This can make your job easier, especially when you are working in spaces where flowers are grown.
The weight of a spade varies from one brand to another. Surprisingly, there are different kinds of spade available in the market which serves a different purpose.
Here are some spades from amazon which you can opt for your garden work and make your flower bed beautiful.
Spear Jackson Traditional Children's Stainless Steel Digging Spade
This product comes with a ten-year guarantee, and it is perfect for children who love gardening. The size of the product is not regular, but it is ideal for kids. The shaft of the product is a one-piece hardwood and has a split so that it forms a wishbone handle. The product's blade is made of stainless steel, which will help the children by easing the cleaning process.
Flexrake 7A Spade with 36-Inch AlumiLite Handle
This American product from Amazon is a steal. The wooden handle is of 36-Inch, and the replacement parts are available easily. It is also molded in a non-slip vinyl grip. At 20.46 dollars, it is safer to say that this product is worth the bucks.
Spear & Jackson 4454BS Traditional English Style Stainless Steel Border Spade-Garden Spade
At the price of $36.77, this product is something every gardener should go for. The design of the product makes the process of digging easier, especially in confined spaces. The blade is made of mirror-polished stainless steel, which will prevent it from rusting. This weatherproofed product comes with a wishbone handle and a guarantee of 10 years.
Things to Consider While Buying A Spade
A spade with a wooden handle is preferable, and that is the one which is widely available in the market. Other than that, spades made up of fiberglass handles are also available, but they are expensive.
They are also irreplaceable; hence you must think twice before going for a spade with a fiberglass handle. It is wise to go for the one which is lightweight and durable. Factors like the blade of the material and quality should also be considered before buying a spade.
Even if most blades are coated with steel, it is essential to go for the one which is coated with rust-resistant powder.
Uses of Spade
One can use a spade to dig a plant hole or a ditch. Other than that, you can also use it to slice off the sod and prepare an area for planting. The edges are sharp enough to loosen the soil, and it also edges the driveways. One can also use it to scoop up the dirt and place it in a container.
Things You Should Know About Shovels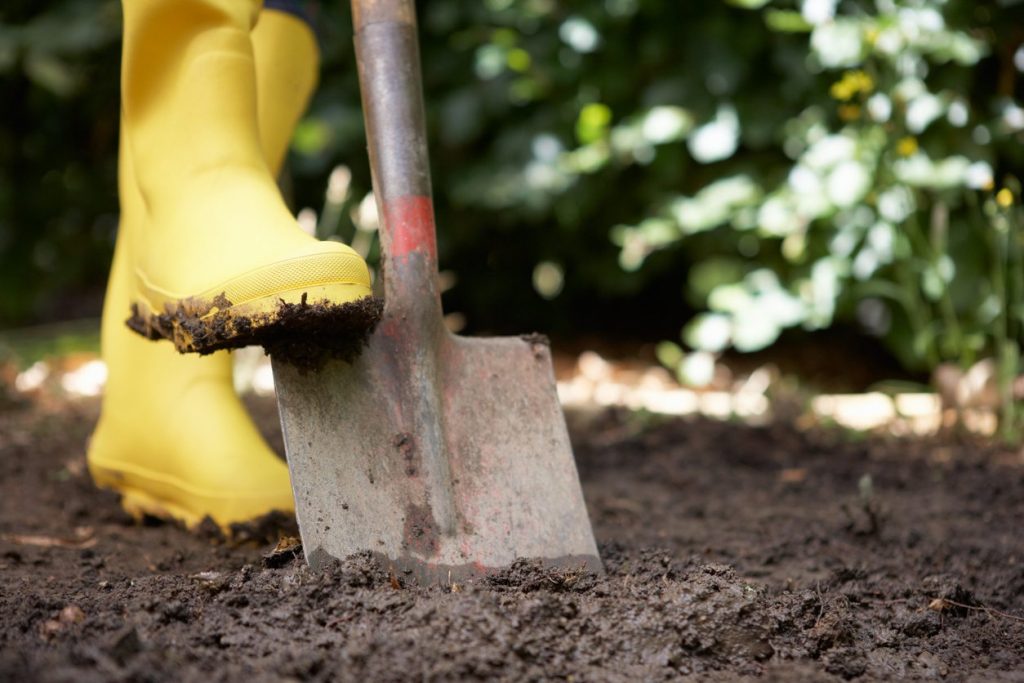 A shovel comes with a broader and a curvier blade along with a rounded tip. The shape and the length may vary depending on the brands. Shovels are usually larger than those of spades. When you compare them with spades, you will realize that shovels are not as straight as spades.
Their shafts are also longer than that of spades. The blade of a shovel is angled forward to be easier for you to dig the soil. The handles are 48″ in length so that you can dig up deeper holes.
The concave-shaped blade can also help you to fill up the hole you have already dug. There is a variance between a shovel and a spade, but that may vary according to the purpose. Shovels are widely available in the market, and you can also get them online. Here are some shovels from the Amazon which you can use while gardening.
SUNHOO Collapsible Shovel
This gardening product from amazon is people's favorite for all the right reasons. You can carry this folding shovel with the portable bag it comes with. It is of high carbon steel and comes with an ergonomic grip type.
This product can be used as a shovel, spade, saw, and a pickax. People purchasing it will get a 12-month warranty from the dealer. People can use it to dig golf holes, sand, mud, and snow. It is easy to use since it only weighs around 1.5lbs.
Bond LH015 Mini D Handle Shovel
If you are a person who loves gardening or camping, then this is the shovel for you. You can use it to break up the soil with its sharp edges. It comes with a strong fiberglass handle, which will help you to have a firm grip.
People going for this product will get a five-year guarantee from the dealer. You do not have to worry about the product getting rusted because it is coated with rust-resistant powder. This metal shovel weighs around 1.8 pounds and is designed to move it efficiently.
REDCAMP Military Folding Camping Shovel
People interested in camping, gardening, fishing, and hunting can opt for this product for a better experience. This multifunctional product can be used for sawing, cutting, digging, and hammering. You can shovel the mud by using it at 90 degrees. This product comes in a foldable size and with a pouch.
The thickness of the blade is strong enough to endure any severe condition. The body of the product is made up of high carbon steel, and it comes with a triangular handle so that people can have a firm grip. People going for the product will get a 365-day full manufacturer warranty from REDCAMP.
Things to Consider While Buying a Shovel
While purchasing a shovel, one must make sure that their shovel has a wooden handle. It is preferable because it will help you to have a firm grip on the shovel. The handles can also be of materials like Aluminum or Fiberglass.
Shovels with these materials are cheap and easy to find, but you may get splinters with time. So, make sure to buy the ones that are affordable and harmless in the long run.
Uses of Shovels
The main job is to dig, but people will be surprised to know that shovel can be used as a multifunctional tool. One can break the ground with the help of the edge of its blade. You can also fill up any hole with the blade's help, which has a concave shape.
Cutting through the weeds will not be a difficult task if you use a shovel. The shovel handles are generally 48″, which is perfect for people who want to dig a deeper hole.
Spade vs. Shovel
The debate of Spade vs. Shovel is of no significance since a gardener will require both. You can indeed do a maximum of the work with any one of the products. 
But investing in both the products will save you time, and your work will be more efficient. So, it is advisable to go for both the products.
Getting it from the store will be challenging since most people are still confused between both the products. Even most shopkeepers will not be able to differentiate between a spade and a shovel.
So, it will be beneficial if you go through the products online. You can also look through the product reviews and get a clear verdict from people using it. Even if there is not much difference between the products, it is still better to have a clear idea about the products.
People using both the products claim that it enhances their gardening skills and saves time. So, invest in both the tools and make your garden more beautiful than one could ever anticipate.