If you are renting or have ever leased property, you will understand the utter frustration of not being able to make it your own. Whether it's your home or place of business, it is so important to show your personality through your interior design by adding greeneries like dracaena varieties or by replacing the existing furniture.
But those Landlords and their long-listed tenancy agreements get in the way, don't they? From not being able to paint the walls, nail up pictures or use paste wallpaper, it can be really difficult to make the most of the space you are paying for. And sometimes, because of this frustration, we just do it anyway and face the consequences later – not recommended, by the way! If you want a little advice on what NOT to do, read on. You might be surprised to find we have a few tricks up our sleeves on how to decorate your rented property…
1. Nail as many holes into the wall as possible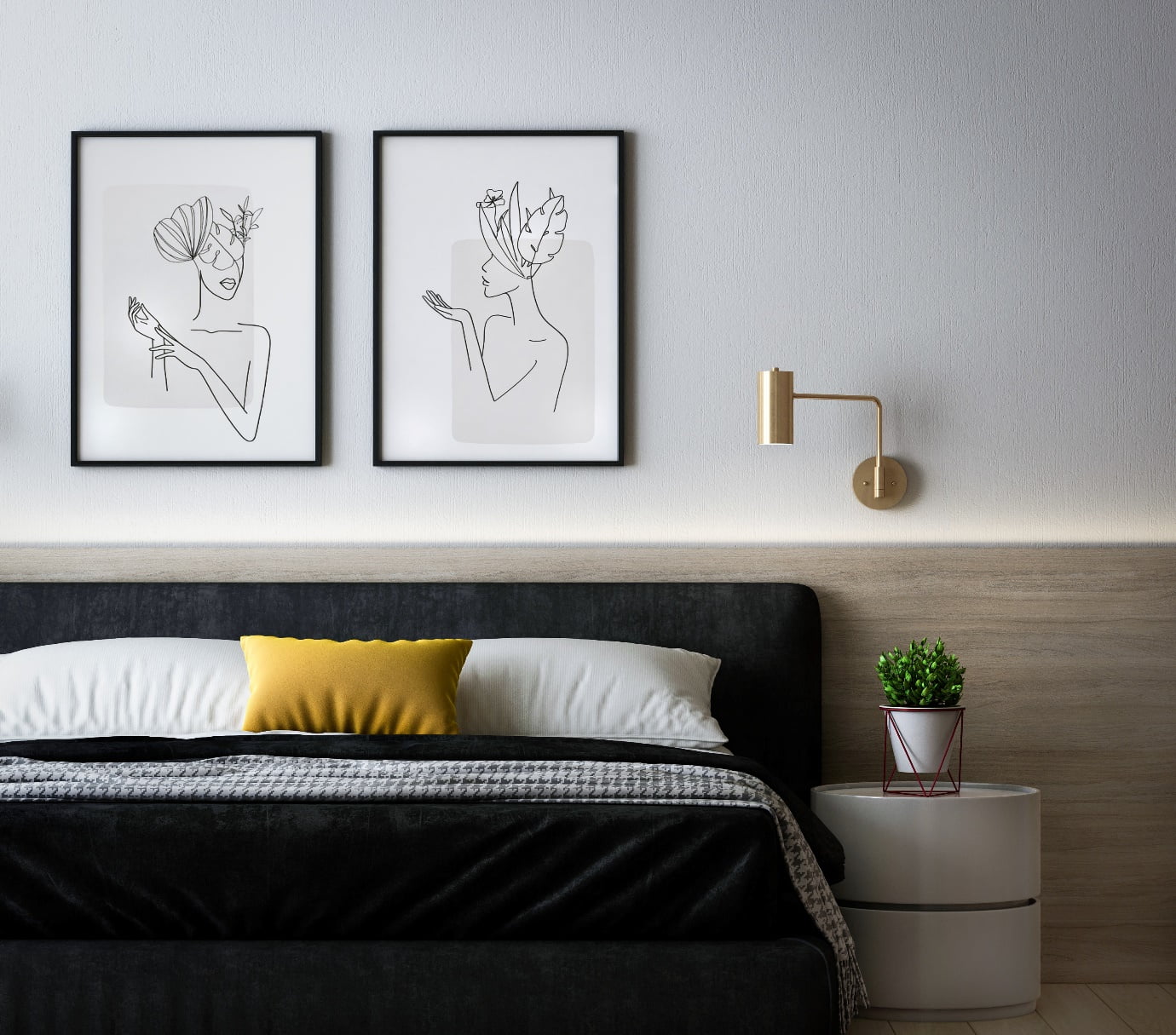 DO NOT do this! Trust me, you will regret it (as I did at University… the Landlord was not a happy bunny). Of course, we want to adorn our walls in frames of our loved ones' photographs. The painting your nana passed down to you, or with prints that simply represent your sense of style. But there are other ways to mount these treasured items onto the wall without causing damage.
Instead of nails, use adhesive strips. All you do is apply the strips onto the back of the frame, and be assured, they can often hold up to a weight of 16 pounds. Once you move out, gently peel the frame from the wall and cause no damage at all. But be careful when applying these to a textured surface as they can sometimes remove the finish. So prepping the wall beforehand is key.
Tip: You don't need to buy new frames. Visit your local thrift shop and find some goodies in there! Even if the frames don't match your color scheme, it doesn't matter. Buy some chalk paint and paint the frames. You can even use sanding paper afterwards to give them a vintage look.
2. Make sure your furniture is really…really…boring (yawn)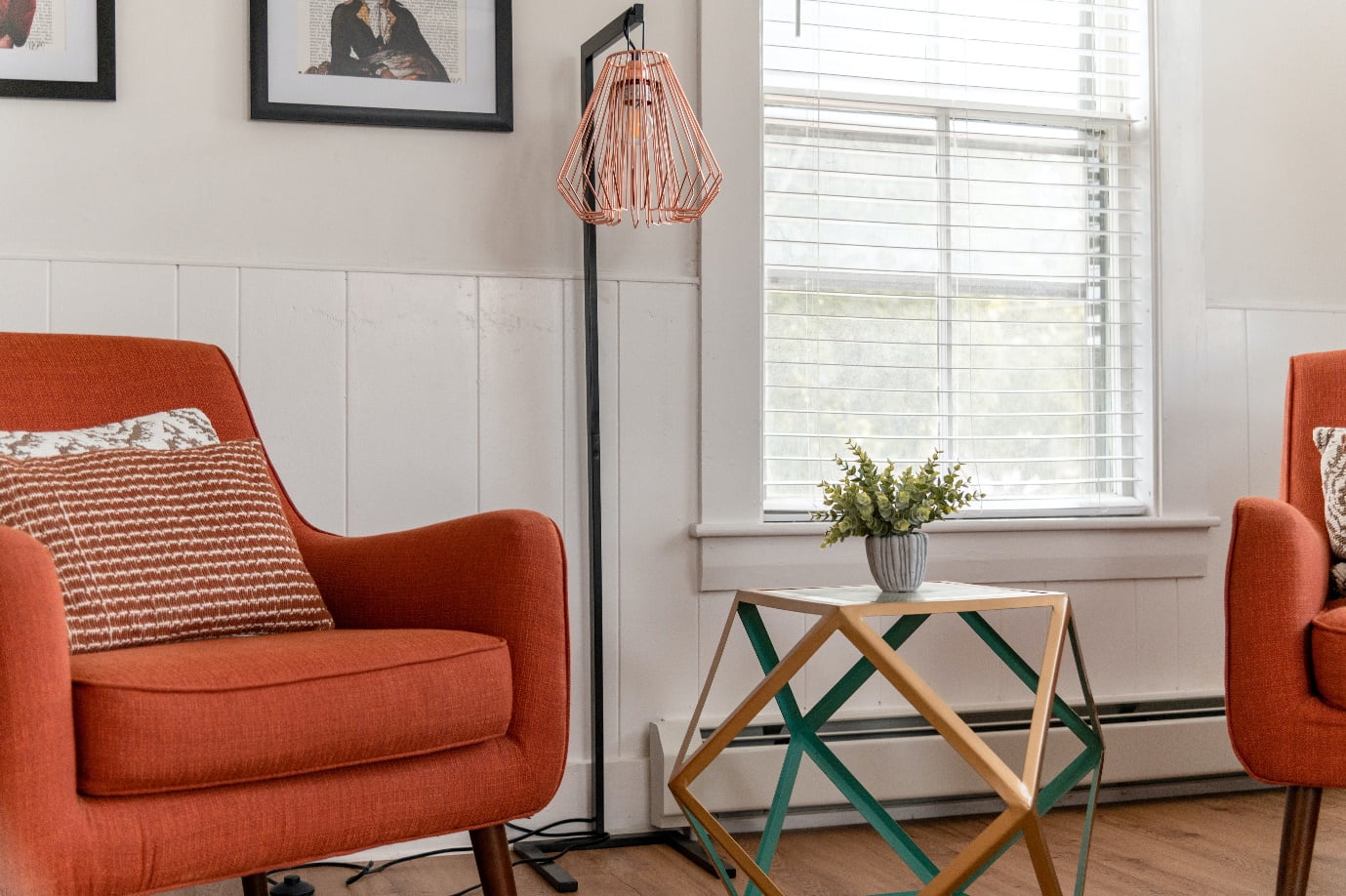 There really couldn't be a tip worst than this. DO NOT make sure your furniture is boring. After all, you want your home to represent you (and YOU are fabulous)! Whether you're a sleek and stylish minimalist who loves Japandi style or are someone who can't get enough vintage maximalism, showing your sense of style is key.
If your rented space has provided furniture, that is great as it saves money! But if some (or all) of the items aren't what you would have chosen, consider putting them into storage until you have moved out (and when we say storage, we mean in professional storage. Not in your mum's guest room).
For those who love color and pattern, you can go all out on a range of items: curtains, couch, bedding, cushions, rugs, towels and more… And why not go wild by choosing retro or unusually shaped items such as the geometric coffee table in the room above and the mid-century orange chairs!
And of course, if you are a minimalist, less is always more. But make sure the décor items you choose are statements within themselves.
Tip: Don't just settle for Ikea furniture but upholster your own chair in a material that you love or choose statement furniture that is sculptural as well as functional.
3. Use paste wallpaper so you can REALLY mess the walls up before you leave

Yes. This is a really silly suggestion. We DO NOT recommend using wallpaper that is installed using paste. As you know, when paste and wallpaper is removed, you really need to scrape off the excess pieces of paper. We are sure your Landlord would not appreciate that.
Instead, opt for a self-adhesive wallpaper. Wallsauce.com offers a very popular Peel and Stick wallpaper which is the perfect solution for renters. They have over a million designs for you to choose from: marble effect designs, dark florals, dinosaurs, safari animals, forests, football stadiums, unicorns, etc. All you do is find your favorite one and they will print it onto Peel and Stick wallpaper. Their murals are also custom-made, so you don't need to mess around cutting away loads of excess paper! It's really easy. And once you need to move out, gently peel the wallpaper away from the wall, and voila! – leave no traces of wallpaper ever being on the wall.
As well as for walls, a self-adhesive wallpaper is great for jazzing up the front of kitchen units, open shelving, or cabinets! It's just another way to inject personality into the space.
Tip: If you intend on living in your rented property for a long time, choose a wall mural that will age well. Mustard-yellow and grey, as shown in the room above, are a timeless color combination.
Some final tips to NOT follow when decorating your rented space:
If you're desperate to hide the hideous carpet, find some oversized rugs instead.
Knock down walls to open up the space
If you have come to this point, consider finding a new place to live. Or why not talk to your Landlord? They may agree with you and arrange all the hard work for you!
Pull the tiles off the wall
If you hate the tiles in the bathroom or kitchen, don't remove them. Instead, choose removeable tile stickers. They will look as good as new ones.
Nail shelves into the walls everywhere
If you are desperate for storage, try to avoid this. Instead choose nifty, floor standing storage units to store your items.
Mount mirrors onto the walls
Rather than making more holes in the walls, lean mirrors on the walls. Not only less damaging, but it looks great with the right mirror.
In conclusion…
Whether you were finding ways to prepare your home for rent, wanted to add style to your place of business or simply make your house more homely, we hope these ideas have been some inspiration. And please DO NOT follow the bad tips! We really want you to get back your deposit once you move out… Remember, always talk with the person you are renting from and carefully read your contract. Sometimes Landlords or Agents are open to you doing work in their property – after all, if it improves the space, what can they not love?
Author Bio – Amy Hillary is a Freelance Writer as well as the Content Creator at Wallsauce.com. Her work consists of creating website content, writing blogs as well as product descriptions. Her most popular topic focuses are interior design, lifestyle and retail.