Are you someone who loves to take up small projects in your yard? It is the time of the year when you take up these projects and roam around the local gardening centers looking for ideas and equipment to complete your projects.
You might agree that a 4 four cubic foot wheelbarrow is not enough for carrying the heavy dirt and rocks if you are relating to this.
A 6 cubic foot steel wheelbarrow might help you with this heavy-duty work. Let us look at some of its models and reviews of this equipment.
True Temper 6 Cubic Foot Steel Wheel Barrow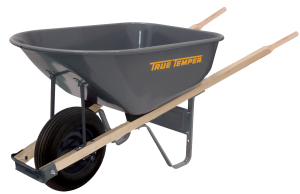 True Steel Wheelbarrow has six cubic Ft. steel tray capacity and comes with single and dual wheel choices. Considered heavy-duty work, it provides years of hassle-free and long-lasting service.
Special Features
Comes with 6 cubic feet steel tray Capacity.
Rugged steel handles
Single wheeled
Provides years of trouble-free service.
Flat-free tires
Why Should you invest in a True Temper 6 Cubic Foot Steel Wheelbarrow?
True Temper 6 Cubic Foot Steel Wheelbarrow comes in two models- one-wheeled and two-wheeled. Also, there are two choices in tray types- Plastic and Steel.
These models are sturdily built and designed to provide years of service. Its 6 Cubic Foot capacity is among the largest offered in wheelbarrow models. It can handle any stuff from stones, gravel, and dirt to mulch, firewood, and much more.
The rigid, rugged steel handles provide comfortable grips, and the heavy-duty undercarriage with seamless steel trays stands up to rigorous use. You always get smooth with never-flat tires that will never need inflating and will keep you away from buying a replacement every few years due to rotor wear.
Irrespective of whether you are a homeowner or have a commercial landscaping business, this is a great product to help you deal with your heavy-duty work and help get heavy loads from one place to another.
Since it is one-wheeled, it does require some strength to lift and move, but it can also be converted to two wheels with an optional kit for additional stability.
In detail, let us understand True Temper Wheelbarrow's various features and look at its reviews to determine if it is the right one for you.
Pros
Easy, straightforward assembly
Low maintenance flat-free tires and steel handles
Smooth movement and well balanced
Cons
It is challenging to lift with a full load.
It can rust if not stored properly.
Heavy loads might tip off balance.
Features and Benefits.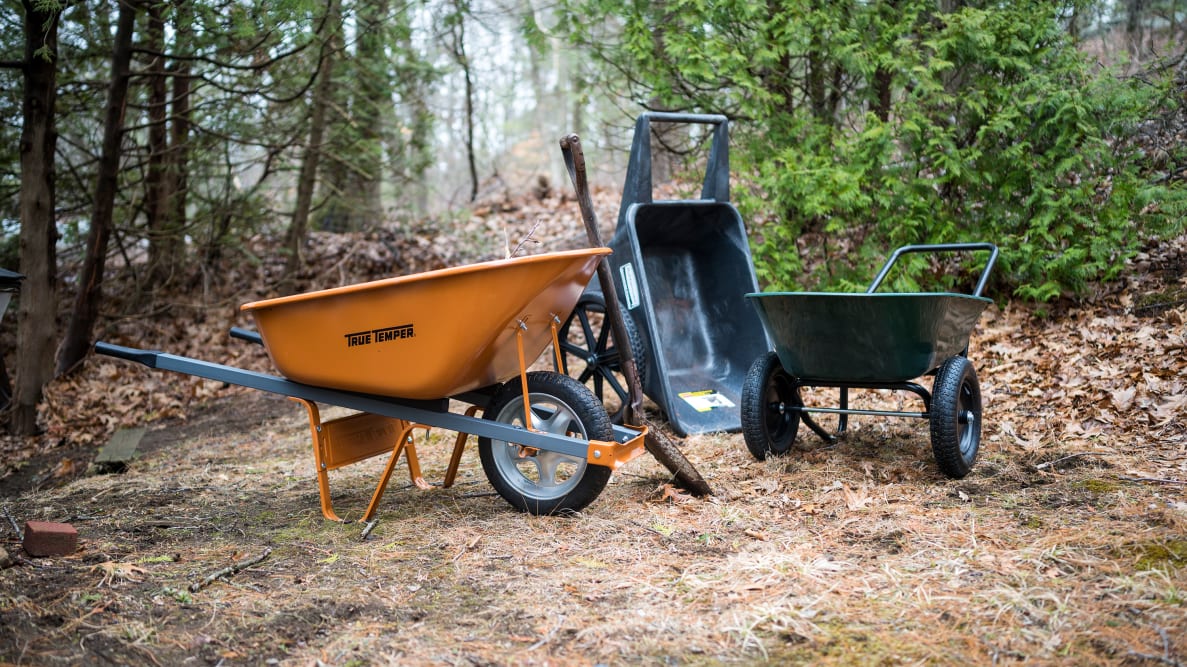 If kept with proper care, your first bought wheelbarrow can be the last you will ever buy. It has various durable features, making it suitable for any weather, and it can haul anything and everything you put into it. These features make them perfect for contractual work.
Let us look at some of these features in detail.
6 Cubic Foot Steel Tray
This is like the perfect size one would want for a wheelbarrow. With a capacity of a 6 cubic foot steel tray, you can carry a fair amount of stuff. The steel construction is especially an added benefit as the plastic may become brittle over time. Although it may rust in wet conditions, the outside storage must include tipping it up to avoid water accumulation after in it for an extended period.
Flat Free Tires
This feature needs special attention. Air-filled tires are not durable enough to withstand the high pressure of constant wheelbarrow loads and movements.
Such tires require regular replacement and are not long-lasting. On the other hand, Flat Free tires save our time and a heck of a lot of money in the long period of use. This 15″ tire size comes with an 8 inch inside measurement and additional tires for dual conversion.
Sloped Curved Font
A sloped, curved front allows easy dumping and spreading of contents. It is convenient and makes tipping up and unloading into an area very convenient. With straight sides of the wheelbarrow, there are more chances of spilling it out in the spaces. But with the curved front, you can get it more pointed at where your load needs to go.
Conversion Ability
If a single tire is concerning stability and is becoming problematic for you, this model comes with an option to convert it into a dual wheelbarrow. Although single tire design provides a higher degree of turning, two wheels in a wheelbarrow prevent tipping during loading and provide more excellent stability but may require a bit more lift moving them.
Heavy-Duty Undercarriage
The thick steel tray prevents rusting and keeps the area connecting the hardware to the handles from loosening over time. It also prevents the heavy loads from causing any warping from occurring. This becomes a significant perk if you use a wheelbarrow to haul dirt, stones, or rocks.
Steel Handles
With steel handles, you do not have to worry about moisture sapping that usually occurs with wooden handles, leaving them splintered, brittle and a general hazard. It also protects against dents and nicks.
Single Tire
No doubt, dual tires provide higher stability, and single tires provide higher maneuverability. However, you need some upper body strength to lift the handles evenly and maintain the balance to avoid tipping over the wheelbarrow while turning. A single-wheeled wheelbarrow can easily make tight turns into smaller areas, making it ideal for use in tight quarters.
Comfort End Grips
This great feature provides both cushioning and grip against the smooth steel handles. Whether you are wearing gloves or not, your hand will not slip from this durable rubber coating.
It is weather well and does not crack or dry out. It can handle freezing temperatures without becoming brittle.
Customer Reviews
As per my opinion, True Temper 6 Cubic Foot Steel Wheelbarrow deservers a good 4.5 out of 5 stars.
It is durable, has a deep tray, steel design, and can convert to a dual wheel system. If you own a garden or a backyard, this product can prove to be very useful for you daily.
Public reviews are along the same lines as well. Most of the positive reviews revolve around its excellent features.
Flat-free tires, steel handles, steel tub, and excellent durability are some of the features getting the most attention. It is easy to assemble and damage-proof.
Negative reviews are very few but are mostly related to its heavyweight when fully loaded. Once full, this dual-wheel system becomes too heavy to maneuver well.
Best True Temper 6 Cubic Foot Steel Wheel Barrow Alternatives
Ames Steel Wheelbarrow
Ames Steel Wheelbarrow is manufactured by the same company that produces True Temper products. This model is, therefore, very similar in nature to the true temper steel wheelbarrow. It is popular for its durability and deep tray.
Special Features
Tough steel handles with excellent grip
Low maintenance flat-free tires
Heavy duty undercarriage for rigorous use
6 cubic feet capacity
Provides easy dumping and spreading of contents with sloped and curved fronts.
Sturdy built made for years of service.
Jackson Steel Tray Wheelbarrow
Jackson Steel Tray Wheelbarrow has many features like our reviewed product. It has a good 6 cu. Ft. design and thick steel tray. It also has additional bracing, stabilizing the load and making it easy to tip up for unloading.
However, it has wooden handles without any grip, nor does it have a flat free tire. It is best suited for less heavy work than what you may think you can use it for. Overall, it seems to be a well-built and durable product.
Special Features
Has six cubic feet capacity.
Comes with a heavy-duty steel tray.
40% more tip-resistant with patented leg stabilizers
Comes with 16- inch tube tire.
60- inch heavy duty wooden handles
Worx Aerocrat Wheelbarrow
Worx Aerocrat Wheelbarrow has a three cu. Ft. tray that can hold 300 pounds of material. It is very versatile and can convert into a dolly or wagon for multiple uses. It is highly maneuverable with an ergonomic lift system, which lightens the stress of lifting.
It can lift a fair amount of load, but as mentioned, it has a three cu. Ft. capacity, so if anyone wants to haul an enormous load, it should preferably need a different design.
Special Features
has a smart design with innovative two-wheel replacement.
Flat-free, rugged tires are giving you a smooth ride.
Cost-effective.
long-lasting
Conclusion
This True Temper 6 Cubic Ft. steel wheelbarrow is tough, durable, and can last for long times. Build for heavy loads, and this product can carry a significant quantity of load.
It can be easily converted to a dual wheel system with the additional kit for added stability to be used by people of different stature.
This product is excellent for all kinds of heavy-duty work that needs to be done around your place.