Replacing your old windows with energy-efficiency frameworks can improve your living comfort substantially and reduce the energy bill at the same time. When you make this home upgrade, make sure that you invest in the best frame material for windows and sustainable gate ideas, and not only in the best looking one.
If you want to improve the energy efficiency of your home, you have to pick from a wide range of source materials for windows. Fortunately, you can count on the Ecochoice Windows experts to help you make the best choice according to your budget, preferences, and lifestyle.
Factors to Consider When Choosing a Window Frame Material
Before we get to the window material frame options, you should set some guidelines and factors that you should consider before buying replacement windows. We suggest these:
The Climate in Your Region
The weather in your area has a significant impact on the material of your window frames. If you pick the wrong one, you risk replacing your windows again, less than a decade later.
Wooden frames, for example, do not handle humid climates very well and deteriorate after a few years and if you are using some indoor plant hangers then wooden frames also doesn't seem a wise choice. On the other hand, vinyl window frames resist frequent temperature fluctuations with brio.
The Architectural Style of Your House
The style of your home is an essential factor in choosing the best window frame material. For example, if you live in a historic home built two centuries ago, it would be unwise to adorn it with vinyl window frames. In this case, high-quality wood frames would make a better choice and complement the vintage architectural style.
Your Budget
You will have to consider how much you can invest in replacement window frames before settling on your future home upgrade.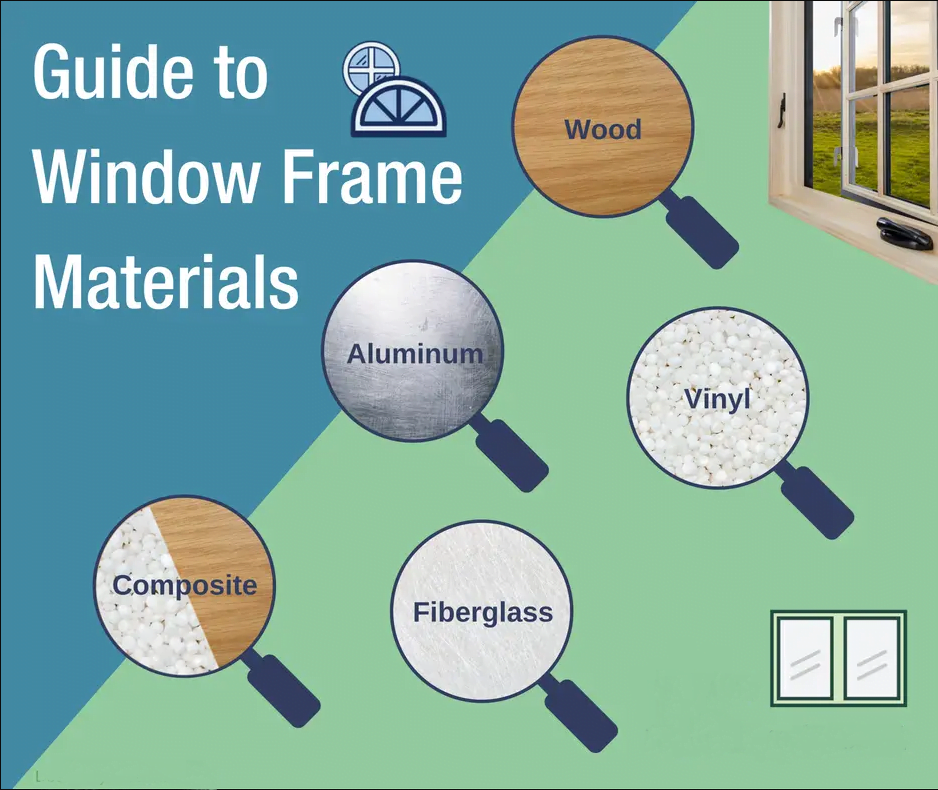 The Best Window Frame Material Options
After considering the factors above, you need to discover the most common window frame materials before deciding which one is the best for your home. Here are the frame materials that Ecochoice Windows experts recommend:
Wood
Wood is the traditional material for window frames. People have been using it for millennia to maintain a decent energy efficiency standard for their homes. Wooden frames keep the heat inside during the cold season and hold the rooms cool in the hot, summer months.
The downside of having wooden window frames is that they require regular upkeep. Wood responds to weather conditions by contracting in winter and expanding in the warm season. As a result, it loses its insulation and sound-proofing abilities.
Another disadvantage of wood frames is that they are more expensive than most of the other materials. If you also add the costs of frequent sanding, painting, and sealing, you will find that your passion for traditional frameworks is a hefty one.
Vinyl
The modern vinyl frame is the most popular type of window frame material among homeowners everywhere. It is cost-effective, easy to install, and offers optimal insulation and sound-proofing, regardless of the weather conditions.
When you have vinyl window frames, you do not have to worry about yearly maintenance. They do not require sanding or painting, and a simple dusting and sponging should keep them in perfect condition.
Vinyl window frames are available in various sizes and colors. The only downside to them is that the quality differs according to the price. For example, the cheapest ones will have joints with screws, while the more expensive ones will have heat-welded joints, which offer better strength and durability.
Aluminum
If you are looking for an upgrade to vinyl window frames, you should opt for aluminum frames. They are just as affordable and easy to maintain, but they provide better insulation.
The problem with aluminum window frames is that they are prone to condensation in winter. The low-quality ones will increase the risk of mold buildup on the walls around the window frames.
If you want to install aluminum window frames, you should opt for the more expensive options, which provide better quality and protection against mold through a thermal barrier in the frame.
Wood Clad
These frames feature an interior-facing, traditional wood frame and a weather-resistant frame on the exterior. They are strong, easy to maintain, and durable. The only downside is that installing them is a hassle for inexperienced homeowners. If you want them for your home, you should employ the services of a professional for easy installation of wood-clad frames.
Composite
Composite frames mix byproducts with plastic to resemble wooden frames. While they provide optimal insulation and low maintenance, they lack the thermal resistance of real wood frames.
Fiberglass
Fiberglass is one of the most durable materials for window frames. It is resistant to corrosion and does not change size as a result of temperature fluctuations.
Fiberglass window frames ensure excellent insulation and sound-proofing. The only downside to choosing them for your home is the high costs of purchase and installation.
These are the most popular window frame materials on the market. You can choose the one that is best for your home. Then, you should use the services of Ecochoice Windows professionals to ensure your future home upgrade benefits from proper installation.