Whether you plan to have a bonfire party or want to have an alternative of your expensive kitchen fuel or a business for your log stockpiles, you must have a log splitter. It is a little piece of expensive machinery but will not affect your pocket in the long run.
A log splitter is a tool used to cut wood instead of splitting it by hand easily. This machine comes in various models and designs suited for either residential or commercial purposes.
The simple and handy design of log splitters helps you to have a stockpile of your own. Certain core parts power the machine, and, in this article, we will get to know about the cylinder it uses, mainly exploring the ideal size of the log splitter cylinder.
How Does a Log Splitter Machine Work?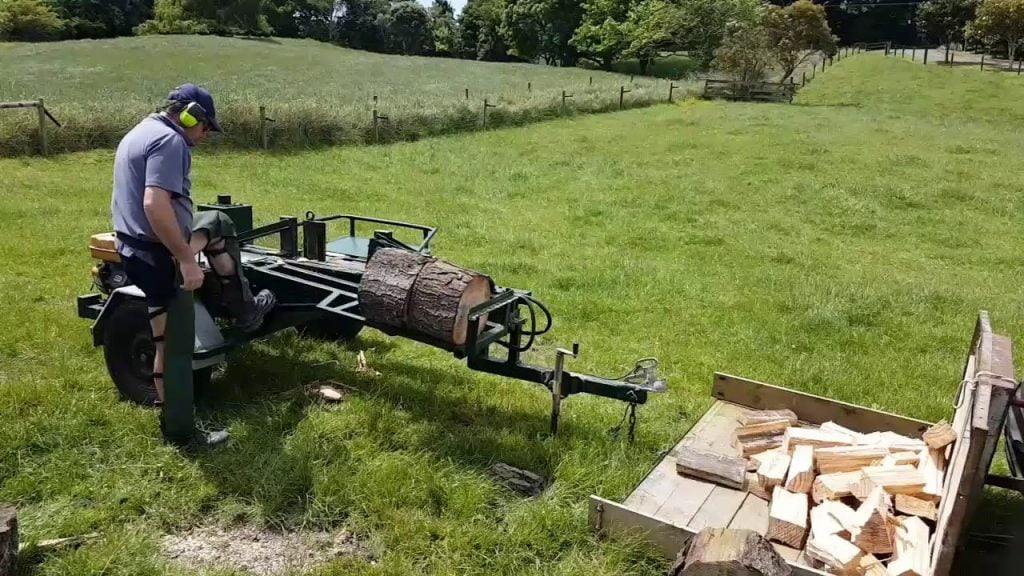 A log splitter machine is all about assembling its parts, which you could do at your home if you are not satisfied with a particular brand or company's components. The other hassle-free option is to buy one according to your need.
There are hundreds of log splitters available online. Either you want to chop a small log or a heavier one, either you want to do it manually or automatically, etc. you are just one step behind, saving your precious time.
The horizontal and vertical splitter could ease out the problem of your log size. A vertical splitter is more suitable for the more massive diameter log and the heavier one. It is typically gas-driven and leaves your log on the ground so that you do not have to lift it.
The horizontal splitter is the most common one, and it requires lifting into position. However, it is not always as powerful as a vertical one but has a range of designs.
A gas engine with a 2-stage hydraulic pump and a hydraulic cylinder with a minimum 3.5-gallon hydraulic oil tank would do wonders. It is sufficient for an average size log of your backyard.
Log splitter mainly works with the powerful hydraulic system, which creates a pressurized force to cut the log in various sizes. It uses a power source, whether manual, gas, or electric, to make it work. The system's oil pump creates the pressure that moves the piston located in the cylinder to apply force.
These components depend on the features of each other. A larger log splitter cylinder would create more force, but to support that cylinder And the size of the oil tanker must be according to that so that you do not need to fill it now and then.
The cylinder is one of the most critical components of the splitter; the cylinder's size is directly related to the log you can split.
What Is A Hydraulic Log Splitter Cylinder?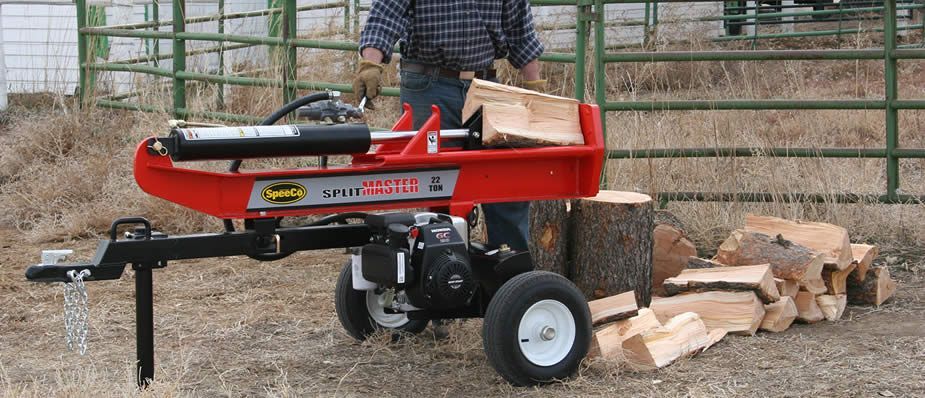 The cylinder is the "actuator" of the system. It is a mechanical part of the machine that converts hydraulic pressure into force to split the wood and speed to make it efficient. A log splitter cylinder provides a unidirectional force through a powerful stroke. This powerful stroke depends upon the cylinder's size; the larger one creates more force but gets slower.
The force it creates is supplied by pressurized hydraulic fluid. A piston inside the cylinder is connected to a piston rod that extends out of the cylinder itself. And the piston divides the cylinder into two chambers horizontally: the top one and the bottom one. 
The log splitter cylinder extends to apply the cutting force and retract to reset, and its functioning is due to the pressurized difference between these two chambers. 
All these parts are completely sealed to avoid fluid leaks, keep their pressure intact, and avoid contaminating the inner working parts with outside dust or dirt.
The Ideal Log Splitter Cylinder Size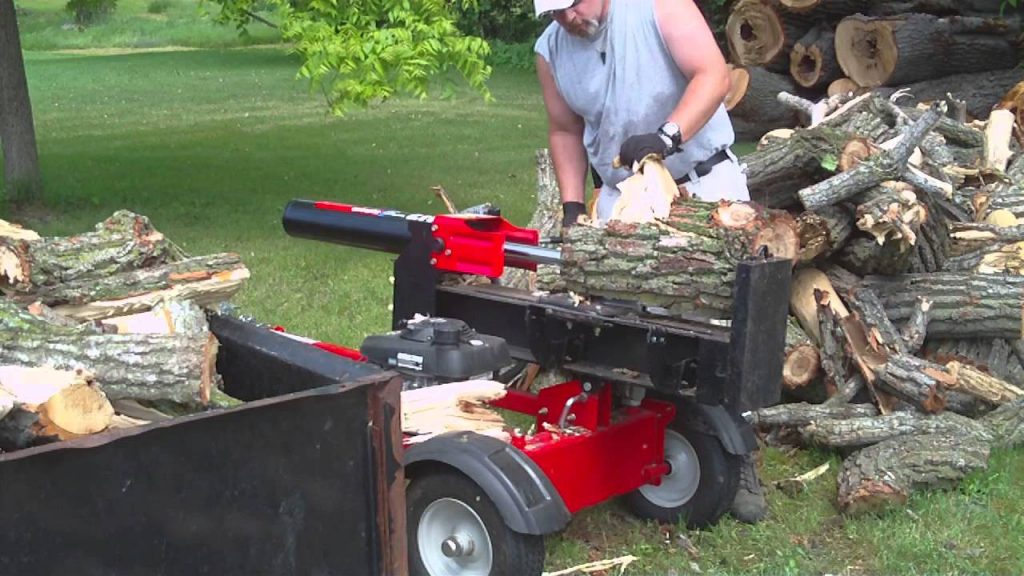 The length of the cylinder depends upon the extension of the piston's arm. Although the cylinder comes in various sizes to fulfill your requirement, the most common one is a 24-inch option because it accommodates smaller and more massive cuts. A 24-inch cylinder with 2500 PSI from the pump can exert over 31,000 lbs of push force.
Your cylinder diameter could also vary, but you need to remember that the larger the diameter, the more considerable the amount of fluid required to pressurize the chamber.
Larger pumps and more powerful engines are required for more giant log splitter cylinders IF you want a reasonable reset time. It will take more power to move more significant amounts of fluid through the system promptly. You can use a larger cylinder with smaller pumps and engines, but you will have a slower preset time.
So, if the need arises for residential purposes, you could ideally use a 24-inch log splitter cylinder with a 4-4.5-inch diameter. It would apply a fair amount of force with decent reset time to not consume much of your energy and time. It would work well with a 2-stage hydraulic pump and five horsepower engines for your backyard woodpiles.
If you are looking for commercial purposes and more massive logs, a strong pump and larger cylinder are needed.
Best Hydraulic Log Splitter Cylinders Available on Amazon:
WEN WT2524 Cross Tube Hydraulic Cylinder
WEN presents a double-acting steel welded design, which would help in creating pressure up to 3000 PSI.  It creates a strong force that will easily cut even the denser log with ease.
A 2.5-inch bore features it with a 24-inch stroke, and the diameter of the cylinder is 1.5 inches.
This is designed with an SAE-8 port to connect with your hydraulic hose easily. A 32-inch cylinder that would extend up to 56 inches would ease out your problem of cutting even your more extended log as well.
CWA Hydraulics TR Tie Rod Hydraulic Cylinder
It is one of the best log splitter cylinders available on Amazon. It weighs 18 pounds and creates a pressure of 2500 per inch square. 
With its 2.5-inch bore and 4-inch stroke, it is ideal for everyday use on various log piles. It also provides SAE-8port for more effortless connectivity. 
All the options aside, you must choose what works well with your pump and engine strength.
Different Types of Log Splitters
Besides the components we explained above, there are various types of log splitters available in the market. This would also clear your mind about the cylinder you want to choose. 
The type depends on how the splitter is getting powered up and what it is capable of. Log size, wood type, or age should be considered because it requires various pressure levels to split it.
Electric Splitter
The electric splitter is useful for residential purposes because of its lightweight, smaller size, and easy portability. The convenient part of this tool is that it runs on 110/112-volt outlets. 
You can use it indoors with no problem of fumes whatsoever for an average size log. It can quickly go with a small-sized cylinder.
Gas Splitter
It is designed for lighter as well as denser logs with its availability in various sizes. This makes it ideal for both residential and commercial purposes. 
These splitters are powered by a 4-stroke gas engine that builds pressure within a hydraulic oil pump. Most gas splits can cut the log horizontally and vertically, depending upon how you fix it. 
The cylinder would be according to the purpose of work as a commercial work would need larger cylinders, say more than 32 inches, and vice-versa for residential purposes.
Manual Hydraulic Splitter
As mentioned in its name, it requires a workforce to build the pressure in a hydraulic engine. It is quite efficient and comes in vertically as well as horizontally usable form. A handle or foot paddle is required to create the pressure.
It is lightweight, takes lesser time intervals, and is easy to transport; this splitter works well for small to medium-sized logs for your firewood stockpiling.
Three-Point Splitter and Skid Steer Splitter
If you want to hook the splitter in your tractor or bobcat for massive loads of logs of various sizes, you could opt-out for this splitter. It is a large and mighty machine with a more potent engine and giant cylinder, ideal for commercial purposes.
Kinetic splitter
This splitter does not use hydraulic force; it stores energy by spinning flywheels. It could be powered by either gas or electricity and takes very little time. The kinetic splitter can handle smaller, as well as more massive logs.
Conclusion
A log splitter would ease your life; with less effort, you could pile up the firewood for various use. But you must take full precautionary measures before you start the work– gloves, goggles, and earmuffs are a must. 
As we read about various types of splitters, the required log splitter cylinder also varies with the type of splitter you want to buy, the kind of backyard log piles you have, and the purpose you have in your mind. 
A log splitter cylinder must be chosen wisely considering the above points because the wrong one could take a lot of time, effort, and money.