When you think about getting a new home or having some space outside your home, then having a small garden over there is a perfect choice. To make your garden look attractive and amazing, you can also use terrariums it.
As it will enhance the beauty of your home garden to the level you cannot even imagine. You can also create a small water garden or combine it with a terrarium garden as well. No policy can stop you from imagining things and going your own way.
A terrarium is a small ecosystem for your garden, and it gives an amazing look to it; and it can be a mixture of any combination of sand, gravel, mosses, and decorative beads that can be used as a base.
You can also put all this in a small glass container and use it as a decorative subject for your living room where you can attract the interest of your guests. If you have decided to do so, you need to be creative so that it will look real, and people will be attracted to it as it should be appealing.
To have better ideas about it, we have 12 DIY Terrarium ideas which you can check and have a look at to make something like that. Please read the complete article till the end to get the best from it. Let us start.
Before starting, let us know about the basics we need for this task to make Terrarium creative and attractive.
Sources and Steps to Start with:
First, you need to get an open glass container. After this, you need to cover the bottom of it with small pebbles and small stones to make it look like it has some drainage system for plant roots.
In the next step, you need to make sure that you add a thin layer of active charcoal as it is essential to keep the water fresh and free from all kinds of mold and bacteria. Some people miss this step, which will lead to a big disaster and this way they end up in a bad experience with this. Now is the time to add a layer of potting, and this will help in the case of cacti as it will serve as special mixing. It will be beneficial if you choose cacti instead of moss and ferns.
Now it is the final step where you need to put in the terrarium, starting first with the largest plant. You can also add a mini pond or lake as well as a mini waterfall to your terrarium to give it a cool look. Except this, you can create your own small garden for it to attract every eye around.
Best DIY Terrarium Ideas
1. Shot Glass Terrarium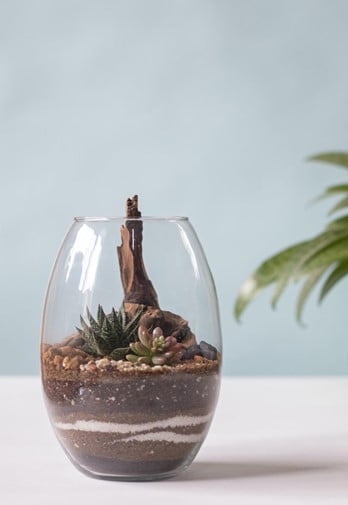 It looks so beautiful, and here is the material and technique to make it for you. You need to put sand in the shot glass of your choice. Now, make the sand wet with water spray and make a hole for the soil as well. In that hole, put in your plant and fill the additional space with small pebbles mixed with glue already. This will give hardness to your terrarium. Now, add some water to tighten the things you put in the glass and wipe out excess soil or anything to make it a clean view.
2. Feng Shui Terrarium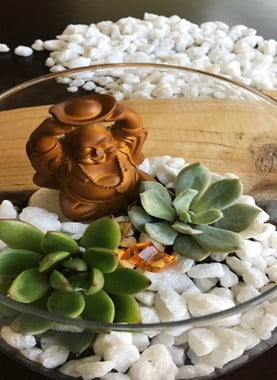 It is also a very creative type of terrarium, and to make it, you need a few items to give it an amazing look. It has a name like this as it is Chinese Geomancy. You can make them if you have beams at home, and you can place your small plants in them with the addition of some small stones to make them attractive. You can also shift them from one place to another at your home as they are portable.
3. Tiny Corked Apothecary Bottle Terrarium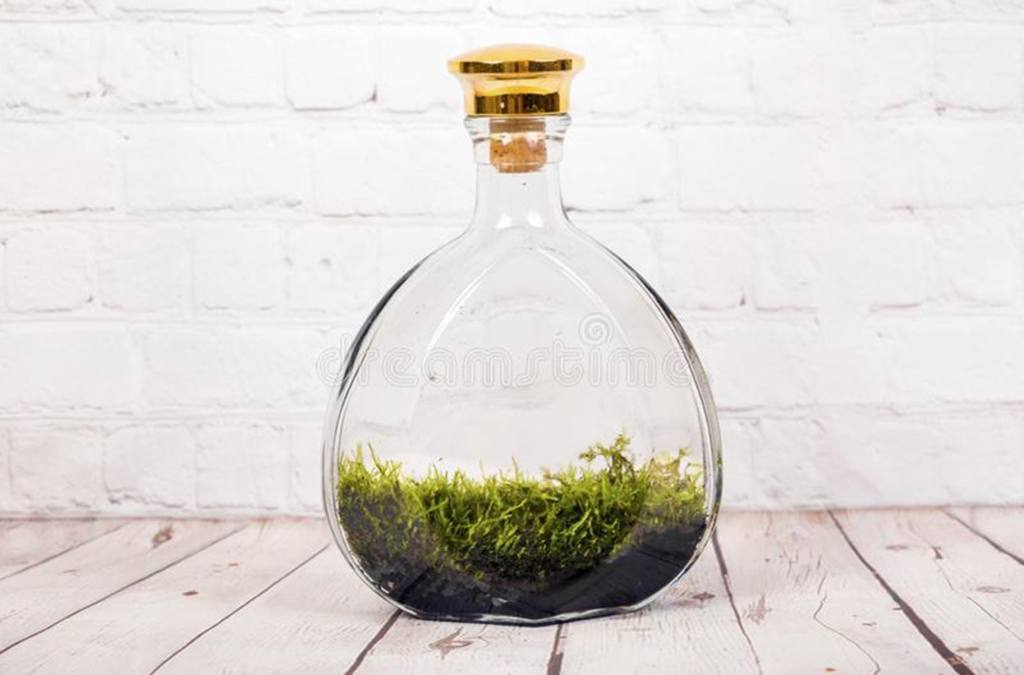 This can be made by having a small or a moderate size bottle with cork and in which you can put some sand, soil mixed with small stones in the center of which you put small plant root. It will give an interesting look to your center table when you place it in your living room or on your dining table.
4. Mini Bell Jar Terrarium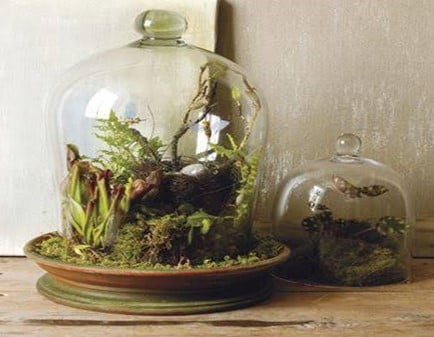 This is also an interesting option to have your terrarium in a mini bell jar. You can get a bell jar made up of glass but with some ventilation. You can put in the soil and sand mixture with pebbles to show a drainage system for your root plant that you will put in the middle. You can put it on the dining table as well to attract every eye.
5. Beach Lighthouse Glass Globe Terrarium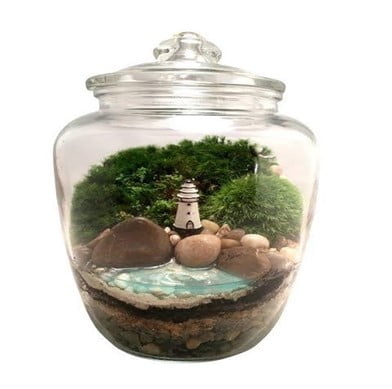 For this, you need a glass vessel or a glass globe-shaped bottle, which will give you a clear vision of the inside. Now again, you put your plant in it, and around that, fill the glass globe-shaped vessel with small stones and sand material. Now spray some water to give it a real look. You also use small LED lights in this case and connect them to a small battery. It will glow at night, and sand with pebbles will give a beach-type view. It will be very creative and interesting.
6. Small Light Bulbs Terrarium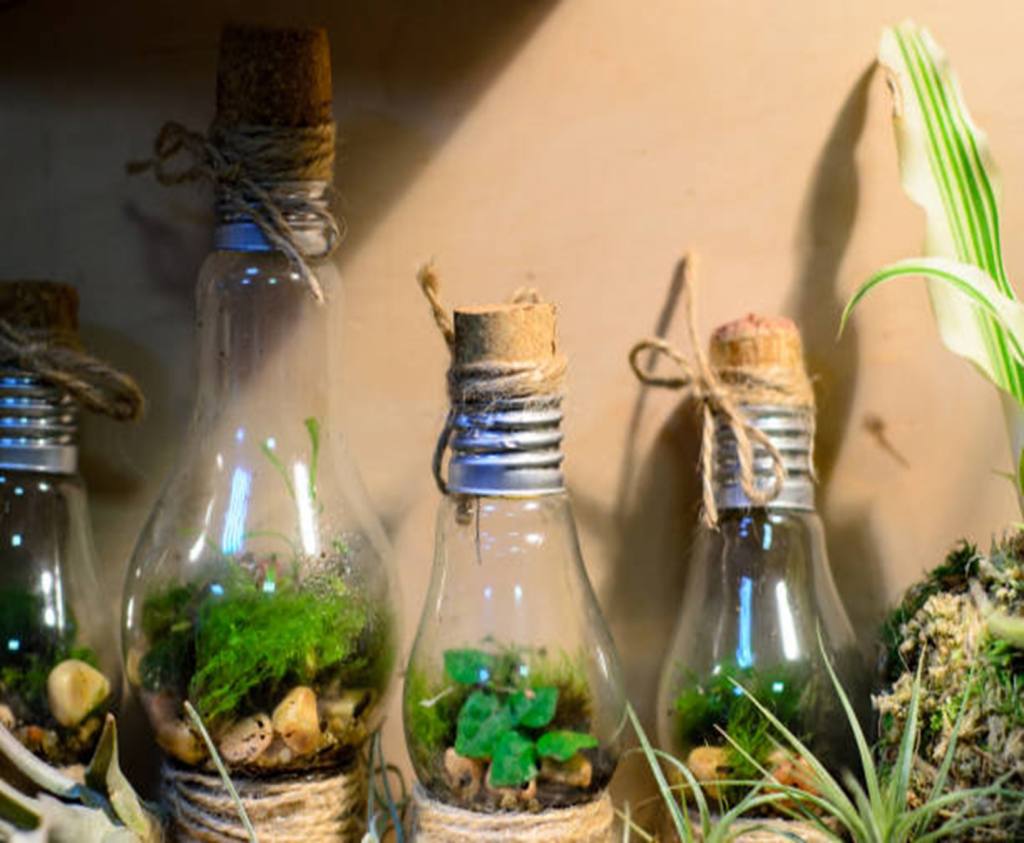 In this case, you need small bulbs, which may be fused as well, and this way, they will be used in a good way. You can put some stones, sand, and soil as well in it. You can cover that, and now this will give a fabulous look to your terrarium.
7. Cactus Terrarium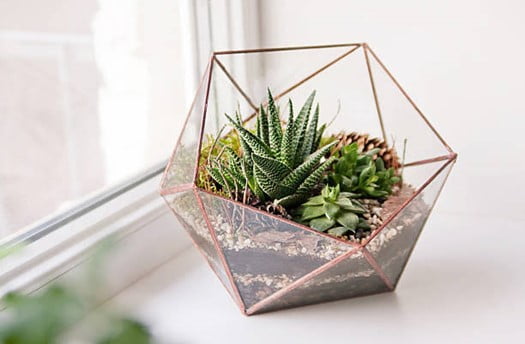 They are gorgeous; however, they will not live long as other terrariums; however, many people love to create them in their homes. This may be created in a mirror glass or a container. Put in the cactus with small stones and soil material. Spray some water and enjoy the beauty.
8. Light Bulb Terrarium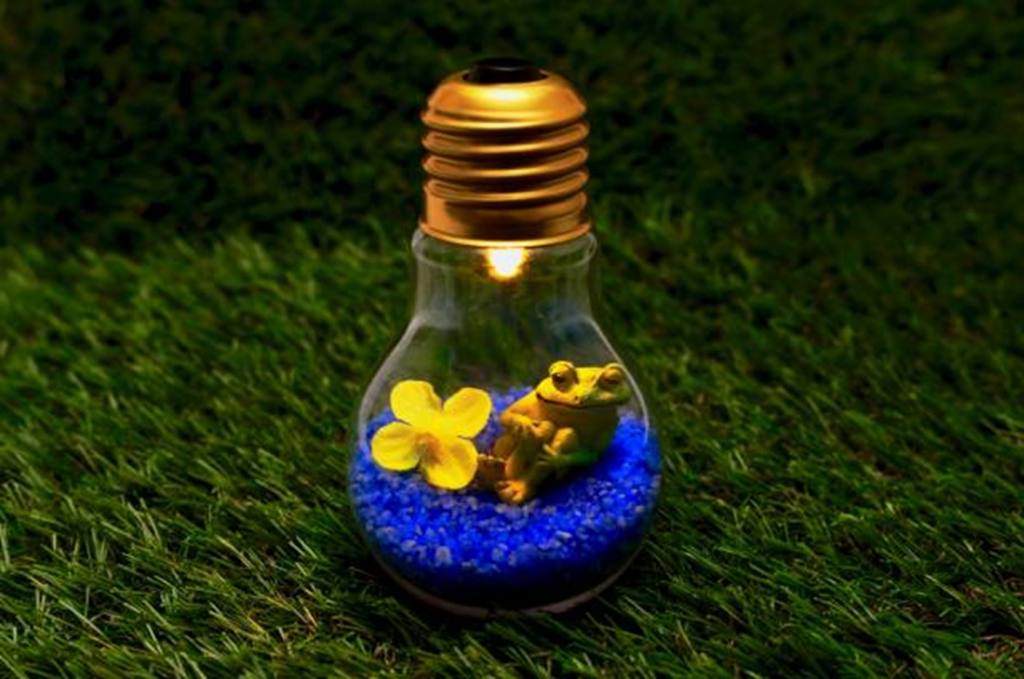 For this, you can put some sand into the light bulb and put some preserved moss as well in it. Now arrange your plant in it in the middle. Now put in some rocks and pebbles to give an interesting look to your light bulb terrarium.
9. Bell Cloche Terrarium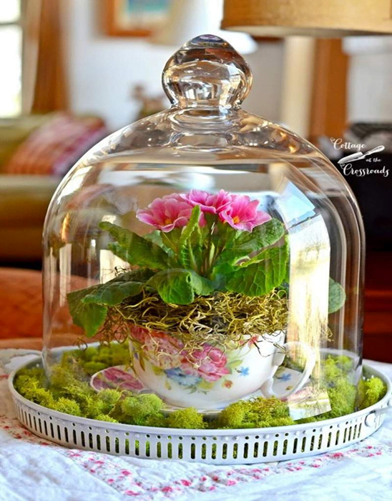 You can also make your bell cloche at home, and you need a glass cutter for it. You can heat and cold the glass alternatively to find the scour point. Now you can put moss, sand, and rocks along with your plant in the bell cloche structure. You can also use glitters and small, crushed glass to make it creative and attractive.
10. Thimble Terrariums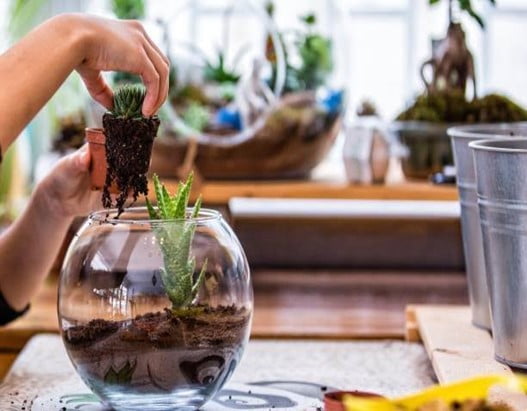 It can be made with a small glass made up of steep or small pot as well. You can color it from the outside to make it attractive. Now put in your plant and around that sand and soil mixture. Spray some water and put in some rocks to give it a classy look, and it will look real with a splendid small structure.
11. Succulent Sea-Themed Terrarium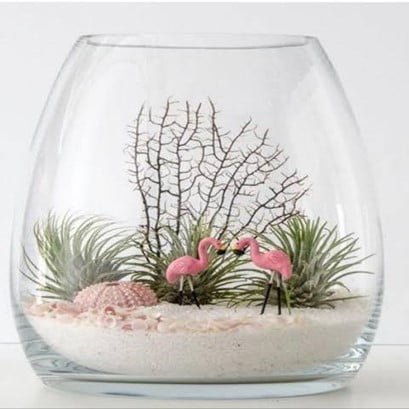 This can be created with a small glass pot open from one side. Now put in your small plant, sand, soil, and small rocks as well. You should also put some preserved moss. Now, put in small items or creatures made up of plastic or rubber, which can give this terrarium a look at the beach.
12. Egg Shell Terrarium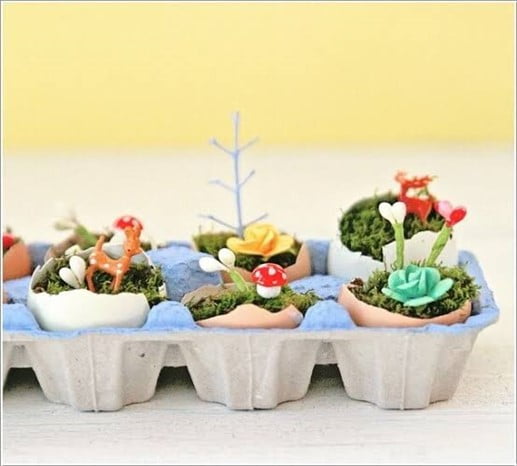 This is elementary and adorable. You need a shell of the egg and make it hard by applying some gum material outside it so that it can hold a plant, pebbles, and sand as well. This is your small Egg Shell terrarium which will look superb if you put it in your balcony or living room as well.
So, here are the 12 different and excellent ideas to give your homes an entirely new look with these small terrariums. Try your creativity in them and make them more attractive.
Yippee!