If your house is small, but you are a fan of pools, you can create a small pool which not only will fit in your backyard but will be great fun too.
Those who want a small size pool but have no idea how to manage the space and everything, then do not worry. We have got you covered.
We will tell you a list of small pool ideas which you can take up as a whole or have some creativity added.
Having a pool in your home is a great addition. Not only does it enhance your property, but it is a fun activity time for yourself and your kids.
There are plenty of designs that are unique and suited to your style.
You can take the basic idea of a small pool from here and have it made in your specific conditions, representing you.
Here are some small pool ideas for you:
Backyard Small Pool Ideas
1. Walk on Water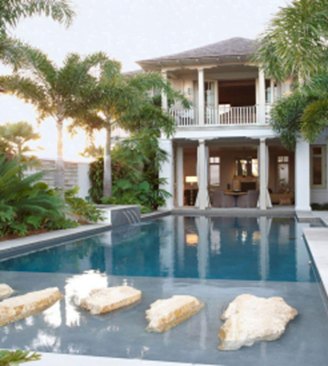 Want some pool patio ideas but must make it look magnificent? You can do it two ways, either by making the pool's entry right through your living room, which makes it look oh so beautiful, or adding some coral stones in your pool and walking on it as if you are walking on water.
2. On the Side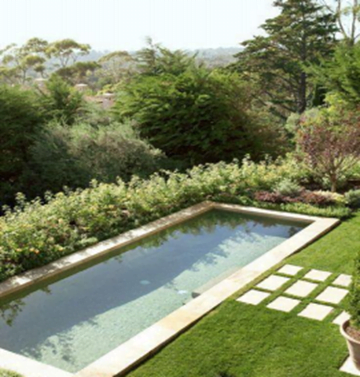 Having a small edge pool is always better than having a big pool. There are plenty of reasons why, for example, it is on edge, which means you will gaze at beautiful views all day long, having a small pool like this gives you privacy, and you can have a relaxing day while looking at your plants.
3. Ready for The Competition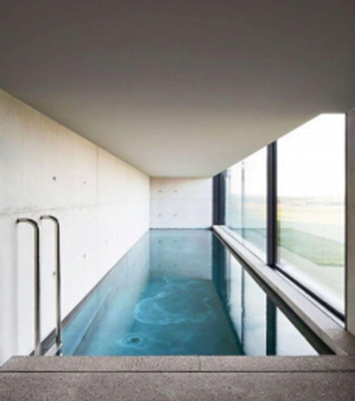 If your definition of having a pool is solely for exercising and getting yourself ready for a competition, then this indoor rectangle pol is the best for you. Having it indoors will help you focus on your game and will not let any noise bother you. The rectangular shape is perfect for you to practice your moves.
4. Additional Features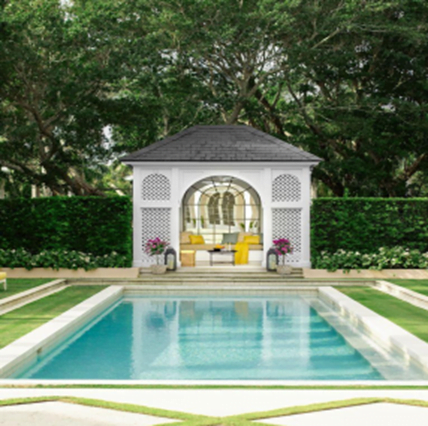 Having just a small pool in your background might dull the surroundings; adding an extra feature like that of a gazebo makes it look a bit royal. What is more gorgeous are the yellow-colored armchairs and sofas, which liven up the whole scene. You can switch to darker colors during winters having the same feel.
5. It is All About the Designs
If you have a small area in your house does not mean that you cannot change it into something delicious. Just like this small pool with green tiles makes your house look unique accompanied by your plants, and the floored cushions give it a lounging feel too. It is all about what designs you pick up for your pool.
6. Show Off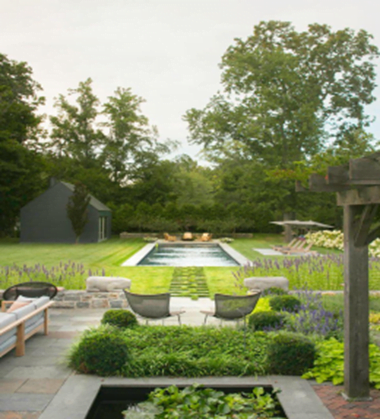 Sometimes you also must focus on the passage leading to your pool, especially if it is outside. A beautiful pathway has been made in this picture, which focuses anyone's attention directly onto the pool. Accompanying the passage with different flowers, succulents, etc., will make it look even more beautiful.
7. Who's Ready for A Spa?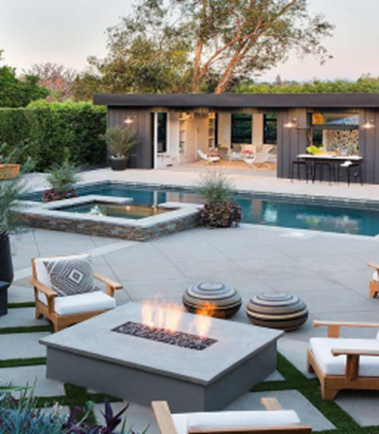 Anyone would love to have a relaxing spa after enjoying dipping in the pool. Having a spa right next to your pool makes your evenings last longer and gives you a little bit of 'me time' before your kids come out of the pool. It is also a great additional feature and matches the whole setup.
8. The Indoor Beauty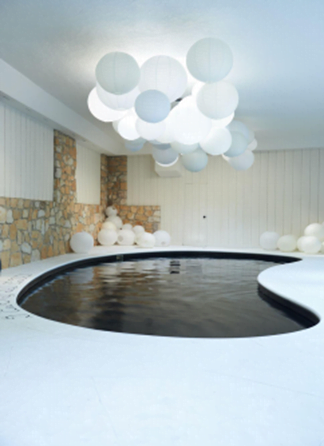 One can look at this fabulous indoor pool with excellent color combinations on the wall, the ceiling, and outside the pool, stone textures, white lanterns, etc. It can also be enhanced with the help of some hot tub deck ideas. Painting the inside of the pool black gives an overall look a complete finish. Anyone would be lucky to have a dip in this pool.
9. Different Shapes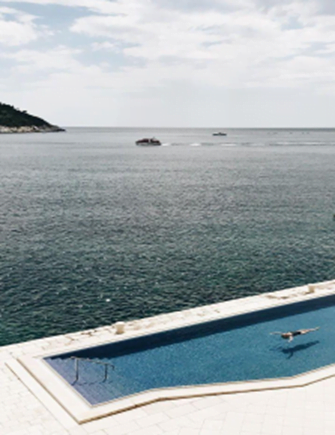 Any shape is perfect if it is something you prefer. Just like this angular shape here, not only does it look perfect, but it also has a fantastic view of the ocean and is an excellent tool for your exercises and getting ready for the big game. One can relax, enjoy, and practice in this pool.
10. Natural World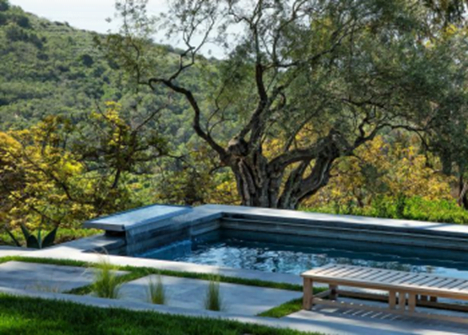 If you have a place that is directly connected to nature, then this idea for a small pool is perfect for you. Having it directly situated near the big trees will make the view extraordinary, the water feature in the picture makes it look like a tiny waterfall, and of course, a bench and little plants can never go wrong with this.
11. Include It in Your Property
Sometimes, you see an ample space in your backyard or your deck, and haven't you always wondered what you could do with that space? Well, here is your answer, creating this edgy pool along with lounging gives you a friendly, relaxed, and calm evening with your loved ones. Pairing it with your house and big trees is always a bonus.
12. Lap Pools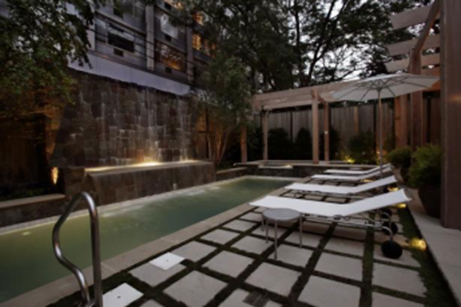 You were ever considered why this is called a lap pool? The answer is obvious. It is made for your laps and is the perfect addition for narrowed backyards. It gives you ample space to put in your chaises, create small dining, and have a pool. You can include a water feature and lights in the pool to make it look more fascinating.
13. Be Creative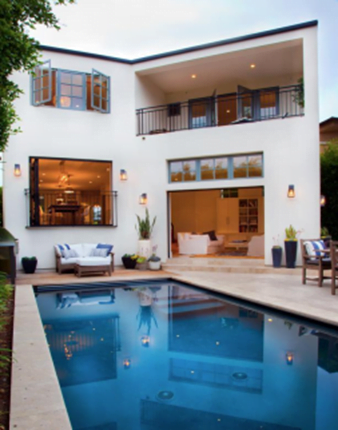 Your house is made first, and then you add the details to it. If you are already planning to have a small pool in your home, then you can find out the perfect angle to place it. However, if you are not, then also it does not matter. Like in this picture, the house is made at a certain angle, but the pool is not. However, it does not seem that the pool is left out of your home.
14. Use the Wall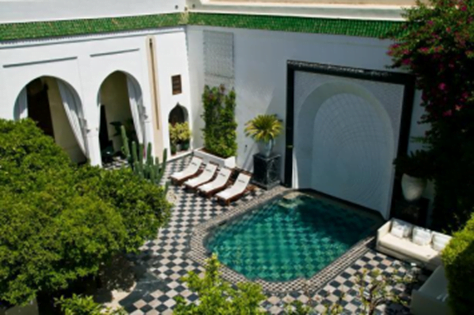 If you already have a patio in your house, you can use the decorative wall to create your pool. This is a never seen unique style of having a small pool, and it looks perfect too. The wall can be generous support, and you can relax while getting tanned.
Conclusion
Having a small, medium-sized, or large pool gives your house an excellent feature. Not only it makes up for a relaxing evening, but it is also an excellent spot for hosting all sorts of parties, get-togethers, and any other stuff.
You do not need to have a large pool if your house is small. You can still add a small pool and enjoy all its benefits, just like a regular pool.
Check out this post to see the endless beautiful designs which can be a base to your pool. With additional features and extraordinary views, you are sure to set a competition for others.