Want to have some fun and celebrate the season without going out? What's better than to do that in your house, in your comfort? You have your backyard that is waiting for you to organize some fun activities and if your house have your own enclosed patio then things become more and more interesting.
You need to be creative and make use of some fantastic ideas to celebrate all these things. Your backyard might prove to be a perfect place to execute these ideas.
Utilizing outdoor spaces for these purposes is an excellent idea that you can use to relax for a while and enjoy your time with your friends while saving money at the same time.
But if you are out of ideas and are looking for some fantastic ideas, you have landed in a perfect place.
We have compiled 20 best Backyard entertainment ideas which you can use for yourself. Try some of these to make the best out of your backyard and enjoy the season at your comfort.
You will find how you can create a cute, cozy, and relaxing environment to entertain yourself and your guests with simple additions and little effort. Let us have a look at these ideas.
Setting Up the Backyard
1. Throw Down A Rug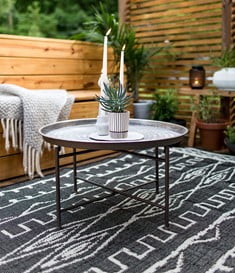 Adding outdoor carpets are simple ways to make your space warm and cozy. Throwdown a rug under the table or set it up with some cushions to make the place more comforting. Choose the color of the rug according to the vibe you want in your backyard.
Solid neutral colors seamlessly integrate with your existing décor and are perfect to put under the table with some dracaena varieties on top of it. However, you can always go for other options like outdoor pattern rugs, which are great to elevate any entertainment space.
2. Light A Fire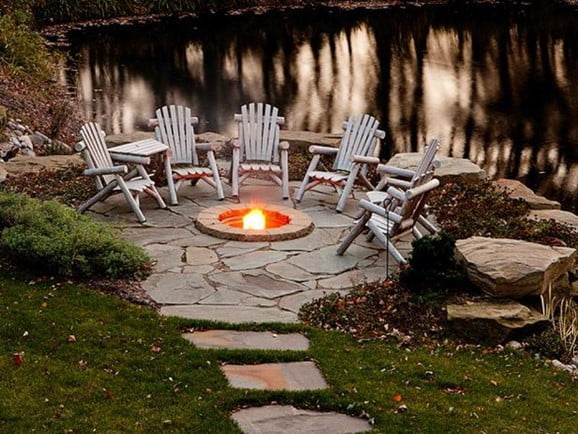 Create a classic backyard with some traditional wood-burning fire pit and surround the place with chairs. A crackling fire warms up your backyard and gives it an aesthetic touch. These are best if you live in a cold place.
If you do not want to smoke, you can use a gas pit. You can use tiki torches or other modern fire heaters for entertainment backyard ambiance in a small outdoor space.
3. Tune in to Some Music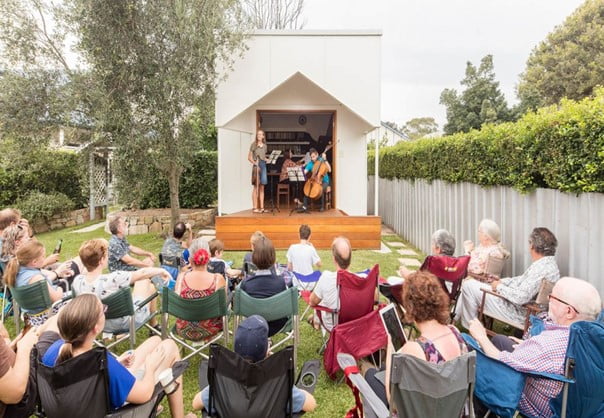 Up your game by breaking the awkward silence by tuning in some cool music. It also helps you ignore the other outdoor noises of barking dogs or loud horns of vehicles.
Create a fun playlist beforehand so that you do not waste any time in picking music. Also, respect your neighbors and keep the volume low to avoid any unnecessary trouble.
4. Set Up Drinks
Set up drinks and snacks for your guests and make them easily accessible. Be it water or non-water drinks, and no one likes to ask for it, so make sure that they can access it with ease.
Look for creative storage ideas to store the drinks like on a shelf, bathtub, wheelbarrows, cabinets, and more. Find more cool options from Pinterest to make these moments unforgettable.
5. Seating for Everyone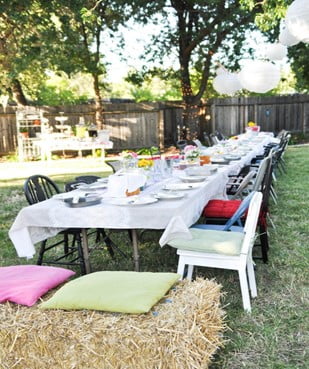 If you organize dinner parties with family or friends, an aesthetic and comfortable seating will be an utmost requirement. String together a few tables and make it a long one to adjust everyone. Grab a tablecloth and arrange chairs around it.
Gather everyone around this new table and continue with the good times. Decorate the place with lamps and flowers to make it look more beautiful.
Installing Swings or Hammocks
1. Swing Bed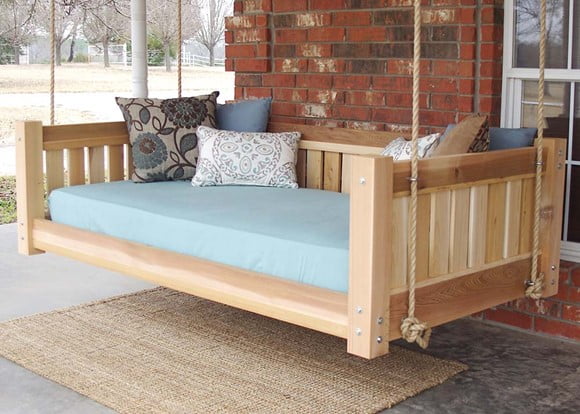 Want to relax and enjoy the scenic beauty?  What's better than laying on a swing bed, sipping some coffee or ice tea, and relaxing in the sun? If you have a backyard facing the pool or some water body, or only some trees, this could be an ideal place to install this swing bed.
2. Sitting Hammock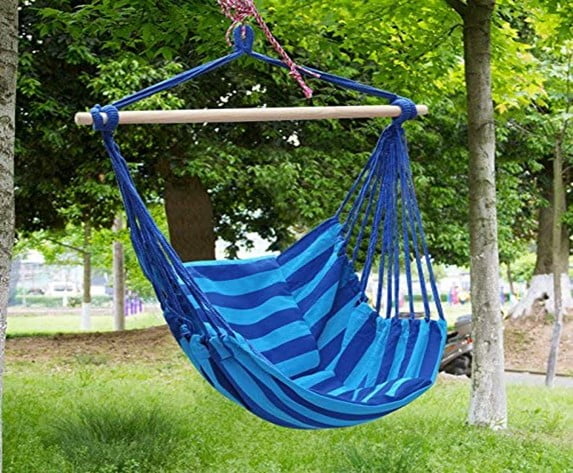 This idea is perfect for a summer outdoor picnic. Hang these from trees or any anchor bolt. These are easy to install, adjustable, and interchangeable. Use these to relax while reading a book or lay down to have an excellent comforting time with yourself. Use it in the day to warm yourself in the sun or at night to enjoy the starry nights.
3. Garden Hammock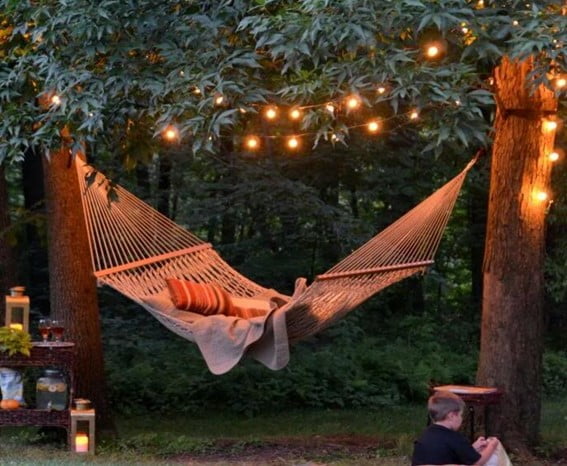 Use two trees or poles and, of course, a hammock to make this garden hammock in no time. It's a perfect place to lie with your favorite book or your favorite drink and enjoy the season. These are great ways to lounge yourself in the sun or shade, wherever you prefer, and enjoy the time all by yourself. You can take these with you for camping or install them in your backyard.
4. Hanging Bed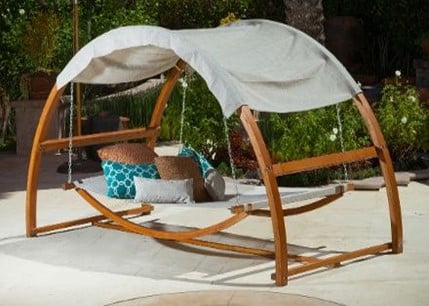 Do you like sleeping under the stars? This idea is just for you. Build your hanging bed and sleep in style! Hanging beds can accommodate at least two people and allows you to share special moments with your loved one. With some lights and a comforter, it becomes a perfect, cozy place to spend the night or enjoy the day reading some magazines. This budget-friendly outdoor hanging bed are trendy and takes little effort to build them.
5. Hanging Swing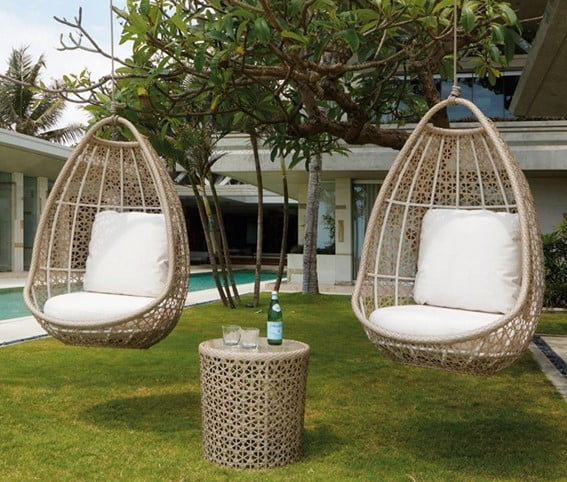 You would love this idea. Hang these caged swings under a thick tree to enjoy evenings sipping tea and watching nature. It is a perfect addition in your porch area or in your backyard, which will enhance the beauty of the place and make it look more modern.
Organize Games- Miniplay ground
1. Playhouse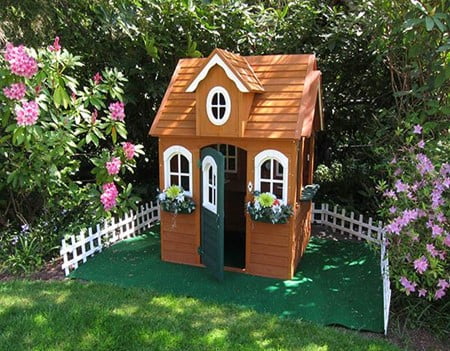 This summer, build this playhouse for your kids. It's ideal for toddlers and young children. Make it more interesting by adding water sprinklers or fun toys. Paint it with eye-catching colors and plant bright flowers to add a natural element to it. It is movable, and your kids will love it.
2. Giant Chess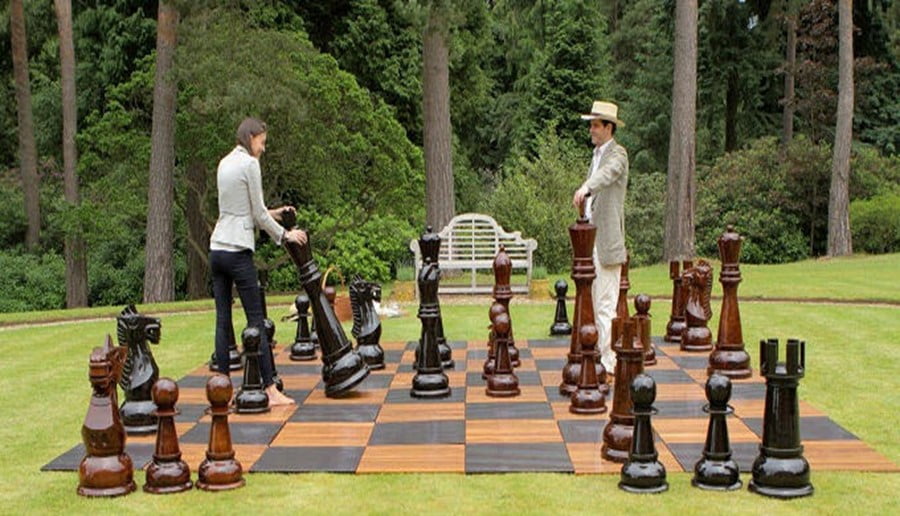 If you have a large space in your backyard, install this huge harry potter inspired chessboard. Move the pieces by holding them with both of your hands. This massive chess board is an excellent idea for outdoor parties or any other entertainment purposes.
3. Outdoor Playset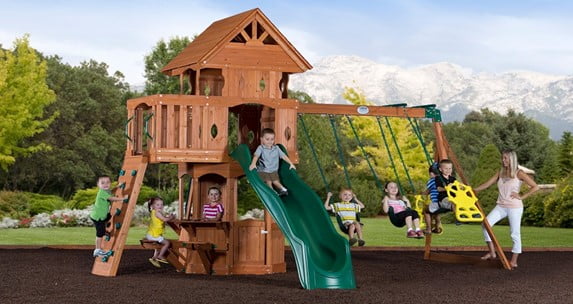 Featuring swings, slides, and a trampoline, this outdoor playset is a perfect way to engage your kids. In this world of advanced technology, where even children are busy with their phones and video games, this will keep your kids entertained in summer while you are at home and inspire your kids to go out and enjoy the sun. So, this summer, install this playset in your backyard and give this fun gift to your kids.
4. Big Bubbles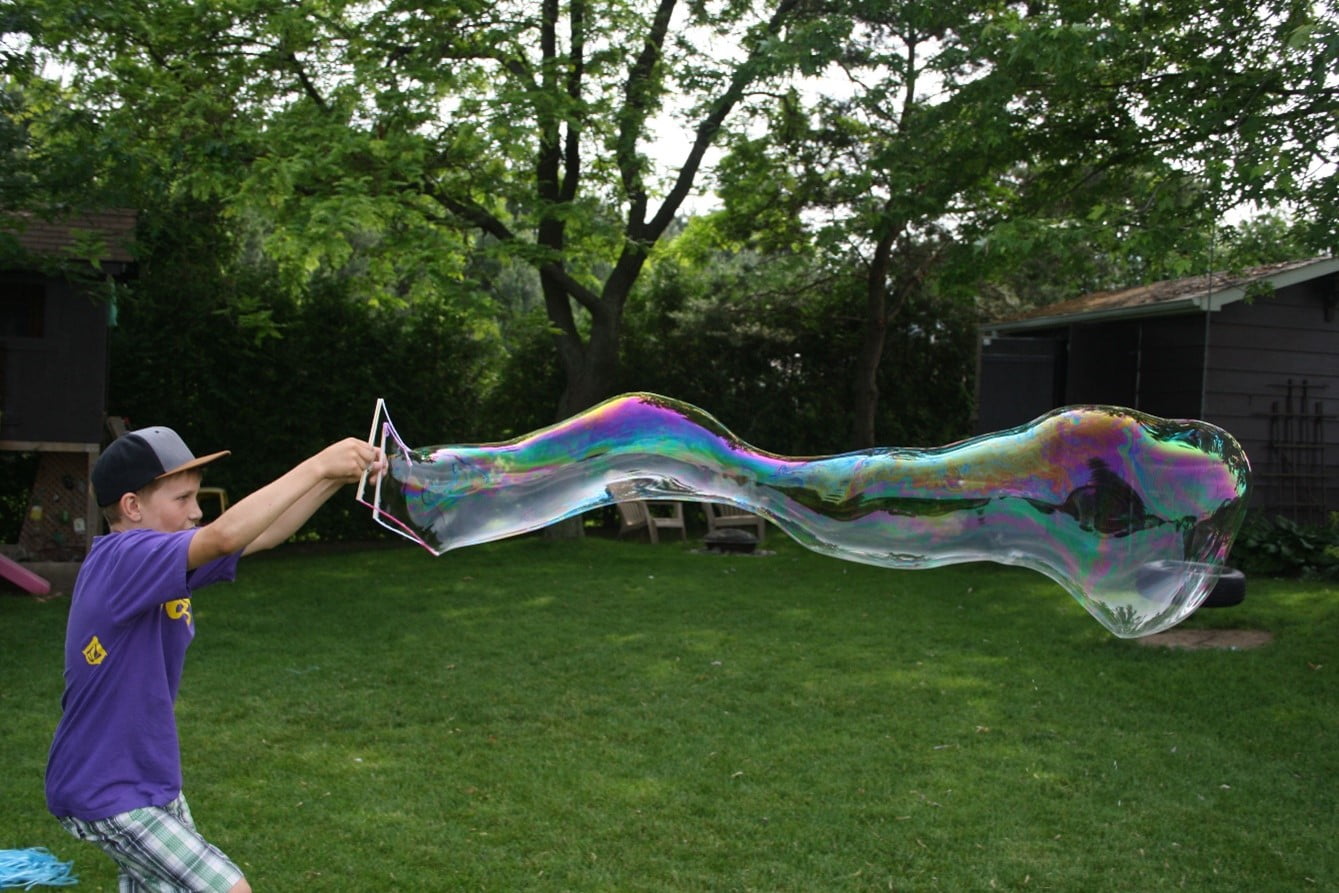 Alert! Cause' you are going get sticky. This idea is perfect for enjoying your family time by playing these giant bubbles with your kids. Ensure that you are wearing your play clothes and enjoying a fun time with your friends and family.
5. Corn Holes
Enjoy playing this lawn game in your backyard. It is a perfect game for anyone, from kids to adults. Everyone enjoys it the same. So, get out of the house and enjoy the yard with this playset.
Movie Night Ideas
1. Cinebox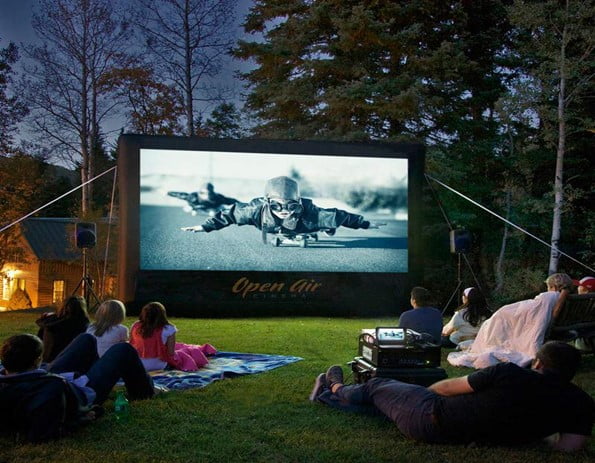 This is a perfect idea to host small gatherings and watch a movie or sport together. This high standard cinema system completes your outings and lets you enjoy special events together.
2. Portable Screen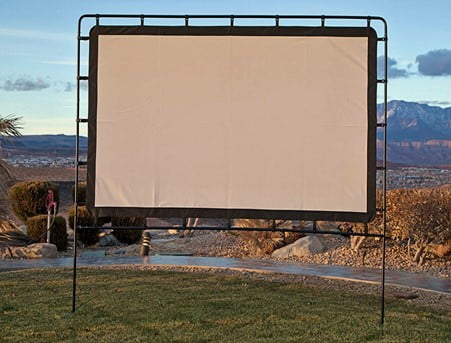 These lightweight, portable screens are perfect to use if you are going camping or want to have a movie night in your backyard. The fascinating fact about them is that they can be carried anywhere, without using much effort.
3. Outdoor Theater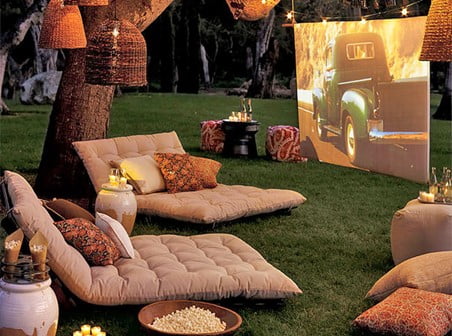 Set up an outdoor theater by transforming your backyard into an outdoor cinema. Set up seating and some eatables and drinks for a perfect night. Use white sheets as a screen, throw some pillows and blankets to make the space more comfortable, and enjoy a fun night with your family.
4. Screen with Speakers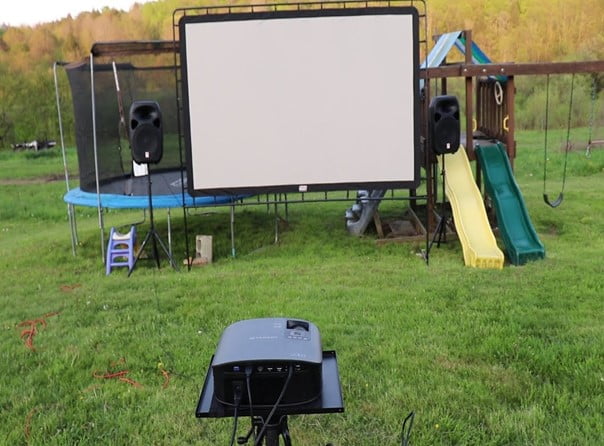 This perfect package comes with a folding screen and speakers. It can move quickly, and the speakers provide high-quality audio, which makes it feel no less than a theater.
5. Inflatable Movie Screen
Finding it difficult to set up a movie screen? Buy this inflatable, ready to use movie screen. Invite your friends or the entire block to watch a movie together. This is perfect for special occasions and lets you enjoy the night with your loved ones.
Conclusion
As we have reached the end of this article, you have must have by now decided which amongst all these ideas was your favorite, that you would like to try this weekend.
It is not essential that we need to celebrate every little thing and make your home your party place where you can enjoy yourself at maximum comfort.
You now have several ideas in which you can transform your outdoor space. So, which amongst all these was your favorite backyard entertainment idea that you would like to try?
Whichever idea you decide to try, make sure you enjoy the time and make that moment memorable.