With the changing seasons, we try to change the vibe of our house with little decorations. If you have a large space in your backyard or add little pieces in your room to give it a different yet aesthetic, adding a tire planter would be a great idea. You do not have to buy new tires for this use when you threw away the last time you changed your tires.
Tire planter is, Planters made using tires to grow plants. Old tires can be used as convenient planters as they are sturdy and are deep enough to allow plants to root. This method is economical and environmentally friendly as you reuse those tires that take years to decompose naturally. This way, you can save the planet and be a responsible human.
Here we are providing the 12 Best tire planter ideas which you can use to decorate your place:
Tire Garden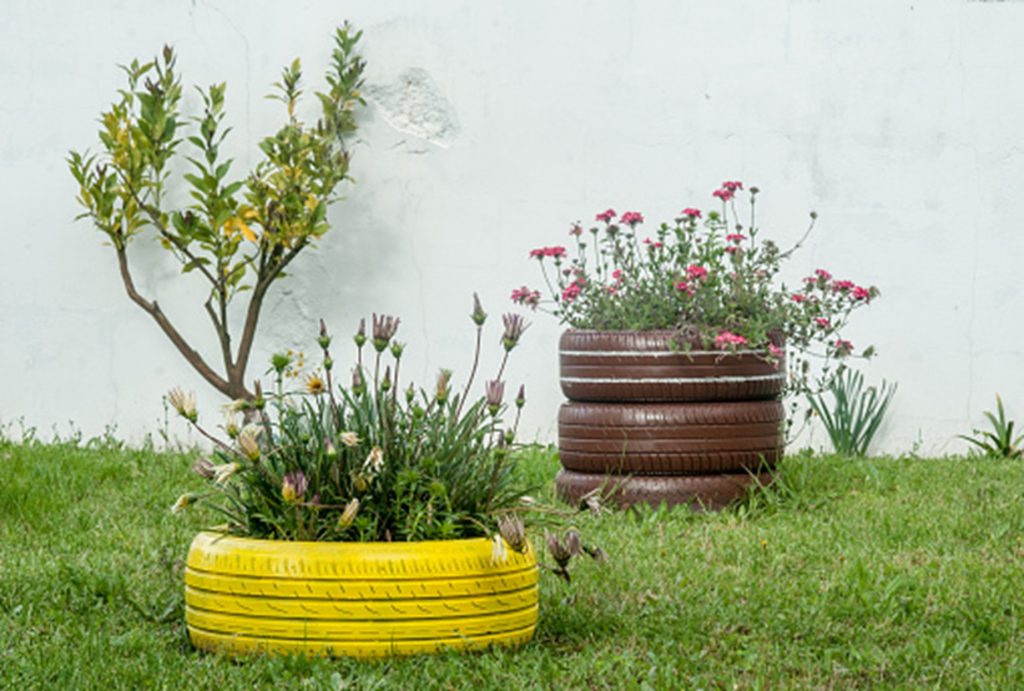 Using worn-out tires to make a garden is one of the best ways to recycle tires and save the planet. These small garden beds look beautiful and require less watering. Also, the tires' black color absorbs heat from the sun to facilitate the growth of the plants. Just align the tire bottoms with cardboard, plywood, or any plastic liner, and pour in the soil and the seedlings, and watch your beautiful plants grow.
Imagine how amazing it would feel to have such a garden in your backyard. You can grow different vegetables like tomatoes, cucumbers, or whichever plant you wish to grow in these beautiful pots and use these organic vegetables for cooking food. Also, you can relocate it wherever you wish.
Hanging Tire Plants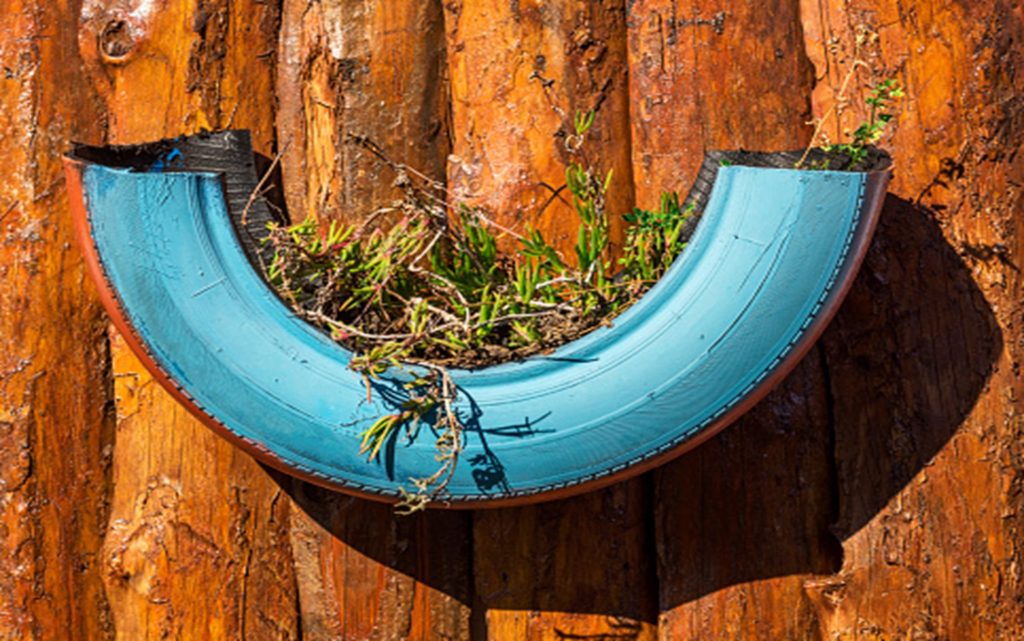 Do we not love this idea already! Why spend money on buying expensive hanging baskets when you can use old tires to make one. What a beautiful addition it will be to your house. They look fantastic, and you can customize them to meet any design scheme. Use your favorite colors to paint them or be artistic to make beautiful designs on them.
To make these, you can use wide tires or cut them into the desired shape like a semi-circle or crescent, then fill it up with soil and add seedlings. Now, hang them using any rope or jute wires. They look stunning. Hang it in your garden area or any spare walls. This will brighten up your place and help you draw attention to your new décor.
Cute Coffee/ Teacup Tire Planter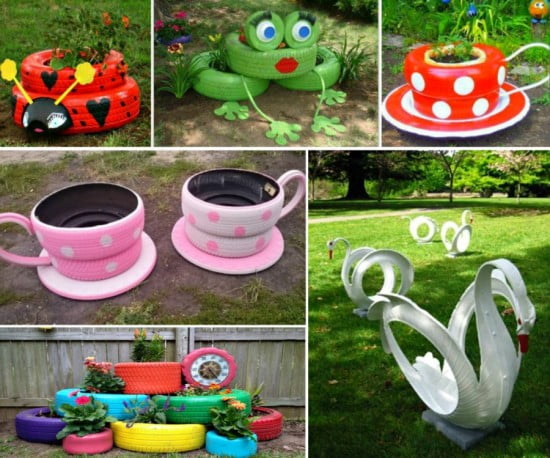 Want to do something unique yet cute? This idea is just for you. All you got to do is use two tires and be of the same size or one bigger than the other. Stack them on over a hard surface, maybe plywood; if they are of different sizes, place the smaller below and attach an extra rubber in a curve on one side. Paint it with your favorite color and add designs or shapes to make it look more beautiful.
You can place it in the center of your garden or literally in any space available to give it a beautiful look. Also, use this to plant herbs or bouquet flowers. Make several of these in different designs to decorate the place.
Pastel Tire Planters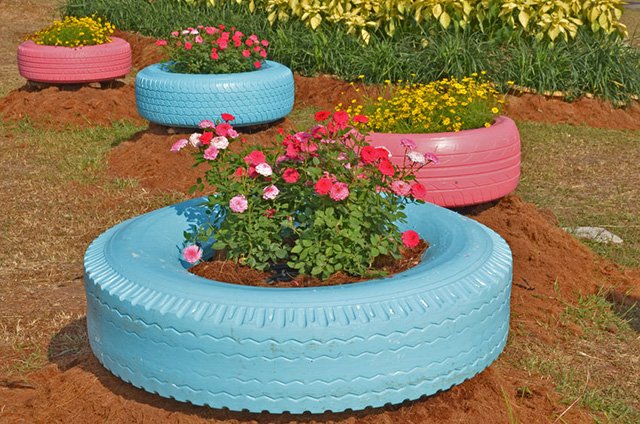 Who is not in love with pastels these days! To make tire planters look more beautiful, try painting them using pastel color palettes. Pastels look amazing and pop against a dark, monotonous background. These planters would look amazing in your gardens against the grass green background. You can also hang them on empty, bare brick walls to add color to the monotonous background and create a stimulating effect.
Be creative, play with colors, use different color combinations, and make your garden look more attractive and yourself, a creative person!
Flower Bed Sculpture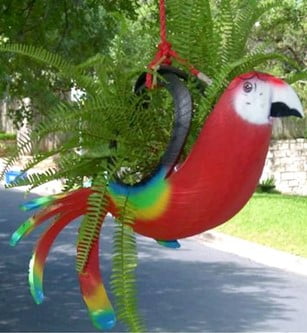 Adding sculptures to the garden is a great way to make your garden look unique and beautiful. And this we can easily do if we have some spare or unused tires. Use tires to make different sculptures like that of a caterpillar by stacking them horizontally or make a frog or a flamingo if you want.
Add eyes and other parts using empty bottles and paint it with your favorite colors. This way, you are recycling not only the tires but other materials like bottles and plastics and giving your garden a fantastic look.
You can make hanging sculptures like parrots, as shown in the image or your favorite cartoon character, and use them in balconies or railings to beautify your house and make it look attractive.
Succulent Fountain Garden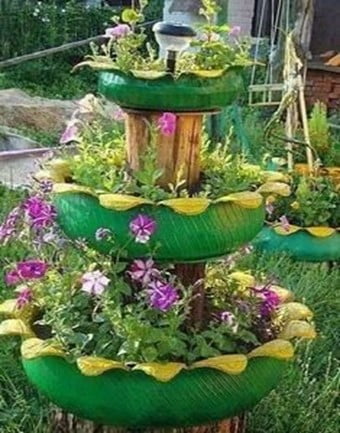 This one feels fancy and would look gorgeous if you have ample space or a garden. Succulents are plants with parts that are thick, fleshy, and engorged. They can grow well in dry climates and soil conditions. Thus, growing them in tires would not be a problem since the tires heat up fast. These tires' succulent fountain looks fantastic. You can add a water sprinkler to the above to provide the plants' required amount of water.
Just stack tires with spacing between them to allow living plants to grow and use a wooden plank or any support to align them vertically. Cut the top edge of tires to create a beautiful, shaped lining. Paint these tires with your favorite colors and plant flowers in them. Install it in the middle of your garden or in front of your house.
Tire as a Pot or a Container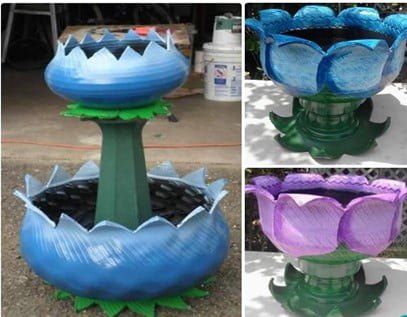 Were you tired of using the same pots again and again in your garden? Try using this idea to make a different pot for your plants. This is a very simple, yet effective way to draw attention. Just cut the top edge of tires and give it a relaxed shape, color it and use it as decor or plant seeds. Use different sized tires to make pots and place them in your garden. Color them with bright colors and use them to grow flowers, plants, or vegetables.
Make a Fun House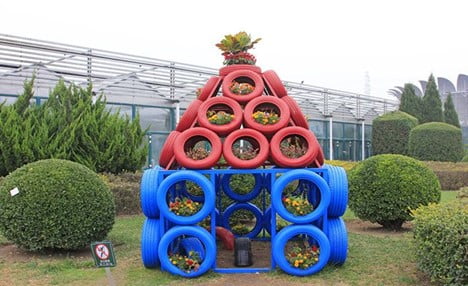 Want to engage your children while you are busy at work. Make a funhouse using tires. Use bright colors to paint it and surprise your children. While it requires a bit more effort, it looks fantastic and is worth it.  Also, it is a beautiful gift to your children, but you can also use it to grow flowers or herbs. This will make your garden look unique and will let people see how creative you are.
Make a Wishing Well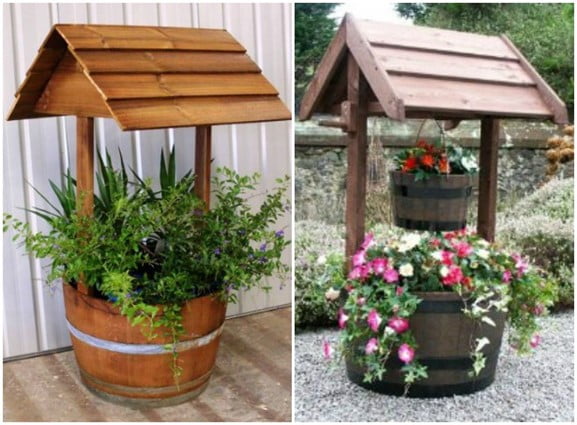 Having a wishing well in your garden, just like in fairy tales, would be so amazing. Well, you can make one use of tires. All you must do is stack some tires, one over the other and paint it. You can make brick print or any artistic design you wish. Plant some flowers or herbs inside to make it more attractive. You can also use other materials to decorate the wall.
Terrace Tires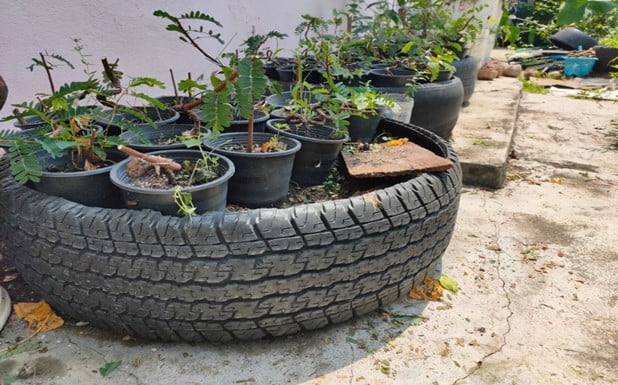 Tires can also be used to enhance the beauty of flowerpots. You can use tires to encircle the previously potted plants by keeping them inside it. Use color combinations to make it look more attractive. It will also protect the plant from insects and animals like rabbits.
Fencing Using Tire Planters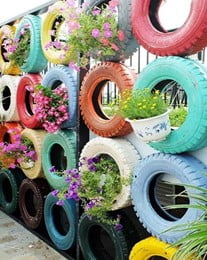 Tire planters can be used for fencing your garden. Stack tires in a pattern or cuts them to give them a shape. Fill the inside of the tire with soil and seedlings. Such tire planters with flowers look beautiful and, in this way, also helps to ensure privacy. And the best thing about this is that it is inexpensive; you can use all the waste items to build this beautiful fence.
Stacked Garden Tire Planters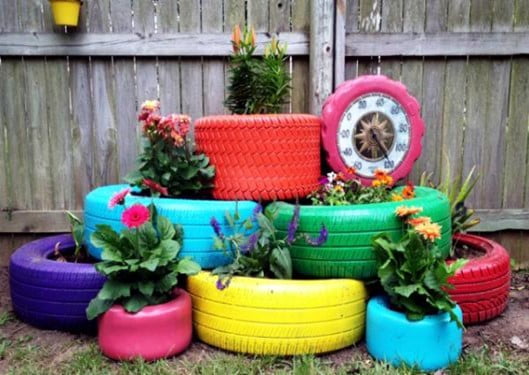 This idea can be used in various ways, and you can be creative with this one. Use a varied number of tires to make different shapes like flower or pyramid, paint them with different colors, and showcase various plants you own.
This looks very elegant and will be a beautiful addition to your garden. Try and come up with different ways you can use this. You can grow different tree specimen inside each tire.
Next time you change your tires, before you throw them away, come back here to check out these fantastic ideas where you can use them as tire planters.
Save the environment and reuse the waste products to save the planet.