When you think of building your own fence for your backyard, the first question that comes to your mind is, would it be worth it to put in a lot of effort, and is it going to be a normal and easy task for you?
You can read this article to check all the information regarding your question that if you will build your own fence, it will be good, or you should hire a professional for this task fencing your property.
Some people decide to build a fence on their own and think that they can save a lot of money that has no room for doubt. However, is it worth it to put in a lot of effort by yourself?
You may have your mind changed when the work may be in progress, and you are all alone doing it by yourself.
If you have hands-on skills, then it would not be a very tough task for yourself. If you know a little carpentry, mathematics then you are good to go as you need to calculate the coverage area and according to that, you need to purchase the material or bricks or wood as per the fence demands.
You may also have an idea of paints as you need to paint the fence after successful installation of it. So, if you have abundant free time and a group of friends willing to help you then, you can start this without any second thought.
Why Do You Need to Have a DIY Fence?
Fence is installed to provide someone a personal space and to maintain the boundary to avoid others from entering. If you build a fence by yourself then you will be able to build it as per your requirement and your interest. As you can use as superior material as you want and design it your way.
Building a Fence by Yourself Vs Professional Installation: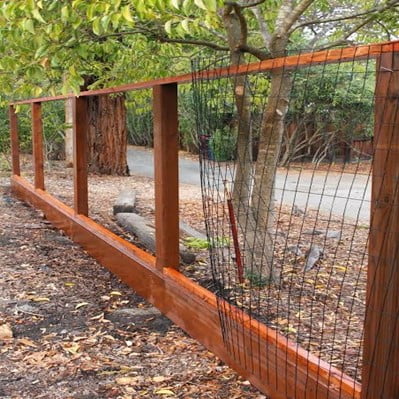 You can build a fence if you are willing to and have some hands-on as it is not a difficult task if you know the basics however if you have any doubt, you need to check it first with some contractors or professionals as it may be difficult for you to make it stand in a right way if you stuck in between while building it. There is no issue if you ask a professional to build it and share your requirements of design, the color of paint, and what type of material you want to use on it. You can also bargain on spending to the laborers to save the money spent by you.
Ideas of Fences for Your DIY Project
When you think of building a fence, you will think about the fence with a post buried under the ground. However, you will be able to build it or get it built above the ground as well. These fences are not expensive to build as well and easy to be built too.
Rail Fences
As you are building a fence without digging post holes, you need to use sturdy support for the base so that it will be able to handle the rail fence on it and strong winds without getting damaged or moved from their place.
You can use a strong base and cover the ends with stones or bricks to give extra strength to the ends of the fence. Keep going on with this process until you get your fence at your desired height. This Rail fence you can build on your own well as you can ask for professional support.
Zig-Zag Fence
A Zig-Zag fence requires wood, and this will give an amazing look to your property with personal space too. You can use the best quality wood for this, and this will help you to save your setup for more than 50 years.
You can use some concrete as a base, as you do not need to use a post under the ground. You can also build fences as per your interest however, you need to be good in carpentry. If you know the basics then you will be good to go.
In this case, you can also paint the zig-zag fence as per your color choice to make it attractive and good-looking. You can also call some professionals for the same if you are comfortable with paying for the same.