Winter is here, and one thing that will be the need of the hour is warmth. We all are going to make our bedroom, living room and even the kitchen warmer. This will help us to relax inside of your houses which have the utmost coziness.
Many changes our home will go through, and we will also have more layers of clothes on us, creating and cleaning the chimney, collecting firewood, and stealing blankets, not taking a bath for days, right? Do not shy accepting these as we all skip bathing in winters, and a big thanks to deodorants!
Ask anyone about their favorite winter moment, and most of them will say relaxing in front of a fire, and they all will also tag this as the most annoying winter moment. The reason behind that is the smoke.
Yes, we all get angry and sometimes irritating when smoke from the fire follows us. It will follow you even after changing your position, and this honestly gets on our nerves, right?
So, what if we told you that you could enjoy your favorite winter moment without worrying about the smoke? Are you going to believe this? Well, some of you may have heard of it, while some of you have not. We are talking about the smokeless fire pit. Let us dive further and learn more about it.
Breeo, a What?

Have you not heard of this name? Well, you have certainly been missing the chance of getting the perfect winter backyard moment. But you may get a chance to have one this winter. Breeo has been in the business of making fire pits for a long time.
They have mastered the art of making smokeless fire pits. It was 2011 when the first-ever smokeless fire pit was ever made. It was the Breeo fire pit that has revolutionized the fire pit industry.
Since the release of their first-ever smokeless Breeo fire pit, people are going towards it more than any other kind of fire pits available in the market right now. Breeo has always gone creative and tech-savvy to give their customers something new every time they buy Breeo fire pit. People have also supported them a lot, and that is why they are known as one of the leading manufacturers of the smokeless fire pit.
Another major contributor to its popularity is being national. The company Breeo is an American company located in Lancaster, Pennsylvania. They do all their works inside America, from answering phones and emails, processing orders, purchasing materials, cutting & bending the steel, welding products together, making final quality checks, and packing and shipping the products out.
As people now being more supportive of local manufacturers, Breeo fire pits have progressed a lot. All due to their smokeless fire pit. But are they smokeless? What "smokeless" refers to foe Breeo fire pits?
Smokeless? How
We all know that word do not have their meaning; rather, it depends on other parts of the sentence and depends on the things for which we are using this word. As we are talking about Breeo fire pits, we are going to stick to it.
For a Breeo fire pit or any other fire pit which claim to be smokeless, being smokeless means that they do not produce very little smoke. It is so less that it seems that it is not producing any smoke.
Webster's dictionary defines the word "smokeless" – having little or no smoke. Breeo fire pit is not completed smoke-free but produces very little smoke, and that is why they fall into the category of smokeless.
Breeo's Products Range
Breeo has four series available for you. You can buy it either from retail shops, or you can go to the online stores as well, depending on your suitability.
1. X Series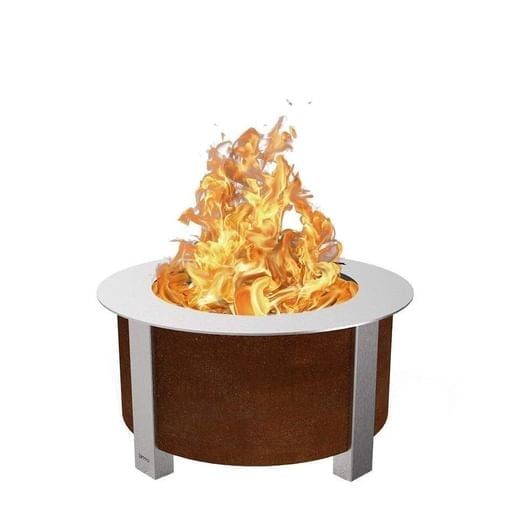 This one Is their latest series, which has a gorgeous and complete look. It comes in two sizes of 19″ and 24″. It looks so beautiful that it might be the most beautiful fire pit you will ever find in the market. This is also one of the most advanced products among all the Breeo fire pits.
It also has smokeless technology like other Breeo fire pits. One thing which makes it way more advance than other Breeo fire pits is its X airflow technology. This was introduced to improve the airflow inside the fire pit. But the patent is pending, and they will get it soon, hopefully.
It is made up of CORE-TEN steel, which is a fascinating material. Because it changes over time, and your Breeo fire pit will look more exciting and charismatic over time.
2. Luxeve Series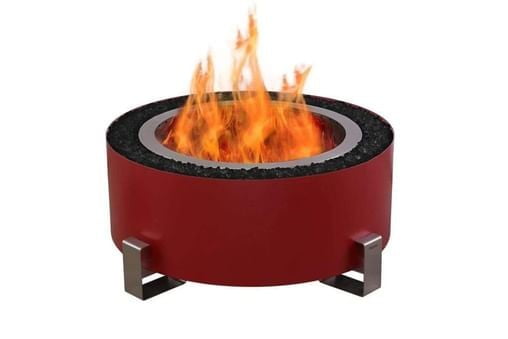 This series has most color options, most texture options, which should be enough to convey how luxurious it will be. Yes, as its name suggests, these Breeo fire pits look very luxurious. So, if you are obsessed with luxurious items or have a big budget, this can be a perfect choice.
It comes in two different sizes of 19″ and 24″ so that you can choose whatever size suits you. It is available in stainless steel appearance and other colors as well. So, if you want a color pop, then this can happen with these Breeo fire pits.
It also has a patent-pending X airflow technology. It comes up with fire pit glass as well, which will be surrounding the fire pit. Its extensive options to choose from setting it apart from other series.
3. Double Flame Series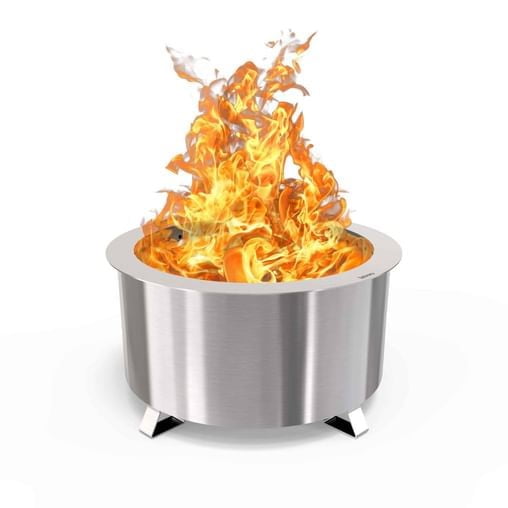 It is the cheapest option available among all the series of Breeo fire pits. It is more traditional rather than modern. It comes with an all-stainless-steel look, which makes it more traditional and versatile as well.
You do not have to worry about whether it will fit for you or not, as its simplicity makes it a perfect choice. As its cost is affordable and the trust of Breeo makes it the primary choice for everyone. It was recently upgraded with some additional technology inspired by the X series, and after that, it has been more advanced and better in terms of working and style.
4. Zentro Series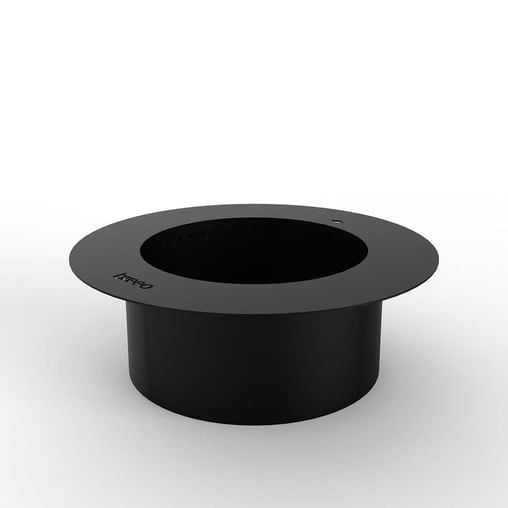 This one right here is one of the most versatile among all the Breeo fire pits. All other series have only two size options, but this one right here comes with three size options. It comes in 24″, 28″, and 32″ sizes, and other than this, it also comes in a square shape while other Breeo fire pits have only a circular design even in the luxury series.
If taking customers' reviews and ratings into consideration, then it is ideal for patio enthusiasts. It can be equipped with some additional accessories as well. It comes in black color as well, other than the versatile stainless-steel look.
Buyer Guide
To let you get the best one, we have listed some features you should look at in your Breeo fire pit, or if not, it will go with other brands. Just look out for these things in your next fire pits, and we are sure that you will not regret your decision.
Weight
This is the feature most of the customers ignore. It matters a lot as you must take it to your backyard or anywhere you want to put the fire. So, it must be enough so that you can lift it easily.
You can also put wheels on it if you have selected the best one for you, but the weight is too much. Still, go for the ones which have a low weight.
Shape and Size
You will find a circular design more often because the traditional ones used to have this shape. Therefore, to keep what we have got from our ancestors, we generally have circular fire pits.
Smokeless
We are becoming more and more environmentally friendly; therefore, getting a smokeless fire pit should be your priority. It will cost you more, but it will be better for you and the environment as well. So, there is no harm in giving some money which eventually going to benefits us.
Advanced
Always lookout for the latest ones. As the conditions are changing very rapidly, the ones produced recently will have something new for sure. This will be going to be more advanced than the previous one as well.
Therefore, look out for what has been released recently or what will launch in the coming days so that you can keep up with time and ahead of others.
Budget
This is the main thing which handles all your purchase. So, restrict yourself according to. Your budget. This will make your searching area shorter and help you get the best out of all falling into your budget.
Conclusion
So, these were the available options to choose from the range of Breeo fire pits. After reading about them, you may have made up your mind on what is going to be the best for you.
So, do not waste your time and get the one for you from their official website.
If you would ask us than our favorite is zentro series. Because it has wider varieties and shapes to choose from, other than zentro, the X series is another great competitor of zentro. Whether it is cost, size, or advancements, both zentro and X series go hand in hand.
This is our personal choice, which does not mean to match with you. We can have different choices as everyone have different tastes, right?
So, choose only those that suit you and fit right into the box of your necessities and requirements and not those we like or what everyone is buying.