Tanaka is a well-known brand in the gardening industry that makes innovative tools for landscapers, utility pros, and property managers. The Tanaka TCG27EBSP string trimmer is one of their best gas-powered string trimmers.
If you have an unfinished or uncared look of the yard, this machine will make the job easier for you, and within minutes you can give a finished look to your yard. Only the lawnmower is not enough for your lawn, and you may need some extra tools for a complete and professional-grade look.
A good string trimmer like Tanaka TCG27EBSP involved with the yard manicuring process can completely change your yard's look and provide you a fresh feel.
The Tanaka Weed Wackers come with a 26.9cc engine, which provides enough power to easily manicure your garden. It is packed with seven-year consumer and 2 years commercial warranty, making it a perfect land scraper tool as they can use this machine for years without any Worrall.
Tanaka TCG27EBSP 2-Cycle Gas String Commercial Grade Trimmer, 26.9cc
Tanaka 26.9cc commercial grade 2-cycle engine for maximum reliability and durability; Starting...
Aluminum clutch housing prevents clutch from overheating.Item does not have harness
Lined solid steel drive shaft drastically reduces vibration for maximum comfort
Built in spindle lock eliminates need for tools when changing cutting attachment
Padded front and rear handles provide longer operation with less fatigue
Ultimately, it offers a variety of features that makes this machine a real challenger. We checked many other weed Wackers that claim to be the best, but the Tanaka weed Wackers offers the most among all other brands.
Whether you need it for yard and garden or commercial use, it will work correctly in all conditions. Features like an easy start pull system, anti-vibration shaft, and padded bars are provided in the machine for the user's comfort. It is neither lightweight nor heavyweight and weighs around 12 lbs, 14oz.
Apart from this, you will get an optional head accessory with this machine, which makes the job much easier and more precise for you.
Features and Benefits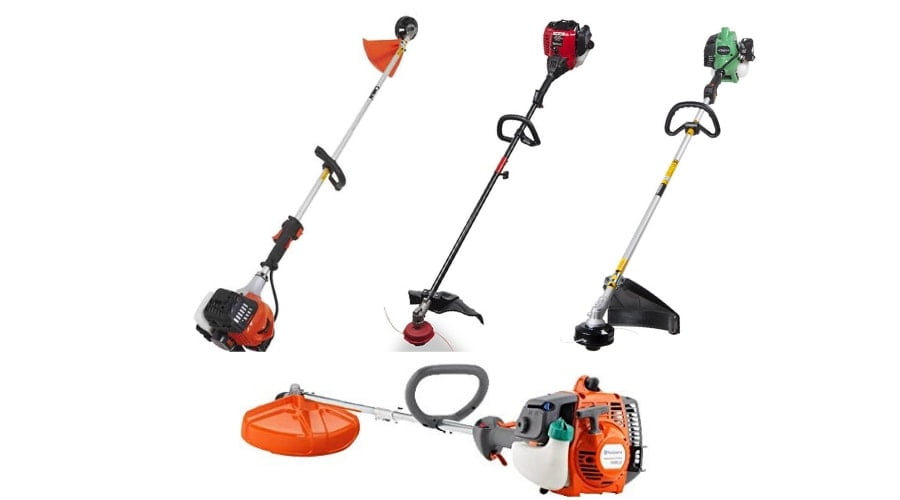 If you run a business or have a lot of property maintenance, then Tanaka weed Wackers will be an ideal garden tool for you. It comes with tons of great features and benefits that make the job very easy for you. Below are some of the features of the Tanaka Weed Wackers.
Best in Class 2 Class Engine
The Tanaka weed Wackers comes with a commercial grade 2 class engine that can do heavy handling and consistent work for hours and hours without any hassle. Make sure to use the recommended mix of motor oil with gasoline to increase your machine's lifespan. The recommended mix of oil comes with the right viscosity, which lubricates the engine correctly. You can mix the motor oil with gasoline in a 50:1 ratio to keep the engine running smoothly.
Bump Feed Trimmer Head
The Bump feed trimmer head is a fantastic feature to have in your machine. With this feature, you can extend the used line for a fresh cut with just a tap. It comes in handy when you have a large area to cover.
Aluminium Clutch Housing
The Tanaka TCG27EBSP string trimmer comes with an aluminum clutch housing that surrounds the clutch and flywheel mechanism. The aluminum clutch housing comes in handy when friction is generated in such a powerful engine.
Anti-Vibration Drive Shaft
The drive shaft of this string trimmer comes with an anti-vibration technology that provides less fatigue, and a more efficient job. It is made from solid steel designed to reduce maximum vibration from the engine to the rotary head to get a smooth and easy transition every time he/she uses the machine.
This feature offers more precise work and increases the life span of your machine as due to less vibration, you will see less wear and tear in the machine. This also means that you will need less maintenance as well. 
Even on the full throttle, it produces significantly fewer vibrations.
17 Inch Cutting Diameter
The Tanaka weed Wackers comes with a 17-inch cutting diameter, which offers you to cover more areas in a single pass. It is one of the largest diameters in the market. No doubt having more cutting diameter saves your precious time and saves your money too at the same time.
S Starting System
The Tanaka weed Wackers come with a unique s stating system that required minimum effort while starting the engine. This unique feature makes this machine more valuable compared to other string trimmers. You don't need to pull the cord to start the engine repeatedly, and it will surely start on the second pull with a correct prime.
Padded Handles
A padded handle offers you extra grip on the surface, which also means you can work more precisely as well. If you're working for long hours, then padded handles will surely help you keep the machine in the exact position without slippiness. If you doubt this feature, then compare it with other machines that don't offer padded handles and I'm sure you will see a drastic decrease in productivity on extended hours.
Built-in Spindle Lock
The spindle lock allows you to change the heads of the machine without using any tool. It is excellent for those who are in a hurry or forgot or misplace the small tools.
Tanaka Weed Wackers TCG27EBSP Performance
There is no doubt that a trimmer could amaze you with its cool features, but if it can't deliver enough performance, we'll find that string trimmer mostly worthless. We ran this trimmer through a 5′ by 5′ patches of grass for the shake of comfort, and we found that the Tanaka weed Wackers takes around 10 seconds cut time. The performance is quite good, and if you know the correct way of using garden tools, you can increase productivity for sure.
What Others Are Saying
Upon checking online reviews on various platforms, I found that most users like the ease of start-up in warm and cold weather. Even on the full-throttle, its low vibration makes it more value for the money string trimmer.
Apart from this, the replacement parts are available very quickly. If something goes wrong with your machine, even when it goes out of warranty
Tanaka Weed Wackers Pros and Cons
Pros
It comes with an S starting system, which allows you to start the engine with minimum effort.
The 29.6cc engine offers powerful performance
It weighs 12 lbs, which is neither heavy nor lightweight.
A very fuel-efficient machine, which saves a lot of bucks.
Thanks to the anti-vibration technology, you will see significantly less vibration in the machine, even at the full throttle. 
It comes with seven years of consumer and two years commercial warranty.
Cons
Primer 'bubble' can stick
The 'Kill' switch is not in the ideal position and easy to accidentally hit
Over time fuel lines degrade and need changing from time to time
Frequently Asked Questions
Are Tanaka Trimmers Any Good?
Tanaka may not be a famous brand in the garden tools industry, but their products are made from high-quality materials and work for years without any issues. So, we can say that year Tanaka trimmers are good.
Where are Tanaka Trimmers Made?
Tanaka products are designed in Japan. The Tanaka String trimmers are also made in Japan.
Is Tanaka Still in Business?
Tanaka is a family-owned company, and currently, their fourth generation is managing the company. They primarily sell two strokes powered, handheld, outdoor power equipment for domestic and trade users. Tanaka has been backed financially by Hitachi Koki.
Final Verdict
So, it was the post about Tanaka Weed Wackers. I have mentioned almost everything related to the Tanaka TCG27EBSP. Overall, it an ideal machine for property managers, landscapers, and people who want to manicure their garden.
There is no doubt that this is an exceptional machine, but you may get a much better performer in a lower price for the money you would spend here. If you have any doubts about this post, please feel free to ask us in the comment section. We would love to help you as soon as possible.