To make the water flow smoothly, it is essential to maintain the gutters regularly.
If you live somewhere near a place where there are high chances of snowfall or rainfall incidents, then residue can get collected in the gutter, leading to water back up and even harm your current roof.
You can do this by climbing, which is a dangerous job and very time-consuming. If you want to do it quickly without wasting your precious time, then you can go for the Shur Flo Gutter Guard system.
This item is designed to help you maintain your house quickly and safely through the simple process of blocking residue material from entering your existing gutter.
These gutter guards are technical systems that protect your gutter from residue buildup while allowing water to flow independently through the gutter.
Shur Flo comes with a unique design, and below are the highlights given that it works and to you to decide the choice for you.
Why Do You Need a Gutter Guard?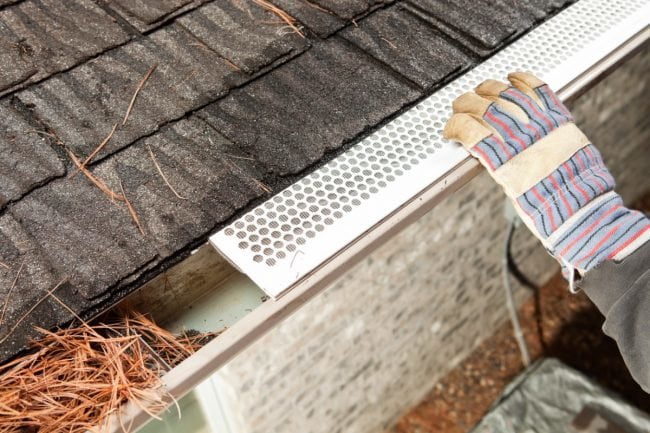 Save Money and Time
You all already know that you need to clean your gutters each year and how much time and money you must waste on it.
When the fall starts, you know it is the time for you to do the clearing out work.
But when you installed gutter guards, you will save a lot of time and money, which you wasted in doing essential seasonal maintenance of your house.
Prevent Insects and Rodent
Gutters are beneficial for rodents and other insects. Even rats and mice use your gutter to roam around your house. It provides them easy access to your roof where they can nest.
With you installing the gutter guard, you will prevent insects and rodents from entering your house and breeding more of them.
Prevent Corrosion and Rusting
With the junk and leaves moving through your gutter can easily remove the aluminum coating, which will eventually result in corrosion.
Gutter guards will keep your gutter clean and hence will prevent it from corrosion and rusting.
Prevent the Formation of Ice Dams
When the wintertime comes, and the chilling weather arrives, then ice dams start to form, which is a problem for many houses.
Gutter guards' stoppages from freezing in your gutters, causing the formation of ice dams.
The Shur Flo Company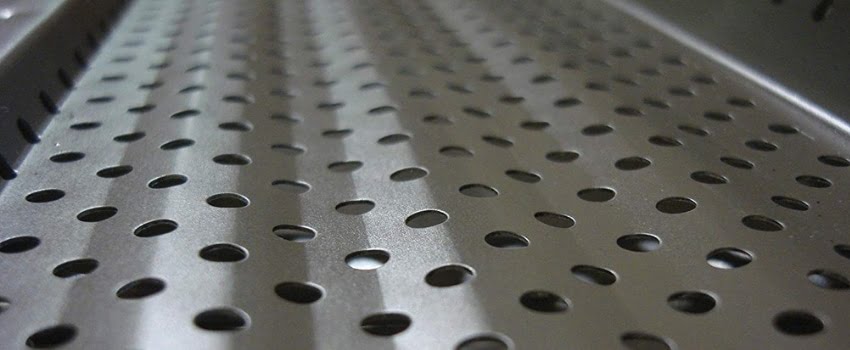 The Shur Flo is a US-based company that makes a wide variety of gutter guard designs for homeowners.
It is founded in 1978 and has enough experience in rain guard equipment.
Shur Flo is a famous company because its product is made from high-quality material and never compromises with quality.
Shur Flo Gutter Guard Overview
You need to place the Shur Flo Gutter guard over the existing gutter system and secure it tightly with bolts and nuts.
After that, the rainwater will be passed through the holes, and all the debris and dust will get caught by the Shur Flo guard.
The good thing is that you can install the Shur Flo Gutter guard on your own.
Here we are going to talk about the pros and cons of Shur Flo Gutter Guard:
Pros
Buying this is excellent value for money as it is one of the best options for people looking for a great gutter guard.
It is easy to install and serves maintenance as it comes with hardware inside it.
It comes with a great design, so it is a better option for the roof.
Cons
If there is heavy residue left, there then it will need you to clean it off.
Once you install it, it will not be easy to remove.
Why You Need Clean Gutters?
Gutters are designed to quickly catch the rainfall water from the roof and freely flow it from the corner side of the buildings to the central gutter.
It is not only one water that comes flowing with the rainfall down the roof, but it also comes with leaves from trees, small branches, and other residue left from the storms.
All this can create a roof water drainage system that can make water to back up and supports insect and creature breeding and the ability of seeds-seedling.
In the winter season, the rainwater can get frozen, which can damage your gutters and roofs. It would help if you always kept your gutters regularly clean after each storm and seasonal rain.
You can minimize this work by adding a gutter guard to your house, which will keep your gutters clean and safe all the time.
How Shur Flo works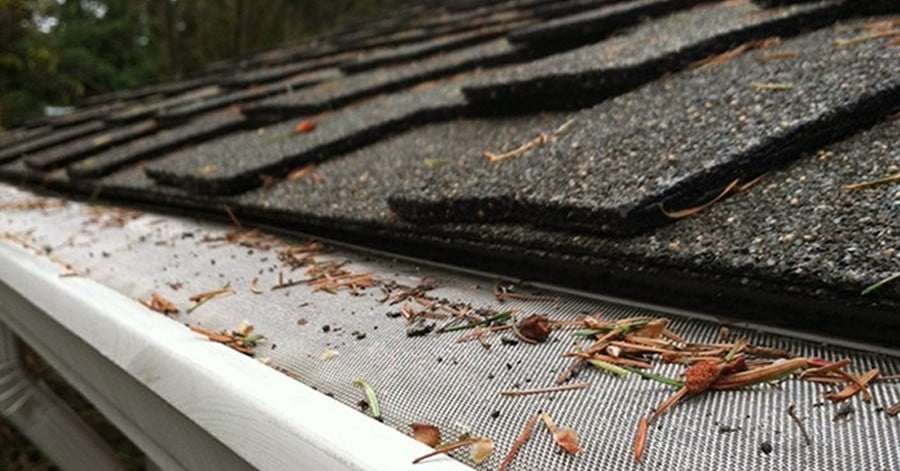 Shur Flow gets adjusted in your existing roof gutter. The design is very modular, and people cannot even notice it from the outside.
It has holes all over the guard, allowing rainwater to flow through it and quickly move to the gutter. At the same time, it stops all the debris, junk, and tree leaves from assembling.
Its figure makes it convenient to clear any junk that may not clean swiftly, and so it has become a section of your daily regular home maintenance.
Shur Flo Material and Design Options
Shur Flo is known for their high-quality product, and nobody can doubt its quality or durability as they make durable, sturdy, and long-lasting products for its consumers.
The Shur Flo Gutter Guards are available in 5 inches and 6 inches widths. Here they also give you many options, different options with various designs and colors to fit your home decor and water runoffs.
If you live in an area with giant trees, you'll need different guards from those in a more open area.
Shur Flo
This one is a regular obligated bottom panel, which is excellent for most requisitions. This can regulate moderate rainfall and junk flow down.
Shur Flo X
Shur Flo X is one of the most popular applications. It comes with ledges sided with the panel base, which reasonably increases the airflow and allows water to flow independently through the gutters.
Shur Flo Step-Down
To rectify clearance issues with a particular type of roofing, the step-down system is generally mounted with an angled hanger. This system work in a similar way to the initial flat-based panel.
Shur Flo Gutter Guard System Pricing
The Shur Flo Gutter Guard is available in 4-foot pieces, and you can also cut it according to the required length for a perfect fit.
The gutter guard's cost can vary because various private dealers sell it, and everyone has their selling price.
However, the average cost is around $1 for each linear foot. Also, the matching screws and other installing hardware comes with the packet, so you don't need to buy them separately.
Comparing it to Other Systems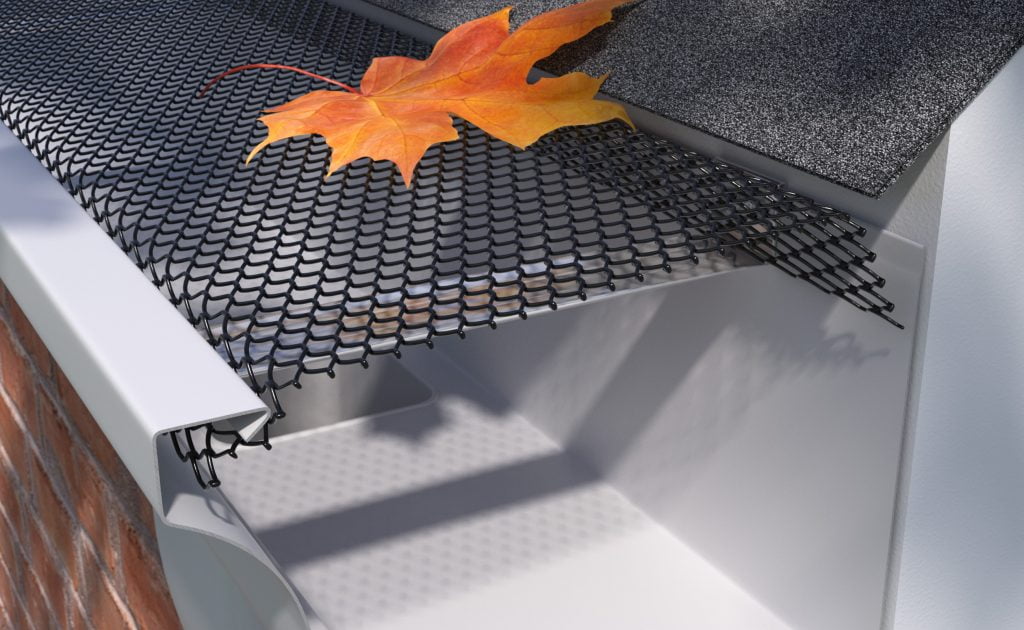 Shur Flo gutter guard system and almost every brand's gutter guard system is quite like each other that install outright over your existing gutters.
The significant difference is in the installing.
Shur Flo Gutter Guard Warranty
Shur Flo Gutter Guard brings a long duration of 25 years of transferable warranty to ensure that you are getting top-notch quality and unbeatable products.
Final Verdict
If you are facing a problem with your gutter cleaning, and especially if you live near an area where there are many trees, then Shur Flo Gutter Guard will be the best option for you.
Here we have given you all the essential information about The Shur Flo Gutter Guards. If you find this article helpful, kindly drop your views down.
Meta Description: Shur Flo Gutter Guard System is designed for effortless installation, and they are highly durable.
It will keep away the Residue buildup from the gutter, allowing water to flow freely through the gutter even in extreme conditions.