If you have a property that is structured in a sloping way, then you are more likely to have a yard that has a well-built retaining wall.
A well-maintained retaining wall is the goal of every backyard owner; alternative retaining wall ideas can help your yard achieve a unique style.
A retaining wall effectively reduces soil erosion in your plants and helps you maintain your privacy. But the retaining wall that you build should look as beautiful as your yard and should have the quality of a well-maintained wall.
Retaining walls are natural walls that secure your yard, although it is not the only way to secure your sloping property. Several alternative retaining wall ideas can help you secure your backyard and to reduce soil erosion in plants.
In this blog, you will get to know retaining wall ideas that can help your yard look more attractive and appealing.
Let us get started!
1. Natural Stone as an Alternative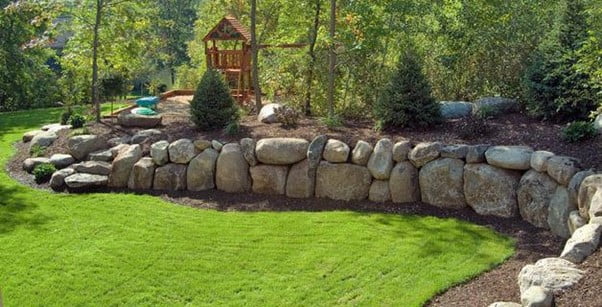 Natural stone walls are huge stones that act as retaining walls in your backyard in an effective way. They look amazing yet natural and prevent soil erosion and landslides by acting as retaining barriers.
Natural stone walls can easily blend with any property and surrounding as they are natural rocks. Several types of natural stone come in different sizes, shapes, and colors, offering you options to choose from.
You can get your alternative retaining stone wall for $8-$12 per square foot. You can even get these types of natural stones from your surroundings for free; if you search for them, you will find them.
2. Wooden Timbers as an Alternative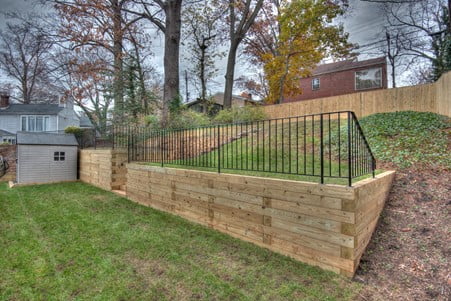 Wooden walls or Timbers are one of the best alternatives to retaining walls as they are affordable, and they can match every environment giving your yard a subtle yet authentic look. The structure of wooden timbers absorbs and stores atmospheric carbon dioxide.
Wooden walls are useful to build raised flowers or beds of flowers in your backyard while providing a natural wooden look to your yard. These wooden walls come in several varieties in colors, grains, and appearance, offering you amazing options to choose the one that best suits your yard.
Wood is environmental-friendly and can help you save costs as it is an affordable choice. You can install the wooden walls for $15- $25 per square foot.
3. Gabion Walls as an Alternative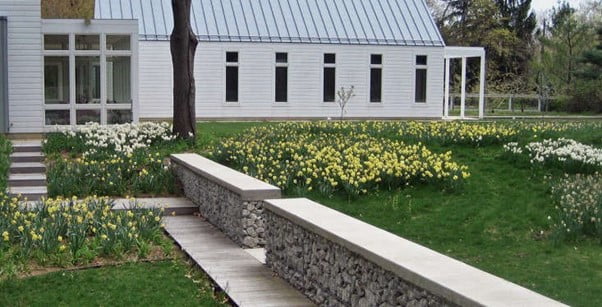 Gabion Walls are another great alternative to retaining walls made by using cages filled with rocks and sand. This type of gabion wall works well with the sloping property as it ensures a smooth flow of water while also offering support to the slope.
Most of the gabion walls do not need a specific foundation, and the cages of these walls come in a variety of sizes and colors, allowing you to choose from several options. The cages of gabion walls are wired together, and it ensures that they are not stacked vertically.
The gabion walls are comparatively inexpensive, where their prices start from $4 to $40. You can choose the one that best suits your budget and your backyard.
4. Walls of Stick and Stone for backyard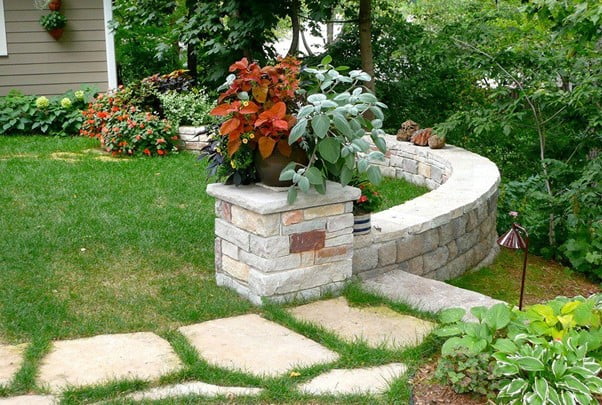 Walls of stick and stones are the most beautiful alternative to retaining walls as they look very appealing and attractive in the backyard while supporting the soils and plants very well. Mixing different forms of sticks and stones can help your backyard get a unique style.
The stones and sticks of these walls are permeable material that allows water to flow smoothly or seep through the walls. This material helps in avoiding blockage of water or excess pressure behind the walls of your backyard.
Once you have installed the wall, vegetation will naturally grow in the wall around your backyard, allowing naturally added vegetation to grow smoothly. These walls are currently priced around $5 to $ 30 per square foot.
5. Reinforced Soil Slopes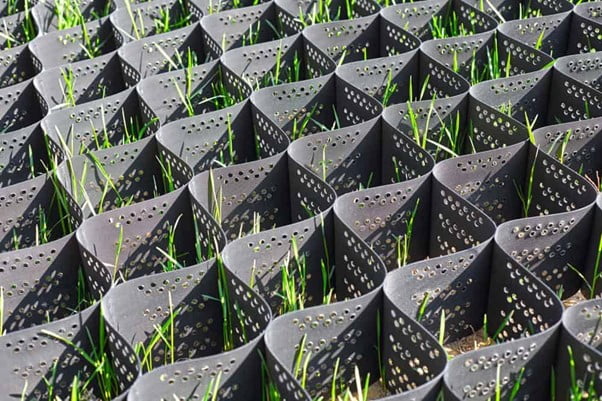 Reinforced soil slopes are one of the best options for a sloping property and are commonly used by several yard owners with slopping backyards. This alternative is easy to install, and its easy construction style is made using polyethylene and polypropylene that helps in locking existing soil and smooth flow of water.
Reinforced soils help you maintain the natural vegetation of your yard, and it helps in maximizing the land that is not in use. The beauty of your yard is also maintained, and your land is preserved when you use reinforced soil.
Reinforced is one of the most inexpensive retaining wall ideas as their prices start from $3 to $27, helping you save a lot. While the cost is inexpensive, but the quality of air and water is maintained. It is a great choice if you are looking to install a temporary wall for your backyard.
Conclusions
Alternative retaining wall ideas are one of the best ways to support a yard with a slopping surface as it helps reducing soil erosion and promotes the smooth flow of water all over the yard.
Backyards, where there are several plants and bushes, need a wall that brings out the yard's beauty. These alternative retaining wall ideas can help you choose from different wall designs that exactly suits your desire and your backyard.