Do you crave a long night's sleep on a comfortable and soft bed? That may explain why you are confused between woods vs. upholstered beds. Fret not, though. In this article, we will list down the reasons explaining which bed you should choose for yourself.
Why is Choosing a Good Bed Important?
The right bed spells comfort and durability. At the same time, it needs to match the aesthetic of your house.
A common question that most people want to answer when buying a bed is: wood vs. upholstered bed? Which bed is good for your health?
There is always a debate between both, and people often get confused between health benefits, luxury, looks, and design. But we will help you decide.
Upholstered Bed and Its Features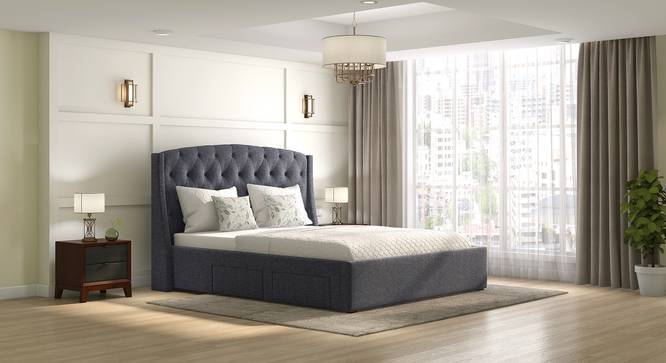 An upholstered bed is great for homes and an investment you should consider making. This type of bed is well-suited for all your design and style needs while giving you a comfortable night's sleep and beautiful day naps.
If your old bed feels uncomfortable and is unable to give you that much-needed rest, this upholstered bed will be the right choice for you. These ticks both boxes on comfort and style and is a great choice for luxury and elegance.
Upholstered beds come with a tufted headboard and are covered in fabric. The bed frame incorporates several fabric materials such as velvet, leather, satin, and thick cotton. 
Given below are a few of its remarkable features: 
Soft and Supportive: This bed has soft headboards, and you can rest your head on it while enjoying your book, phone, or a good conversation with a cup of coffee. Upholstered beds do a great job in supporting your tired back — an important health benefit you must never forget.
Good Finishing: The upholstered bed has a very good finish. You can also add decorative elements, such as embroidery, buttons, and sequins for a glamorous look.
Cosy And Comfortable for Your Posture: Upholstered beds are warm, soft, and perfect two relax during a lazy weekend. This bed is also soft and cozy and is perfect for giving you a good sleep. It has several health advantages because this type of bed allows easy set-up. The extremely padded fabric ensures that you get comfort and do not get any bag sprain. You can enjoy a relaxation session while leaning in bed without having neck pain or feeling uncomfortable.
Highly Customisable: Upholstered beds are highly customizable, and you can get several designs and styles according to your room's aesthetic changes. The headboard of an upholstered bed is straightforward to design, and you can get it done every few years to suit your taste and existing decor styles. Using an upholstered bed also allows you to add some fun elements to your bedroom so that this bed can become the centerpiece.
Fall Asleep Easily: Upholstered beds also allow you to fall asleep quickly. Sleep is often disturbed for many people, and finding the right position and comfort level takes time. Upholstered beds are very comfortable, and your head can rest against the headboard without saving any discomfort. This will ensure you fall asleep easily and let the night calm you down after the day's work.
Prevent Back Pain: A common problem many people face because of uncomfortable bed is back pain. They cannot sit against their headboard because it is very uncomfortable. Upholstered beds help remove this problem as the extra padding is designed to adapt to the shape of your back and give you good support that feels extremely comforting and soft.
Wooden Beds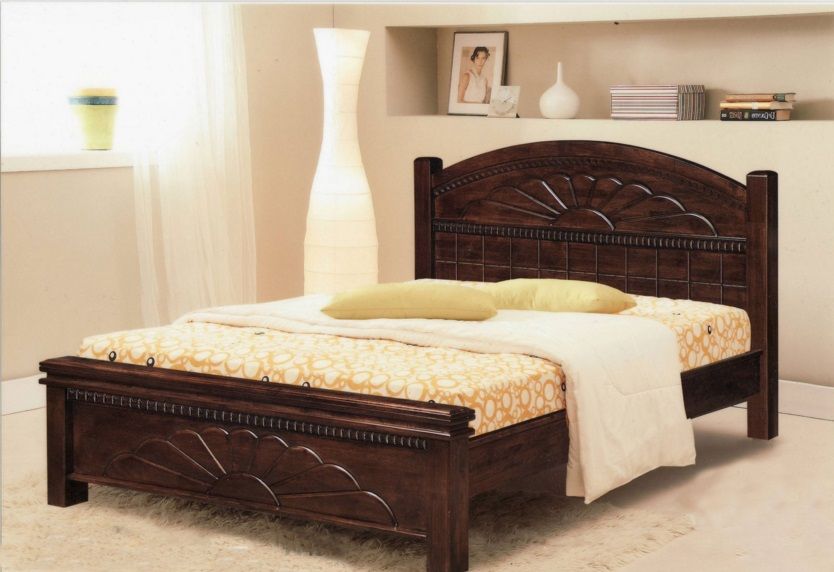 One of the most common materials for bed frames is wood. It is easily available and matches the wood to the aesthetics of your room. There are also several types of woods available, and something can be found for everyone.
Wooden beds have that intense look and look beautiful in homes since they are made of natural material. They have a warm and attractive appearance.
Wooden headboards can be carved and painted to add customizations to your room.
Given below are a few of its features:
Durability: A wooden bed has great durability, and this ensures your bed frame lasts for years. This is a great investment if you are looking for a bed that will last you for years without spending much on maintenance.
Easy to Clean: Wooden beds are comparatively easy to clean. Upholstered bed requires higher maintenance, and a lot of effort takes in cleaning it which is a common issue seen in upholstered bed.
Uncomfortable: A common problem with wood-frame beds is that they are very uncomfortable because of their rigid structure and hard surfaces. If you want to lean against the bed headboard for long as and want comfort and support, this is not a good choice.
Final Words
If you are looking for a good bed that has health benefits and will work well for you, then you should go for an upholstered bed.
An upholstered bed is a perfect choice because it is soft and allows you to lounge on it for a long time without worrying discomfort.
There has also been an observation that upholstered beds help in regulating the room temperature. The upholstery of this type of bed has insulation powers. This ensures an extra layer of insulation between you and the cold bedroom wall. It will also ensure you get a good night's sleep without worrying about the drop in temperature.
If you want a sturdy and durable bed that gives you a good posture and allows you to sit erect without falling and sleeping because of comfort, go for a wooden bed. It will keep your back straight and in a good position. 
To conclude, the choice of your bed should depend on the way you plan to use it and what are you expecting from it.