Upgrading from a mattress on the floor to a real bed is a true milestone of adulthood. Maybe you got a free metal bed frame when you bought a mattress and you're wondering if it's good enough (spoilers: it isn't). Maybe you're furnishing your first house or apartment and need to decorate the place with some furniture and some gorgeous terrarium ideas. Should you go for a warm, homey wooden bed frame, or a sleek, modernist metal one? What about a cozy upholstered headboard?
The basic types of bed frames have their pros and cons. Wood is a classic choice, durable and attractive, but wood beds are expensive, heavy, and hard to move. Metal beds can be a lightweight and affordable option, but may not be as durable as wood. Upholstered beds can be durable if they're made with wood, but the fabric requires a little more maintenance than wood or metal beds require.
Pros and Cons of Metal Beds
Metal bed frames are relatively affordable, and they're available in a range of styles, so whether you want a gauzy, romantic canopy bed or a more mid-century modern look, you have plenty of style options. However, most metal beds do kind of have a similar look, and you're not going to get the sturdy, curved profile of a sleigh bed, nor much in the way of a comfortable headboard. If you want to spend a lot of time sitting up in bed, a metal bed might not be for you.
Metal beds are pretty durable, but if they break, it's usually the welding that fails, so look for a bed frame with quality welding. If you move a lot, and need a lightweight option, a metal frame is the right choice. They're made with steel tubes, so they're lighter than you'd think. Even a wrought iron bed won't be as heavy as a wooden bed — there's just less material involved. But because they're so lightweight, a metal bed might move easily and scuff your floors. You might need to take some steps to keep your bed from sliding.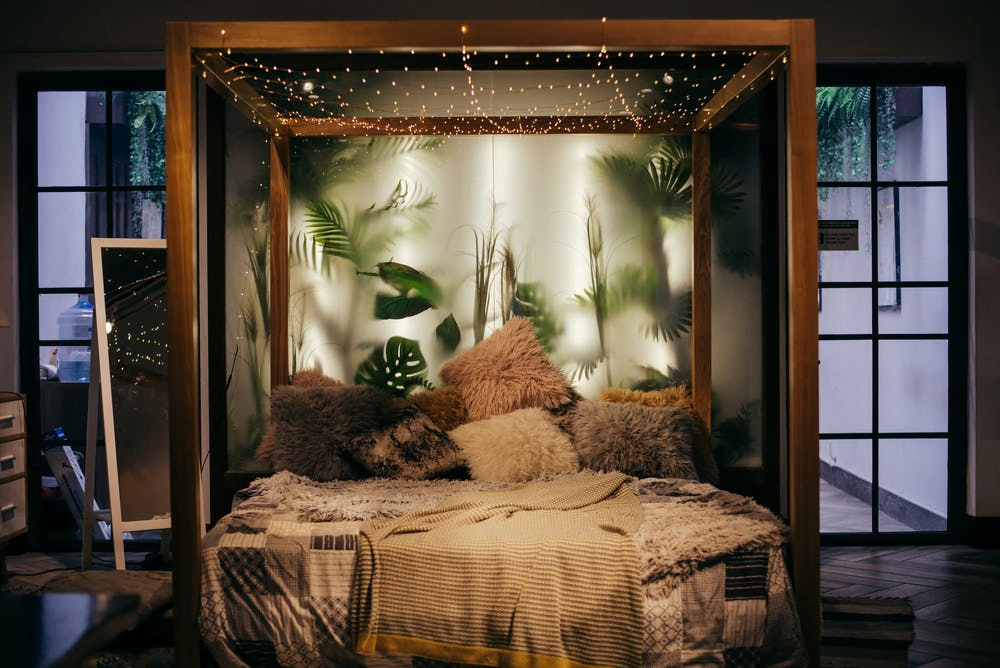 Pros and Cons of Upholstered Beds
Upholstered beds too are available in a wide range of styles and may be made of wood or metal covered with upholstery. You can choose from among different colors, upholstery styles, and patterns for your bed. Wood beds covered with upholstery are sturdier than metal ones covered with upholstery.
If you like to sit up in bed at night, reading or watching TV, an upholstered bed might be right for you. A soft, cushy upholstered headboard is the perfect thing to lounge against while you wind down. However, upholstery requires a bit more maintenance than wooden or metal beds.
Upholstery fabric can get stained, so if you have drinks or food in bed you'll want to be extra careful of spills. Oils from your hair and skin can also stain the upholstery. You'll need to learn the art of protecting it with carefully placed pillows.
Pets will love the upholstery, too — to death. Cats love to scratch upholstered beds, and while you can take measures to protect your bed, it might be easiest to simply not tempt the cat. Dogs aren't off the hook, either — many of them love to scratch themselves on upholstered furniture and will leave shed fur all over the bed. That's something you have to be prepared to deal with, too.
Pros and Cons of Wooden Beds
Wooden beds have long been a popular choice. They're easy to keep clean, because you just have to dust off the wooden headboard and footboard, if you have one. Sleigh beds are popular for their classic looks, but you really have a ton of style options with wood bed frames, too.
Wood bed frames are perfect if you want a classic, romantic look, but you can also find modern and quirky designs. They are perfect if you want to add some greenery in your house with diy tower garden or some indoor plants. If you need more storage, bookcase and storage beds are most likely to be made out of wood. Wood beds are easy to keep clean, although, like any wood furniture, they require special care.
A solid wood bed frame will last for years and years. If you never want to buy another bed frame in your life, buy a polished solid wood bed frame. But, solid wood bed frames are the most expensive, and the heaviest and hardest to move.
When you're choosing a bed frame, you should know the pro and cons of the different materials available. Choose the nicest bed frame you can afford, and it could become a cherished family heirloom.