Hot tubs are most important during winters. You need hot tubs if you want to spend some cozy beautiful time with your family. Most people install hot tubs in their balconies or backyard. But have you even realized how lonely and naked the bathtub looks? Such hot tubs may look very odd and unattractive in your backyard.
So what's the solution for this? Do you have to wrap a blanket around your bathtub? No, you should not.
The best and only solution for this is the decking of hot tubs. It means building support around your hot tub to make it more attractive and less naked. This support can be of a different type. Some of the hot tub decking ideas are given below:
Hot Tub Decking Ideas
Raised decks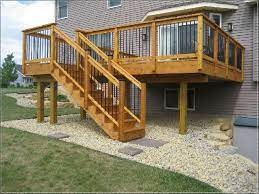 As the name suggests this deck is raised from the ground level. The height of the deck is quite high from the ground level and has to fix grill stairs to reach the hot tubs. Raised decking may cost more than usual decking it requires lots of material.
The tub is fixed at one end and to decorate the leftover space you can plant some flowers there or may add some couches. Add things according to your preferred themes.
Short deck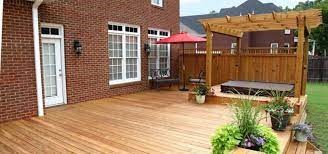 A short deck is a kind of cover for your hot tub. It will only cover the hot deck. This idea is ideal for those people who don't want to cover their backyard with a deck.
you can place a hot tub and deck at one end and decorate the remaining space to host dinner parties or to relax with family. This type of decking won't require much effort as well as money.
Two-Step Decking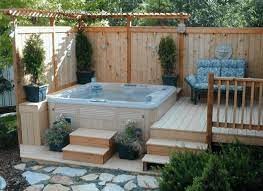 It includes only two steps around your hot tubs. This type of decking looks very classy in the backyard. Also, it is very convenient to use. Children can easily enter the hot tub with the help of two steps.
We will suggest you decorate the decking with a rocky theme. It will give a more modern vibe.
The Best Material for Decking of Hot Tubs
Decking is not only meant to cover the hot tubs and give your backyard an attractive look. But it is also used to make your deck more durable by providing more support to it. Decking can last your hot tub for years. Therefore, the material used for decking must be strong enough to provide extra support for hot tubs.
Usually, wood is considered the ideal material for decking as it gives support as well as an attractive feel also. But we are living in the 21st century and there are tons of other materials which can be used in place of wood. In the below section we have discussed some of the best materials for decking hot tubs.
Aluminum Decking
Aluminum is the trending material to make household stuff because is much cheaper than wood and durable also. Don't worry about the rusting, staining, and scratching. If you use good quality aluminum then these things can be avoided easily. You can also use the paint to color the aluminum according to you.
Composite Decking
The composite material can be the best alternative for wood. But remember it is not necessary that all composite material must be of good quality. There is some composite decking that may not last long. So do wide research before going for composite decking.
Also, most companies did not return the material so if ever you want to get rid of the composite material, go for reselling option.
Bamboo Decking
Bamboo decking is also very trending. It can give your backyard a stunning look. If you are living in mountains then nothing can be the best option than bamboo for decking. In this theme, you can place the hot tub with a 360-degree view from your house in mountains. It is going to give you a lifetime experience.
Stone Decking
Nothing can beat the power of stone. Also nowadays there are designs available in stones. But the only drawback of this decking is that you cannot remove it easily from the hot tub. You have to destroy the hot tub if you ever want to remove such decking.
If you thinking of the long run, then only try this decking type. You won't regret it.
These are some of the best materials which can be used for decking hot tubs. There comes a question why you should be so specific with the decking material?
Importance Of Good Quality Decking Material
Of course, hot tubs will be filled with water and chlorine is going to be present inside them. So if you don't use good quality decking material then the moisture and chlorine are going to decay the material. Therefore, use such material which will have the least effect of chlorine and moisture.
Secondly, decking is going to hold your weight. So if the material is of bad quality it will crack easily with the weight of one person only.
Not some tricks can increase the life span of decking material or we can say which can save your decking material from moisture and chemicals.
Tricks To Increase the Life Span of Decking Material
Go for capped composite decking. The best part is, it does not require painting and stuff. If you use good quality composite material then it may look like real wood.
Do not use regular paint for decking material. There comes special paints which protect the decking from moisture and chemicals.
If you are not using the hot tub then drain all the water from it. Clean the hot tub regularly and try to use as few chemicals as possible. It is also not good for your skin.
This is all about the decking material of hot tubs. Don't worry, everything is mentioned in this article. Now, it's your turn to think and make your mind for a particular material which fits into your desires as well as budget.