A Retaining Wall is not just an aesthetic element in your yard, it has some other main roles. Retaining Wall is mainly used to prevent water erosion and avoid flooding by direct water. It acts as a support system to keep the wall from toppling over.
But most of the time they weaken or bulge out. So, you must fix it before the wall fails completely.
In this guide, we will discuss some of the main causes which led the Retaining walls to bulge out and we will also discuss the rearing options available for different Retaining wall ideas.
Causes of Retaining Wall Problems
There are several reasons which cause the Retaining Walls to bulge out. Some of them are:
Moisture is considered the biggest culprit behind the bulging of the Retaining Walls.
Now installed with proper supports will lead to create problem in Retaining Walls.
The roots of the trees are invading the walls is also one of the most obvious reasons.
Foundation issues
Water builds up behind the wall can also lead to creating problems in Retaining Walls.
Retaining Wall Repairing Options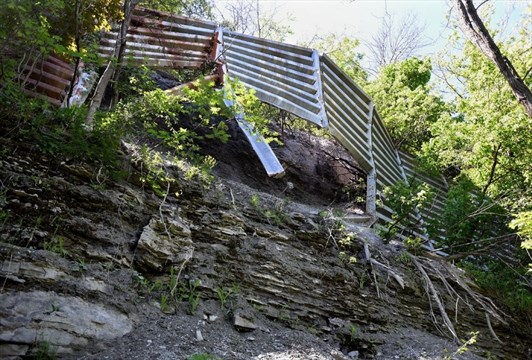 To prevent Retaining Wall damage, you must make sure that you have installed it properly.
Fixing the Mortar
Mortar is one of the most important things which is responsible to prevent any damage to the Retaining Wall.
To fix the Mortar, you need to follow the steps:
Firstly, you must chisel out the mortar around ½ the depth of the brick.
Them, you must replace the old mortar with a fresh one.
Now, you must clean up the exterior.
Then, let it dry for few hours.
Fixing Cracked Bricks
You must follow the below steps to fix the Retaining Wall cracked bricks:
Firstly, you must chisel around the mortal around the cracked brick.
Then, you must remove the brick from its place.
You must reapply fresh mortar to the place where brick is located.
Now, you must place the brick back in its original place.
Now, let it dry for some time.
Anchoring a Retaining Wall
This method is founded by repair contractors and has become famous because of helical anchors.
Helix Shaped Blades are welded to form an anchor which looks like a giant screw.
Perfect size holes are cut into the walls to accommodate the blade diameter.
A threaded adapter is attached to the rod where the hole is patched.
Then, finally, a steel plate is placed over the threaded rod and tightened with a large nut.
Final Words
When fixing a Retaining Wall, most of the time the repairs are small, and you can do it by yourself too.
In case of large repairs, you might need professionals which determine the cause of failure of the Retaining Wall.
This is all about this guide. We hope that you find this guide helpful. If you have an idea about any other cause, then you can tell us by commenting down below.