One common yet serious problem that major house owners talk about is dealing with the gutter system of their house.
Your house, of course, needs timely maintenance for effective functioning, and one major part of maintenance is required for your gutter system. Dealing with it is tough yet a necessary element to practice. To deal with this, many house owners switched to gutter guards. It saves their time and helps in the effective functioning of the system.
But that by no means mean you should be avoiding maintenance practices. It still needs your responsible care & services. While doing so, several house owners find themselves in a situation where they are confused about how to remove gutter guards while trying to clean the system.
There are various gutter guards, and all of them require different attention and care, so we understand your cause of worrying. Therefore, to deal with that, we have got you these tried and tested guides that will help you effectively remove your gutter guards and continue with your maintenance practice.
So, without any further ado, let us just get started!
What are Gutter Guards?
Before we get into understanding various mechanics on Gutter Guards, let us take a moment to understand what exactly a gutter guard is. How does it function? What are its benefits and types?
So basically, a gutter guard is hardware that one installs to deal with the gutters' dirt, debris, and blockages. The guard helps you in keeping the dirt and debris away and allows the water to flow efficiently.
Most house owners opt for gutter guards as installing them eases the maintenance of the gutter. But still, for effective functioning, one needs to practice cleaning the gutter placing the guards aside occasionally.
Types Of Gutter Guards
Your Gutter Guards are available in different types. Knowing them will help you remove them and clean them better.
Bottle Brush Guards
Foam Gutter Guards
Perforated Metal Guards
Mesh Screen Gutter Guards
Reverse Curve Guards
Different Types of Gutter Guard Removal Method
Well, as already mentioned, getting your gutter guard installed does not mean you overlook the maintenance of the gutter system. It still needs your utmost care and attention. So, you will be required to clean your gutter system by taking the guards out.
But you cannot just randomly take the guard out. There is a particular way to do that. In this section of the article, we will be dealing with how to remove your gutter guard. 
So here it is. Check out the below-discussed guidelines to effectively remove your gutter guard. To ease your process, we have segregated removing your gutter guard according to their types.
Bottle Brush Guards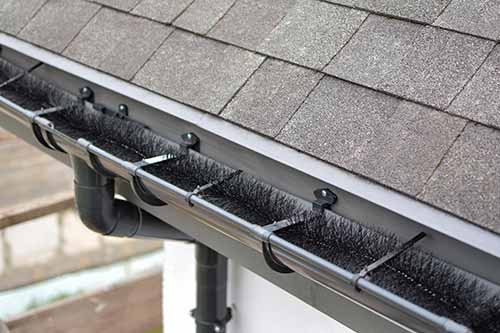 Brush Guards are widely used by maximum homeowners as their installation and functioning do not require too much effort. All you must do is just directly place it over the gutter.
Similarly, while removing it to clean your system, you will need a stable ladder and some work gloves. All you must do is climb up the ladder and clean the debris or dry leaves settled on it. Then slowly lift the brush guard, and you are done.
Foam Gutter Guards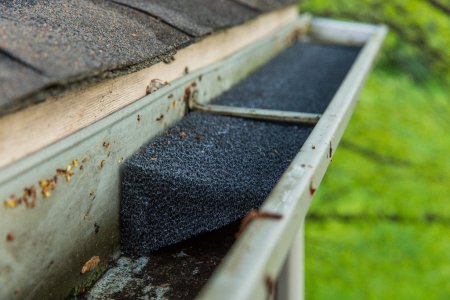 The Foam Gutter Guard is no less than other guards. Specialized with easy installation and application, it makes it a perfect fit to protect your gutter system from getting clogged.
All you need to remove this guard from your gutter system to clean is a pair of working gloves and a stable ladder. Follow the same process as above for a brush guard. Remove any loose or collected debris from the guard and swiftly pull it out from the gutter.
Perforated Metal Guards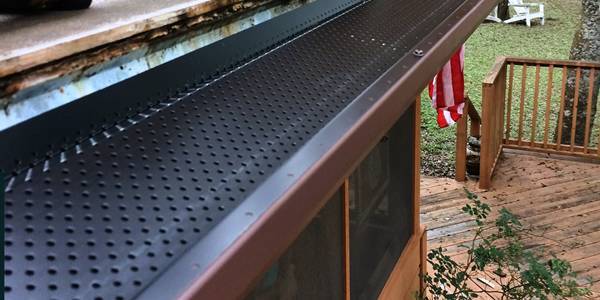 Your Perforated metal guards can help your gutter system perform well. It almost works like a semi-permanent guard who holds years of durability if installed and cared for properly.
To remove your metal guard, you will need a screwdriver, pairs of work gloves, and a stable ladder. Once you climb the ladder and reach the required area, start clearing off the dry debris or leaves collected on the top. Then using your screwdriver, begin unfitting the screws and slowly take it down without throwing it against the land.
Mesh Screen Guards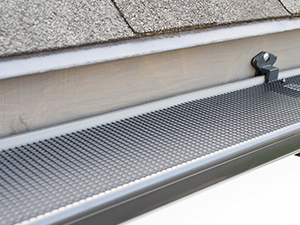 The mesh guard's removal process is also quite like the perforated metal guards. To remove these guards, you will need a pair of work gloves along with a screwdriver and a stable ladder.
Using the ladder, you must climb to the desired height. Once you reach, start cleaning the dry debris collected on the top. When cleaning, using the screwdriver, loosen up screws and take the guard down section-wise. Avoid dropping it straight on the land.
Reverse Curve Gutter Guards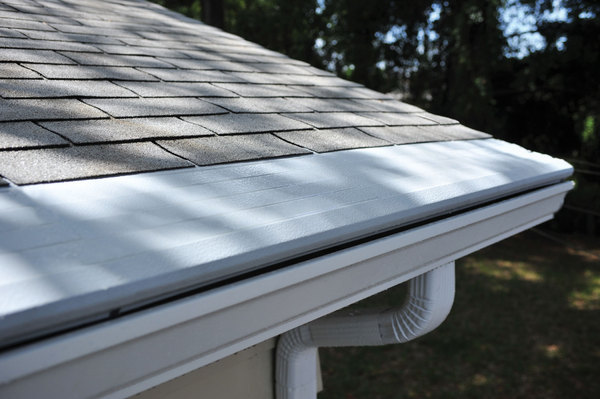 Reverse Curve Gutter Guards works great in keeping your gutter system efficient. The steps are almost like the above described. The installation is complex and needs professional help, but removing the guard can be done by the owner.
You will require a screwdriver, stable ladder, and a pair of work gloves. Reach the desired height using the ladder, then remove the dry debris. Later begin unscrewing the screws using a screwdriver and begin taking them down section-wise.
Benefits Of Gutter Guards
Gutter guards are of great use and thus are well known and extensively used. A few of its benefits are mentioned below: – 
Resists the dirt and debris from creating blockages.
Reduces the struggle of your maintenance.
Saves your time and money.
Helps in preventing rusting and corrosion.
Saves from the fire like conditions.
Points To Remember
You need to remember certain points while putting the above-discussed things into practice. This will allow you to practice your stuff even more efficiently. 
Every guard has a different installation process, so know them in detail to avoid confusion during removing them.
It is advisable to go through the manufacturer guidelines of removing the guard to avoid any further damage.
Keep your necessary equipment ready before practicing it.
If you feel confident doing it, do not hesitate to take professional help.
Conclusion
So basically, getting off your gutter guard is not tough if you follow proper steps to get it down. It is just some matter of patience and effort.   One important point to note while wanting to practice easy removal of your gutter guard is to know the installation process and removal manufacturer guidelines. That can assist you well.
We hope this article helped you find answers to your questions well. But if you still have any doubt or confusion on the above-discussed subject, please feel free to voice it using the comment section below. We will get back to you at the earliest possible with the best knowledge available on the same.