Christmas is approaching, and so the winters. Christmas is a festival of fun and crafting new ideas.
New ideas sprout in mind during this festival, especially crafting. Snowman is not just made of snow. 
It is made in crafts also. And snowman crafts are the best way to prepare for Christmas and winter decorating. So, let us have a look at 13 Snowman crafts and ideas for Christmas.  
It will leave you thrilled as the snowman crafts are super great. It will increase the beauty of the home.
These snowman crafts are so popular as they are long-lasting. So, come on in and get some crafty!
Glitter Snowman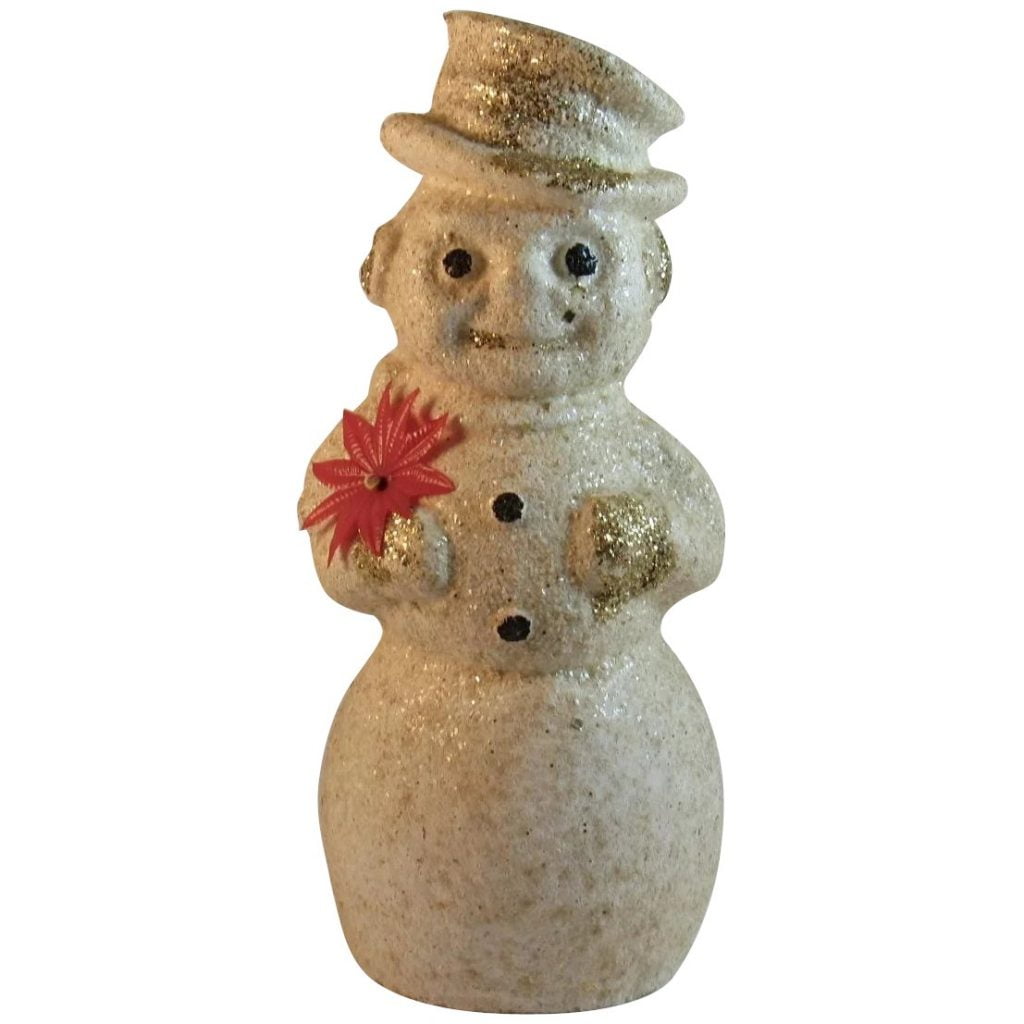 This type of snowman is made from two glass bowls. Materials required for this craft are two glass bowls, floor furnishings, white glitter, top hat, scarf, eyes, mouth, button stickers, orange nose, and glass adhesive.
How to make this craft? Wash the jars thoroughly and dry them and try to stop dust from entering. Next, pour a small amount of furnish in a jar and swirl it. Remember not to shake it. 
After that, pour some glitter, swirl it, and tilt the jar slowly to stick to the furnish. Do not tap the jar. Keep the jars aside to dry. In the meantime, grab the hat and warm glue gun.
When the jar dries, fix the hat, scarf, stickers, nose, and the two jars with a glue gun. And that is all, super cute and super easy!
Snowman Tissue Box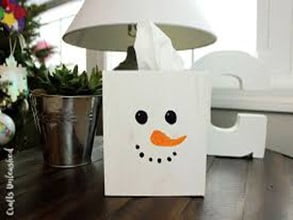 Whenever struck by cold or get tears in your eyes, you need a tissue to wipe it off. Snowman Tissue Box would be great for this. You need a wooden tissue box cover, paint colors (white, orange, red), and paintbrushes.
How to make it? Paint tissue box cover with white paint, allow it to dry after that, make two eyes and mouth with black paint and paintbrush.
Make a nose with orange paint, if needed to make cheeks red then with red paint it can be made but should be light. Allow the face to be dry, and dab one drop of white paint in your eyes.
Funny winter craft for kids with long shelf life!
Fishbowl Snowman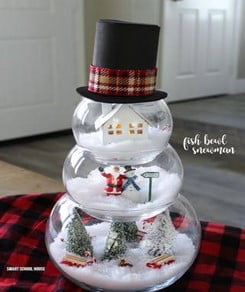 New craft for the decor of the home. It is fun and festive. It looks like a great giant snow globe. What do you need? It would help if you had three different sized fishbowls, some snow village pieces, one bag full of fake snow for making that needed two sheets of black foam and scissors. And finally, a ribbon for the hat and glue gun.
How to make it? Put little fake snow in each bowl, then arrange the village pieces. For that, cut a circle from black foam and decide its height—hot glue to wrap the hat and decorate it with ribbon. 
Isn't this fun? Indeed increase the indoor decor of the home.
Snowman Candle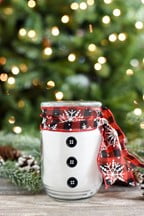 It is excellent as a gift and can be easily made. Materials needed are a white candle jar, ribbon, and buttons. Hot glue the button on the jar in front and tie a scarf on top of the jar made from ribbon.
Super easy, inexpensive, and perfect as a gift. Not time consuming and a great idea to give as a gift when short on time.
Wooden Snowman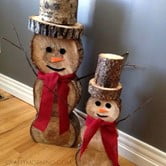 This is a type of craft that can be used anywhere in the house. Tools required for this craft are bandsaw, drill press, paintbrush, and scissors, acrylic colors (orange, black, white), super glue, wood branches (3″ and 4″ in diameter), two twigs, yarn. 
How to make it? Cut the branches into half thick slices. Then drill holes to assemble snowmen and for assembling arms, stomach. Then paint the snowman, paint the snowman's head and abdomen with white paint, let it dry before doing further decorations. Take a wooden dowel coated with glue and insert it into the hole in the base and the abdomen.
It is ready! It looks fantastic with the supplies of day to day use.
Snowman Wall Hanging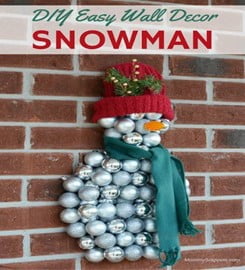 Wall decoration and that too in the shape of a snowman seems exciting. What do you need? Silver Christmas ornaments, one orange light bulb cover, winter hat, gold floral balls, trash bag of plastic, scissors. 
How to make it? Begin with top, lay five rows of the bulb in order of 2,3,4,3,2, and all bulbs should be touching with one another. Let it sit for a few minutes. Continue for the body, 8 rows with 5,6,7,7,7,6,5,4 in each row.
Wait so that they are well settled. Now put the second layer of a bulb over the first. Fix the orange bulb cover on the silver bulb with glue, so it looks like a nose. Allow it to set. After drying, slide the hat on the snowman's head.
Perfect craft for the front door wall, which remains bare!
Hoop Snowman
This craft is not just for winters or for Christmas. It lives still springtime. To make this trendy craft, you need 3embroidery hoops, and their size should be different, black or dark grey felt, white fabric, fabric scrap for making a scarf, two branches (small), and a glue gun.
Cover three hoops with white fabric by stretching it. Use a glue gun to fix three hoops in order of size. Wrap the fabric scarf between two top hoops. Paste buttons and hats on snowmen with glue. Then glue branches on the back of the middle hoop so that they look like arms.
It is done and only needs a perfect place for hanging. This super easy hoop snowman will add a charm to home decor.
Sweater Snowman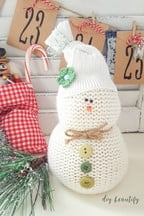 Want to put your old sweaters into use? So, let us craft a comfortable, cozy, and warm creature. You need sleeves of a sweater, sock, rubber bands, rice, ribbon, acrylic paint (black and orange), buttons, glue gun.
How to make it? Start by cutting sleeves, turn it inside out, and wrap it as many times to keep it shut with the help of a rubber band. Next, turn them right side out and embedded with rice. Use rice depending on the stretch of the sweater, almost 3-6 cups.
With the help of another rubber band, tie the top one, and make it shut. Cut off the sock, which will become a snowman's hat. Get rid of the excess sweater and hot glue sock around the snowman's head. Use ribbon and tighten the end of the hat tight.
Now, this is what your snowman looks like. Have you ever wondered that your old sweater can be of great use!
Snowman Game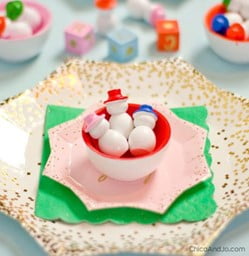 This game is equally suitable for children and the whole family. It would help if you had mini wooden bowls and mini wooden snowmen.
To get the feel of a snowman, paint a snowman and each bowl with white paint. Inside of the bowl painted with festive colors. Paint hats with matching colors as those on the set.
A fun game for Christmas, keep the children occupied, and easy to play!
Snowman Terrarium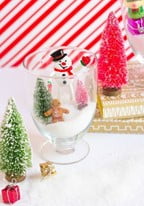 They are snow globes but without water and are very charming. All you need are some glass jars, snow, tree pieces, some characters, and candy.
First, put the false snow at the bottom of the jar, then put the characters in it. When displayed, it looks so sweet! It looks like little elves.
Clothespin Snowman Craft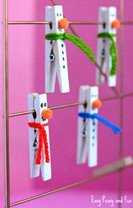 These clips are changed into cute snowman clips. If pins look boring, why not do a makeover of them. It would help if you had wood clothespins, yarn of various colors, orange pom poms (mini), glue, white paint, paintbrush, scissors, and a black marker.
How to make it? First, paint the clothespin with white paint. During the drying period, open it a few times so it does not become glued. For the scarf, take a piece of yarn, wrap it around the clothespin, secure it, and gluing it. Now, with a black marker, draw two black eyes, black buttons, and a mouth. Stick orange pom with glue. Wait for it to dry.
This looks super cute and greatly helpful in holding your notes to-do lists in offices.
Snowman Mug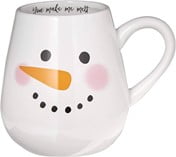 Another quick and simple craft. All you need is a white mug, pieces of vinyl scrap, and circuit, circuit design space. 
Firstly, open in the design space, add a text box, and choose your favorite style. When done with the design, use transfer tape to apply it onto the mug. Then fill it with candy canes, hot chocolate, and other things.
Plastic Pumpkin Snowman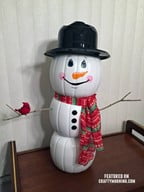 It will not melt till spring. You just need three plastic pumpkin buckets, a black plastic hat, white spray paint, hot glue gun, scarf, two sticks, acrylic paint, paintbrush, black button (3).
How is it made? Start by cutting the bucket's handles; the face should be in the back direction so turn them. Fix all buckets with a hot glue gun. Paint cardboard white and dry it—glue sticks for arms, three buttons in the center, and a hat on top. Paint a snowman's face. Put on a colorful mask.
Unique craft for decor!
Conclusion
All these snowman crafts are superb and easy to make. Things which are needed to make them are around in home only.
Ideas for Christmas keep flourishing and never stop. Christmas is almost like Diwali, a festival of joy, decoration, and happiness.
There are so many ideas for Christmas, how to make it memorable? By crafting snowmen at home only with many perspectives and in different styles.
What happens if you are not able to make a snowman outside, indoors also? You can make snowmen in different ways. Various snowman crafts are there, which enhance the beauty of the home.