Nowadays, an increasing number of people prefer undertaking DIY projects rather than hiring a carpenter or a handyperson. Such homeowners are always on the lookout for quality machines that enable them to work without technical hassles.
If you are one such person who is about to embark on a carpentry-related journey, you probably might be pondering over which chainsaw to purchase.
Poulan Pro PR 5020 and Tanaka chainsaws are two well-received chainsaw products among homeowners. Keep on reading to find out which of these chainsaws fits best with your requirements.
Poulan Pro Chainsaws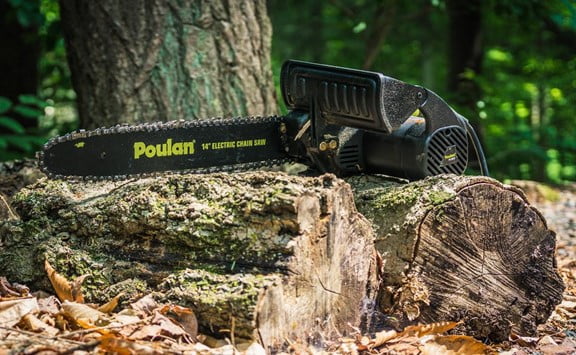 Poulan is a saw company that dates to the 1940s. An actual lumberjack by the name Claude Poulan started this company in LA. The company primarily sold an affordable range of chainsaws and their parts to homeowners and professionals alike. Today, it has an inventory of a wide range of products such as trimmers, lawnmowers, and snow blowers, in addition to the usual saws and property management equipment.
Poulan saws have been in the market for more than 70 years. This gives them an edge over new products, especially in terms of user experience. Poulan chainsaws run either on electricity or gas and are backed by the company's customer-friendly guarantee and warranty policies. While other brands focus on developing multiple series and releasing products accordingly, Poulan specializes in models of varying strengths so that buyers can easily sieve through the shelf to reach just the product they need. From large 50CC engine displacement to small 14-inch electric-powered saws, this company has it all.
Poulan Pro PR5020 is a prime example of a company's products that get heavy work done easily. The powerful 50CC engine displacement allows users to tackle loads at both commercial and homeowner levels without any difficulty. The saw is sufficiently large to support a 20-inch bar and chain for handling logging jobs, firewood chopping, or even lumber milling. It has sturdy durability and cuts through large pieces of wood smoothly.
Another major plus point of Poulan Pro PR5020 is its pull-start system. This hassle-free system gets your saw ready for work extremely effortlessly. The device is also equipped with an automatic oiler which keeps up a consistent flow of oil to maintaining smooth spinning and avoid overheating.
Tanaka Chainsaws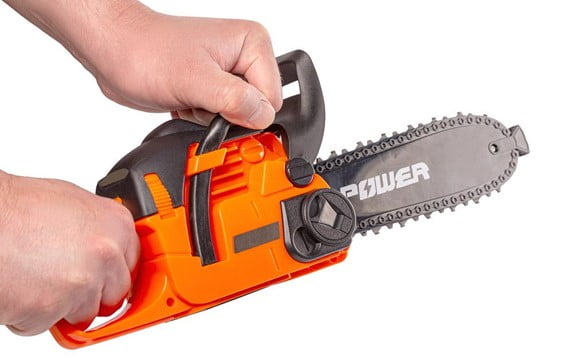 Homeowners who have a soft spot for well-maintained gardens, backyards, or courtyards often struggle with finding the right equipment for maintenance-related activities. A large assortment of products is available in the market that helps gardeners carry out DIY construction or carpentry projects smoothly.
However, two important factors determine whether a keen homeowner purchases a piece of equipment- affordability, and ease-of-use. Many high-powered devices are priced at equally high rates, thus discouraging small-scale builders from making a purchase. Others may be priced low, but their complex designs make them unfavorable for light use. 
If you are a hobbyist builder keen on undertaking small-scale projects in your yard, Tanaka chainsaws are just the right equipment for you. This brand has built itself a trustworthy image by constantly delivering affordable machines that are extremely easy to handle. Tanaka chainsaws are compact and remarkably durable with a long life.
A typical Tanaka chainsaw has a 1.6HP motor that is perfect for carrying out small projects in the yard. The best feature of this machine is its handgrip. Most chainsaws are quick to cause fatigue owing to immense vibration. Tanaka chainsaw has a thick layer of rubber grip that prevents the device from vibrating excessively.
This user-friendly model is beneficial in wet, rainy conditions where the probability of accidents caused by the slippery surface is high. A drawback of this chainsaw is that large pieces of wood cannot be cut with as much ease as smaller ones. In other words, it cannot cut through massive trunks. Therefore, Tanaka chainsaws are best suited for pruning, trimming, and other small-scale projects.
Irrespective of the scale of the job, a dependable and durable chainsaw is vital to efficient and smooth functioning. Commercial projects and residential, small-scale activities can be carried out with significant ease if quality equipment is used. While there is a vast selection of high-power products, easy-to-use chainsaws are tricky to find, especially as far as pricing is concerned.
Poulan Pro PR5020 is an example of an affordable chainsaw that gets work done in a simple, uncomplicated manner. This saw proves to be a good investment with a sizeable bar length, automated oiling, and strong engine. As far as smaller projects are concerned, garden enthusiasts can go for the Tanaka chainsaw with its affordable, compact, user-friendly design.