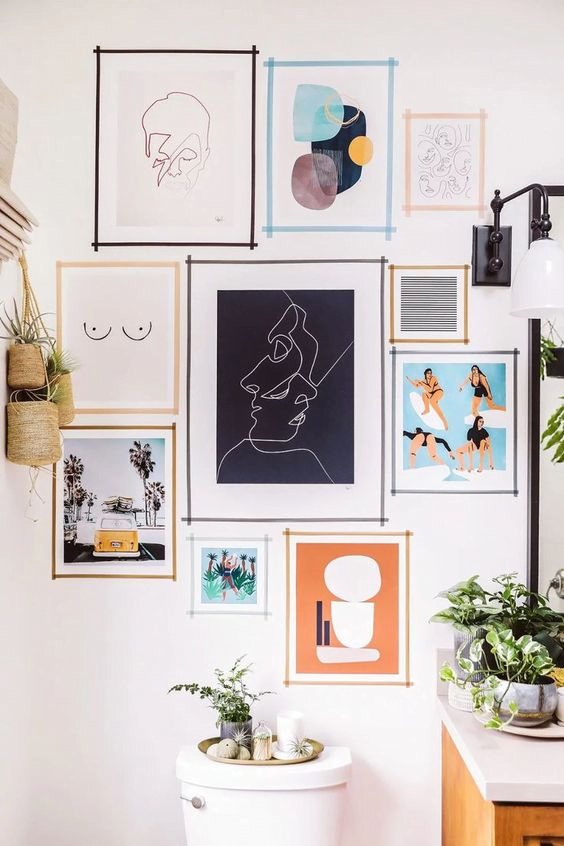 Image source: Pinterest
One of the most fun things to do when decorating a home is to dress up the walls with beautiful art and below it having a lot of dracaena varieties on tables etc. Art makes us happy, thoughtful, calm and lets us feel all kinds of emotions, so it is worth spending a little extra time to get it as nice as possible. There are some things to keep in mind that make it easier to highlight your art.
Art does not have to be expensive to be beautiful and inviting. If you don't have that much money to spend on art, there are still good tricks for finding paintings that you'll love.
There are great possibilities to create aesthetic picture walls with paintings in different sizes and with different kinds of nice frames. Feel free to test yourself with different themes and don't be afraid to mix and match frames according to your taste.
We usually say that there are no rules when arranging your wall art, but it is your preference and taste that sets the rules of the game. We are all different and have different perceptions of beauty, so personal taste is most important here.
In the article below, we have gathered some tips and tricks to make it easy for you to get started.
First thing – Find Your Inspiration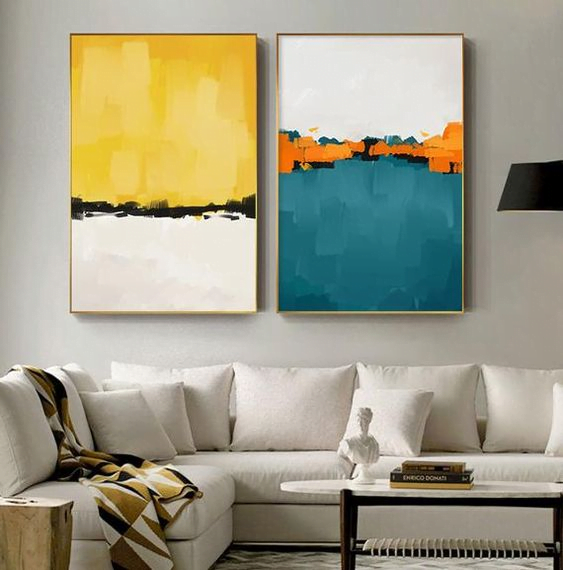 Image source: Pinterest
You can start from your personal style. Ask yourself whether you want to create stylish wall art or a more colorful and personal combination. If you want to create contrast and convey diverse expressions, you should mix color and several art styles. Illustrations, abstract paintings, hillside landscaping and modern photography create the perfect personal style.
If you want to create harmony, you can start with calm motifs, preferably in colors that go hand in hand. You can build a harmonious wall art by mixing images of nature, or simple, stylish illustrations, and a text board, preferably in a down-to-earth palette in beige and pastel shades. The possibilities are endless for art enthusiasts. You just need to make sure you look at all the options available out there.
Choose the Right Frame
A picture frame is very important and much more than just a detail in the interior. The frame emphasizes the motif by creating a strong contrast between the painting and the rest of the room. The frame can be used in several different ways, and some methods have become very effective and appealing.
Use the main color
A very common way to get the right color on the photo frame is to pick up one of the colors in the photo. If the photo's motif is a meadow full of white flowers, it will be nice to choose a frame that is in the same white shade as those flowers. In this case, it is a matter of highlighting a color that is abundant in the photo.
Use a focus color
Another alternative is to highlight one of the colors, but in this case, you should pick a color that is not dominant. For example, if the painting displays a person wearing a purple hat, this color can be highlighted in the color of the frame. That way, the spectator's focus will be drawn to the purple hat. It can be very effective, but it is important to remember that just one detail in the image will get greater attention than the rest.
Start with the surroundings
Many people think of matching the colors of the frame to the subject of the photo when buying a photo frame. On the other hand, fewer people have in mind that you can match the frame with other things in the room.
The most common approach is to start from the color of the sofa or pillows and decorate the wall with paintings and frames that match them.
Use the safe option
Those who feel unsure of which color will look good can always use safe colors. Such colors are those that go well with almost all photos and all rooms, regardless of what colors the remaining interior is in. Safe colors are black, white, and gold.
Although black & white art prints is suitable for most things, the color can be experienced as somewhat somber, and therefore white is chosen more often. Gold is also a color that suits most frames. It is experienced as exclusive and more luxurious than white and black, which you should think of when choosing motifs.
Hang Your Paintings At The Right Height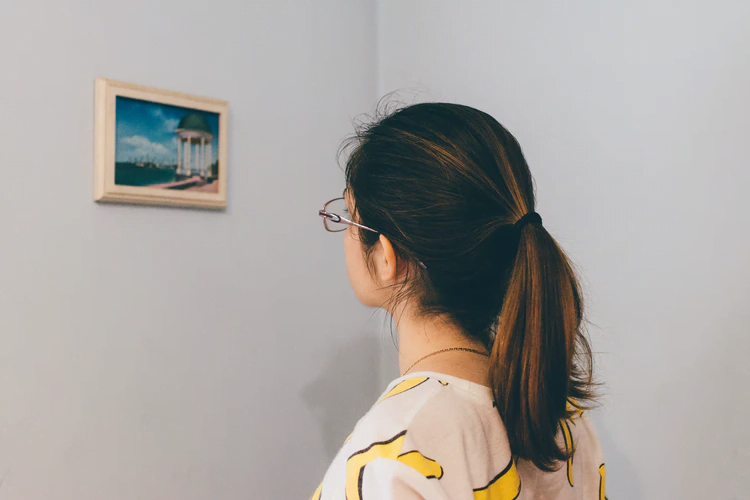 Image source: Rodion Kutsaev from Unsplash
A common mistake many people make is that they hang the paintings too high. Remember that the art must be at eye level for it to give a harmonious impression. If it hangs too high, you get the feeling that the painting could fall over you. A basic rule is that it should be about 150 cm from the floor to the center of the board, which is the average eye height. You can hang one picture in the center of the wall, at eye level, and work from there.
If you hang several paintings and posters next to each other, it is important to keep a line so that it is restful to the eye. If you hang three paintings next to each other, make sure that you keep the same distance between them.
More Exciting Ways to Highlight Your Wall Art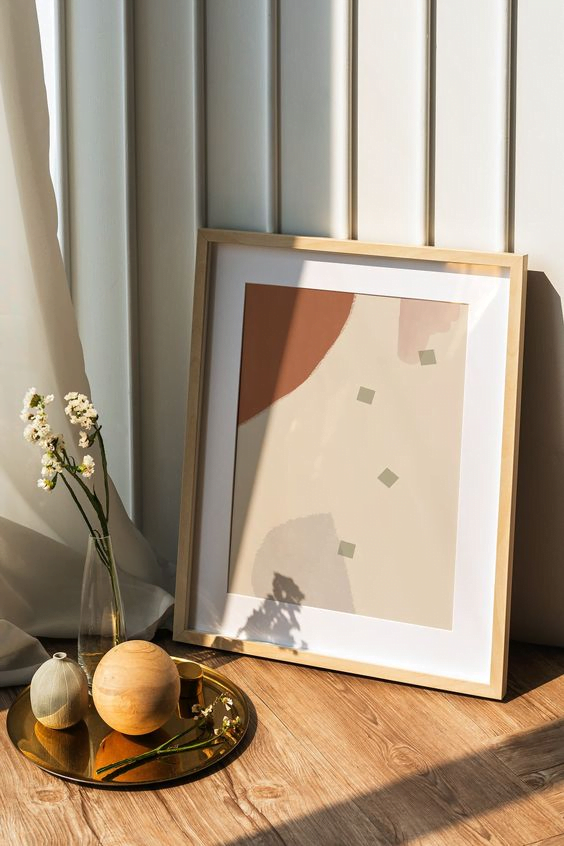 Image source: Pinterest
There are many places you might have not thought of placing your art. A really big painting or poster of some fancy treehouse ideas is nice to prop on the floor leaning against the wall.
Instead of the classic picture frame, you can use sideboards, cabinets, or low bookshelves. Tilt paintings of different sizes and let them be part of your still life.
A potted plant by the windows is not the only thing you can place there. Create a sense of life with the help of art, a nice green plant, and some interior details. This is both stylish and trendy. Just remember that a smaller piece of art works better by the window.
Closing Words
Wall art is like accessories to a home. A beautiful wall adds personality and sparkle to the room. However, there are a few things you can think about a little extra before you start nailing.
Common mistakes many people make are, for example, setting the paintings too high, not measuring properly so that they end up skewed, or placing detailed motifs too high up. In the article above, we listed some useful tips and tricks to get the best out of your wall art.