A terrarium is a style of indoor gardening that thrives in open, semi-enclosed, or closed containers. Though terrariums assemble quickly, they require proper pruning and periodical maintenance.
Moreover, they make profound, handmade gifts and cost less than a couple of dollars. Keep your terrarium in bright, indirect light and allow air to flow in for at least twenty minutes, depending on your location and micro-climate.
Things You Will Need:
Glass container
Gravel or beach stones
Activated charcoal
Plants
Potting mix
Sheet moss
Trowel
Décor
Choose A Container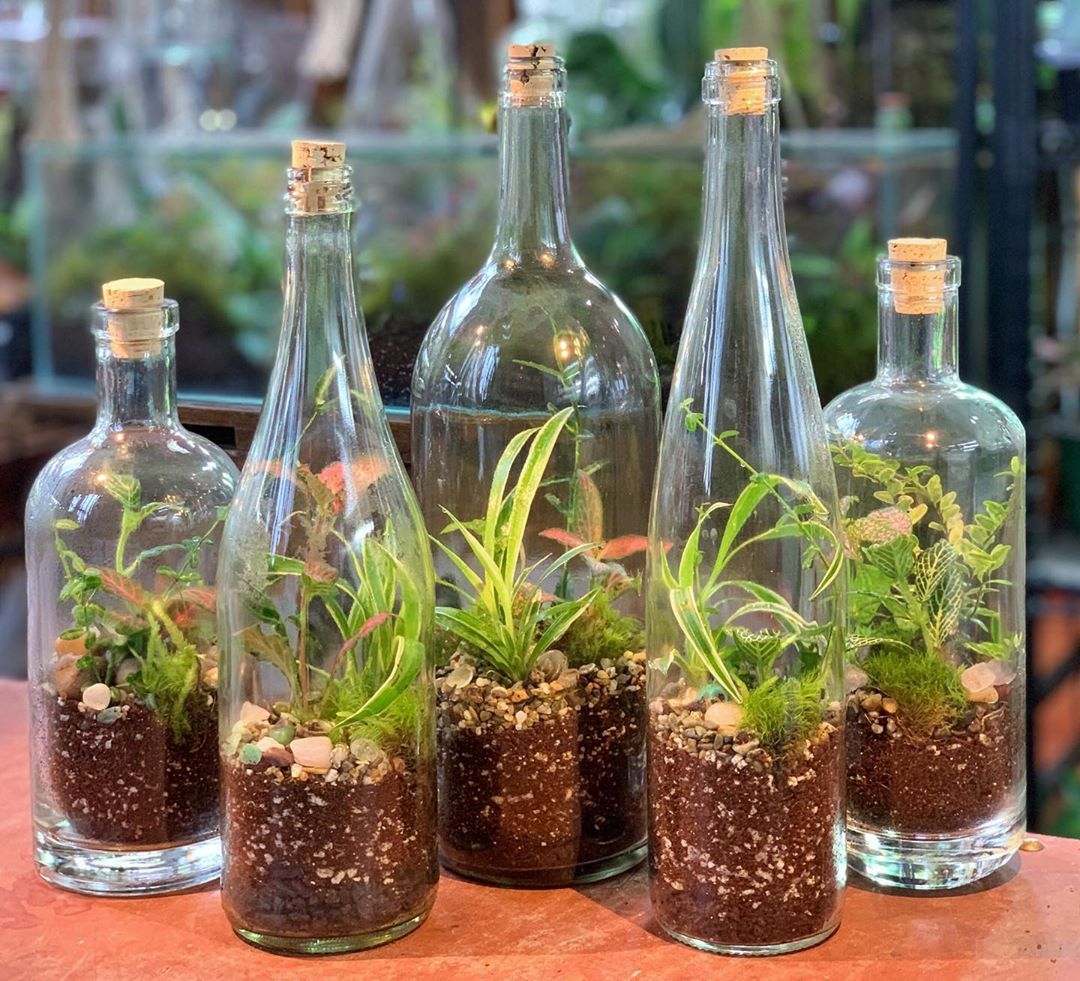 Use any glass jar with a lid for plants that prefer humid conditions like orchids and lilies. Though the container defines the overall look of your terrarium, the size and shape guide the type of plants to suit your terrarium ideas. Carboy bottles are widely used for bottle terrariums, owing to their large volume that allows plant clusters to grow.
However, they are complex due to their narrow mouth that makes drainage and decoration difficult. Jars that often hold pharmaceuticals are an easy option for terrarium plantations. Apothecary jars prove challenging because of their narrow mouth.
However, curved jars with simple lids and wide openings prove much easier to arrange. Alternatively, Wardian cases are work-friendly and offer opportunities to suit different interior styles. With their ever-increasing popularity, these cases are fantastic for closed terrarium ideas.
Glass dome terrariums have a deep and flat base and hence, are more user-friendly. These are assembled in any of the ways as mentioned. The first is like any other terrarium where the base holds gravel and a plant grows above it.
Alternatively, some people practice the reverse composition where plants reside at the bottom, and the dome controls it. Though being the toughest terrarium to assemble, the arrangement stays in place even during maintenance.
Choose the Plants.
Choose appropriate terrarium plants like ferns, mosses, ivies, and orchids. These plants prefer humid environments and thus, adjust well inside the jar. Selected plants should be tolerant to indirect light. Additionally, you can use contrasting-coloured plants that complement each other instead of a monotone.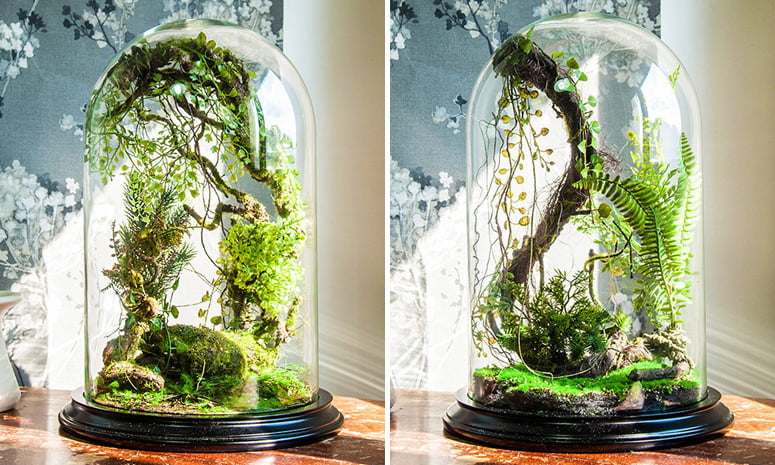 Design for The Drainage
Drainage holes are absent in a terrarium container. Hence, a separate layer to drain off water and prevent plant roots from rotating is needed. Place drainage rocks at the bottom of the container. Additionally, you can use sheet moss at the base for extra soaking. Bottle terrariums require a deeper drainage layer than jar terrariums.
After this layer, use a trowel to push in activated charcoal into the jar. This layer prevents root rot in the presence of extra moisture. Furthermore, this 1/2″ thick layer helps drainage and absorbs any odors that might arise.
However, remember that charcoal is a bit tricky to use and, its black powder may spread on the glass walls of the terrarium jar. To counter this issue, you can cover the charcoal with moss.
Place the Moss and The Soil-Mix
You can add a layer of moss to boost up the visuals of your terrarium. Further, add sterilized potting mix with a trowel to the top. This layer should be at least 2-inches thick. However, do not add so much soil that the plants will not be left with any space to grow.
Plant the Terrarium.
Pull out the plants from their pots and pinch the roots apart. If the plants are taller, break them into half to suit your terrarium jar. You can also create mounds and valleys in the soil and add tiered vegetation. Furthermore, root pruning will slow down plant growth and help it adjust to the terrarium atmosphere.
Never put too much plantation inside. You will also need to clean off the excess soil on the roots to prevent the mixing of the substrate. Using your fingers, carve out a hole for each plant in the jar for your terrarium ideas.
Place each plant sequentially and add a little soil to support the plant. For bottle terrariums, you can use tweezers for this purpose. They eliminate the air pockets and tamp the soil where fingers are unreachable. Besides helping with all sizes of leaves, these allow the plant to breathe freely.
Add Decorations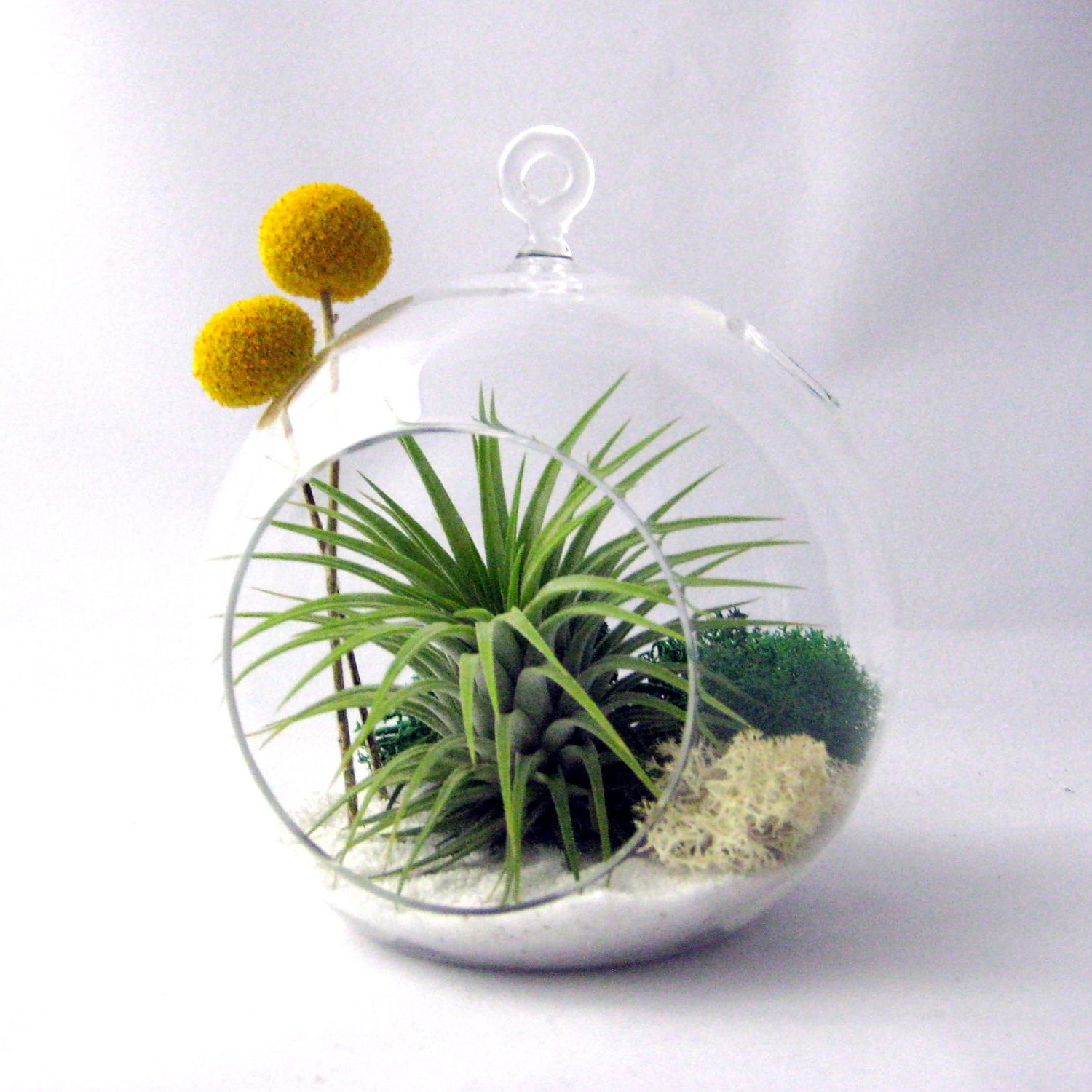 Though the terrarium looks pretty after adding plants, adding decorations can make it even more appealing. However, while adding them, make sure to put gloves on as you do not want to ruin your design. The market offers a vast spectrum of terrarium decorations. From various seashells to reindeer mosses, from toy figures to decorative stones, you name it and have it. For shore kind of terrariums, beach signs will do good, whereas birthday signs are great for gifting.
Terrariums prefer bright but indirect light. Thus, bathrooms, well-lit rooms, and kitchens prove to ideal places for them.
Water Your Terrarium
Spray water with a spraying tube once or twice a week for open terrariums to ensure potential growth. For closed terrariums, limit watering. However, open your jar once in 12 days and wipe it off.
After setting up a terrarium, feel the soil for water absorption and carve out a schedule accordingly. Check for condensation in a closed terrarium and let air circulate within it at least once a month. Moreover, pull out yellow and damaged leaves, and voila! You have a terrarium jar ready.