Anyone that has a backyard similar to a deciduous forest is well versed with the struggle faced due to the constant falling of leaves. The leaves don't stay at one place, they will barge in your patio, porches, and such areas. You might be used to using a leave blower but sometimes your yard needs more than that. It needs a lawn vacuum.
Lawn vacuum is machinery that uses a motor in order to produce airflow that allows creating suction and collects dust in the chute. This chute can be replaced once it is full of debris and other waste from the lawn. The lawn vacuums are generally powered by gasoline, batteries, or charged via cords.
How can one Identify the Lawn Vacuum?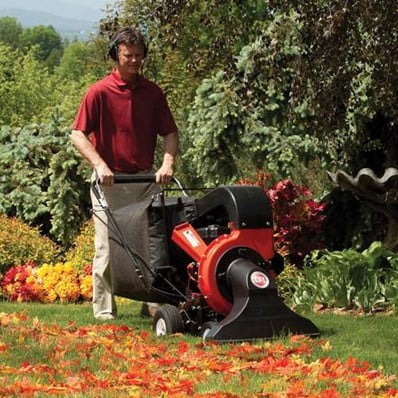 One can easily get confused between a lawn vacuum and a lawnmower. A push lawn vacuum looks almost like a lawnmower except that it has larger wheels and an enclosed catcher. The purpose of a lawn vacuum is to collect garbage waste like twigs, small stones, and leaves. The debris that you collect from the lawn can later be used as mulch after cutting into pieces. You can either use the mulch or discard it accordingly.
Guide to Using Lawn Vacuum
The first step is to choose the right vacuum depending upon your backyard requirements. Common types include push-mower, backpacks, handled versions, small tractors, and trailer attachments.
Lawn vacuums are incapable of cleaning areas that require high flexibility like flower beds. It is advisable to pull the trash from such areas using leaf blowers. Some of the most popular competitors in the market are cyclone rake vs dry leaf.
Just like an indoor vacuum the lawn vacuum also does the job all by itself, you just have to keep moving it through an area that requires appropriate cleaning.
It does all the cleaning and you only have to get involved when it's time to empty the collection bag.
Things that you to Keep in Mind
It is very important to wear industrial earplugs to avoid any ill effects that might get created due to excessive noise made by the lawn vacuum,
Lawn vacuum is used to get rid of minor waste, so make sure that the patch you are about to vacuum is free from big debris and rocks.
A good suction is what will make your backyard clean, don't forget to keep the intake hose as close as possible towards the ground.
The machine is designed to perform its job but for it to do that appropriately, you need to give proper directions. Maneuver the machine either in the circular pass or straight and maintain less distance for better collection of waste.
To avoid any bump against the ground, make sure that you lift the intake hose when you notice bumpy terrain ahead.
Don't try to play a hero here. Emptying the chute is not one person's job and that is why always ask for a helping hand as the chute gets really heavy. However, for convenience, bags come with a bag to pull out the debris manually.
It is better to avoid using a lawn vacuum in the rainy season or for picking up soaked leaves as it makes the job 10 times difficult.
Depending upon the requirement of space that needs to be cleaned, make sure you are using appropriate nozzles and attachments while vacuuming your backyard or lawn.
Keep a Handy Rake
The primary job of a lawn vacuum is to collect and dispose of the leaves which means it doesn't play any role in lawn aeration. This is one of the biggest reasons to surround yourself with a handy rake. The rake helps you in breaking up the lawn thatch that allows your lawn to breathe and thus stay healthy.
Rakes are also very helpful when it comes to removing leaves and debris from tight spots and shifting them to an open area so that vacuum can suck it up all leaving backyard clean and beautiful.
Conclusion
Lawn vacuum is a great option to clean big backyards, driveways, and walkways but it gets too much to invest time and money when you own a small backyard. In that case, you maintain your lawn by using a leaf blower and lawn sweeper.
B00004RANC
Keep browsing for more such blogs.